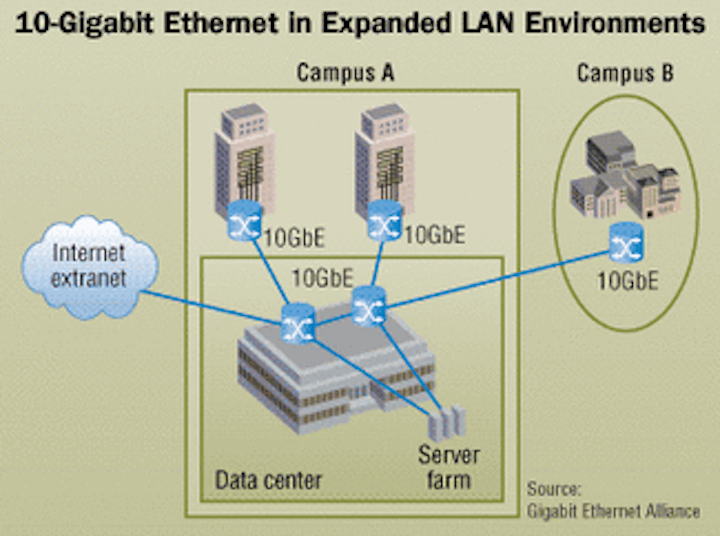 Opinions vary, but those who've installed multimode fiber exclusively in anticipation of a 10-GbE standard ratification may wish they hadn't.
The push for 10-Gigabit Ethernet is on. And with ratification of a standard expected for this summer, vendors are ready to hit the market with the electronics that will power it. But the question is, are end users and the fiber they have installed ready for it?
Some argue that the backbone systems are ready for plug-and-play right now. "If they have fiber in their network, they probably are ready for some kind of 10-Gigabit Ethernet," says Herb Congdon, director of fiber systems marketing and technical support for AMP Netconnect (www.ampnetconnect.com).
But others in the cabling industry say it might not be that simple. Many in-building backbone systems are wired with multimode fiber, which some say is not ideal for 10-Gigabit Ethernet, and will lead to attenuation, dispersion and other problems. Those who have purchased multimode media in anticipation of 10-Gigabit Ethernet may have been better off installing both singlemode and multimode fiber in their backbones.
"When it comes to 10-Gigabit and singlemode versus multimode, you can buy yourself singlemode, or buy multimode and spend the [additional] money to make it equal that performance. And to me, it makes no sense to do that," says Jim Hayes, principal engineer for FOTEC Inc. (www.fotec.com)-a test equipment manufacturer and training resource center for fiber installation.
As a high-speed, unifying technology for networking applications in LANs and WANs, 10-Gigabit Ethernet is designed to provide simple, high bandwidth at low cost. In MAN and WAN applications, it will enable service providers and others to create extremely high-speed longer distance Ethernet links at very competitive costs.
As a backbone technology, 10-Gigabit Ethernet can connect multiple LANs (see figure above). That said, it will certainly appeal to critical information companies and organizations that are typically first in line for leading edge technologies-colleges, medical and financial institutions, for example. For now, however, the cost of running 10-Gigabit Ethernet to the desktop is prohibitive for general use.
Opportunities ahead
The IEEE 802.3ae Task Force's proposed specification for 10-Gigabit Ethernet is on track to be ratified later this year. The electronics probably won't be available until 2003, by which time vendors hope there's a sense in the marketplace that 10-Gigabit Ethernet is coming into its own. Even so, some installers say they don't have high hopes for the sort of work that 10-Gigabit Ethernet will bring their way.
Derell Barnett, project manager for Ameritech's branch (www.ameritech.com) in Westchester IL, says he has doubts about the number of end users who will actually need the high-powered bandwidth that comes with 10-Gigabit Ethernet. "Conceivably, it's a nice concept. But is it necessary? And who would use it?" asks Barnett.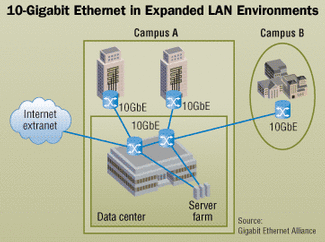 Within data centers, switch-to-switch applications, as well as switch-to-server applications, can be deployed over multimode fiber to create 10-Gigabit Ethernet backbones.
Click here to enlarge image
"I don't see it coming any time soon," continues Barnett. "The government or schools-they would need it. But there are not too many companies that big, and I can't see them needing that same sort of situation [10-Gigabit Ethernet ]."
Not surprisingly, however, optical-fiber cabling system designers are counting on interest in and demand for 10-Gigabit Ethernet. They're trying to keep pace with the pending standard's rapid development and deployment to specify a cabling system that can support the technology's applications. That includes seeking to understand their clients' present needs and anticipating future needs.
Vendors, too, are excited about 10-Gigabit Ethernet technology, and many are about to ship modules for switches, routers and other devices to enterprise, service provider and carrier customers. Brad Booth, strategic marketing manager for Intel (www.intel.com) LAN Access Division in Santa Clara, CA, and the chief editor for the IEEE P802.3ae 10Gb/s Ethernet Task Force, says, for example, that Intel plans to have optics and adapters ready to the hit the market within a year. The biggest issue right now, he says, is ratification of the 10-Gigabit Ethernet standard.
"People will start to offer standards-compliant equipment in 2003," Booth predicts.
Since 10-Gigabit Ethernet is a fiber-based technology, "Those that do have copper will have to put in fiber," says Booth. And even customers with fiber backbones already in place still face key decisions. "You might get to the initial point where people say they are going to recable or use what they've got there," says AMPNetconnect's Congdon. "In most cases, people have multimode [fiber] installed. So, if they want to go to 10-Gigabit Ethernet, they have choices [to make]."
"There is a lot of dark singlemode fiber out there that is ready to be used," says Kevin Hailey, RCDD/LAN specialist for Connectivity Technologies (www.contech1.com). "As for the multimode fiber that is already in place, it's an investment that users are not going to want to abandon or destroy if they don't have to."
Congdon agrees: "If you look at a campus backbone cable, they are in duct banks and direct buried. To replace them is painful. Ultimately, the decision is: Do I want to recable, which would cost money? Or do I want to buy more electronics, which will also cost money?"
That's far enough
Some users, however, say it matters little whether they have multimode or singlemode fiber in their backbone networks. They argue that a backbone system with singlemode fiber is necessary only when 10-Gigabit Ethernet needs to be supplied over a long distance.
At San Diego State University, for example, school officials say they will be ready for 10-Gigabit Ethernet with a multimode fiber backbone network. The university now relies on an ATM system. But the California State University Infrastructure Upgrade Project will soon upgrade the cabling between the university's campus buildings. Riny Ledgerwod, director of telecommunication and network services, says the project will upgrade the cabling to a brand of multimode fiber that will let the campus accommodate Gigabit Ethernet and, eventually, 10-Gigabit Ethernet.
The upgrade will let San Diego State transfer huge amounts of data, conduct 3-D imaging, virtual reality, and process complex applications that require huge amounts of bandwidth. All of this, Ledgerwood claims, will take place over the multimode fiber backbone network.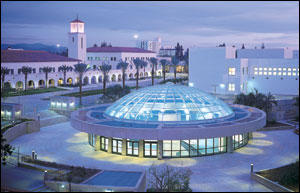 As part of the California State University Infrastructure Upgrade Project, multimode fiber over short distances will be used to bring 10-Gigabit Ethernet capability to San Diego State University.
Click here to enlarge image
But Hayes argues that users who believe they will be able to plug into 10-Gigabit Ethernet over multimode fiber are making a big mistake. Attempts to run 10-Gigabit Ethernet over multimode fiber, Hayes says, will lead to modal dispersion and noise.
"Multimode fiber should be relegated to under a Gig, and we should all be using singlemode for this, where you don't have any problems," says Hayes.
He recalls advising end users in the 1980s to install both multimode and singlemode fiber in their backbone networks. Such hybrid systems, he says, would provide the option of running Ethernet at slow speeds, and then much faster speeds when it became available.
"I have been adamant for years that to keep running data faster and faster over multimode fiber is simply foolish because it is not designed to go that fast," says Hayes. "We have known for 20 years that pushing multimode fiber at a very high speed is an iffy proposition."
Work to be done
Hayes is not alone in his argument. Some believe that those who only have multimode fiber in their backbone networks will have to recable. And that's where the work for installers may come in.
"You have to rip out the old system and put in a new one," says Jukka Rissanen, director of marketing for IMC Networks (www.imcnetworks.com). "The upgrades will be done where there is no singlemode fiber available. These installers will be busy."
Adds Peter Staub, CTO for IMC Networks, "Multimode does not cut it for longer distances. "So, if you have multimode in your buildings, if you are looking at future-proofing your installation, you need to bite the bullet and put in singlemode." Brendan Mullooly, director of European sales for IMC Networks, explains that the problem is that multimode fiber has limited bandwidth, and would be good for only about 50 meters for 10-Gigabit Ethernet. Dense Wave Division Multiplexing could boost the distance, says Mullooly, but in the long run, singlemode fiber makes the most sense.
Potential 10-Gigabit Ethernet customers must also consider the grade of the fiber, connectors, and other factors that will impact the overall performance of the installation. Intel's Booth believes many companies are confused about their options, and many are not even aware of what sort of fiber they have.
But for those ready to take the 10-Gigabit Ethernet plunge, Booth says that 50-µm fiber is better than 62.5-µm fiber when it comes to reach. The 62.5-µm fiber is designed for 1,310 nanometer (nm) optics, but 50-µm fiber has a better modal bandwidth than 62.5-µm fiber.
---
Brian Milliganis senior associate editor for Cabling Installation & Maintenance.