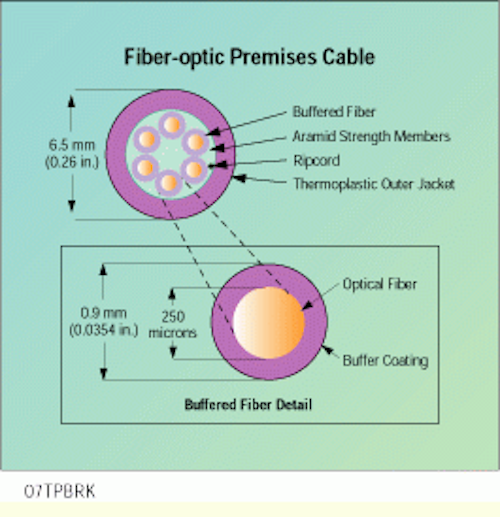 Scott Partington
Berk-Tek
Problem
Most cabling installers are familiar with how to prepare 4-pair copper cable for termination, but many are unfamiliar with termination procedures for fiber-optic premises distribution cable. As fiber-to-the-desk becomes more prevalent, it will be necessary for installers to learn to handle fiber cable as proficiently as they do copper.
Solution
Fiber-optic premises distribution cable can be prepared for termination using the following simple procedure.
Procedure
Remove several inches of the cable`s outer jacket by using a cable slitter or utility blade. Be careful not to damage the cable core.
1) With hands or pliers, grasp the aramid ripcord or ripcords one at a time and pull, splitting and peeling the jacket off as you would peel a banana.
2) Cables with higher fiber counts will contain subunits within the outer jacket. If there are subunits, cut completely around each subunit jacket with a small cable slitter or blade, again being careful not to damage the tight-buffered fibers inside.
3) Remove the cut piece of subunit jacket. Trim aramid with aramid scissors, if necessary.
4) For clean, fast, cost- effective buffer removal, mechanically strip off the fiber`s acrylate coating. The one-step stripping procedure, performed with tools from Sumitomo or Klein Tools, removes the buffer and coating in one motion.
5) Break-out kits are only required for premises distribution cables if the cables are kept unprotected in high-traffic areas or if many connection changes are anticipated. Standard connectors can be fitted directly onto a 900-micron tight-buffered fiber.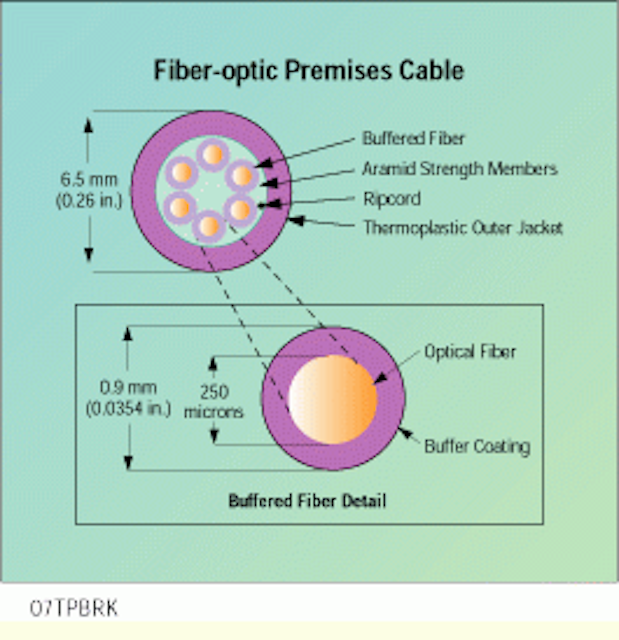 Click here to enlarge image
A cross section of a 6-fiber premises distribution riser cable shows details of the buffered fiber.
Cable Color Code*
Outer Jacket:
Orange--Multimode Fiber
Yellow--Singlemode Fiber
Subunit Jacket:
Orange--Multimode Fiber
Yellow--Singlemode Fiber
Composite Cables:
Outer Jacket--Orange
*Color-coding scheme is in accordance with TIA/EIA-598A, "Color Coding of Fiber Optic Cables."
Scott Partington is fiber-optic product manager at the Electro-Optics Division of Berk-Tek in Fuquay-Varina, NC.