Cabling Expo 96 attracts a broad range of exhibitors
As of this writing, more than 120 manufacturers, distributors, contractors and service companies have signed up to exhibit at the first annual Cabling Installation Expo. Here`s a roundup of what these companies make or sell, and what they`ll be featuring at the show.
Oct 1st, 1996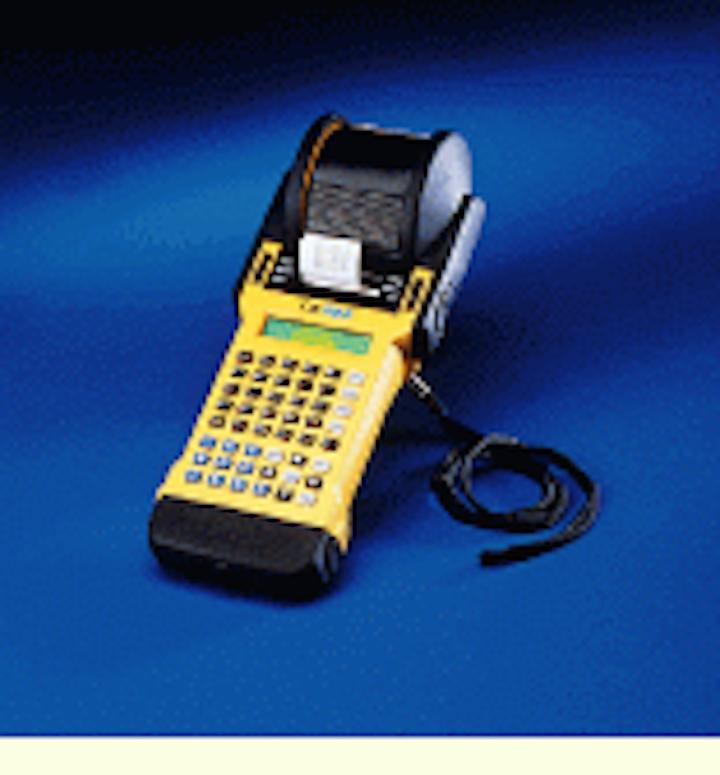 As of this writing, more than 120 manufacturers, distributors, contractors and service companies have signed up to exhibit at the first annual Cabling Installation Expo. Here`s a roundup of what these companies make or sell, and what they`ll be featuring at the show.
Gail Leach Carvelli
Accu-tech Corp.
200 Hembree Park Dr.
Roswell, GA 30076-3890
(800) 221-4767
A supplier of vendor-independent, standards-compatible unshielded twisted-pair (UTP), shielded twisted-pair (STP), and fiber-optic cabling solutions, Accu-tech will be featuring bridge, routing and Isdn products at Expo.
Adirondack Wire and Cable
160 Hamlet Ave.
Woonsocket, RI 02895
(401) 769-1600
AWC offers telephone retractile cords; mounting cords for telephone, data and premises wiring; cordage for modular plug assemblies; 25-pair, 50-pin voice/data telco cable assemblies; armored pay station cords and custom-molded cables. Also available are singlemode and multimode fiber-optic cable assemblies; patch cords, jumpers and pigtails; and Category 5 patch cords.
AFC Cable Systems
55 Samuel Barnet Blvd.
New Bedford, MA 02745-1214
(508) 998-1131
AFC`s MOF Cable consists of optical fibers sheathed in a galvanized-steel, interlocked armor. The cable can be used in robotic factory installations, videoconferencing, medical imaging applications at health-care facilities and local area networks (LANs). Custom cables made with a variety of optical fibers are also available.
American Technology Systems Industries Inc.
9155 Alabama Ave.
Chatsworth, CA 91311
(818) 700-8786
Atsi will be showcasing its XT155 Universal Series Connecting Hardware and SPD-PP100. The XT155 product line includes a high-speed multiport patch panel for data communications and high-density universal keystone mini jacks that support applications up to Asynchronous Transfer Mode (ATM) at 155 megabits per second and meet the Telecommunications Industry Association (TIA) Category 5 standard. The SPD-PP10 provides secondary protection against surges and transient noise.
AMP Inc.
Box 3608
Harrisburg, PA 17105
(800) 835-7240
AMP produces the backbone cabling, connections, horizontal cabling and LAN electronics for transmitting voice, data and video over a variety of network infrastructures. At Expo, the company will feature a Centralized Network Administration (CNA) architecture that consolidates all network electronics into one closet.
The Angeles Group Inc.
4165 E. Thousand Oaks Blvd., Ste. 145
Westlake Village, CA 91362
(805) 496-3000
A provider of call-management and facilities-management software, the company will feature an integrated suite of telemanagement applications, ranging from a single-user to a client-server environment. The Windows applications focus on asset, cost, process and security management.
Anixter
4711 Golf Rd.
Skokie, IL 60076
(708) 677-2600
Berk-Tek
132 White Oak Rd.
New Holland, PA 17557
(717) 354-6200
Berk-Tek specializes in LAN products such as UTP cabling, the IBM Cabling System, and coaxial, Ethernet and fiber-optic cables. Category 5 UTP products and a complete line of fiber-optic cabling products will be displayed at Expo.
Best Communications Supply Inc.
326 Chester St.
St. Paul, MN 55042
(612) 224-4022
Bicsi
10500 University Center Dr., Ste. 100
Tampa, FL 33612-6415
(800) 242-7405
A nonprofit telecommunications association with more than 7000 members, Bicsi will highlight at Expo its educational programs, which are offered at its conferences, seminars and shows. Bicsi`s Telecommunications Distribution Methods Manual, LAN manual, and other instructional materials will also be available.
Black Box Corp.
1000 Park Dr.
Lawrence, PA 15055
(412) 873-6718
A direct marketer and technical-service provider of computer communications and networking equipment, Black Box will feature its new fiber-optic performance module for Category 5 testers, the Scan LAN V, which turns a copper tester into a fiber-optic cable tester. Also on display will be the Black Box Flexible Cable Management System, which is built around a compact management module that handles all common cabling systems.
B-Line Telecom
509 W. Monroe St.
Highland, IL 62269
(618) 654-2184
Products include equipment racks, cable runways, struts and cable trays. The equipment racks join with racks from other manufacturers and are compatible with other accessories. Cable runways are available with solid-tube or new "C"-channel stringers.
Brady USA
6555 W. Good Hope Rd.
Milwaukee, WI 53201
(414) 358-6600
Brady`s Identification Solutions Division manufactures industrial identification products such as labels, wire markers, portable and thermal-transfer printers, and labeling software. The company will display its new LS2000 labeling system, which is used with the Crimp v4.2 cable management software for Windows. The handheld I.D. PRO wire-marker printer prints wire, cable and termination markers on-site. It has a self-adjusting, dot-matrix printhead that accommodates three material widths.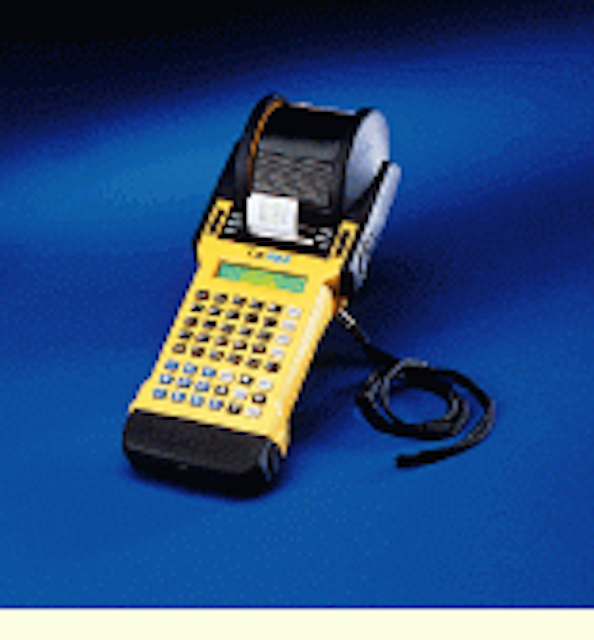 Click here to enlarge image
The I.D. Wire Marker Printer from Brady USA Inc.`s Identification Solutions Division can accommodate three different material widths and prints on a variety of labeling materials.
BUD Industries Inc.
4605 E. 355th St.
Willoughby, OH 44094
(216) 946-3200
In addition to its standard data communications enclosures, BUD offers modified and custom models. Products range from small, handheld units to free-standing racks covering all enclosure applications.
Carlon Telecom Systems
25701 Science Park Dr.
Cleveland, OH 44122
(216) 766-6114
A manufacturer of cable raceway systems, Carlon produces the Multi-Gard 3- or 4-way, multiple-cell raceway system with various outerducts; Intra-Gard 3- or 4-way, multiple-cell system; Tel-Gard prelubricated raceway system; PV Mold pole riser protection system; Optic-Gard line of PE and PVC innerducts; Riser-Gard riser-rated raceway; and Plenum-Gard plenum-rated raceway.
Champlain Cable Corp.
12 Hercules Dr.
Colchester, VT 05446
(802) 654-4200
A maker of high-performance data communications cable, the company will feature its Dataclear EF Gold high-performance LAN cable at Expo. The Dataclear product line is available in Category 3 to 5 and higher levels, in 2- to 25-pair designs. Champlain can also co- extrude combinations of categories and pair counts, or wrap combinations together.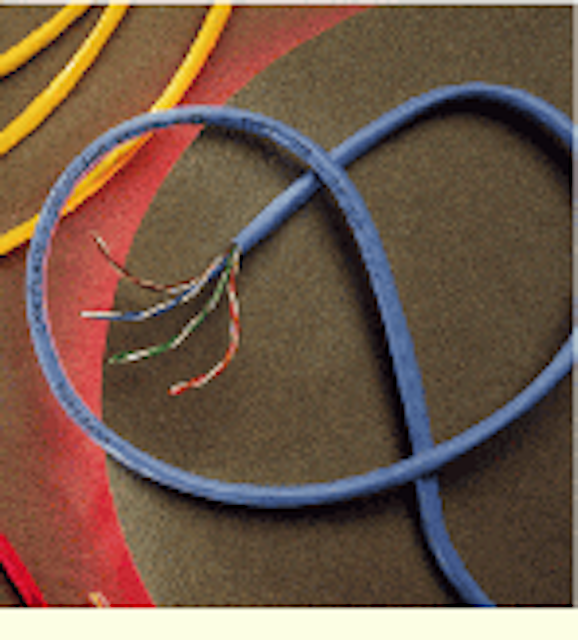 Click here to enlarge image
The Dataclear EF Gold local area network (LAN) cable is part of Champlain Cable`s high-performance data communications cable line.
Chatsworth Products Inc.
31425 Agoura Rd.
Westlake Village, CA 91361
(818) 735-6100
A manufacturer of LAN and data racks, structural-support framework and cable management products, CPI will feature its new CatRack wire management system. Also on display will be new components in the company`s Datacom Framework Systems structural-support product line.
Circa Telecom USA Inc.
9835 Denton Ave.
Hudson, FL 34667
(813) 868-1200
Circa manufactures building-entrance cable protection products in more than 70 different configurations.
CommScope/General Instrument
3642 Highway 70 East
Claremont, NC 28610-0879
(704) 459-5000
CommScope provides network cables for numerous applications and manufactures wires and cables. New products on display will include its 5504M Ultra II; Level 2 and Category 3, high-pair-count UTP cabling; 5NF4 Ultra II outdoor cable; and UTP, coaxial and optical-fiber hybrid cables.
Consolidated Services Group
86 Morse St.
Norwood, MA 02062
(617) 769-7716
CSG specializes in fault-tolerant communication systems for critical applications, including point-of-sale networks, entertainment distribution, LANs, wide area networks (WANs), security systems, sound systems and disaster-recovery systems.
CSI/Suttle Apparatus
213 South Main St.
Hector, MN 55342
(320) 848-6711
CSI/Suttle offers corrosion-resistant connectors designed for hostile environments. At Expo the company`s Corro-Shield family of corrosion-resistant jacks and cords will be on display. The product line includes flush, surface- and wall-mount configurations for indoor and outdoor applications.
Data Connections Inc.
1417 Boulder Ct.
Greensboro, NC 27409
(910) 854-4053
Data Connections, a maker of cable-installation and fiber-optic products, will exhibit its new 2nd Man Cable-pulley Device. Other products will include the Dual J Cable Hanger, Cable Reeler, Fiber Optic Test Lite, hinged wall-mount brackets with top cover, and a 12-port, fiber-optic distribution cabinet.
DataTel Corp.
6 North Corporate Dr.
Riverdale, NJ 07457
(201) 616-7078
A maker of racks, cabinets and accessories, DataTel will be showing self-squaring relay racks, open wall mountings, cable management racks and data cabinets.
Digital Equipment Corp.
550 King St.
Littleton, MA 01460
(508) 486-6959
This manufacturer of computer and networking equipment will showcase its Open DECconnect structured wiring system for physical connections between individual network devices on a LAN. Included in its display will be forward-pivoting patch panels, a modular wall-mount rack system, fiber and twisted-pair media and NETdesigner software. Also available from Digital are hubs, routers, switches, network interface cards and other structured wiring products.
Direct Optical Research Co.
6810 N. 19th Ave.
Phoenix, AZ 85015-1108
(602) 242-9707
Dorc, a manufacturer of desktop and portable interferometers, will display its ZX-1 micro, the company`s latest interferometer. A handheld, non-contact device, it can measure both PC and APC fiber-optic connectors. The ZX-1 can switch between inspection and interferometric modes and allows the operator to check radius of curvature, apex offset, angle, undercut or protrusion and surface quality with a built-in LCD monitor.
Diversified Wire & Cable
800 Chicago Rd.
Troy, MI 48083
(800) 451-1376
A stocking distributor of wire and cable products for electrical, industrial, electronic and voice- and data-communication products, DWC will feature test equipment, UTP LAN cables, LAN products, fiber- optic cable and connectors, connectivity products, equipment racks, and Ethernet and token ring products.
DuPont
Chestnut Run Plaza, Bldg. 711
Wilmington, DE 19880-0711
(302) 999-3278
DuPont manufactures Teflon for wire and cable makers, who use it in data communications cable such as Category 5 plenum-rated UTP. Teflon fluorinated ethylene propylene (FEP) is a thermoplastic material combining electrical properties and flame retardancy needed in wire insulation used in plenum spaces.
Erico Inc.
34600 Solon Rd.
Solon, OH 44139
(216) 248-0100
A manufacturer of specialty fasteners for electrical and telecommunications wiring, Erico makes the Caddy CableCat system for securing Category 5 and other high-performance cables.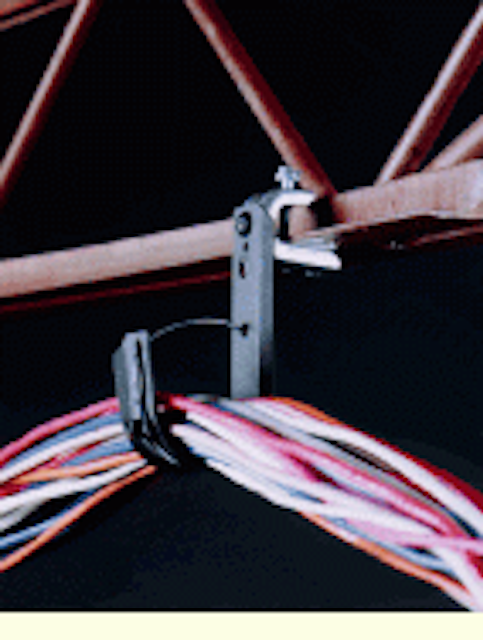 Click here to enlarge image
Caddy CableCat fasteners from Erico are for electrical and telecommunications wiring.
Essex Group
1601 Wall St.
Fort Wayne, IN 46802
(219) 461-4000
Everest Electronic Equipment Inc.
2683 Hamilton Mill Rd.
Buford, GA 30519
(770) 932-2900
At Expo, Everest, a maker of telecommunications and data communications cabinets, will feature vertical cabinets for voice, data and networking applications. Its updated wall-mount product line features right and left cabinet swing and greater load rating.
Exan Ltd.
Homelife House
Oxford Rd.
Bournemouth, UK BH8 8EZ
44-1202-317170
Exan, a supplier of network software solutions, will exhibit its personal computer-based cable-management database, Etec, which runs in a Windows 95 environment. On-screen patching, change management and asset management are achieved using simple graphics.
Fiber Connections Inc.
2974 King Side Rd.
Ontario, ON
Canada L7B1L6
(800) 353-1127
Fiber Connections offers patch cords, pigtails, fiber-distribution products and the Gator Patch modular fiber distribution system. Plug-and-play modular components eliminate field-termination of optical fibers, so special training, tooling and test equipment are not needed.
Fiber Instrument Sales Inc
161 Clear Rd.
Oriskany, NY 13424
(315) 736-2206
FIS, a manufacturer and distributor of fiber-optic supplies and equipment for communications applications, is introducing an optical verifier -- a multifunction fiber-optic field tester that includes optical return loss testing, talk mode, dual lasers or light-emitting diodes, zero-set power meter and an optional visual fault locator.
Fluke Corp.
Box 9090, M/S 250E
Everett, WA 98206-9090
(800) 443-5853
Test-equipment manufacturer Fluke will display its DSP-100 Digital LAN CableMeter. The first digital cable tester for certifying Category 5 cabling, it meets Level II accuracy requirements for both basic-link and channel configurations. New additions to the product line include a free upgrade providing testing capability to 155 MHz and a fiber- optic testing option.
Fons Corp.
71 Lyman St.
Northborough, MA 01532
(508) 393-4268
Fons manufactures fiber-optic communications products, including patch panels, cable assemblies, adapters, attenuators, network management software and fiber-optic transmission equipment. Applications include telecommunications, cable TV and data networking.
Future Design Communications of the Southeast
1351 Oakbrook Dr., Ste. 165
Norcross, GA 30093
(770) 729-1529
This installation company specializes in voice, data, video and fiber- optic cabling systems. Certified to install 8 different structured cabling systems, Fdc-se is also an authorized 3Com reseller.
General Cable Corp.
4 Tesseneer Dr.
Highland Heights, KY 41076-9753
(606) 572-8950
The Datacom/Electronics Products Group of General Cable offers Level 1 and 2 and Category 3 through 5 horizontal and backbone plenum and nonplenum network, central-office and electronic wiring. At Expo will be featured the DreamLAN 5 product line of extended-performance Category 5 cables. Available in types MPP/CMP and MPR/CMR, the cable is specified to 350 MHz.
GN Nettest
Laser Precision Div.
109 N. Genessee St.
Utica, NY 13502
(315) 797-4449
Gnwc Wire, Cable & Network Products
1401 Brook Dr.
Downers Grove, IL 60515
(708) 627-1777
Graybar Electric Co. Inc.
34 N. Meramec Ave.
Clayton, MO 63105
(314) 727-3900
Graybar, a distributor of voice and data products, will highlight its fiber and copper cabling system solutions at Expo, with products from Allen Tel, AMP, Berk-Tek, Hubbell Premises Wiring, Microtest, Ortronics, Panduit and Siecor. Also featured will be a variety of installation tools.
GS Metals Corp.
RR #4, Box 7
Pinckneyville, IL 62274
(618) 357-5353
Showcased will be Flextray, a cable management system made from steel wires in a welded-mesh design. Because of its light weight, only a bolt cutter and wrench are necessary to install the system.
Harbour Industries
2075 Shelburne Rd.
Shelburne, VT 05482
(802) 985-3311
Harbour manufactures plenum cable products for the data and computer markets, including Category 5 UTP cable in Siamese and bundled constructions; RG-6, 11, 58, 59 and 62 coaxial cables; twinaxial and Ethernet transceiver cable; low- and mid-cap computer cables; loop and POS cables; and custom designs.
Harris Corp.
809 Calle Plano
Camarillo, CA 93012
(800) 987-9511
Harris, a manufacturer of tools and portable test equipment, will exhibit its Power Punch Multi-Impact Tool at Expo. It features easy trigger activation, safety seating for wires, simultaneous termination of 3-, 4- and 5-pair cables, flexible rotating head, and a locking trigger.
Helix/Hitemp Inc.
20 Forge Park
Franklin, MA 02038
(508) 541-7100
Helix/Hitemp, a maker of electronic wire and cable for LAN, audio and visual applications, will showcase its new SmartWrap composite copper/fiber cable constructions. Helix/Hitemp also makes music and sound, high-speed coaxial, robotic, and instrumentation and control cables.
Hitachi Cable Manchester
900 Holt Ave.
Manchester, NH 03109
(603) 669-4347
A maker of voice- and data communications products, Hitachi Cable specializes in electronic round and flat cables, as well as premises cabling. At Expo the company will feature its new line of fiber-optic premise cables, including distribution, breakout and composite fiber/copper cable designs.
Homaco Inc.
1875 W. Fullerton Ave.
Chicago, IL 60614
(888) 446-6226
Homaco designs, manufactures and markets telecommunications equipment used in high-speed transmission of voice and data over twisted pair, broadband, T-carrier and fiber-optic cables. Its Total System Solution includes the Optima wall-mount patch panel, rack-mount patch panels, horizontal and vertical organizers and covers, relay racks, equipment shelves, patch cords, information outlets and more.
Hubbell Premise Wiring Inc.
14 Lord`s Hill Rd.
Stonington, CT 06378
(860) 535-8326
Hubbell`s display at Expo will feature two new full-sized modular cabinets; the MediaTrak nonmetallic raceway system for voice and data; an expanded cable-management line that includes new duct-style cable management panels, split-ring cable management panels, two new sizes of wall-mount brackets, Velcro-style tie wraps, jumbo cable trough, and cable organizer blocks; and flush-style line communication outlet frames now available from stock.
IBM Corp.
1001 Winstead Dr.
Cary, NC 27513
(919) 301-3521
At Expo, IBM, a manufacturer of networking hardware, cabling and software, will promote its ability to provide end-to-end network solutions, from network consulting through installation and management.
ICC Corp.
16918 Edwards Rd.
Cerritos, CA 90703
(310) 926-0734
ICC manufacturers connectivity hardware for premises wiring. Products include a full line of patch cords, colored strain reliefs, plugs, mounting boxes, faceplates, handset cords, line cords, cable management panels, patch panels, distribution racks, outlets, adapters, couplers, tools and accessories.
Ideal Industries
Becker Place
Sycamore, IL 60178
(815) 895-5181
Inchcape Testing Services
1 Tech Dr.
Andover, MA 01810
(800) 967-3522
Independent Technologies Inc.
11422 Miracle Hills Dr., Ste. 500
Omaha, NE 68154
(402) 496-4700
ITI provides testing systems for copper cable and T1 systems, and coin-telephone accessories and testing management systems. Testing systems support Levels 3 and 4 and Category 5 testing. The coin-telephone test systems are the only ones exclusively for the public-telephone market. ITI also makes ladder safety straps for outside-plant use.
Industrial Cable & Supply Co. Inc.
12234 E. 60th St.
Tulsa, OK 74146
(918) 252-5771
Industrial Technology
6100 Columbia St.
Mineral Wells, TX 76067
(817) 325-3000
Interlink Technologies
1005 Sussex Blvd.
Lawrence Industrial Park
Broomall, PA 19008
(800) 451-3683
A Wiremold Co., Interlink manufactures premises distribution products for communications systems. Product lines feature Category 5 modular connectivity, fiber-optic distribution, and power and data quality devices. At Expo, the company will introduce the FiberGrade latching-style raceway.
International Cabling Systems Inc.
Box 47
Sun Prairie, WI 53590-0047
(608) 224-3408
IPL Inc.
140 Commerciale St.
St. Damien, QC
Canada GOR 2Y0
(418) 789-2880
The Reelsaver wire dispenser will be displayed at Expo. IPL also manufactures plastic pails and containers with lids, as well as environmental boxes, material handling boxes and containers.
It`s Unique
421 Second Ave.
Saraland, AL 36571
(334) 679-8140
A maker of firestopping products, the company will be showcasing the Split Sleeve System, which permits a cable penetrating a firewall to be fitted with a metallic sleeve without removing the cable. Another It`s Unique product is the Penetrator, a precut section of metallic conduit with hardware to make firewall penetrations clean and simple.
Johanson Manufacturing
301 Rockaway Valley Rd.
Booton, NJ 07005
(201) 334-2676
Johanson manufactures fiber-optic connectors, adapters and variable attenuators, as well as connector components. The company also manufactures its own ceramic ferrules and sleeves.
Krone Inc.
6950 S. Tucson Way, Ste. R
Englewood, CO 80112
(800) 775-5766
Krone manufactures voice and data wire-termination products, including wire-termination blocks, prewired assemblies, mounting hardware, station outlets, patch panels, patch cords, protection equipment, fiber enclosures and accessories. Krone will be spotlighting its recently introduced line of Convergence jacks, including In-Line and Right-Angle jacks that can be terminated while mounted in a faceplate or surface box.
Leviton Telcom
2222 - 222nd St. SE
Bothell, WA 98021
(206) 486-2222
Leviton, a manufacturer of station outlets, patching and crossconnect products for UTP, coaxial and fiber connectivity, will feature its new line of fiber jumpers and patch panels. Also displayed will be a new 4-port `biscuit` box and the Multimedia Outlet System`s 6-port box.
Lucent Technologies
600 Mountain Ave.
Murray Hill, NJ 07974-0636
(800) 583-2045
Lucent, formerly a part of AT&T, will feature its Systimax Structured Wiring System, which offers fiber, copper and wireless solutions designed and tested end-to-end by Bell Laboratories. Of special interest will be the company`s new fiber and copper open-office cabling products and its singlemode/multimode fiber-optic connector.
Methode Electronics Inc.
7444 W. Wilson Ave.
Chicago, IL 60656
(708) 867-9600
Methode manufactures a line of fiber-optic connectors and cable management systems for communications and networking applications. On display will be connectors, cable assemblies and management systems.
Microtest
4747 N. 22nd St.
Phoenix, AZ 85016-4708
(602) 952-6400
A producer of network management and network connectivity products for LANs, Microtest will highlight its network troubleshooting tool, Compas. This handheld tool combines cable tester, protocol analyzer and network diagnostic utility features in a portable device. Also featured will be the PentaScanner 350 with 2-Way Injector Plus, a Category 5 tester with performance grading.
Mod-tap
285 Ayer Rd.
Harvard, MA 01451-0706
(508) 772-5630
Mod-tap, a manufacturer of structured cabling systems for information transport, recently launched its expanded Custom Solutions Program and has announced its Certified Installer Program and 15-Year System Guarantee. On display at Expo will be the PassPort family of products, which includes wallplates, labeling systems, double modules with rear-facing terminations and optical fiber-to-the-desk components.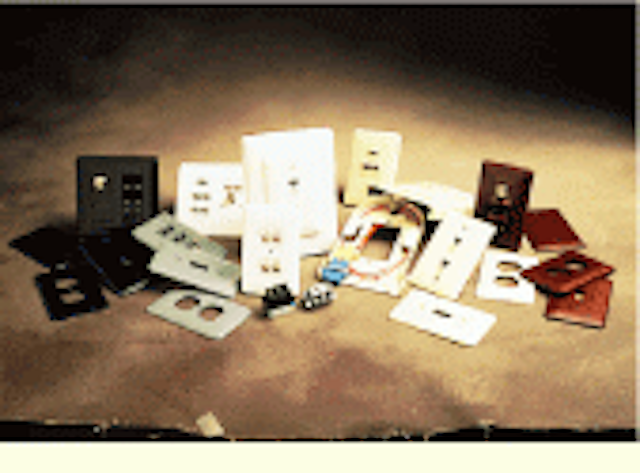 Click here to enlarge image
The PassPort line of products from Mod-tap includes matching electrical plates, labeling systems, double modules with rear-facing terminations and optical fiber-to-the-desk components.
Mohawk/CDT
9 Mohawk Dr.
Leominster, MA 01453-3341
(800) 422-9961
The company`s cable line consists of network PVC and plenum, shielded and unshielded LAN for voice and data high-speed transmission, computer and control, coaxial and twinaxial instrumentation, broadcast audio and video, fiber-optic, multifiber breakout and distribution, singlemode and multimode, tight-buffer and loose-tube flooded, armored and direct-burial cable.
Moyco Technologies
200 Commerce Dr.
Montgomeryville, PA 18936
(215) 855-4300
Moyco manufacturers abrasive finishing products, including lapping film and polishing solutions for fiber polishing.
Nelson Firestop Products
Box 726
Tulsa, OK 74101
(918) 627-5530
Network & Communication Technology Inc.
24 Wampum Rd.
Park Ridge, NJ 07656-2151
(201) 307-9000
The company will feature a new Windows95/NT version of its Planet CAD/SQ-based physical-layer telecommunications infrastructure administration software. The package automates documenting premises cabling, equipment and connectivity; produces as-built drawings, reports and identification labels; and includes a fully integrated service/request/trouble ticketing system.
Newton Instrument Co. Inc.
111 East A St.
Butner, NC 27509-2426
(919) 575-6426
Newton offers fiber-cable management systems, network enclosures, data racks, outside-plant enclosures and central-office equipment.
Nordx/cdt
101 Marcel-Laurin
St. Laurent, QC
Canada H4N 2M3
(418) 872-4686
Noyes Fiber Systems
Box 398
Laconia, NH 03247
(603) 528-7780
A manufacturer of fiber-optic test equipment, Noyes produces the OPM-5 optical power meter that stores 250 readings in the field to be downloaded later. The OFL-100 optical time-domain reflectometer is available in singlemode and multimode versions with dual-wavelength capabilities at 850 and 1310 nm.
Ortronics Inc.
595 Greenhaven Rd.
Pawcatuck, CT 06379
(860) 599-1760
Ortronics provides end-to-end system solutions for voice, data and video applications, including workstation products, raceway systems, patch panels, 110 crossconnect system, wire management, interface cords and fiber-optic products. At Expo, the company will feature its Color Coded Designation Shutters, the Series II Fib-or-Cop, the Mini-Mod Under-Cover, the Ormmac Fiber and Multimedia System, OFS and OFS-VS Multimode and Singlemode Fusion Splicers, OFK Fiber Preparation Kit, Finger Duct Wire Management Panel and the Series II Low Profile Multimedia Box.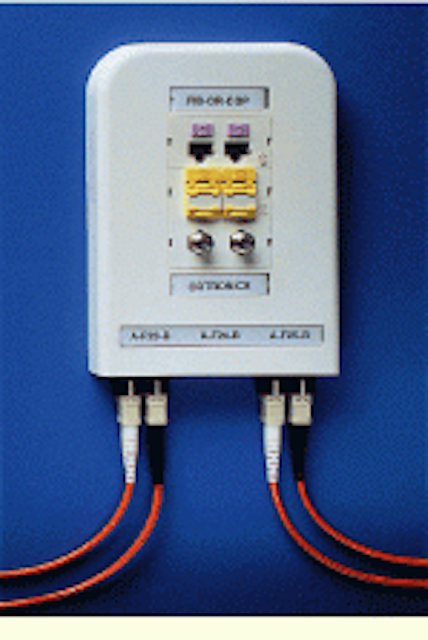 Click here to enlarge image
The Ortronics Series II Fib-or-Cop workstation outlet can hold as many as six SC or ST fiber connections in its base and can accommodate six copper ports in the faceplate opening through the Series II Snap-In Modules.
Owens Corning
Fiberglass Tower T/12
Toledo, OH 43528
(419) 248-6520
Owens Corning offers a line of Advantex reinforcement products as cable stiffening and tension members. The product line features high strength-to-weight ratio; corrosion, flame, chemical and moisture resistance; high dielectric strength; and dimensional stability. These cable reinforcements can also be water-blocked.
Panduit Corp.
17301 S. Ridgeland Ave.
Tinely Park, IL 60477
(800) 777-3300
The Mini-Com Network Cabling System will be displayed at Expo. Featured will be workstation outlets, the Mini-Jack Modular Jack and the 2-module-space surface-mount box.
Power & Telephone Supply Co.
2950 Greenboro St. Ext.
Lexington, NC 27292
(704) 249-0256
Prestolite Wire Corp.
32871 Middlebelt Rd.
Farmington Hills, MI 48334
(810) 626-1336
Pyramid Industries Inc.
1422 Irwin Dr.
Erie, PA 16505
(814) 454-8756
Quicktron
1901 NW 92
Des Moines, IA 50323
(800) 361-0471
Cables, patch cords, custom cable assemblies, fiber optics, racks, hubs and connectors are some of the products offered by Quiktron. (The company sells only to resellers.)
Rack Technologies
5 Coggins Pl.
Mascot, New South Wales
Australia 2020
02-9313-4003
Rack is a specialty manufacturer of 19-inch rack system enclosures and accessories for the data communications industry. Its system enclosures are constructed from extruded aluminum that utilizes dye-cast aluminum corners for strength and durability. Its wall-mount cabinets feature a clip-on hinge.
Remee Products Corp.
186 N. Main St.
Florida, NY 10921
(914) 651-4431
A manufacturer of LAN, data coaxial, fiber-optic, and composite cables and hybrids, Remee specializes in electronic and fiber-optic cables.
Rittal Corp.
One Rittal Pl.
Springfield, OH 45504
(513) 399-0500
Rittal is a manufacturer of electrical and electronic enclosures for data communications, process-machinery and process-control applications; its products include distribution and equipment cabinets, data racks, enclosure climate-control products, and design software. At Expo, a small fiber-optic splice box will be featured that offers protection from harsh environmental conditions and unauthorized access.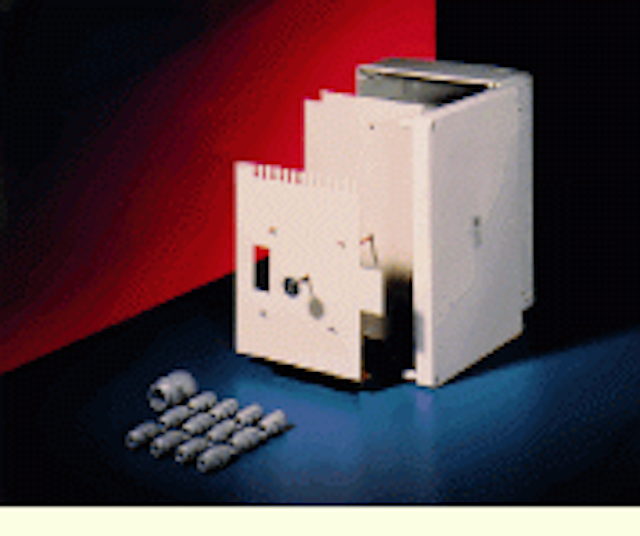 Click here to enlarge image
The fiber-optic splice box from the Rittal Corp. offers protection from harsh environmental conditions and unauthorized access. It accepts patch panels with as many as 24 cutouts for ST-type connectors.
RIT Technologies
900 Corporate Dr.
Mahwah, NJ 07430
(201) 512-1970
Rox System/NMP Corp.
12402 E. 60th St.
Tulsa, OK 74153
(918) 252-0481
Schroff Inc.
170 Commercial Dr.
Warwick, RI 02886
(800) 451-8755
Scope Communications Inc.
100 Otis St.
Northborough, MA 01532
(508) 393-1236
Scope, which specializes in handheld tools for network testing and troubleshooting, offers the WireScope 155, a 155-MHz cable analyzer. The new fiber SmartProbe provides the option to transform the WireScope 155 into a high-performance tool for testing fiber-optic backbone cabling.
Semtron Inc.
6465 Corunna Rd.
Flint, MI 48532-5350
(810) 732-9080
Semtron products include wallplates, junction panels, switches, connectors and custom products. The company can modify or custom-build to a customer`s request within 24 hours.
Siecor Corp.
489 Siecor Park
Hickory, NC 28603
(704) 327-5000
Siemens Fiber Optics
20F Commerce Way
Totowa, NJ 07512
(201) 890-1606
Siemens provides fiber-optic modules and jumpers with program assemblies to fit LAN, WAN and other high-end installations. Among the products it makes are standard and custom jumpers, wrap plugs, multifiber cable assemblies and pigtail terminations. Siemens is also an IBM-certified manufacturer of the Escon connector and jumper assembly.
The Siemon Co.
Siemon Business Park
76 Westbury Park Rd.
Watertown, CT 06795-0400
(860) 274-2523
Siemon`s Max Work Area Outlet System provides Category 5 performance with user-friendly installation features. High density in single- and double-gang installations is supplied by the compact size of the outlet, and the Max module can be terminated without the use of tools to minimize installation time.
SpecTran Communications Fiber Technologies
50 Hall Rd.
Sturbridge, MA 01566
(508) 347-2261
Speer Fiber Optics
18 Pierson Dr.
Belle Mead, NJ 08502
(908) 359-1173
Speer will exhibit products tailored to the cabling industry, including connector cleaning tools, portable fiber polishing machines, Portable Connector Checker inspection microscopes, inline and variable fiber attenuators, light sources, power meters and fiber-optic cable assemblies.
Sumitomo Electric Lightwave Corp.
78 Alexander Dr.
Research Triangle Park, NC 27709
(919) 541-8100
A supplier of optical-fiber cable and related products to the telephone, cable-TV, utility, long-distance and datacom markets, Sumitomo will exhibit its FutureFlex Air Blown Fiber System, which replaces traditional innerduct with tube cable.
Superior Modular
3560 Savannah Island
Merritt Island, FL 32953
(407) 454-4545
Telect
2111 N. Molter Rd.
Liberty Lake, WA 99019-0665
(509) 926-6000
3M Telecom Systems Division
6801 River Place Blvd.
Austin, TX 78726-9000
(800) 426-8688
3M will display several of its product lines at Expo, including the new FibrMax 2700 cable management system for organizing high fiber density in premises wiring, cable-TV applications and telco installations. Also displayed will be the Photodyne 17XT handheld fiber-optic power meter, 8000 XGT Fiber Identifier, FibrDome closure, Crimplok and HotMelt connectors, Fibrlok fiber-optic splice, 8424 fiber distribution unit and the 2xT and 3xT optical minimeter.
Toner Cable Equipment Inc.
969 Horsham Rd.
Horsham, PA 19044
(215) 675-2053
A manufacturer of television and broadband radio-frequency equipment, Toner supplies prepackaged headends and RF system design. The company`s new 750-MHz fiber transmitter can distribute 117 channels of television, RF data modems, two-way video, video-on- demand and media retrieval systems.
Transport Management Group Inc.
1704 Augustine Cut Off
Wilmington, DE 19803
(302) 657-5940
TMG provides consulting and project-management services for selection and implementation of record-keeping systems for cable and connectivity management.
Tyton Corp.
7930 N. Faulkner Rd.
Milwaukee, WI 53224
(414) 355-1130
TII-Ditel
441 19th St. SE
Hickory, NC 28603
(704) 328-5640
The Lightrax Fiber-optic Raceway System is available in four colors and three sizes and is deliverable from stock. The Ribbon Splice Tray incorporates a strain relief and bend radius limiter in an industry-standard tray design.
Vista Computer Services
4510 Daly Dr.
Chantilly, VA 22021
(703) 222-1333
Wavetek Corp.
9045 Balboa Ave.
San Diego, CA 92123
(619) 279-2200
Wavetek designs, manufactures and distributes electronic test equipment and measurement tools for the production of electronic and electrical devices and systems. Featured will be its Lantek Pro Series of 100-MHz Category 5 LAN cable testers and its Otdrs.
W. L. Gore & Associates
7811 Burleson-Manor Rd.
Manor, TX 78653
(612) 276-7600
W. L. Gore`s Flex-lite fiber-optic ribbon cable is available in a 4- to 72-fiber-wide cable sizes for structured wiring and premises use. The single-cable construction is plenum- and riser-rated. The cable is designed for use with MTP connectors.
Wonderful Wire Cable Co. Ltd.
22868 Lockness Ave.
Torrance, CA 90501
(310) 534-7766
The company specializes in Category 5 UTP data communications and LAN cables, Scsi cables, universal serial cables and other wire and cable products. The Wonderful Elite 100 Category 5 UTP cables will be on display at Expo.
Zero PFT
Highway 16 West
Monon, IN 47959
(219) 253-6666