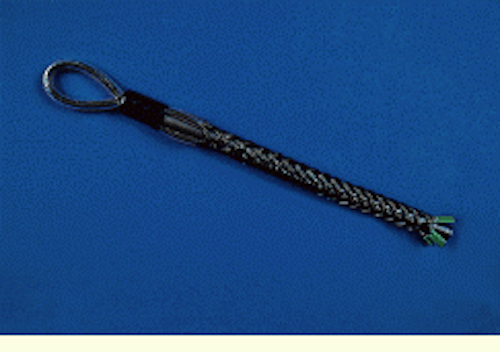 Lynn Haber
The technology for cable-pulling equipment has remained stable for decades, according to manufacturers. Randy Minor, senior product manager at the Wiring Device-Kellems Division of Hubbell Inc. (Stonington, CT), says, "Grips are simple products that don`t lend themselves to major changes." Terry Buono, co-owner of cabling installer Cable Systems Inc. (North Haven, CT), agrees. He has purchased his cable-pulling equipment from the same vendor for years. "If the method works, why switch?" he asks.
With all the changes occurring in the telecommunications and data communications markets, it is reassuring that contractors can find stability somewhere. Some improvements in cable-pulling products are inevitable, however. For example, changes in product lines include the introduction of smaller pulling grips used to pull optical-fiber cables, and grips that are made of noncorrosive materials for use in harsh environments.
There are approximately half a dozen vendors that offer extensive lines of cable-pulling equipment and a few players with smaller product families. The most frequently mentioned vendors are Economy Cable Grip Co.(South Norwalk, CT), Hubbell Inc., Pass & Seymour/ Legrand (Syracuse, NY), Thomas & Betts (Memphis, TN) and the Daniel Woodhead Co. (Northbrook, IL).
Cable-pulling equipment is designed to make the task of running cable easier and simpler. It supports copper, aluminum and fiber media--stranded, solid or bare--in large or small cables that can be used either inside or outside the plant, depending on the application.
Pulling grips are simple, reusable tools that are part of most contractors` toolboxes. Three main categories of grips include pulling, support and strain-relief devices.
Pulling grips
Pulling grips help contractors install or remove cable in conduit, ducts or sheaves and aid in stringing overhead transmission or distribution line. Installers use the devices to eliminate the chance of snagging. Pulling grips also reduce the arc of a bend, the potential for kinking and the strain on conductors inside the cable. They can also relieve strain on terminals inside an enclosure.
Most manufacturers of pulling grips supply different heads or fittings that come in a variety of sizes. For example, Pass & Seymour/Legrand offers swivel-eye and flexible-eye types--the swivel-eye type allows the cable to untwist during the pull, and the flexible-eye variety lets cable follow the line of the pull around curves.
The company also offers multiple-weave pulling grips. Multiple-weave grips ease cable installation by providing flexibility at the single-weave end and maximum holding power at the triple-weave end near the pulling eye. Other types of weave include closed-mesh, open-mesh and split-lace designs. The mesh for pulling grips is usually made from galvanized steel, stranded wire for high tensile strength.
According to Bob Lester, product application specialist at Pass & Seymour/Legrand, the company offers dozens of cable-pulling products in its catalog but hasn`t changed the way it makes its devices for many years. "It`s a very stable market," he adds.
Contractors should select pulling grips based on application, cable length and diameter, and pulling pressure or tension. (For new or unused pulling grips, pull tension is typically calculated by dividing the approximate breaking strength of the device by a safety factor of five.) The products come in various sizes, from a junior-duty type that is frequently used by electricians on small jobs, to multiweave, high-strength pulling grips for high-tension wire pulls.
Support grips
Support grips are used to hold up or support the weight of stationary, flexible cable in vertical or sloping runs. They can also absorb strain or shock caused by vibration, expansion or contraction, and they distribute the load of a run evenly over the length of cable being supported. For example, a contractor might place a support grip every 50 feet to take the slack out of a cable run. "Support grips also support connectors for termination," says Lester.
Unlike pulling grips, support grips are for one-time use; you use them and leave them in place. These products are often made of tinned-bronze mesh. For special applications in corrosive atmospheres, contractors will find support grips made of stainless steel.
There are also support grips or box grips made of galvanized steel for box connections. Box grips relieve stress on the cable and termination or hold it at a controlled angle, according to Lester.
Patrick Stearns, vice president of electrical safety at the Daniel Woodhead Co., says his company offers more than 120 different types of support grips. They are classified by fitting type--single-eye, double-eye or offset. They are also categorized by weave type--closed-mesh, open-mesh or split-lace rod--and are available in 0.5- to 4-inch diameters.
Installers at Cable Systems Inc. use pulling grips and support grips for larger cable installations, especially aerial and underground runs. Terry Buono, the company`s co-owner, says he reuses his pulling grips and purchases support grips when they are application-specific. "I purchase through a distributor," he adds, "and the salesperson helps me identify the proper pulling grip for the job."
Strain-relief grips
Strain-relief grips are used to prebend cable at turns or to pull out damaged electrical cords that have been overflexed. They can support conduit entering an enclosure, helping to keep it water-tight; the grips also support motors and other equipment. They help absorb vibration and control the arc of bend in a cable pull.
Companies such as Pass & Seymour/ Legrand offer several types of strain relief. Listed in the company`s catalog are Flexcor strain-relief grips, deluxe cord grips, Liquid-tite conduit grips, wide-range strain-relief grips and bus-drop grips. The company also sells safety springs and support hooks used with support grips.
As is the case with other categories of grips, vendors typically sell dozens of models that vary according to the size of fitting, configuration (straight, 90 angle, 45 angle, male, female) and cable diameter (from 3/8 inch to 3 inches). Products are made of galvanized metal or stainless steel.
In a product area where there are few changes, innovations have been made in nonmetallic products and those designed to handle optical fiber.
Nonmetallic pulling grips are not new. In fact, the Kellems Division has offered nonmetallic grips for a decade. The Daniel Woodhead Co. introduced these grips approximately four years ago. "They are used in highly corrosive areas and are for people who don`t like metal," says Stearns. For applications near the ocean or in food-processing environments, for example, nonmetallic grips may be the tool of choice. They are also used to minimize the potential for shock hazard when a cable pull is made near energized conductors.
The Kellems Division offers nonconductive pulling grips made of a high-strength, nonconductive aramid fiber; they are available for pulling both single cable and cable bundles. The grips are of a braided double-weave design that the vendor claims increases strength and holding power. According to Hubbell`s Minor, these grips were developed for use by utilities that pull overhead lines close to energized circuits and hardware.
Grips for optical fiber
Two years ago, Kellems introduced a new line of wire-mesh pulling grips for loose-tube fiber cable. The new product line was introduced to address the looser design and lighter construction of optical-fiber cable compared to copper cable. The company`s design deals with the unique requirements of fiber-optic cable pulling in two ways. First, the pulling tool with its special weave can securely hold two different cable diameters: one for the jacket and a second, smaller grip for the strength member. Second, the tool is longer to reduce strain on the cable jacket. The fiber- optic pulling grips also offer a low-profile, lug-and-eye design so the device can slip through tight places.
The manufacturer also offers a product known as Optisok, a fiber-optic cable-pulling tool for installing preconnectorized fiber-optic cables, jumpers and bundles of twisted-pair communications cables. According to Minor, Optisok protects the connector bundle from possible damage during the pull and facilitates cable pulling by streamlining the head of the cable.
Optisok is a flexible and expandable nonmetallic sleeve that is open on one end and has a pulling ring on the other. It can be expanded to enclose the larger fiber-optic connectors and then contracted to grab the smaller cable below the connector bundle. This is achieved by wrapping or taping the cable below the connector. The pull ring can then be attached to a pull line or fish tape, with the Optisok acting as a pulling tool.
Within the past few years, Condux International Inc. (Mankato, MN) has started to offer fiber-optic-cable pulling equipment. The manufacturer was originally a provider of heavy-duty cable-pulling equipment, but with increased activity in the fiber-optic market, it has turned its attention to this new opportunity, according to John Haugum, national sales manager of the company.
In fact, Haugum reports that the company expects to see sales of its fiber-optic pulling equipment increase by 25% to 30% during the next two years. The vendor sells fiber-optic pulling grips for use in both inside- and outside-plant applications in telecommunications and data communications.
Haugum used input from contractors to design the new products, which has resulted in tools that are lighter and easier to use.
Manufacturers typically sell cable-pulling equipment through distributors. According to industry sources, prices for such equipment have not changed much over the years, with increases that have averaged 3% a year. Vivien Scofield, assistant product manager at Economy Cable Grip Co., says that prices at her company have increased 10% to 15% on average to catch up with what other manufacturers are charging.
Grip prices range from $6 to hundreds of dollars, depending on the amount of labor required, materials used and size. All mesh products are hand-woven. Stainless-steel grips bring a premium of 35% to 70%, depending on the tool.
Most grips--particularly support grips, which are application-specific and used only once--are purchased individually. However, many vendors sell pulling-grip kits that include several grips--usually six--for a range of cable sizes. These kits are also popular with contractors. "They`re packaged for the contractor looking for light-to-medium pulling grips on a regular basis," says Lester.
Manufacturers do not report too many complaints about cable-pulling equipment. "Usually, the contractors know what they are dealing with and select the proper grip," says Minor. Contractors, however, need to plan for several variables, including application, cable weight and length, and cable type, when they are purchasing grips. If the contractor selects the wrong grip for the job, the cable can snap if it is too heavy or it can break loose if the grip is improperly fitted. In either case, the technician must go back and repull the cable.
Cliff Kane, president of Fiber Business Networks (Hawthorne, NY), keeps a kit of pulling grips on hand and purchases approximately a dozen more during the year. "If we have a job that includes some heavy-duty riser or outside-plant work, or if a request for proposals specifies a particular vendor`s product, we`ll call our distributor and order some new tools," he says.
There is no mystery about cable-pulling equipment; it is a reliable, stable technology that does the job it is designed to do. Contractors only have to know how to size the application to the tool. Sales personnel are usually available to help size the correct cable grip for the job.
Lynn Haber is a freelance writer based in Norwell, MA.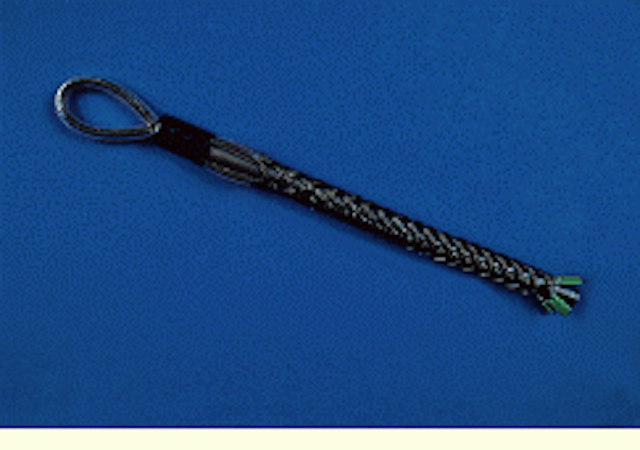 Click here to enlarge image
A nonmetallic pulling grip from the Wiring Device-Kellems Division of Hubbell Inc. (Stonington, CT) shows the weave that provides strength and adds flexibility to the device.