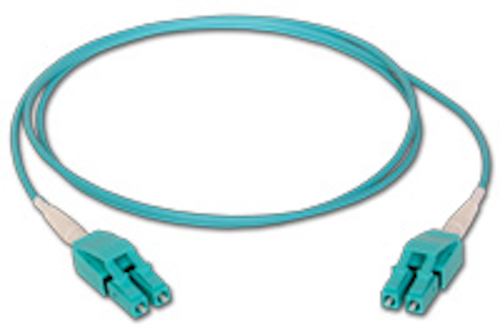 From the September, 2013 Issue of Cabling Installation & Maintenance Magazine
:: Fiber jumpers
The CablExpress Skinny-Trunk Om4 2mm round fiber jumpers are designed for high-performance, CablExpress says, with a maximum insertion loss of 0.15 dB per LC. The Om4 multimode fiber's high quality and low dB loss rate facilitate a seamless transition to higher speeds while futureproofing the data center for the next generation of hardware, the company adds.
The 2mm round cordage increases manageability and saves valuable conditioned space in the data center by reducing cabling congestion and ensuring that critical airflow paths are not blocked, CablExpress explains. The Skinny-Trunk fiber jumpers also use a Uniboot construction, which allows for easy plug-and-play installation and additional strain relief. Skinny-Trunk jumpers, assemblies, harnesses and modules all are available with Om4 or Om3 fiber.
CablExpress
www.cablexpress.com
Subunitized Om4 cable
Available in 12-144 fibers, the newest generation of AFL's subunitized MicroCore fiber-optic cable represents an evolution of high-performance premises cabling, the company says. According to AFL, the cables are constructed of the highest-quality materials and to exacting industry specifications, including Om4 laser-optimized fiber. The small-diameter cables provide solutions sought by today's structured cabling professionals, AFL adds. Each subcable is independently qualified and suitable for individual routing paths within the rack/panel architecture.
The cables are designed for direct termination and support both singlemode and multimode architectures. They also can accommodate termination at fiber rack systems, multifloor deployment where select fibers are used at each floor, intrabuilding backbones, and MPO-to-breakout terminations.
:: Om4 fiber
OFS's LaserWave Flex Fiber is a 50-micron laser-optimized multimode fiber designed to enhance fiber management in data centers, high-performance computing environments and enterprise local area networks. With reduced bending loss at a radius as low as 7.5 mm, the fiber enables compact system design and easy installation while facilitating jumper moves, adds and changes, OFS explains. The fiber is DMD-certified for optimum bandwidth performance and reliability, and meets or exceeds the requirements of the Om3 and Om4 standards. It also is fully compatible with the installed base of multimode fiber.
Laser Wave Flex Fiber offers extremely low bending loss at both the 850 and 1300 nm operating windows, OFS says, while it maintains excellent long-term fiber strength and reliability. The fiber's improved performance can guard against instances of higher loss caused by tight bends, thereby increasing system reliability and maximizing network uptime.
:: Plenum- and riser-rated Om4 cables
Om4, 50-micron laser-optimized cables are part of Sumitomo Electric Lightwave's end-to-end optical fiber data center and enterprise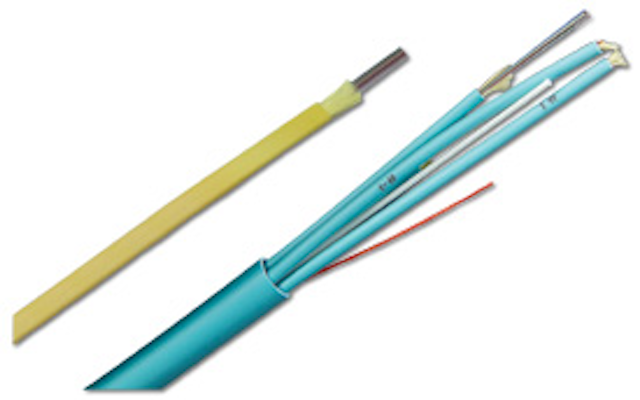 network solutions. The cables accommodate the migration to 40- and 100-Gbit/sec transmission speeds and distances.
The 4th Level Data Center Om4 Cables from Sumitomo Electric Lightwave include designs with 12-144, 250-micron fiber; 1-144, 900-micron tight-buffered fiber; 12-144, 250-micron ribbon fiber; and a number of other ribbon distribution and interconnect cable configurations. These plenum- or riser-rated cables feature an all-dielectric construction that eliminates the need for grounding or bonding. The non-preferential bend axis of these cables allows for easy and flexible installations in space-constrained data center and network areas, Sumitomo Electric Lightwave explains.
Sumitomo Electric Lightwave
www.sumitomoelectric.com
:: 2-mm mini-distribution cable
The FiberExpress Om4 2-mm subunit mini-distribution cable from Belden is quickly and easily identified as Om4 media with its standard "Erika Violet" color. The traditional aqua color is also optionally available. The mini-distribution cables improve density with 2-mm subunits; they are available preterminated with 0.2-dB insertion loss and 12-fiber MPO connectors, and also available ready for field termination. The cables are available with fiber counts ranging from 24 (6.4-mm outside diameter) to 144 (10.6-mm outside diameter), Belden says.
Belden
www.belden.com
More CIM Articles

Archived CIM Issues