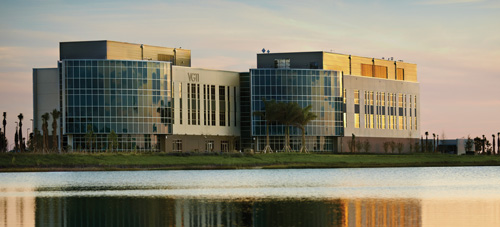 From the January, 2013 Issue of Cabling Installation & Maintenance Magazine
Human immunology research creates massive amounts of data, all of which must be managed, transported and stored.
By Carol Everett Oliver, Berk-Tek a Nexans company
"The immune system is our defense system against disease. What we do at the Vaccine and Gene Therapy Institute of Florida [VGTI] is evaluate how our immune system responds to disease so that we can develop better therapies to help patients around the world fight serious illnesses such as cancer, arthritis and HIV/AIDS," states John Schlatzle, Ph.D., director of scientific affairs, on the purpose of the work being conducted at the newly opened VGTI Florida Facility in Port St. Lucie, FL. VGTI uses complex high-throughput technologies to gain a comprehensive understanding of the human immune response to disease and to therapeutic interventions such as vaccines.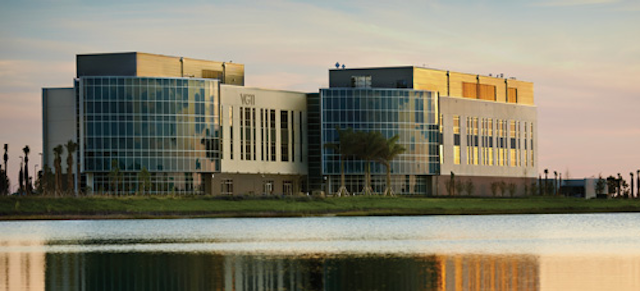 The new 100,000-square-foot, three-story VGTI facility is located within eight acres of the Tradition Center for Innovation in Port St. Lucie, FL.
VGTI Florida differentiates itself from other research institutions by its focus on human immunology and its approach, which relies on the application of several state-of-the-art technologies that allow global unbiased analyses of the immune response for the discovery of immune-based therapies and vaccines. "This is not a diagnostic test, but rather a way of looking at gene markers and how they change," explains Peter Wilkinson, manager of bioinformatics at VGTI Florida. "We study the messages that the genes encode for, to understand how the patient immune system is functioning," he further explains.
The complexity of the immune system and the focus on preventative and therapeutic strategies requires researchers to have the latest technologies and data management tools at their fingertips to be able to collect and analyze the data in an efficient and progressive manner. "We designed the network infrastructure at VGTI Florida to be able to address complex genomics, proteomics and imaging requirements," states Wilkinson. "Gene sequencing and imaging create a lot of data—up to half a terabyte is generated in one day for just one type of profile," he further explains. "We selected a network that could last 20-plus years and avoid any classical heritage problems with aging networks that have been around 10 to 20 years," he emphasizes. As a result, Wilkerson and his information technology (IT) team and consultants selected the highest fiber backbone (Om4) together with a shielded Category 6A horizontal cabling system for their cabling infrastructure.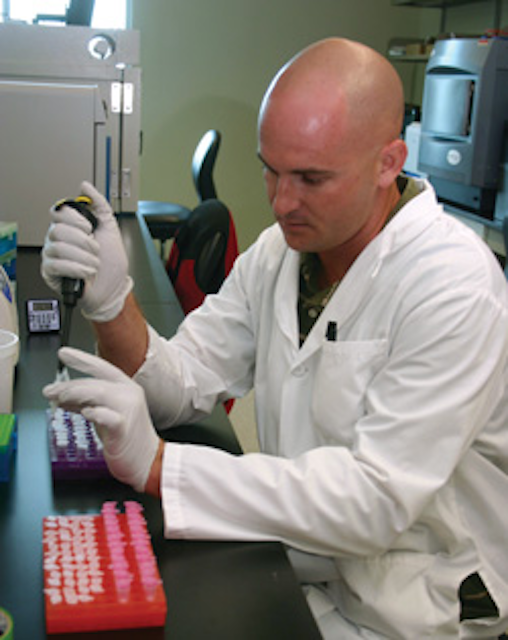 Andrew Smith, lab technician for VGTI, breaks down genotyping.
From localization to globalization
It is the vision and goal of VGTI Florida's co-director and chief scientific officer, Dr. Rafick-Pierre Sékaly, to model the research approach at VGTI Florida and lead the effort to develop novel therapies and treatments for improvements in human health on a global basis. Providing the data network for the initial group of 60 researchers and additional administration staff was the challenge of Peter Wilkinson and the IT team.
The new 100,000-square-foot, three-story facility located on eight acres of the Tradition Center for Innovation in Port St. Lucie, FL was created as an independent non-profit institute through a grant from the state of Florida's Innovation Center fund. It is affiliated with the Vaccine and Gene Therapy Institute at the Oregon Health Sciences University in Portland, OR. "Locally, everything is moving toward IP [Internet Protocol] convergence, so we installed the same cabling architecture as the Oregon facility to facilitate interconnectivity as well as serve multiple applications—security and building controls—in addition to the scientific research efforts," notes Wilkinson. "This building is one big communications center," he added.
"Another aspect to our infrastructure decision was being able to connect around the world to universities as we have researchers in Europe, Africa and South America, as well as working with scientists all over the world," states Wilkinson.
"In addition to providing an efficient network infrastructure along with an onsite data center in Port St. Lucie, we also secured protection of the research data with an offsite and disaster-recovery data center," he explains.
Delivering a reliable network
VGTI Florida together with the AEI Engineering firm designed the infrastructure topology and related cabling products, capable of handling all the network requirements of today and in the foreseeable future. The vertical backbone is achieved through two separate physical conduits that traverse the floors at separate points in the building. The net result is redundancy between the telecommunications rooms (TRs) with physical redundant paths vertically between the floors. There are two, 24-strand fiber-optic cables to each TR—each providing 40-Gbit uplinks, making a total of 80-Gbit capacity per TR. This adds up to 480 Gigabits from the entrance facility (EF) to the server room, encompassing all the TRs using HP 7510 H3C switches. The horizontal cable is capable of delivering up to 10 Gbits to the desktop and benchtop equipment.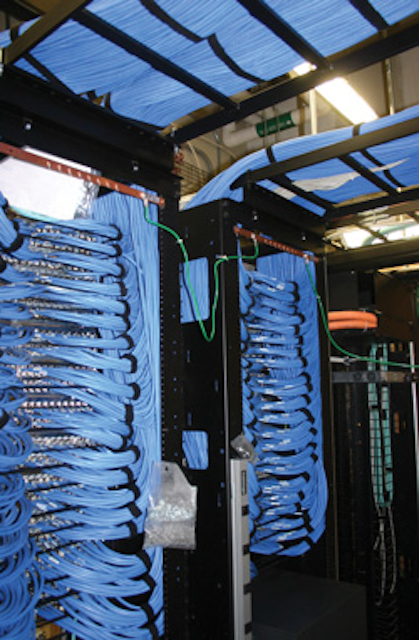 Between the TRs, the Berk-Tek LANmark-10G FTP shielded cable was terminated into Ortronics MightyMo four-post racks.
Berk-Tek's Om4 premise distribution cable with GIGAlite multimode fiber was selected as the backbone cable. "There was a total of 12,000 feet of Berk-Tek Om4 fiber cable installed in the risers," states Dominic Cozzolino, principal of Cabling Technologies Inc. (CTI), the rep firm that worked closely with VGTI, AEI and Graybar, the distribution supplier. "We know that VGTI is on the cutting edge of bio research and we wanted to make sure that they installed products that were also on the cutting edge. During the design phase, Om4 was on the cusp of being ratified into the fiber standards and VGTI was one of the first to spec this," Cozzolino adds.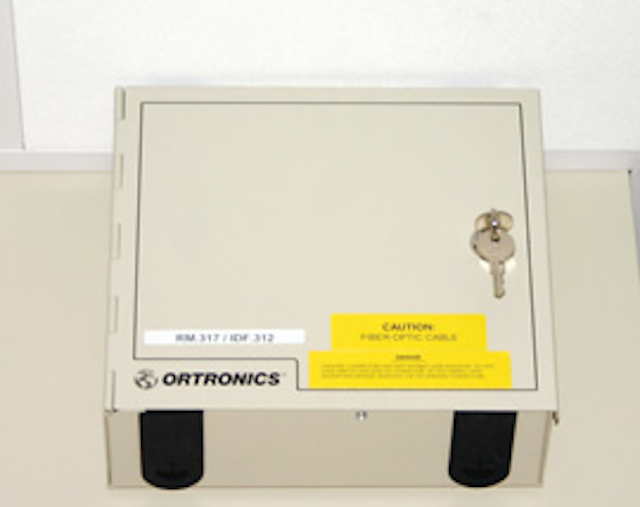 Wall-mounted telecom enclosures were installed in the labs to provide network connectivity within the lab.
The fiber-optic cable was terminated through LC connectors into the main distribution frame into Legrand|Ortronics fiber cabinets installed in Legrand|Ortronics MightyMo 10 racks with vertical cages to keep all cables neat and easily identified. Between the TRs, the Berk-Tek cable was terminated into MightyMo four-post racks. Together, Berk-Tek and Legrand|Ortronics provided a NetClear MM10 warranty for the backbone cable for a 25-year extensive guarantee.
"Because we needed to assure that I could eventually deliver 10 Gigabits to each laboratory and in the data center, along with the confidence that the cable would not be affected by any electrical interference of the instruments that we use, the obvious choice was a shielded Category 6A as the horizontal cable," explains Wilkinson. Also, because of the strict building codes in Florida requiring rebar for the building's frame, the selected cable needed to be unaffected by this thick conductive material. Berk-Tek's LANmark-10G FTP (foiled twisted-pair) cable was specified as the horizontal cable for all IP applications within the building and data center—including data, voice, security cameras and building automation controls. The only application that did not warrant Category 6A was the access-control system because of the very low voltage of that application and the tight pathways, so they used Berk-Tek's LANmark-1000 Category 6 UTP cable.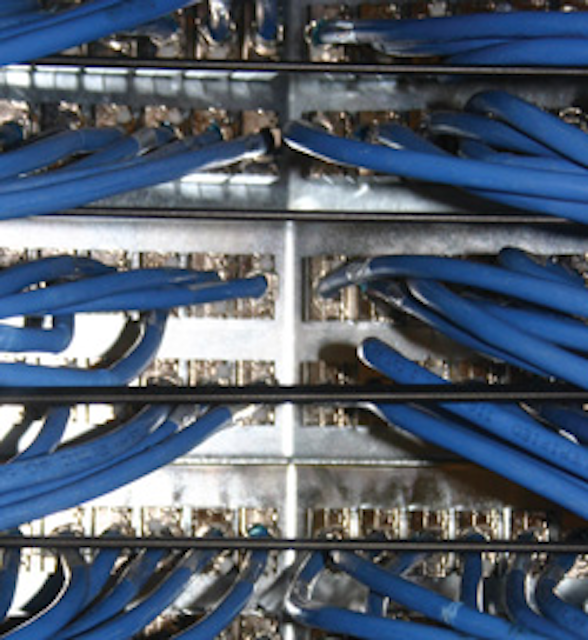 Berk-Tek LANmark-10G FTP cables punched down in the back of the Legrand|Ortronics 10G FTP angled patch panels.
There were a total of 3,000 Berk-Tek LANmark-10G FTP cables terminated in the TRs into the Legrand|Ortronics 10G FTP angled patch panels. Because of the diameter of the cable, the angled patch panels allow easy access and easier cable manageability for future moves, adds and changes. Berk-Tek and Legrand|Ortronics provided the NetClear GTS 25-year warranty for the copper horizontal infrastructure. "Today most of the horizontal cable is running up to 1 Gigabit to the desk, due to the lack of 10-Gbit switch adoption. But when VGTI upgrades to 10-Gbit switch capability, the patch cords will be the shielded versions and NetClear will warrant the 10-Gig system performance," explains Cozzolino. The NetClear warranty provides headroom above the standards, which was proven through the link testing performed at each cable end by the certified installer, Universal Cabling.
Protecting data at the outlet
The VGTI Florida facility currently houses administration, biometrics, nine large research labs and three specialized core facilities (genomics, flow cytometry and imaging), all using common use equipment suites that vary in size, depending on the research type and network requirements. In the offices and administration areas, three cables are terminated to an outlet on each wall so that the modular furniture can be arranged in different layouts.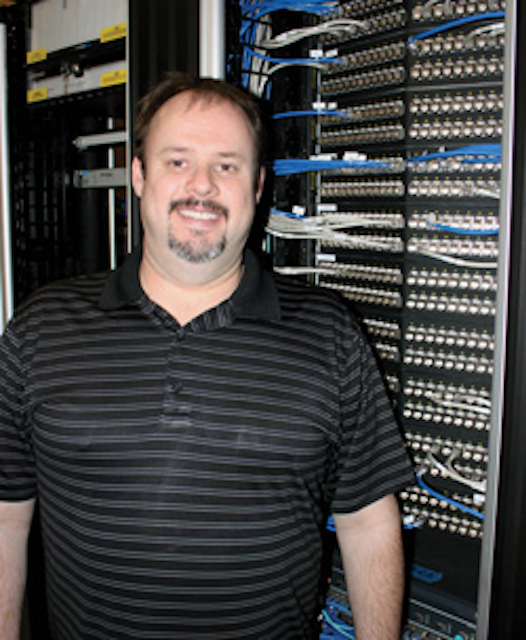 Peter Wilkinson, manager of bioinformatics, at VGTI in the server room.
In the labs, six cables are pulled to each bench. "Pulling the cables to each lab bench might have created a bottleneck in the raceway located above each bench," states Mark Vanson, president of Universal Cabling. "But to assure pathway space for the cable, we set up a prototype at the Universal Cabling location using the Legrand|Wiremold G4000 multimedia raceway and found that this product could easily accommodate the cable size and bend radius."
Another reason to install the highest-bandwidth copper cable available today is because it would be very costly and labor-intensive to recable later as access to the secure pathways is very difficult due to the facility's Biosafety Level (BSL) rating. VGTI Florida also contains a BSL-3 facility for work on infectious agents or toxins that are on the government's list of restricted use agents and therefore require a high level of isolation and containment. This means that the outlets in the labs and research areas needed to be sealed to keep containment within that particular area to eliminate the possibility of any pathogens traveling through the pathways. "At VGTI we work with live viruses and infected cells for culturing so we need to assure a high level of containment within the pathways, in addition to protecting our employees," states Wilkinson. The labs also contain "washdown" areas for added employee protection, which could also affect the outlets and attached cable if they were not sealed.
Berk-Tek's LANmark-10G FTP cables are terminated in the TRs into the Legrand|Ortronics 10G FTP angled patch panels.
Additional runs of six strands of Berk-Tek premise distribution cable were run to each of the nine labs and four cores, in case they required higher-bandwidth applications.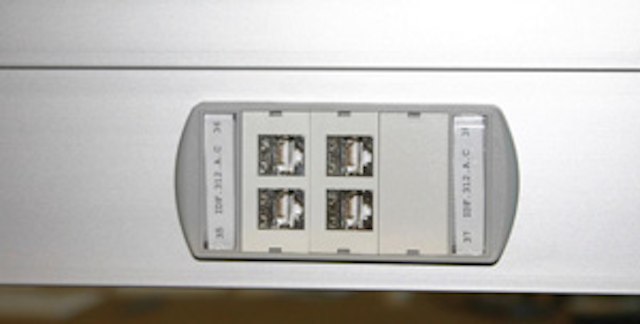 Six-port (two blank) workstation outlets were installed within the Legrand|Wiremold G4000 multimedia raceway.
Up to the cloud
VGTI Florida relies on total support of the existing infrastructure for the onsite data center, as well as handling virtualization at an offsite colocation data center and disaster-recovery site. VGTI Florida hired NetVPro to provide the SAN solution and to provide the "cloud" provisioning at this site.
"The disaster recovery is a total redundant backup system at our private data center, also referred to as Virtual Private Network or VPN," states Paul Berndt, VCP, CCSA, CCIP of NetVPro. "Cloud computing includes SAAS [software as a service]. But the virtual cloud we are providing to VGTI performs special computer tasks that a shared service cannot manage," Berndt further explains. Basically, the computing resources are centered on using storage blades running virtual machines managed with VMware software, and disk storage is provided by a Dell Compellent SAN using thin provisioning. The VMware virtual machines allow the host computer to replicate the guest computer. Transitioning between networks is completely transparent to any users on the virtual machine at the time it is being migrated, which is ongoing to assure that the disaster-recovery network mirrors the Port St. Lucie location in real time.
Eventually all data from VGTI Florida will be placed in a public repository for research sharing. "Our choice in cabling infrastructure had to meet this virtualized appliance model, while keeping all of our data secure at both locations," emphasizes Wilkinson. Today they may be pushing half a terabyte per day of imaging for gene profiling, but technology history has demonstrated that future bandwidth needed to run these applications will increase tenfold very soon. With total backup and virtualization combined with onsite data that is analyzed and interpreted by the VGTI Florida team of computational biologists, the common denominator for the release of future vaccines and cures rests in the reliability of the network and its infrastructure. ::
Carol Everett Oliver, RCDD, ESS is the marketing analyst for Berk-Tek, a Nexans company (www.berktek.com). She also is Northeast Region Director for BICSI (www.bicsi.org). She has authored numerous articles and is a frequent presenter at industry events, covering cabling-infrastructure planning and best practices. She also is a member of BICSI's standards committee and the ASIS Education Council.
---
New design standard for healthcare available from ANSI/BICSI
Planning an infrastructure for healthcare facilities, whether it is for a single doctor's office or a health campus, creates similar challenges for network system designers: How to integrate many disparate systems together over a common network. The information technology systems (ITS) professionals need to understand that the rapid changes in medical technology combined with Internet Protocol (IP) convergence and demands of government initiatives, such as meaningful use and total electronic medical records (EMR), will become critical considerations in the design and implementation of an efficient network. Whereas many of the applications and systems can be attached to the network, the architecture and bandwidth requirements can vary greatly.
To aid in the design and implementation of ITS systems used within healthcare environments, BICSI (www.bicsi.org), through American National Standards Institute (ANSI; www.ansi.org), recently released a new standard: ANSI/BICSI 004-2012 Informaion Technology Systems Design and Implementation Best Practices for Healthcare Institutions and Facilities. Written by healthcare end users and system designers, this standard focuses on today's technology infrastructure that needs to support a variety of applications, such as medical procedures (e.g. imaging), clinical processes, business and enterprise operations (e.g. patient records, wireless and wired communications), building and facilities requirements (e.g. security and alarm management) and even patient entertainment systems (e.g. interactive television system). This standard provides requirements and recommendations for the design and implementation of these systems. "Today, most of these systems are capable of being connected to an Ethernet network in some fashion. While they may share a common backbone, the horizontal cabling and configuration may vary depending on the device type and operating system. In fact, most of these systems still operate as silos with their own proprietary cabling system and this standard recognizes these differences," states Todd Taylor, RCDD/NTS/OSP, director of low voltage/IT design with Enfinity Engineering, LLC and chair of BICSI's Standards Committee and Healthcare Subcommittee.
Two years ago a focused TIA standards group produced the TIA-1179 Healthcare Facility Telecommunications Standard to provide base guidelines for the planning and installation of a structured cabling system for healthcare and buildings. The 1179 standard establishes performance and technical criteria for various cabling system configurations by providing guidelines for planning the cabling pathways, spaces, media and outlets. "The new BICSI-004 standard uses the foundation of the TIA-1179, but goes beyond generic cabling to address specialized requirements of all the other unique systems," explains Jeff Silveira, RITP, AStd, director of standards for BICSI.
Taylor adds, "This standard gets very specific with the unique systems' requirements, from providing bandwidth, network storage and transmission properties needed using different protocols for the clinical processes, as well as providing wiring architecture diagrams for applications such as call systems and DAS."
Although this standard does include one section on the telecommunications infrastructure, covering areas such as topology, pathways (including outside plant) and telecom outlets, it provides more details and schematics, including layouts of a telecom room (TR) and patient room that needs to accommodate all the healthcare systems, beyond data, voice and video. Some of the recognized systems, exclusive to healthcare facilities, which may require special design considerations, include nurse call, medical imaging, patient monitoring (telemetry—both wired and wireless), patient television, clock systems and radio frequency identification (RFID) for patient tracking.
Due to the nature of these different applications, which can be integrated, additional requirements need to be carefully evaluated. A section titled "Integration of Systems" focuses on device requirements for operating rooms and procedure rooms to provide information on design considerations. There are many standalone systems in these spaces that require network integration to provide access to hospital professionals (doctors, nurses and medical students) to aid in patient treatment. These include, but are not limited to, a PACS (picture archiving and communication system), physiology monitors, video feeds, A/V equipment, control panels, video cameras and monitors, to name a few.
Much attention has been given to the complications and physical challenges of installing cabling in a healthcare environment. Professional, accreditation and oversight agencies, such as the Joint Commission and Center for Disease Control (CDC), have provided guidance for new construction and major renovations in healthcare facilities for the deployment of infectious control methods. This standard provides informative information on infection-control risk assessment, training, products and policies, which is vital to maintenance and contract personnel doing work in that space.
Other useful information in this standard addresses the commissioning process, definitions, listing of regulatory bodies and other referenced standards, codes and documents to aid in the understanding of designing an infrastructure in this unique market.
The standard is available by ordering online through BICSI (bicsi.org/bookstore). -C.E.O.