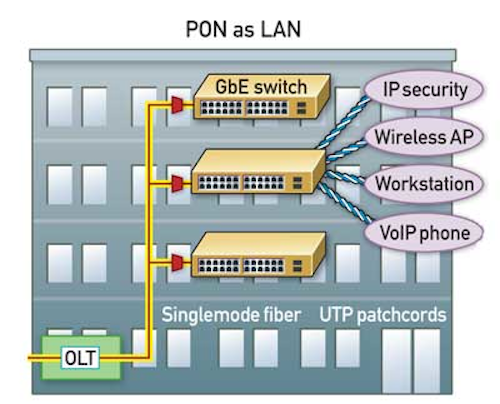 From the February, 2014 Issue of Cabling Installation & Maintenance Magazine
OLANs provide contractors the latest opportunity to move up the network ladder.
By Jim Hayes, The Fiber Optic Association
A new type of local area network (LAN) has been getting a lot of attention recently, what the industry is calling an "optical LAN" or "OLAN" and sometimes a "passive optical LAN" or "POL." Those terms may mean something different to some vendors and users because, typical with new technology, jargon gets developed over time.
However, by now most contractors know something about these new optical LANs and perhaps just enough to get them worried. Most of the worry comes from the major marketing point made about optical LANs-they replace many copper cables with just a few fibers and cost users a lot less to install and operate.
Scary, eh? The first reaction many contractors have is very negative because they fear it will affect their business in a very negative way. Rather than try to reassure anyone right now, I suggest you read on, where we will explain what the optical LANs (OLANs from this point on) are and how they affect the design, installation and operation of cabling and networks. Then we'll look more at how they affect the cabling business for contractors.
What is an OLAN?
An optical LAN is basically a LAN that uses optical fiber for the entire permanent cable plant. Devices on the work-area end, generally PCs with Ethernet ports for Category 5, wireless access points or other IP devices like surveillance cameras, security systems, etc., connect to the OLAN electrical device by a simple Category 5 patch cord.
OLAN Generation 1-Centralized fiber: Contractors familiar with structured cabling probably would think the first OLAN s were what TIA-568 calls "centralized fiber." Centralized fiber connects the computer room to the work area with a multimode fiber link. The conversion from the copper Ethernet ports on a switch to fiber and from the fiber to the user's copper Ethernet port are done using media converters-small devices that do what their name implies, convert from one media to another.
When the concept of centralized fiber was introduced, the reaction was not very positive. In fact, quite the opposite. Users balked at the cost of media converters. However, that was the only practical way to build a centralized fiber system, because most Ethernet switch manufacturers priced fiber ports much too high to allow their use.
Proponents of centralized fiber tried to make the point that centralized fiber has a much longer distance capability than copper and did not need switches in the telecom closets; it did not even need the telecom closet at all. If you compared the cost of centralized fiber to conventional structured cabling, the cost might be comparable or even less. But the argument fell on deaf ears.
What centralized fiber was missing was a concrete cost advantage. The one development that could have provided that-using a multiport switch that was also a media converter at the user area in order to share one fiber link for several users-never got widespread recognition. In time, the centralized fiber concept was adopted primarily by users who wanted the security of fiber optics (e.g. government agencies).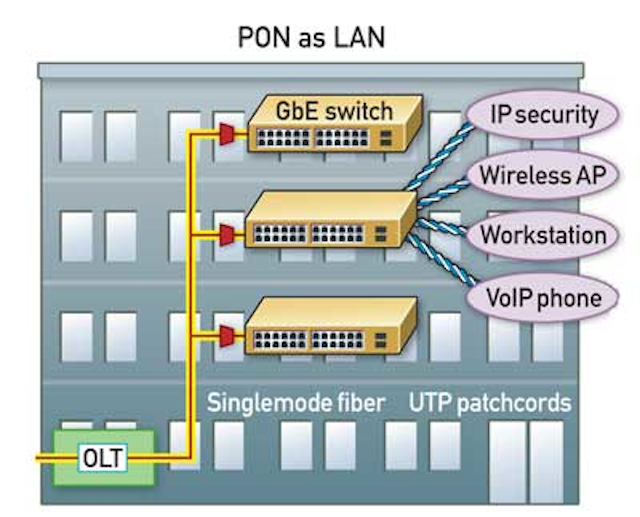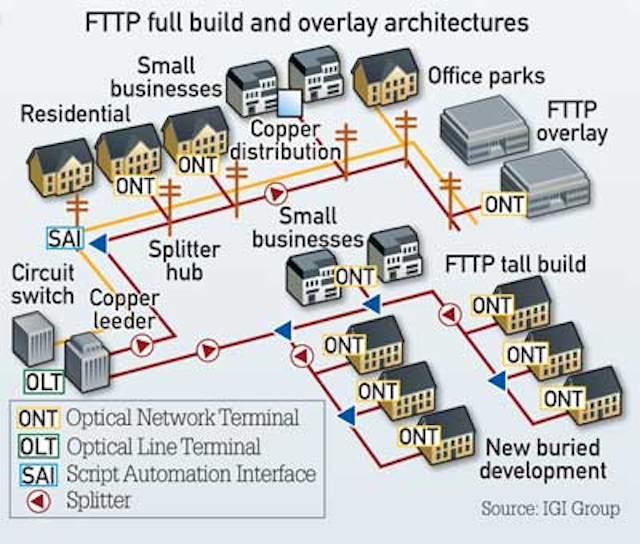 This diagram shows a passive optical network (PON) used as a local area network (LAN) alongside a fiber-to-the-premises layout. PONs used in the enterprise LAN environment replicate the fiber-to-the-premises architecture and are compliant with either of the fiber-to-the-premises standards Gigabit PON (ITU-T-G.984) or Ethernet PON (IEEE 802.3ah/av).
OLAN Generation 2-Fiber to the office/outlet: This second-generation OLAN started showing up in large buildings like the Dubai Airport. The architecture looked like centralized fiber (or zone cabling with a singlemode fiber backbone), but with two major changes. The fiber was all singlemode and the electronics were derived from the fiber-to-the-home (FTTH) "active Ethernet" systems. The singlemode fiber was mandatory to get the distance needed for the links, and the FTTH electronics were much cheaper than LAN electronics.
OLAN Generation 3-Passive optical LANs: Meanwhile, FTTH installations were booming all around the world. We're talking numbers like tens of millions of subscribers being connected directly by fiber each year. With those kinds of qualities, service providers pressured component vendors to find more-cost-effective solutions for cabling and electronics and easier ways to install the entire system. In only a couple years, the cost of connecting a home dropped by two-thirds.
One of the key technical issues of these FTTH networks was the "passive optical network" (PON) concept. A passive splitter allowed one port on a FTTH switch (called an optical line terminal or OLT) to connect 32 users, making the cost of connection much cheaper. And the splitter allowed the user's interface, called an optical network terminal (ONT) to transmit back on the same fiber in the opposite direction at a different wavelength.
Another key development was from the fiber manufacturers-bend-insensitive fiber. Bend-insensitive fiber allowed new miniature cable designs that made it easy to install the fiber drop to the subscriber, especially inside buildings of apartments or condominiums-called multi-dwelling units (MDUs). Then cable manufacturers began offering more types of prefab cable assemblies, and connector manufacturers developed prepolished/splice connectors that could be installed in minutes with very good termination specs.
It was not long before it became obvious that a MDU was the same basic layout as an enterprise LAN. Replace the subscriber ONT that offered triple-play services (voice/data/IPTV) with a multiport Ethernet switch (still usually called an ONT), and you have a very cost-effective LAN.
Finally, there was an OLAN that offered tangible benefits. For larger users (hundreds to thousands of connections), these passive optical LANs cost about half as much as conventional LANs based on traditional structured cabling, cost even less to operate (power consumption is significantly lower), and truly offer some "futureproofing." (Futureproofing has always been a selling point for fiber, but as Ethernet networks jumped from 1 to 10 to 40 to 100 Gbits/sec, multimode fiber versions became like Category-rated UTP, with new versions being offered for each new network. OLANs use singlemode fiber with terabit-plus capability, plus the option to use multiple wavelengths to expand that more than 100 times.)
OLANs have some interesting flexibility that regular LANs lack. For example, a corporate LAN will be all Ethernet to work areas, but a college campus may mix academic buildings with residence halls/dormitories. With an OLAN, you can have academic buildings served by Ethernet and dorms served by FTTH "triple-play" ONTs with Ethernet, TV and voice phone outputs, more like a FTTH system in an MDU.
Another selling point for OLANs is the network management issue. FTTH networks were designed for large numbers of users. A single OLT will serve as many as 8,000 or more users, and FTTH networks may cover hundreds of thousands of users. So setting up and managing a network must be simple. It is. Self-testing is designed into the system and the OLT can manage the ONTs remotely.
And if you have heard much about OLANs, you probably know that PONs include encryption. Downstream, you "broadcast" to users through the coupler so all the users see not only their data but everybody else's. Encryption is used downstream to keep each user's data private. That makes it less prone to tapping and hacking, but options exist to encrypt in both directions and monitor for tapping for those interested in the ultimate in security.
Did we mention upgrading? The current systems are GPON-Gigabit PON-and 10GPON is coming soon. It will be an easy upgrade on the singlemode fiber cable plant.
What about standards?
All these OLANs are based on international standards. The PON networks come in two varieties: GPON or Gigabit PON (ITU-T-G.984), and EPON or Ethernet PON (IEEE 802.3ah/av [1/10 Gbits/sec]). Singlemode fiber is covered under numerous U.S. and international standards, as are most other components.
POL vendors are active members in the TIA TR-42 Committee that writes TIA-568, and are clarifying that the architecture and components of OLANs meet TIA cabling standards. Even BICSI has added a chapter on OLANs in the latest Telecommunications Distribution Methods Manual (TDMM).
Effect on cable plant designs
OK, let's get this out front right now: It's time! You are going to pull out all that Category 5 and recycle it. Copper prices are at all-time highs, so it will bring a pretty price. Next, remove all those switches and patch panels in the telecommunications room (TR). You do not need any of that anymore. Of course, if it's new construction, you won't have anything to remove; you just don't need to design around their requirements.
What you will include in your design is fiber cables to the TR or similar area, where you will place a POL splitter, or maybe a few of them. Each splitter has 32 outputs to connect 4-port Gigabit Ethernet switches, for a maximum of 128 user outlets for each PON splitter. You can have fewer if needed, of course, to maximize bandwidth to some users. We know some designs that limit each POL splitter to 80 user ports (20, 4-port switches) to also allow for future expansion.
From the splitter to the work area switch, you only need a single fiber cable because these POL systems use one fiber in both directions. To put in structured cabling terms, the work area switch is like a zone cabling box with patch cords to each user connection. Forget all you learned about pathways and spaces. All those giant bundles of Category 5 are no more!
The fiber-optic cables used for POLs are really small, because you need only a few fibers. Those small cables will simplify installations in retrofits, especially old buildings with little space for cables. You can even get baseboards and ceiling molding that accommodate these cables.
Some installations use just a small-fiber-count cable to the TR and a simplex cable to the work area. Some installers we know use special armored cables, while others prefer the miniature cables used in FTTH and some even install fiber in ducting to protect it. Protection can be a smart move, especially if the fiber is being installed to replace copper cables that will be removed after the fiber system is operational. You know how easy it is to cut the wrong cable!
A logical question that comes up frequently is, but what about PoE? Some devices connected to the cable plant require Power over Ethernet (PoE), including Voice over IP phones, IP CCTV cameras and wireless access points. That's OK, because most POL switches have outputs for PoE or PoE Plus. Yes, you do have to power the POL switches, but you have the option of providing it locally from AC or remotely by DC. Either way can accommodate uninterruptible power.
Installation considerations
What is involved in installing an OLAN cable plant? Let's be up front: Less labor-maybe much less. It's simple math. One simplex optical fiber cable can replace 8 (or more) Category 5 cables. There are even fewer fibers in the backbone than most traditional LANs. If you choose to go with a prefab cable system, there is no termination. Otherwise you will make 2 terminations instead of 16. Those terminations will be prepolished/splice connectors that take a minute or two.
No field polishing should be attempted, even if you have lots of experience with multimode fiber terminations. Singlemode fiber is very sensitive to reflectance at the connectors, and it is difficult to get reflectance low enough with field polishing.
Fewer cables mean fewer cable trays, and fewer racks for patch panels. Of course there are many fewer switches-none in the telecom room-so you need fewer racks, no power, no AC and no data ground there (but you still need to ground racks and other metallic structures).
If you are used to installing cabling for purposes like TV distribution, you will not be doing that if you use the triple-play ONTs. CCTV, building management systems and most of these types of systems are going to IP on cabling, and they can be served off ONTs connected to the OLAN.
Practically every contractor I've discussed this topic with has given us the same feedback. Technology changes; if you are going to survive, you have to learn how to adapt. When users wanted mobility, first for their laptops and now smartphones and tablets, WiFi replaced the need for some desktop connections. But contractors found that WiFi access points needed cables too, so they learned to design, install and test WiFi networks. All billable services.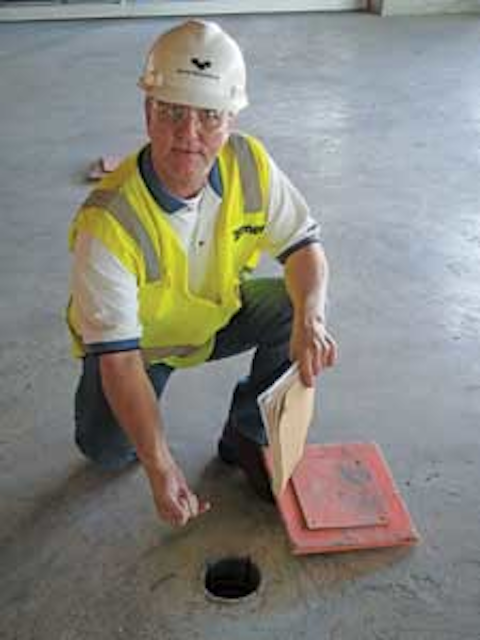 Bob Schuman of Vector Resources shows where a simplex singlemode cable will be pulled into a 4-inch conduit originally intended for a number of copper cables.
With OLANs, contractors are moving up the network ladder again. They have learned that installing the ONTs and OLTs is work that they can easily do, and recover revenue lost to less cabling. Many say that Category 5 installation is so competitive that it is difficult to make a profit on those jobs anyway.
Installing singlemode fiber is specialized work that brings a premium price. Adding installation of the networking equipment is specialized too, but the equipment vendors will supply training and support to help you add that to your portfolio of products.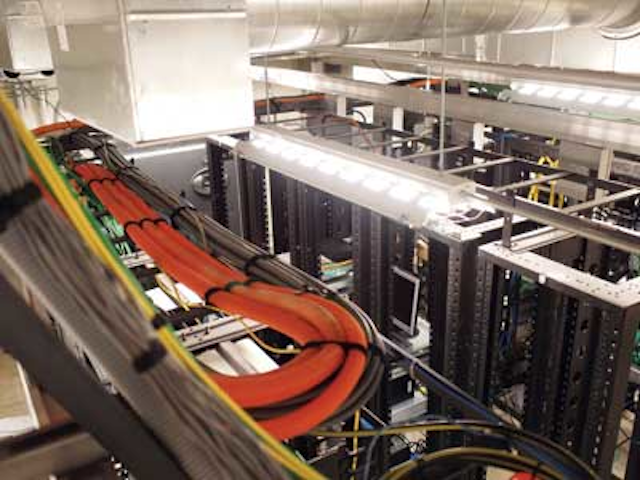 The important part of this photo is what you don't see. At the San Diego Central Library, there are no masses of overhead cabling headed to switches-because the switches are not needed.
Real-world examples
We have been interviewing contractors and vendors, and visiting OLAN sites to understand what is involved in designing and installing OLANs. Here are a couple examples.
The San Diego Central Library has been a decade-long project, done in fits and starts because of funding issues. This 9-floor modern building has a state-of-the-art public library and two floors of a new high school. The data system used a Tellabs OLAN and TE Connectivity cable plant to provide connectivity for 4,000 users.
Installation of the OLAN was done by Vector Resources. Debi Preece, general manager at Vector's San Diego office, gave us a tour of the facility during construction. We were able to visit again with Vector, Tellabs and TE Connectivity after the facility opened.
Because of the long gestation period of this project, it was designed by the architects and engineers for a conventional structured cabling system. It had giant TRs on each floor and 4-inch conduit buried in the floors for the mass of Category 5 cables for each work area. That 4-inch conduit ended up having only one simplex singlemode fiber cable pulled in it.
An excellent illustration of OLANs' savings in pathways and spaces is shown by the photo that looks down into the computer room. Missing are the masses of overhead cables headed to switches.
Of course, the reason those masses of cables are not needed is the switches are not needed either. The other photo shows the Tellabs OLT that powers the entire library system. Remember, one fiber goes from this OLT to a 32-port splitter to a 4-port Gigabit Ethernet switch that can serve up to 128 users.
Ms. Preece said the installation was not difficult. Cables were pulled and terminated with TE Connectivity Lightcrimp prepolished/splice connectors. ONTs were mounted in the work areas where needed. But one problem did crop up at the last minute. Many patch cords purchased to connect the ONTs were bad and had to be returned. This is an important issue. Singlemode terminations are much more critical than multimode because of the smaller diameter of the fiber core, and its sensitivity to proper termination processes and requirements for fastidious cleaning before mating. Personnel must be trained how to handle these connectors and patch cords, and be equipped with proper cleaning kits.
(Editor's note: In response to several inquiries from readers, please know the patch cords that needed to be replaced in the San Diego Central Library project were not supplied by TE Connectivity. We apologize for the ambiguity in the previous paragraph.)
IT Connect has been doing networks for the school system in Santa Fe, NM for some time. They are now installing OLANs as part of an upgrade to the networks. Kareem Edwards, president of IT Connect, gave us some interesting insight into the flexibility of OLANs.
Inside the schools, fiber was run to the classroom to connect several ONTs in each classroom. Of course, different teachers like their classrooms arranged differently with network connections at different places. The solution was to install several fiber outlets in the classroom so the ONTs could be moved to suit the teachers' preferences.
In addition, a full-blown Tellabs switch was overkill for one school. Because the OLT was designed for a municipal FTTH system, it has a distance capability of more than 10 km. Now the school system is looking for dark fiber to lease, to allow connecting several schools to one system.
Tel Tech Plus (TTP) is installing an OLAN in a privately owned dorm for a college in San Marcos, CA. Being a dorm, students expect high-speed Internet, phones and TV. Greg Stearns, CEO of TTP, said the OLAN system he is installing is more like a FTTH system than a LAN. The fiber is run to work areas (literally closets) near the rooms where a triple-play ONT is installed. That ONT is then used to split video, LAN and phone service to several rooms, with copper cabling being used to make the final connections.
Every project is different and requires careful design consideration before installation begins.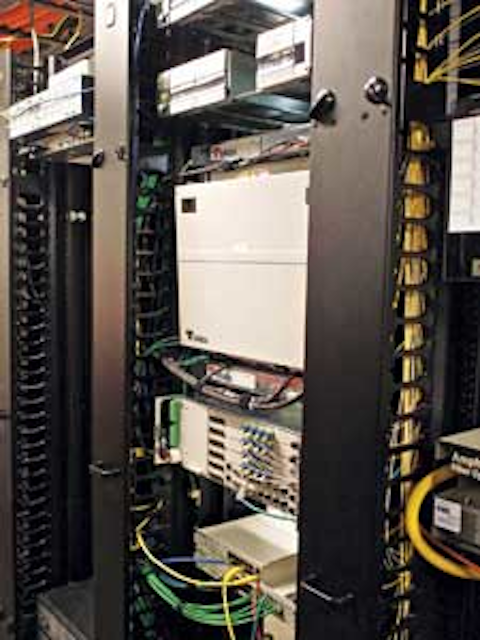 This rack shows the Tellabs optical line terminal (OLT) that powers the entire San Diego Central Library system. A single fiber goes from this OLT to a 32-port splitter, to a 4-port Gigabit Ethernet switch that can serve up to 128 users.
Be prepared
OLANs have everything that network users want-lower cost, easy upgrading, easy management and standardization-so they are not going away. Contractors need to learn more about them (Congratulations-you just learned a lot by reading this article!), and get their personnel trained in their design and installation.
As noted in this magazine recently, the Fiber Optic Association has created an OLAN certification curriculum for our approved schools to teach. Shortly, a free OLAN self-study course will join other learning materials available at fiberu.org.
Jim Hayes is president of The Fiber Optic Association (www.thefoa.org).
That's OLANs
"Real revolutions don't arrive at high noon with marching bands and coverage on the 6:00PM news. Real revolutions arrive unannounced in the middle of the night and kind of sneak up on you."
-Al Ries and Jack Trout, The 22 Immutable Laws of Marketing (Chapter 20, "The Law of Hype")
More CIM Articles

Archived CIM Issues