No-transition-point solutions

Click here to enlarge image
This line of indoor/outdoor cables is designed to perform well in wide-ranging temperature and environmental conditions, whether outside plant or indoors through riser or plenumareas, and without transition points. The Adventum family ofcables is available from 1 to 423 fibers, depending on construction and application. A new version with 1 to 2 fibers is available as ATR riser-rated or ATP plenum-rated for CCTV and MDU installations. The fully-water-blocked cable features a proprietary DryGel technology. For higher strand counts found in data center and SAN applications, the Adventum Dual-Unilite features reduced outer diameter and cable weight through the removal of unused buffer tubes. This side-by-sidedesign is more flexible than a traditional round version, allowing for better conduit fill ratios to provide a 50% smaller cross-sectional area than comparable cables.
BERK-TEK
www.berktek.com
Reduced-bend fibersfor MDU installations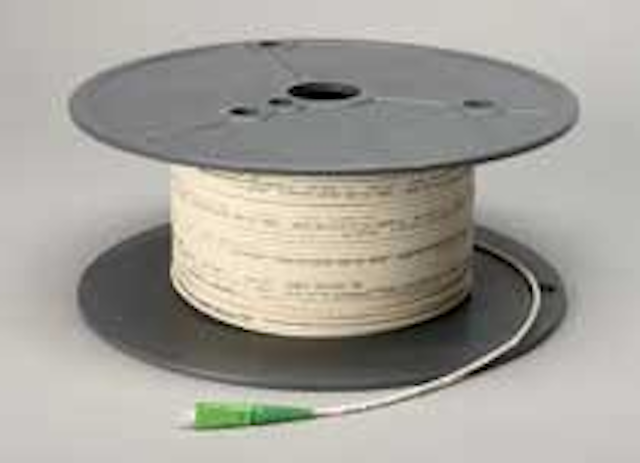 Click here to enlarge image
OmniReach reduced-bend-radius 3mm MDU (multi-dwelling unit) drop cables can be bent at a smaller radius than traditional fiber, providing improved insertion loss performance for 90° bend location without compromising attenuation characteristics. Developed with a high-quality fiber and the company's military-grade cabling technology, the cables' ruggedized 3-mm indoor/outdoor cable jacket is designed to provide additional flexibility and durability while maintaining optimum network performance. By using standard cabling staples for installation strain relief, technicians can quickly secure cables to most surfaces. OmniReach cables are available in various configurations, including indoor/outdoor, riser, and plenum, and can be deployed in all types of MDU environments.
ADC
www.adc.com
Connectivity for the factory floor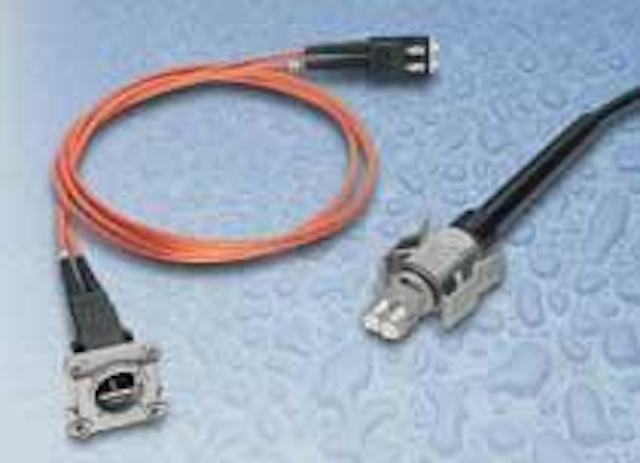 Click here to enlarge image
Designed for transmitting data over long distances in areas where EMI is a concern, the IP20-rated version of the VARIOUSUB SCRJ can be used as a patch cable to interconnect devices inside a control cabinet, while the IP67-rated version is designed for hostile environments on the factory floor. The system includes a push-pull locking housing that contains an SCRJ connector, and an interlocking IP67-rated panel-mount frame designed to provide a secure connection. Pre-assembled versions include plastic optical fiber, hard-clad silica, and glass optical fiber.
PHOENIX CONTACT
www.phoenixcon.com
Heavy-duty solution for airport networks

Click here to enlarge image
SYSTIMAX heavy-duty indoor/outdoor fiber-optic cable is especially designed to safeguard the performance of vital airport networks. The cable is optimized for high-stress applications where cable vulnerability is of concern, incorporating a PVDFR outer jacket and a PVC inner jacket for greater resistance to hazardousliquids. It meets standard environmental requirements for outside plant cabling, and is also compatible with FAA-E-2761 requirements for outdoor airport installations.
COMMSCOPE
www.commscope.com
900-µm tight-buffered cables for duct, aerial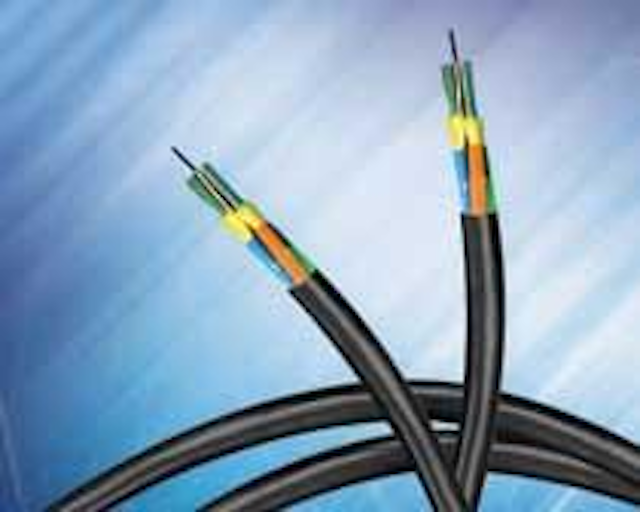 Click here to enlarge image
Designed to be easier to install and faster to terminate than loose tube cables,FiberExpress 900-µm tight-bufferedcables are UL riser- and plenum-rated, and are especially suited for duct and aerial installation points. No transition points are required at the building entrance. Construction consists of color-coded buffered fibers surroundedby water-swellable aramid-strength members and a ripcord under an overall UV-resistant, flame-retardant black jacket. Bundles of six or 12 fibers are used for cables with fiber counts over 24. Awater-swellable tape barrier provides additional water-blocking to protect the interstices from axial moisture migrations. Cables are available withfiber counts ranging from6 to 48. Distribution cablesinclude a selection of 62.5/125-µm and 50/125-µm multimode cables and singlemode enhanced. Breakout constructions are also available, as are optional aluminum or steel interlock armor, LSZH riser-rated construction, and UV-resistant colored jackets.
BELDEN
www.belden.com
Factory-ready FTTx network solution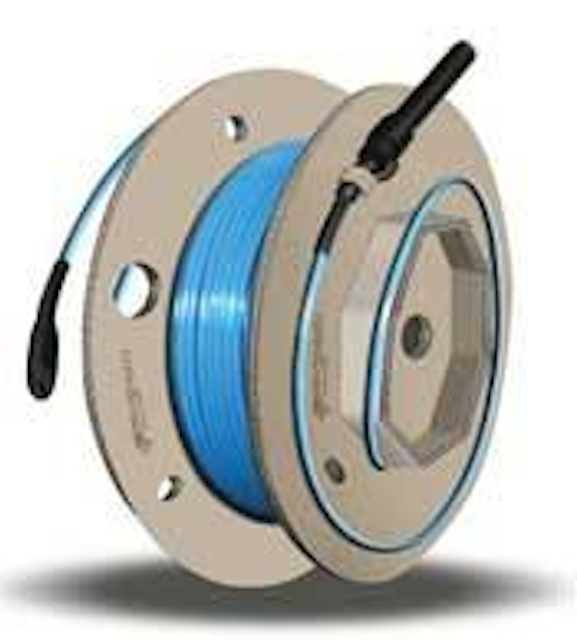 Click here to enlarge image
The QUICKDR@W system is designed as a simplified method for connecting FTTx networks. Factory pre-assembled products are built for simplified installation. A pre-made cable lead-in with factory-fitted connectors avoids the need for fusion splicing; the lead-in cable is installed and connected only when the customer premises is ready. A pulling shroud houses and protects the connector body from dirt or moisture, and is built to simplify connection of a hauling cord to pull the cable assembly through a lead-in conduit to the dwelling. The shroud can house most standard connectors, and will pass through a 20-mm lead-in conduit and around 100-mm radius bends.
PRYSMIAN
www.prysmian.com
Cable redesigned for improved impact resistance
Click here to enlarge image
These indoor/outdoor riser tight-buffered cables incorporate a new design thatreduces cable diameter and bend radius while improving crush and impact resistance and tensile strength. For outsideinstallation, the water-blocking outer jacket incorporates a UV stabilizer and anti-fungus protection for underground use. With tight-buffered fiber counts ranging from 2 to 144, these cables are available with all grades of singlemode and multimode fiber, including 50-µm for 10-Gbit Ethernet applications. Hybrid single-mode/multimode versions are also available. All of the company's indoor/outdoor fiber-optic cables are MSHA-approved for use in mining applications.
AFL TELECOMMUNICATIONS
www.afltele.com
Tight-buffered, loose-tube configurations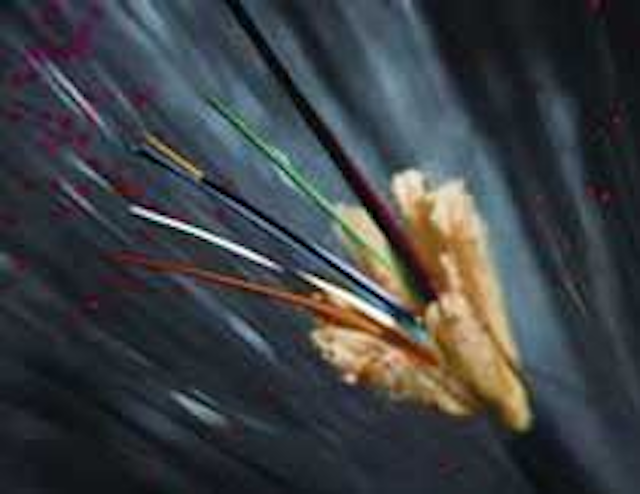 Click here to enlarge image
The company's line of indoor/outdoor fiber-optic cables includes tight-buffered and loose tube configurations, offered in all grades of multimode and singlemode, and containing up to 72 fibers. All cables are designed to meet stringent environmental requirements for outdoor applications and flammability requirements for indoor applications. No transition splice is required. According to the company, all cables are engineered and constructed to be long-lasting and durable.
HYPERLINE
www.hyperline.com
Toneable FTTx cable

Click here to enlarge image
The company's toneable loose-tube FTTP OFCR cable is designed for use in duct, aerial, direct buried, and indoor riser environments. This compact, RoHS-compliant cable with universal OFCR rating is suitable for micro-ducts, crowded conduits, and small ONTs.Cable location is simplified with the toneable copper wire. The water-blocking cable contains from 1 to 12 optical fibers in a single proprietary PFM gel-filled tube bracketed by two rigid GRP rods. A black weather-resistant PVC outer jacket contains the toneableelement and protects the core.
SUPERIOR ESSEX
www.superioressex.com
Dry water-blockingfor harsh environments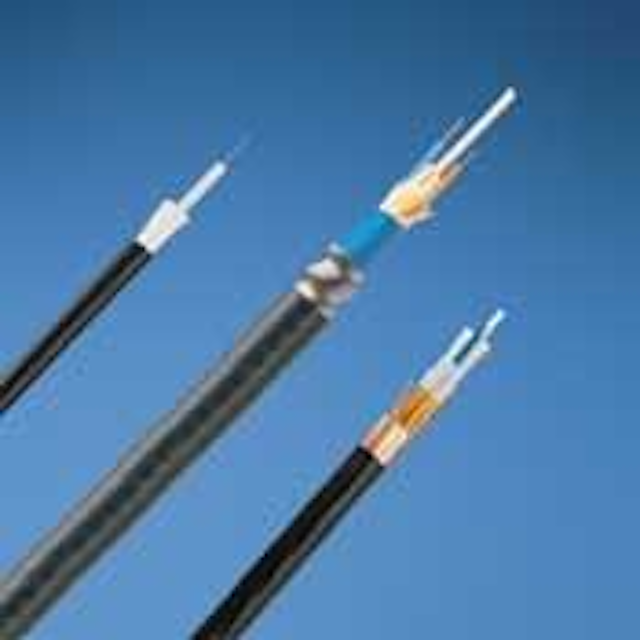 Click here to enlarge image
Opti-Core UV-resistant cables employ a dry water-blocking technology designed to withstand harsh outdoor conditions. Suitable for use within buildings, for outdoor installations or transitional aerial and duct applications, and for entrance facilities that require riser- or plenum-rated cable, Opti-Core requires no building transition point. An all-dielectric construction requires no grounding or bonding, while an armored cable construction has interlocking aluminum armor that eliminates the need for innerduct or conduit. The RoHS-compliant cable is available in singlemode (meets OS1 and proposed OS2 standards) and multimode (OM1, OM2, and10-Gbits/sec laser optimized OM3) types, and in fiber counts up to 144.
PANDUIT
www.panduit.com
Gel-free plenum for duct or riser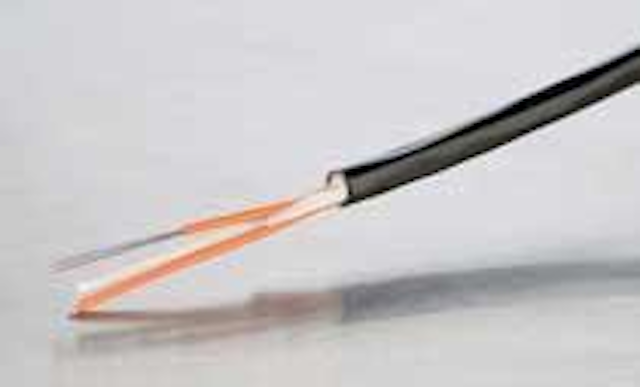 Click here to enlarge image
FREEDM loose-tube gel-free plenumcables are flame-retardant and suitable for aerial, duct, riser and plenum installations. No transition splice is required when entering the building from a dedicated outside plant cable. Part of the company's LANscape Pretium solutions, these cables features 250-µm color-codedfibers for simplified identification duringinstallation. The loose tube design provides mechanical and environmentaldurability, and the cable's all-dielectric construction requires no grounding or bonding. FREEDM is available with 12 to 60 fibers and in 62.5- and 50-µm (including laser-optimized) and singlemode versions, along with a flexible, flame-retardant, UV-resistant jacket. Interlocking armor is available for specialized applications requiringadditional mechanical durability.
CORNING CABLE SYSTEMS
www.corningcablesystems.com
Smaller dimension central tube fiber

Click here to enlarge image
RiserLite central loose tube cables are suitable for dual installation environments, such as buried conduit in a campus backbone or in building backbones. Offering a smaller overall dimension designed to ensure a more efficient use of conduit space than typical loose tube, the central tube is built to minimizeinstallation labor and materials. No transition splice is required. Offered in all grades of multimode and single-mode fiber, RiserLite cables are available in customized jacket colors and corrugated/interlocking armor.
MOHAWK
www.mohawk-cable.com
Cabling built for factory environment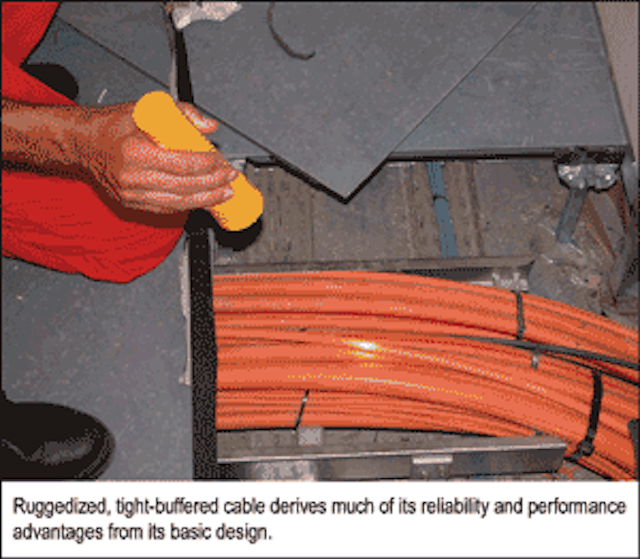 Click here to enlarge image
Featuring a proprietary pressure-extruded(Core-Locked) tightly bound outerjacket that firmly binds all fibers together so that the cable moves as a solid, rope-like unit, these tight-buffered cables aresuited for industrial applications.Cables are designed with flex resistance of thousands of cycles, crush resistance of 2200 N/cm, the ability to withstand 1,000 impacts, and tensile load ratingexceeding a ton. They are also con-structed to withstand caustic and volatile chemicals, excessive moisture and fungus,UV exposure, and operating temperatures ranging from -55° to 124° C.
OPTICAL CABLE CORP.
www.occfiber.com