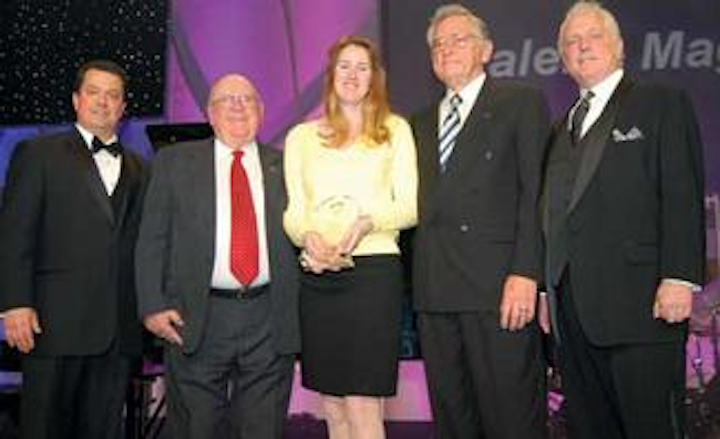 BICSI Winter Conference shows 'green' promise
Amid a dire U.S. economy, the mood at the 2009 BICSI Winter Conference, held January 18-22 Orlando, FL, was nonetheless one of sober optimism — perhaps reflecting the demeanor of the nation at large during the week of its 44th Presidential Inaugural ceremonies.
"We have a fresh start going into 2009," says BICSI president Edward Donelan, RCDD, NTS, TLT. "The results coming out of this conference support the fact that the ITS industry is strong and will continue to flourish."
The overwhelming subject of this year's General Session was the information transport systems (ITS) industry's inescapable march toward a "green" future, including the advancement of certain energy efficiency measures, especially for data center construction, spearheaded by the U.S. Green Building Council (USGBC; www.usgbc.org) for the Leadership in Energy and Environmental Design (LEED; www.usgbc.org/leed) green building certification system. In addition, there is burgeoning global environmental regulation pertaining to hazardous substance legislation, such as the European Union's RoHS, WEEE, and REACH laws—statutes of which, in some incarnation, loom on the U.S. horizon.
Indeed, "green" was a theme that President Barack Obama couched in his inaugural address, which was broadcast on the large video screens in the conference's main ballroom. "Each day brings further evidence that the ways we use energy strengthen our adversaries and threaten our planet," stated the new President.
Award winners, RCDD honorees
This year's conference also featured a recognition ceremony (complete with a gigantic—albeit replica—cake) to honor the 25th anniversary of the association's Registered Communications Distribution Designer (RCDD) program. Honorees included BICSI past presidents Harry Pfister, RCDD; Vic Phillips, RCDD, OSP; and Bob Bader, RCDD, all of whom were cited as part of the original group of industry professionals to take the RCDD pilot exam in 1984.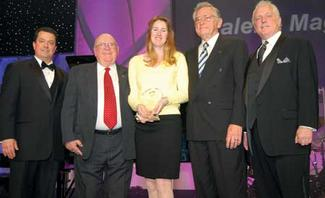 Valerie Maguire of Siemon Company, recipient of this year's BICSI's Harry J. Pfister Award for Excellence in the Telecommunications Industry, was honored during an awards banquet at the Winter Conference in Orlando, FL. Congratulating Maguire were (l-r): BICSI president Ed Donelan; Harry Pfister, RCDD; Dr. Mel Anderson of the University of South Florida's College of Engineering; and BICSI executive director and CEO John Clark.
Click here to enlarge image
Later, at the annual BICSI awards banquet, Eugene Botes won the professional association's David K. Blythe/University of Kentucky distinguished service award, given annually to a BICSI member for outstanding volunteer efforts in promoting the organization's educational programs and commitment to professional development within the telecommunications industry. Botes became a BICSI member in 2000 and was the first RCDD in BICSI's Middle East and Africa district. Though unable to attend the conference, Botes said thanks and addressed the audience via telephone from his home in South Africa.
The Larry G. Romig committee member of the year award was given to BICSI membership and marketing committee chairman Edward Boychuk, RCDD. Established in 1989, the Romig Award recognizes exemplary effort and dedication to volunteer activity performed as a member of a BICSI committee. Accepting the honor, Boychuk expressed his belief that the combined efforts of BICSI's volunteers and executive leadership will ensure the association's continued success into the future.
Dr. Mel Anderson, of the department of engineering at the University of South Florida, presented BICSI's Harry J. Pfister Award for Excellence in the Telecommunications Industry to Siemon Company's (www.siemon.com) Valerie Maguire. The Pfister Award recognizes the lifetime achievement or major accomplishment of an individual in the telecommunications industry, promoting that person's professionalism as well as his/her efforts to enhance the industry's scientific, technical, or educational aspects.
Credited with the development of de-embedded test methods for Category 3, 4 and 5 patch cord assemblies, Maguire is a highly respected member of the standards community who has authored more than 45 technical articles and engineering papers, and holds one U.S. Patent. She actively participates in working groups responsible for the development and publication of telecommunications standards, such TIA/EIA-568-B, 568-B.2-1 (Category 6), and pending 568-B.2-10 (Category 6A). She is chairman of the TIA TR-42.7 copper cabling sub-committee, TIA TR-42 appointed liaison to IEEE 802.3, and document editor for the 568-B.2-10 Category 6A cabling standard and the next edition 568-C.2 standard.
With an invigorating and far-ranging speech at Tuesday's opening session entitled "Back to the Future with a Silver Lining," BICSI President Ed Donelan reflected on the myriad technological advancements since the 1980s and the corollary events in BICSI history, interweaving anecdotes from his own professional past as an entrepreneur and installer of cabling systems in the New York metro area.
Little is much
Donelan exhorted cabling industry entrepreneurs to remember that "little things become big things." By way of illustration, he anecdotally recalled how an order for "9 [cable] drops" in the late 1990s ultimately led his company into "a multimillion dollar" contract with international media company Pearson plc, after it purchased Simon & Schuster's educational and professional publishing companies. Donelan encouraged entrepreneurs to not relent in their efforts to find new chances, despite the tough economy. "In a connected world, we're breaking down barriers for business opportunity like never before," he said.
Looking ahead to 2010 and beyond, Donelan highlighted developing technologies and how they will affect future planning of BICSI and the global, connected society as a whole. Referencing the inauguration of President Obama, he declared, "We are experiencing an historic day for America, for BICSI, and for the entire ITS industry." He further stated that "global expansion is the key to [BICSI's] future," via the organization's outreach, training, education, publications, standards, and credentialing initiatives.
BICSI past president Dick Reed, RCDD, OSP, continued the morning session with the BICSI Government Relations Update. Highlighting numerous legislative initiatives in U.S. states, the report covered the status of a variety of government bills and the potential effects each could have for those working in the ITS industry. "BICSI is 100% in favor of [governmental] licensing," noted Reed.
The organization's Annual Business Meeting provided a full review of BICSI over the past year and what changes the coming year will bring. Executive director Clark acknowledged the accomplishments of the 2008 board of directors and introduced new board members for 2009. The 2008 BICSI Presidential Award was presented in absentia to Steve Calderon, RCDD, NTS, OSP, for his 10 years of service on the board. Several key updates were presented at the meeting on BICSI's credential restructuring program (BICSI NxtGEN), as well as reports on financial, membership, marketing, and international growth.
Green means 'go'
The afternoon's General Session again took a turn toward "green," with Stanley Salot Jr. of the Electronic Component Certification Board (ECCB; www.eccb.org) and Brendan Owens of the USGBC delivering back-to-back presentations. Attendees had the opportunity to learn about new developments within the LEED green building rating system, as well as how changing green certification requirements—gathered under the ECCB's IECQ QC 080000 standard and IECQ-HSPM [hazardous substances process management system]—are affecting the electronics manufacturing industry.
The session's subsequent "Panel Discussion on LEED" fielded questions about BICSI's involvement in developing technology infrastructure-related "innovation credits" within the LEED system. While there is no official requirement for communications systems within the LEED process as of yet, BICSI maintains that "there is a growing expectation on the part of architects and consulting engineers that RCDDs working on their design projects will bring solutions to the table in keeping with the core principles of LEED." For the panel discussion, Salot and Owens were joined by BICSI president-elect Brian Hansen, RCDD, NTS, of Leviton (www.leviton.com); Dave Labuskes, RCDD, NTS, OSP, of RTKL Associates (www.rtkl.com); Betty Bezos, RCDD, NTS, OSP, WD, of Bezos Technologies (www.bezos.com); and Ed Mikoski of the Telecommunications Industry Association (TIA; www.tiaonline.org).
Green themes were pervasive at the show. In a pre-conference seminar, "Designing Cabling Systems and Data Centers for Green Building Compliance," IT consulting specialist Paulo Marin of Paulo Marin Consultoria (Sao Paulo, Brazil) provided an overview of the USGBC's "Green Building" concept in all its complexity, and the various and proposed cabling strategies and data center design methods aimed at contributing to a building's overall LEED certification per USGBC ratings.
In framing the green data center concept, Marin said, "The challenge is how to get better performance using less energy." One LEED AP- [accredited professional] certified in the audience noted that the tax incentives associated with LEED accreditation may ultimately save organizations "hundreds of thousands" of dollars per year.
Marin observed that while "the bad news is that there is currently no correlation between cabling best practices and LEED certification," and that telecommunications cabling is not directly addressed in the USGBC rating systems, "the IEEE, BICSI, and the USGBC are all talking, looking for a way to expand USGBC coverage to green data centers." He added that forthcoming best practices guidance will be based on the much anticipated ANSI/BICSI-002 Data Center Design Standard and Recommended Practices, an international "best-practices" document meant to complement TIA-942, CENELEC, and ISO/IEC data center standards.
BICSI-002 will also provide reference to other standards and guidelines surrounding data center design and implementation. Projected to be in excess of 400 pages, BICSI-002 will seek to cover every aspect of data center design, from planning, site selection, reliability, and architectural/structural/electrical requirements, to mechanical, fire protection, security, telecommunications, information technology, commissioning, and maintenance. The document is said to go well beyond low-voltage structured cabling. (For further CI&M coverage of the ANSI-BICSI-002 standard, visit: www.cablinginstall.com)
Quality equals quality
Despite the calamitous economy, BICSI reported that the Winter Conference reception and exhibits drew healthy crowds each evening. According to the organization, conference events hosted more than 4,800 attendees; in addition to more than 1,600 registered professionals, 1,888 one-day passes were also purchased on-site for those focused on exploring the range of new products and technologies on display from 175 exhibiting companies with 987 representatives.
"It really didn't matter about the quantity, it was more about the quality of the people that stopped and visited our booth," remarked Crystal DeSiena, a representative from Tyco Electronics' AMP Netconnect (www.ampnetconnect.com). "We are rather happy with the business leads."—Matt Vincent
---

Chatsworth opens research and training center
Chatsworth Products, Inc. (CPI), which manufactures systems designed to organize, store, and secure IT infrastructure equipment, has opened a Research Development and Training (RD&T; www.chatsworth.com/rdt) Center, adjacent to its regional manufacturing facility in Georgetown, TX.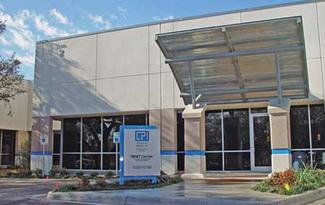 Chatsworth's RD&T Center in Georgetown, TX features several labs and training centers for both customers and employees.
Click here to enlarge image
The 10,200 square-foot center includes a thermal test lab for modeling various heat loads and cabinet configurations, and a product test lab for in-house product testing. It also provides a fully equipped training center, product showroom, and modern customer meeting center.
• Thermal test lab—The RD&T Center's thermal test lab models real-world data center issues, demonstrates CPI passive cooling solutions, and shows customers how to effectively design their data center for optimum thermal management. The lab includes access, slab, and shared floor environments, a drop ceiling return plenum, two rows of eight cabinets each, and two Stulz CCD-300-CWE CRAC units. To achieve accurate test results, the lab contains load simulators that can be positioned within the cabinets to mimic different types of servers, allowing various heat load configurations and CPI passive cooling solutions to be tested.
• Product test lab—Presents the technology and equipment required for precise mechanical and electrical testing, as well as prototyping of CPI products. Mechancial testing equipment is used to measure the static and dynamic load ratings of CPI products with static loads up to 10,000 pounds, while the electrical testing gear is available to evaluate the company's power management products. Equipped with a Fused Deposition Modeling (FDM) System, the product test lab can produce on-site plastic prototypes, which provide working products for customers to review and test.
• Training center—With its elaborate audio-visual capabilities, the training center offers a fully equipped location for training customers and employees. Arranged in classroom-style, the training center seats up to 125 visitors and can be separated via room dividers.
• Product showroom—Here, customers interact with multiple products, all functioning together in one environment. Currently, CPI cabinets, racks, cable management, cable tray, wall-mount enclosures and remote monitoring and power management products are installed.
• Customer meeting center—The meeting center includes complete audio visual capabilities, seating for up to 25 visitors, and a full-service catering area. In addition, electronic privacy glass windows are located on either side of the room, allowing the thermal test lab and product showroom to be viewed at anytime from within the customer meeting center.
---

Corning, Draka announce advanced bend-friendly fibers
Optical fiber manufacturers Corning Inc. (www.corning.com/clearcurve) and Draka Communications (www.drakaamericas.com) have unveiled fibers with enhanced bend features designed especially for critical data center and specialty applications.
Corning Inc.'s ClearCurve ultra-bendable multimode optical fiber, for use in data centers and enterprise networks, is designed to withstand tight bends at or below 10 mm radius, and with substantially less signal loss than traditional multimode fiber.
The company says ClearCurve's improved bend performance minimizes signal loss and enables faster and more efficient optical cable pathways, routing, and installation. The 50-m multimode fiber meets or exceeds the OM3 industry standard for high-bandwidth, laser-optimized multimode fibers, as well as the proposed OM4 standard.
With many modes of light traveling through a multimode fiber, and the outer mode groups being particularly sensitive to bend, Corning claims its multimode solution is designed to confine these outer mode groups to the fiber core and maintain the integrity of the optical signal.
"Our customers can maintain the benefits of multimode fiber while maximizing system reliability, minimizing downtime, and realizing overall space savings and reduced cost," says Martin Curran, senior vice president and general manager of Corning Optical Fiber.
ClearCurve multimode fiber is the newest member of the Corning ClearCurve fiber family. In 2007, Corning introduced ClearCurve singlemode fiber, targeting technical and physical challenges of fiber-to-the-home (FTTH) networks, particularly in multi- dwelling units.
Meanwhile, Draka Communications has launched a new type of Ultra-Bend Insensitive Fiber, BendBright-Elite, a sister product to BendBright-XS—the company's bend-insensitive optical fiber for FTTx applications. Draka says BendBright-Elite is specially customized and fine-tuned for component intra-connections and specialty applications.
With more integration and smaller footprints required for optical components to keep up with trends in miniaturization, processing power, and data rates, coiling fibers inside optical components necessitates severe bend radius constraints. BendBright-Elite is designed to raise the level of bend performance at any bend radius, while preserving compatibility with standard singlemode fiber.
The company claims the technology allows immediate footprint and handle-ability benefits, for all components and specialty subsystems traditionally designed around standard intra- connecting singlemode fiber.
In addition, for increased reliability at very tight bends, BendBright-Elite is designed for high strength (200 kpsi strain). It is also available with high-temperature coatings for harsh environments such as aerospace, marine, and oil and gas applications.
"We've been listening to customers in the component and sub-assembly specialty markets, especially those working with military, medical, marine oil and gas, sensors, and we recognized there was great value for them to design their components or sub-systems around fibers with tighter bending performances", says Aurlien Bergonzo, product line manager, DrakaElite Specialty fibers.
BendBright-Elite is made possible by combining trench-assisted core structures with Corning's Plasma Chemical Vapor Deposition (PCVD) process.
---

Trapeze takes WLAN enterprise solutions to cabling infrastructure
Trapeze Networks (www.trapezenetworks.com), a Belden brand and provider of enterprise WLAN equipment and management software solutions, has won distribution agreements with the two largest cabling infrastructure distributors in North America, claiming it opens a new way wireless networking will go-to-market.
"Today, when a building is designed, power, data networking and security is simply assumed as part of the infrastructure services," says John Stroup, chief executive officer of Belden."Graybar, for example, one of the largest infrastructure distributors in North America, is telling us that wireless networking is now an important element in that set of services, and Graybar is stepping up to give their customers what they want. Belden has a long-standing and successful relationship with Graybar and another leading distributor, and with these new agreements we're working closer with them through a broader set of customer solutions."Jim Vogt, president of Trapeze Networks, adds, "From its inception, Trapeze Networks always approached wireless networking as infrastructure. First, we needed to make wireless as simple to design and configure as wired infrastructure, and we did that when we introduced RingMaster Software. We had to make wireless as easy to manage as wired infrastructure, and we did that when we brought SmartPass Software to market.We made wireless as reliable as wired infrastructure last summer when we introduced NonStop Networking. Belden saw the direction Trapeze Networks was headed and understood it was a perfect fit into its lines of business. And now, distributors like Graybar see the same thing."
---

Short runs ...
CLIFTON PARK, IL—SIXNET (www.sixnetio.com), a manufacturer of open, wireless and wired data products, has named Hilton Nicholson as president and CEO. He has more than 25 years of management experience with networking and telecommunications equipment manufacturers, and succeeds former CEO Steve Schoenberg, who will continue to serve on the company's board of directors. Nicholson comes to SIXNET from ADC, where he was most recently president of the Network Solutions Business Unit. Prior to joining ADC, he was senior vice president of product operations at 3Com, and he previously served as vice president and general manager of Lucent Technologies' Core Switching and Routing Division. Nicholson has also held a variety of technical, marketing, strategic planning and new business development positions at AT&T. He holds a BSEE from Louisiana Tech University, a MSEE from Clemson University, and an MBA from Duke University.
MANCHESTER, NH—Hitachi Cable Manchester (HCM) and HellermannTyton have partnered to form H2Max (www.h2maxsolutions.com), an end-to-end solution offering high performance network infrastructure solutions. H2Max solutions include the connective devices of HellermannTyton and communications cables of HCM. Both copper and fiber optic-based solutions are available. Copper solutions include Category 6A, Category 6+, Category 6, and Category5e+; fiber-optic solutions include 10-Gbit.The H2Max program offers a performance guarantee, third-party verification, lifetime warranty, and end-to-end support featuring personalized assistance. A contractor certification program is tailored to the needs of each company. In addition, contractors can qualify for an H2Max rewards program, based on purchases of products from HCM and HellermannTyton.
TAMPA, FL—BICSI (www.bicsi.org), the association supporting the information transport systems (ITS) industry with information, education and knowledge assessment, is now offering the IN101: BICSI ITS Installer 1 Training. IN101 is a comprehensive five-day course for those with little or no cabling installation experience. It is designed to provide students with the necessary background, knowledge, and basic skills needed to function effectively on the job. Course topics include: Industry orientation; Codes and standards/industry best practices; Safety; Professionalism; Structured premises cabling systems; Media; Job site skills. The course "is structured in a way that makes it very easy for someone to get their foot in the door and start a successful cabling career, " says Richard Dunfee, RCDD, OSP, BICSI director of professional development. Upon completion of the course, students will be able to sit for the ITS Installer 1 exam in order to attain the ITS Installer 1 designation. Pricing for the course is $950; it awards 35 BICSI continuing education credits (CECs) for RCDD, ITS Installer, or ITS Technician credential holders. Interested candidates can download an exam application at: www.bicsi.org/installer1
CLAREMONT, NC—Draka Communications (www.drakaamericas.com) says that its MaxCap550 multimode fiber is compliant with today's OM4 fiber specifications, and can meet requirements for the next generation of data centers and server farms (40- and 100-G networks). MaxCap550 was a result of further optimizing Draka's patented PCVD production process by identifying a sub-group with superior characteristics, enabling 10 Gbits/sec over 550 meters. OM4 fibers are specified with an increased effective minimum modal bandwidth of 4700 MHz•km at 850 nm (compared with 2000 MHz•km for OM3). In addition, for system safety and backward compatibility, extra margins of overfilled launch (OFL) bandwidth specification (minimum 3500 MHz•km at 850 nm and 500 MHz km at 1300 nm) are maintained.