UTP and fiber cabling media to dominate market well into next millennium
Unshielded twisted-pair copper and fiber-optic cabling will account for almost 90% of the market by 2003.
Dec 1st, 1997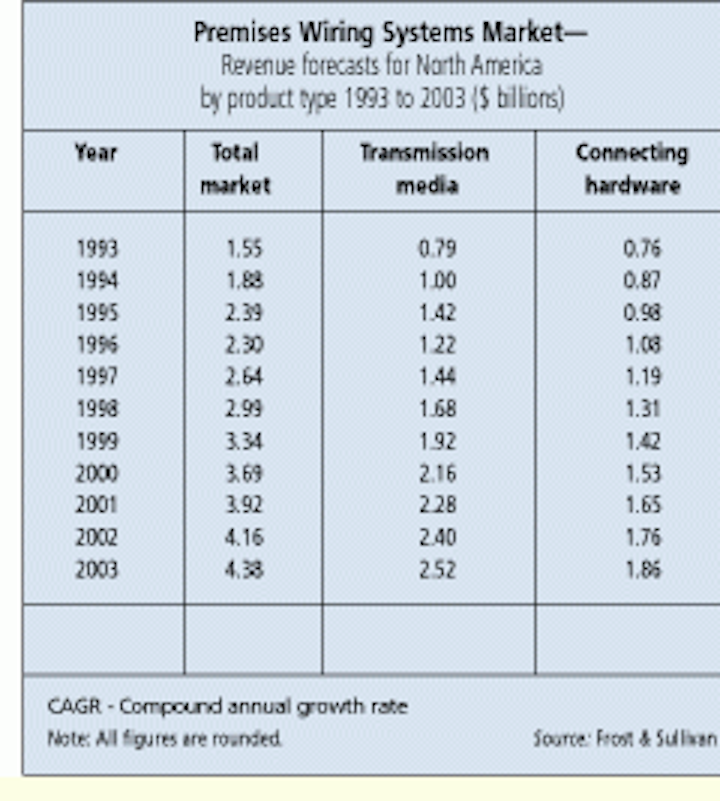 Unshielded twisted-pair copper and fiber-optic cabling will account for almost 90% of the market by 2003.
Gail Leach Carvelli
In the early part of this decade, the premises-wiring market began to experience significant growth as organizations started to upgrade their cabling infrastructure and install wiring systems that could handle emerging high-speed applications. For example, while revenues for this market totaled $1.55 billion in 1993, they jumped 21.3% to $1.88 billion a year later, according to the North American Premises Wiring Systems Market report from Frost & Sullivan (Mountain View, CA). Spurred by a shortage of fluorinated ethylene propylene in 1995, the market continued to grow, and despite a drop in revenue in 1996, the total still reached $2.3 billion. Looking ahead to 2003, market analysts predict that revenues from the premises-wiring systems market will climb to $4.38 billion.
With this type of growth, the future for the premises-wiring market, and more specifically for the designers and installers of these systems, certainly looks rosy. But according to published research, certain areas will experience more growth than others.
A breakdown of the cabling infrastructure shows where these changes will occur. In its report, Frost & Sullivan breaks the market into two segments: premises-wiring transmission media and premises-wiring connecting hardware.
Transmission media
Consisting of unshielded twisted-pair (utp), shielded twisted-pair (stp), coaxial, composite copper/fiber, and fiber-optic cables, the transmission-media segment accounts for 53% of the total premises wiring systems market. In 1996, this segment generated about $1.22 billion in revenues, compared to $786.1 million in 1993, $1.01 billion in 1994, and $1.42 billion in 1995. However, in 1996, revenues dropped 13.8% to $1.22 billion. Frost & Sullivan attributed this decline to the large increase the year before, noting that such growth would be impossible to sustain "as demand started falling and distribution houses still had enough stockpiled product to sell."
Although Frost & Sullivan expects revenues to grow to $2.52 billion in 2003, it also points out that stp and coaxial cable are "dying markets because they are more expensive, difficult to install and maintain, and not as reliable as utp." In fact, by 1996, utp had 64.8% of the transmission-media market. For that same time, stp had 6.5%, coaxial cable had 4.2%, and composite cable had 4%. Despite declines in 1994 and 1995, fiber-optic cables represented 20.5% of the market.
In 2003, utp cable is still expected to maintain a significant portion of the market with 51.1%, stp cable will represent 3.9%, coaxial cable 0.7%, composite cable 6.4%, and fiber-optic cable 37.8%. To date, fiber`s growth has mostly been seen in backbone cabling applications.
The growth in fiber-optic cables is also reported by other market research firms, such as Kessler Marketing Intelligence Corp. (kmi--Newport, RI), and Insight Research Corp. (Livingston, NJ). In its recent report, Multimode Component Markets for Data Communications in U.S. Premises Networks: 1994-2001, kmi estimates that the U.S. market for multimode fiber-optic components--cables, transceivers, and connectors--will grow at a compound annual rate of 20% to exceed $1.45 billion by 2001, compared to about $700 million in 1996.
In its report, Customer Premise Fiber: The Business and Residential Inside Wiring Revolution in Global Markets 1996-2001, Insight predicts that the sale of fiber-optic cables to U.S. businesses and residences is expected to climb to $2.1 billion by 2001.
Connecting hardware
In its report, Frost & Sullivan states that North American connecting hardware accounted for 47% of the premises wiring systems market in 1996. Made up of premises-wiring connecting blocks, outlets, patch panels, baluns, connectors, and conduits and raceways, this market segment is expected to grow from $1.08 billion in 1996 to $1.86 billion by 2003.
However, when looking at other markets, you`ll notice that this growth is slowed. Frost & Sullivan points out that the growth activity of previous years will make a continued large growth rate impossible to sustain. "However," the report adds, "re-installations, upgrades, adds, moves, and changes will support growing revenues from year to year going into the end of the forecast period."
Frost & Sullivan also notes that selling connecting-hardware components will become more difficult because of the growing trend toward manufacturers providing end-to-end solutions. In the past year, many companies have begun offering system guarantees when their components are paired with another company`s cable products.
Customers are also requiring enhanced features to meet greater transmission needs. This is leading to utp hardware being upgraded to meet enhanced Category 5 specifications. Because fiber already possesses higher performance levels, fiber-optic product manufacturers are trying to make their products easier to install.
Overall, here are some of the trends that are predicted for the premises-wiring market:
- Instead of providing total wiring solutions by themselves, many premises-wiring-component manufacturers are partnering with other companies to offer complete solutions.
- System guarantees are taking precedence over individual product warranties. This is because customers find it easier to purchase an entire system from one vendor.
- Because the question of delay skew has become significant and as the use of all four pairs in 4-pair cable becomes more prevalent, manufacturers will need to meet power-sum testing requirements.
- The use of stp and coaxial cables is expected to drop in interbuilding and intrabuilding applications as utp becomes more technically advanced and fiber becomes more popular. q
Gail Leach Carvelli is a former associate editor of Cabling Installation & Maintenance.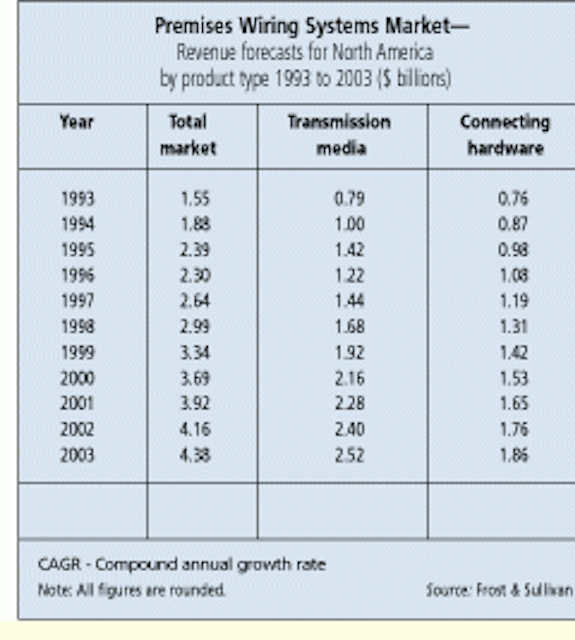 Click here to enlarge image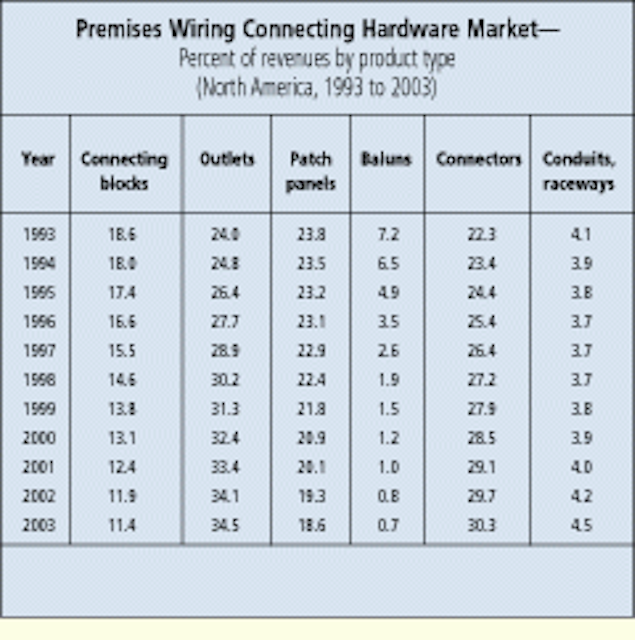 Click here to enlarge image