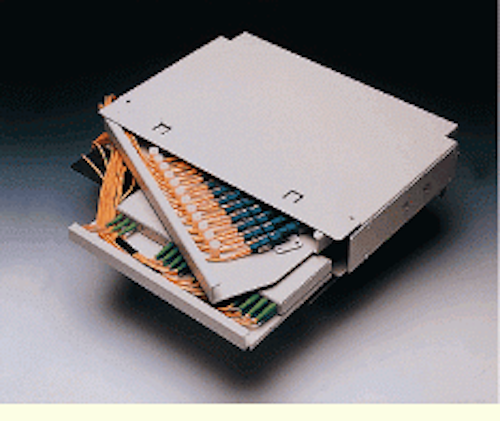 Gail Leach Carvelli
With more than 150 exhibitors expected to fill the Charlotte Convention Center (Charlotte, NC) for Cabling Installation Expo `97, attendees can expect to see firsthand the cutting-edge products being introduced in the cabling industry.
Here is a roundup of some of the new products and services being introduced at this year`s exposition:
The Fiber Optics Div. of Adirondack Wire & Cable/US Fiber Optics (Woonsockett, RI) will unveil its Headend Manager, a compact fiber-optic distribution shelf for cable-TV headend installations. The shelf has a swing-out termination drawer with capacity for up to 24 bulkhead connections.
Alcatel Cabling Systems (Brussels, Belgium) plans to introduce three new types of cable that have been added to the company`s offering of shielded and foiled twisted-pair cable. The Gigatek s-ftp is a twisted-pair cable with an overall screen made of aluminum foil and tinned copper braid around the four twisted pairs. The Gigatek stp places a shield around each of the individual twisted pairs. The Twintek hybrid cable is to be used in local area network (lan) environments and is made of a tight-buffer fiber-optic cable with two, four, or six fibers, and a copper cable with four twisted pairs.
Arlington Industries Inc. (Scranton, PA) will introduce its LV1 Low Voltage Mounting Device for Class 2 installations such as cable-TV, computer, and communications wiring. The Category 5-compatible device is made of non-conductive plastic. Other new products include the rci 90o Support and the CS3 Cable Support.
Cable manufacturer Berk-Tek (New Holland, PA) will introduce new Indoor/Outdoor Fiber Optic Hybrid Cables. The cables are premises distribution riser-rated and outside-plant riser-rated. Berk-Tek will also present its lanmark-350 and lanmark-1000 series cable.
Bud Industries Inc. (Willoughby, OH) will announce its new server rack assembly. The rack comes with an all-aluminum open rack with a free-standing base that can be secured to the floor. Other features include a monitor shelf with switchbox compartment, sliding keyboard shelf with mousepad, six-outlet surge-suppressed power strip, and two heavy-duty equipment shelves.
Carlon Telecom Systems (Cleveland, OH) will showcase Plenum-Gard, a low-smoke, low-flame-propagation, nonmetal-lic, flexible raceway for managing plenum cable in plenum areas.
A developer and teacher of bicsi`s lan classes, Clark Technology Group (Roseville, CA), will introduce its newest computer-based training package: "Introduction to Structured Cabling Systems." The self-paced study aid discusses these types of systems and the standards that govern them.
Electronic Enclosures (Pennsauken, NJ) will unveil its new WallMount Cabinet system. The enclosure is designed to house patch panels and punchdown blocks, as well as various lan equipment such as bridges, concentrators, and repeaters.
erico Inc. (Solon, OH) will add to its CableCat series with the introduction of the cat425 fastener that adjusts to a variety of sizes up to 6 inches in depth. The cloth-wrap fastener can hold up to 425, 4-pair unshielded twisted-pair (utp) or fiber- optic cables.
exfo E.O. Engineering Inc. (Vanier, QC, Canada) plans to unveil two new pieces of test equipment. The ftb-7200 multimode optical time-domain reflectometer module series is part of the ftb-300 Universal System and allows the system to simultaneously house up to three test modules. The fot-920 MaxTester is available in a number of configurations and can combine an automated bidirectional tester with an optical return-loss tester, a full-duplex talk set, a message exchanger, and a visual fault locator.
A new tone probe will join the ranks of Fluke Corp.`s (Everett, WA) line of identification equipment. The 140 Tone Probe detects and amplifies audio tones generated by the company`s dsp-2000 Digital Cable Analyzer, and any other tone sender that generates a signal in the 500- to 5000-hertz range.
Genesis Cable Systems llc (Pleasant Prairie, WI) will introduce a line of voice and data-communications cables that it says surpasses existing industry standards. The line includes utp cable-- Category 3 and 5, and enhanced Category 5-- for voice and data applications in general-purpose, riser, and plenum constructions.
Harbour Industries Inc. (Shelburne, VT) will release three plenum products for the lan market. The datalan 100 is tested to 100 megahertz, and the datalan 350 is tested to 350 MHz. The datashield 100 is an overall shielded or screened 4-pair cable.
Independent Technologies Inc. (Omaha, NE) will expand its product offering with a new line of certified Category 5 patch cords and patch panels. The patch cords are available with or without strain-relief boots and labels. The 110-type Category 5 patch panels are available in either 19-inch hinged wall- or rack-mount configurations.
Interlink Technologies, a Wiremold Co. (Broomall, PA) plans to introduce the CrossLink-100 crossconnect system. The system handles high-density cable termination applications, ranging from voice and high-speed data to video.
At its booth, King Carter & Associates (Matthews, NC) will demonstrate new multiline sharing switches from 3i. The company will also exhibit Champlain Cable`s new Megaclear multimedia cable.
Leviton Telecom (Bothell, WA) will introduce a series of high-performance, Category 5 110 blocks and accessories that are compatible with the company`s other patching and crossconnect products. Complete 110 block systems will be available for rack- or wall-mount applications. Components will also be available individually.
Panduit Corp. (Tinley Park, IL), will unveil its Pan-Quik LS3 handheld printer. The printer features both letter- quality and standard-text fonts, and can produce labels in widths from 1/4 to 11/2 inches in a variety of materials, including self-laminating vinyl, vinyl cloth, and heat-shrink tubing.
P-T Technologies Inc. (Safety Harbor, FL) will present two new products at the exposition. The d`gel Fiber Optic System is a side-by-side wipe for fiber-optic splicing applications. Engineered for inside premises-wiring and cabling applications, Techlube Cable Ease wipes can be used to place fiber-optic and small-diameter cable into innerduct and small conduit.
A new generation of wall-mount swing racks will be unveiled by Rack Technologies Inc. (Charlotte, NC) at the show. The Swing Rack has vertical and horizontal cable-management options built in and can be removed by depressing the four spring-loaded hinges.
Rostra Tool Co. (Branford, CT), a manufacturer of Sargent Quality Tools, will introduce three new products: the 8700 ES Strip Tool designed for prepping RG-6/59 and RG-11/7 coaxial cable; the 7500 Series Modular Plug Crimp Tool, which cuts and strips cable and crimps a wide range of modular plugs; and the 5000 Series Holster Sets, which are durable two-pocket canvas belt pouches for carrying crimp and stripping tools.
Scope Communications Inc. (Marlborough, MA) will release its Singlemode Fiber SmartProbe attachment for the WireScope 155 high-performance cabling-certification system. The SmartProbe is a loss meter that is capable of measuring the installed length and propagation delay of singlemode optical fiber.
Following its expansion, Southwire Co. (Carrollton, GA) will introduce the first of its communications cable products-- Cyberlan Category 5 utp cable. The cable is certified for a full-range of lan cabling applications, including Ethernet, Fast Ethernet, 4/16-megabit-per-second Token Ring, and Asynchronous Transfer Mode.
The Light Brigade (Kent, WA), a fiber-optic training company, will increase its training video library with the release of a new series of "how-to" videos. The videos will cover topics commonly encountered by those working with optical fiber, tools, connectors, splices, panels, closures, and test equipment.
Toner Cable Equipment Inc. (Horsham, PA) will present its tda-r-115 1-gigahertz broadband drop amplifier. Designed with passive reverse for two-way cable systems, the amplifier is suited for long cable drops or multiple subscriber outlets.
Wonderful Wire & Cable Co., a subsidiary of aba Industry Inc. (Torrance, CA), will introduce two high-speed utp cables--the Elite 100 Category 5 utp cable and the Elite 350 enhanced Category 5 cable. Both cables are designed to exceed industry standards.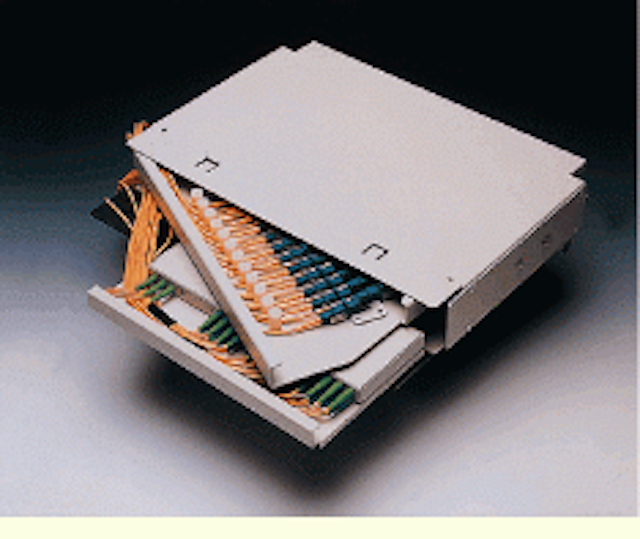 Click here to enlarge image
The Headend Manager from Adirondack Wire & Cable/us FiberOptics manages fiber-optic distribution within the cable-TV headend.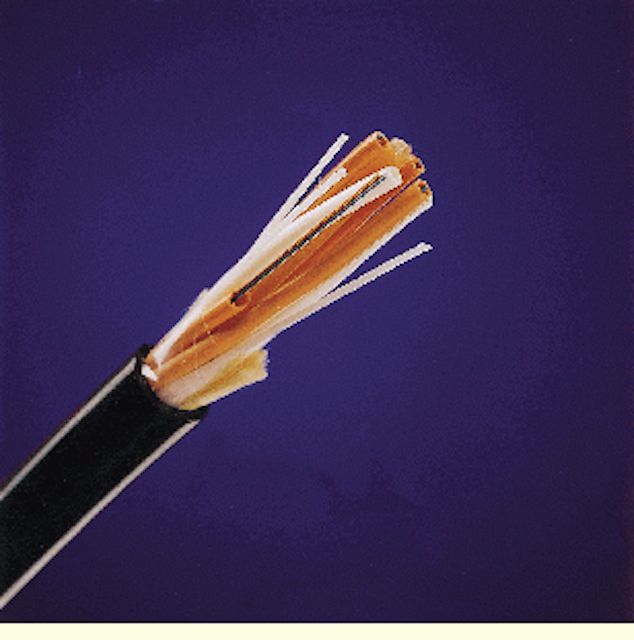 Click here to enlarge image
Berk-Tek`s outside-plant hybrid cable is suitable for indoor/outdoor applications that require a loose-tube cable.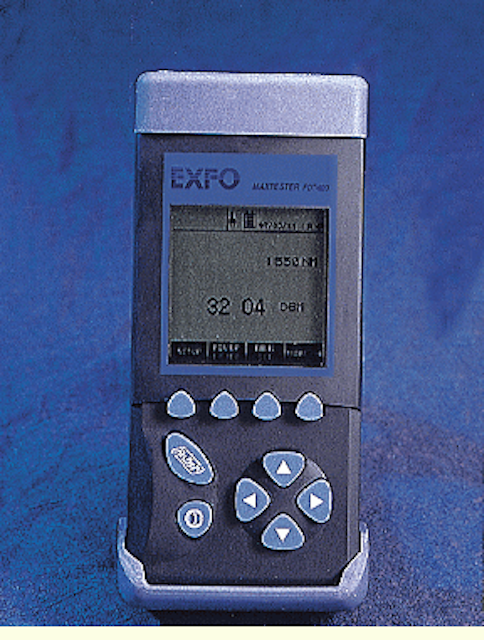 Click here to enlarge image
The fot-920 MaxTester from exfo E.O. Engineering Inc. is available in a number of configurations.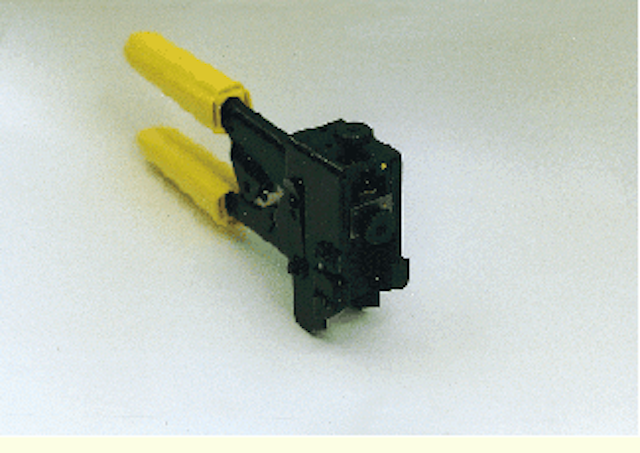 Click here to enlarge image
The 7500 Series Modular Plug Crimp Tool is one of three products that Sargent Quality Tools (Branford, CT) will introduce at Cabling Installation Expo `97.