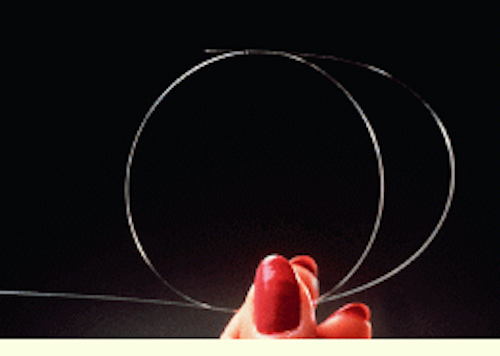 Lynn Haber
Of the two major kinds of optical fiber--singlemode and multimode--the former is better known as a medium for long-distance applications that require very high data rates, such as telephony and cable television. However, as the need for ever-increasing amounts of bandwidth for data communications in the corporate and educational marketplaces skyrockets, design considerations for the physical cabling plant will become more demanding, and singlemode fiber, once relegated strictly to the outside plant, will slowly migrate to the inside plant to take its place alongside its slower cousin, multimode fiber.
In fact, for campus backbone applications, cable manufacturers such as AMP Inc. (Harrisburg, PA) and Siecor Corp. (Hickory, NC) advocate running multimode and singlemode fiber side by side and have been doing so for a couple of years. "The bandwidth of singlemode fiber is considered ideal for campus applications," says Allen Dixon, product specialist at Siecor. "It`s a terrific way for customers to future-proof their networks." (Editor`s note: The Installation feature in this issue describes one such campus installation. See "Hybrid fiber-optic cable gets high marks on campus" on page 27.)
According to Siecor, for interbuilding backbone networks, hybrid cable containing both singlemode and multimode fiber lets users operate today at slower speeds--155 megabits per second or less for up to 2000 meters--but move tomorrow to higher data rates, such as 622 Mbits/sec, and greater distances--from 300 meters to 40 kilometers.
Cabling-plant design considerations for any business must meet current system needs and those of the future. Given that six primary network schemes are being used today--Ethernet, Token Ring, Fiber Distributed Data Interface (fddi), Fibre Channel, Asynchronous Transfer Mode (atm), and Synchronous Optical Network (Sonet)--careful planning is required to balance the transmission requirements of the application against the ultimate cost of the cabling plant, while keeping in mind the respective data rates and distance limitations of the different networking protocols.
Multimode still predominates
Today, less than 5% of the U.S. market for singlemode fiber is for premises or private applications, according to Kessler Marketing Intelligence Corp. (Newport, RI). The market research firm estimates that only 1% to 2%--between 100,000 and 125,000 km--of the almost 8.9 million km of singlemode fiber deployed in the United States is used in premises applications. Compare this figure to about 785,000 km of multimode fiber used for premises applications.
Clearly, multimode fiber is currently the preferred medium for premises applications, where links are short (usually less than 200 meters) and there are many connectors. However, forward-looking businesses as well as research and development (R&D) facilities such as the government`s national laboratories--in particular, Fermi in Illinois, Los Alamos in New Mexico, and Lawrence Livermore in California--already boast leading-edge, high-speed singlemode fiber-to-the-desk.
The more common deployment for singlemode fiber, however, is in the campus backbone for interbuilding networks, such as on a university campus, military installation, multibuilding factory complex, or a large industrial or business park. The tia/eia-568a commercial building cabling standard of the Telecommunications Industry Association (TIA--Arlington, VA), in fact, recognizes singlemode optical fiber for backbone cabling.
In a setting such as the University of North Carolina Hospitals, such a high-speed medium is needed. According to Thomas J. Cleveland, manager of network engineering at UNC Hospitals, the organization began pulling 2-pair multimode fiber in 1994 to connect its 10-building complex. As the growth plans of the hospitals expanded, the amount of cable being pulled was quickly increased, and singlemode was added to multimode fiber in a 12 x 36 configuration. Today, the hospital complex has a 3000-node network; it will soon grow by 50% with the addition of two new facilities.
According to Tony Beam, director of systems marketing at AMP Inc., the use of hybrid cable--a single cable containing both multimode and singlemode fibers--has been popular for several years in campus backbone applications. "With an increase in the distance between buildings and the higher data rates needed for backbone communications, singlemode fiber has distinct advantages, especially from a migration point of view," he says.
Although cable manufacturers say there is a clear trend toward deploying hybrid cable in the campus backbone, they are less clear about how singlemode fiber is being used--if it is being used at all. In fact, manufacturers suggest that many organizations are currently keeping the singlemode fiber "dark," or unused, while awaiting the advent of higher-speed networking protocols.
Paul Kopera, senior marketing manager for structured cabling systems at Anixter International, a distributor based in Skokie, IL, says that a few of his customers install singlemode fiber for selective applications. "Singlemode fiber is probably more common in the riser or to a breakpoint, such as a training center, rather than to individual offices," he says.
The use of singlemode fiber for educational-video applications at universities and hospitals is also quite common, says Brian Ballard, sales engineer at Clawson Communications, a cabling installation firm in Greenwood, IN. He notes that Indiana University pulled hybrid cable to connect its campuses, while a joint cabling project for Indiana University and Purdue University calls for pulling both multimode and singlemode fiber in downtown Indianapolis.
Philip Tilton, president of Interconnect Computer Cabling Services Inc. (Weymouth, MA), has one customer that has installed singlemode fiber-to-the-desk. This publishing company (which prefers to remain unnamed) plans to deploy real-time video-to-the-desk in its offices worldwide.
Cabling-industry observers expect that by the year 2000, high-end customers will opt for singlemode fiber and bypass multimode fiber in their hybrid cable. This will likely occur in hospitals or health-care facilities with bandwidth-intensive applications such as medical imaging, and in universities and R&D facilities engaged in bandwidth-eating computer-aided design and manufacturing.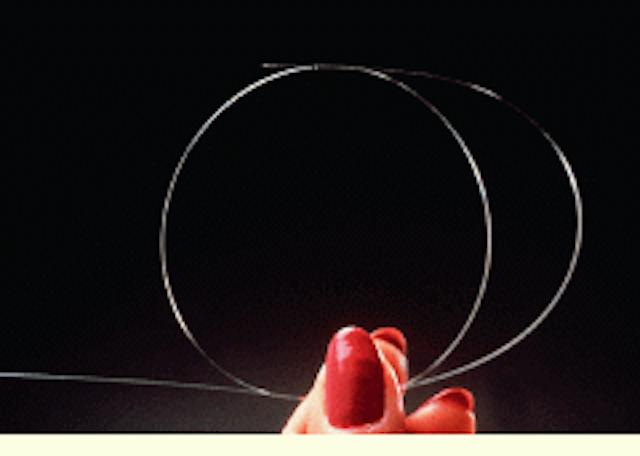 Click here to enlarge image
A singlemode optical fiber, such as this one from Siecor Corp., is indistinguishable from a multimode fiber when viewed without use of a microscope. The standard fiber core surrounded by cladding is 125 microns in diameter--about the size of a human hair.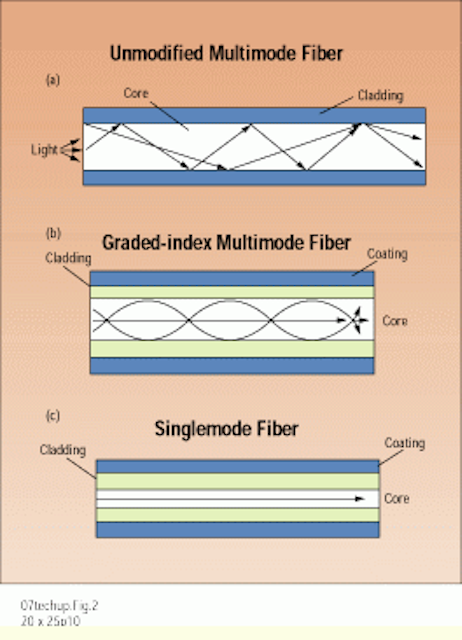 Click here to enlarge image
The glass-fiber core of a multimode fiber is typically 62.5 microns in diameter; a singlemode core ranges from 8 to 11 microns. Both fiber types are surrounded by a cladding that increases the diameter to 125 microns, and a coating that extends it further to 250 microns. Multimode fiber is so named because light follows different paths, or modes, when traveling down its length (a). The refractive index of the glass in multimode fiber can be graded, or varied, to produce some coherence in the fiber`s light-carrying capacity (b). The optical-fiber core of singlemode fiber is so small, compared to multimode, that only a single light path, or mode, is available to a light signal sent down the fiber (c).
Lynn T. Haber is a freelance writer specializing in computer and networking technologies.