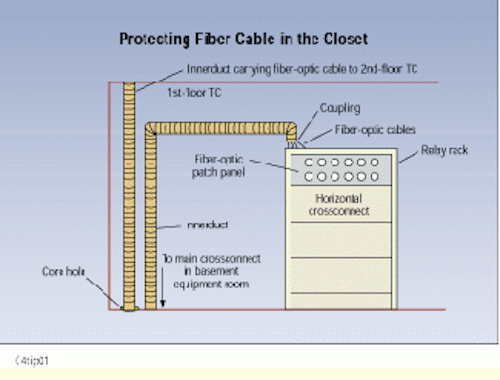 Dennis Mazaris, PerfectSite
Problem
Fiber-optic backbone cabling in the telecommunications closet (TC) can sometimes be damaged following installation. For example, it is not uncommon for other building trades to use existing core holes to pull their cables through. It is even possible that cables pulled after your fiber-optic installation is completed will be tie-wrapped to your cable bundles, using them for support.
Solution
A cost-effective way to protect your fiber-optic cable from being damaged in the TC, while also preventing other cables from being pulled through the same core holes and attached to your cable bundles, is to run the fiber cable through innerduct or conduit.
Nonplenum-rated innerduct provides a nonmetallic flexible tubing that can be used in this way. If flexible metallic tubing is preferred, green-field tubing can be used. Plenum-rated innerduct is too expensive for this application.
When using green-field tubing for this purpose, avoid pulling polyvinyl-chloride (PVC)-jacketed or riser-rated cable if possible. Not only is it a harder pull, but the outer jacketing material of the cable can abrade on the inside surface of the green-field tubing. A better solution, reducing the tension of the pull and cutting down on damage to the cable, results from using plenum-jacketed fiber cable in this situation. This is an especially important consideration if the pull is a long one or involves a number of bends, both of which increase pulling tension.
Procedure
1) Check the local building code to make sure you can use nonplenum-rated innerduct in the riser shaft. If this material is prohibited, use green-field tubing instead.
2)Route the innerduct through the core hole on each floor, cutting it at the point of termination of the fiber cables. This protects the fiber cable along the entire length of the backbone run.
3)Ream the end of the innerduct or green-field tubing and attach an appropriate coupling where needed.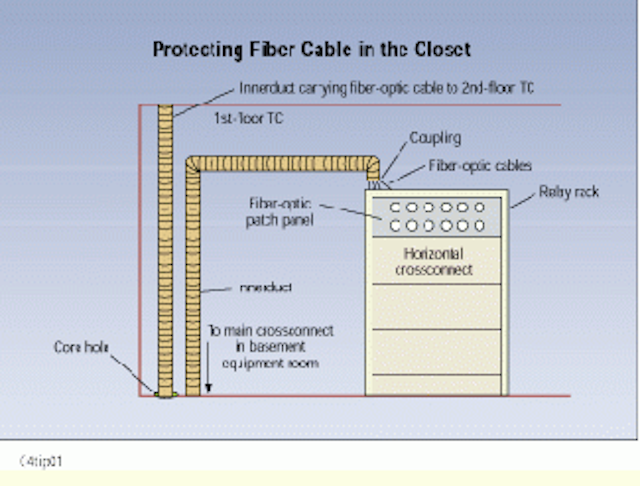 Click here to enlarge image
Protective innerduct or green-field tubing can be run from the main crossconnect in the equipment or computer room to the horizontal crossconnect in the telecommunications closet on each floor of the building. Install couplings where the fiber-optic cable may abrade on the cut ends of the innerduct.
Dennis Mazaris, registered communications distribution designer (rcdd), is the principal consultant for PerfectSite (Sterling, VA), a consulting firm specializing in premises cabling management and design.