Selecting the right modules for gigabit, multi-gigabit networks
Getting through the nomenclature is an important first step toward specifying the right equipment.
Oct 1st, 2004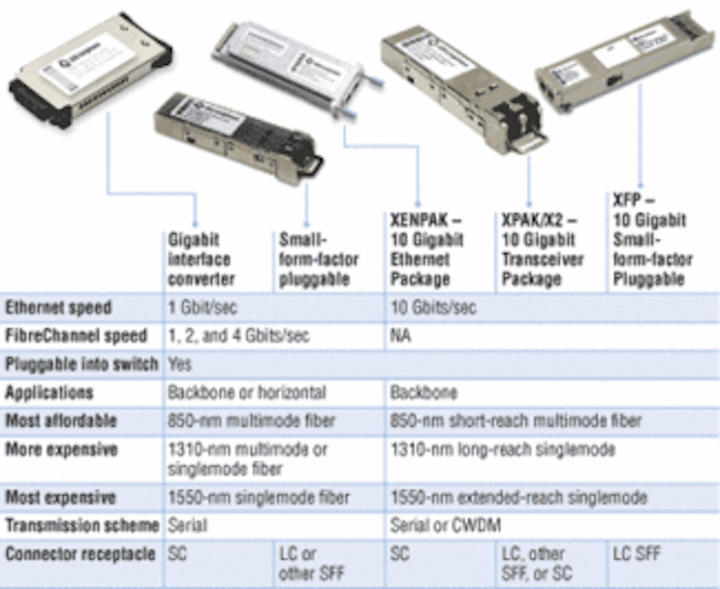 Getting through the nomenclature is an important first step toward specifying the right equipment.
If you're thinking about running 1 or 10 Gigabit Ethernet transmission over your premises network, you'll need to make a number of important product selections, including fiber, cable, and connectors. Another critical factor to the success of this network is the selection of the optical modules that transmit and receive the light signals over the fiber. This job is made somewhat complicated by the confusing designations give to the different types of modules. It is an "alphabet soup" of letters and numbers that can be difficult to sort out.
This article will untangle this nomenclature, and help you understand the role of optical modules and the choices you will have to consider for your application. The article will also include some recommendations for overall system choices to help achieve maximum performance and reliability from your network.
Optical-module applications
Optical modules are used to convert electrical impulses into light signals, transmit those signals over an optical-fiber network, and decode them at the other end. At one time, before the optics were integrated into the circuit card, an electronic circuit board measuring about 10×12×1 in. was required. This made it much more expensive to switch optics, since an entirely new card had to be purchased each time. Today's modules are "hot pluggable"; within each switch, you will find a slot where the module can be plugged-in directly. This gives the designer much greater flexibility for product selection and customization.
Within the network, Gigabit Ethernet optical modules are found in building or campus backbones and in fiber-to-the-desk applications. They operate at 850 nanometers (nm) for multimode fiber applications, and at both 1310 and 1550 nm for singlemode fiber.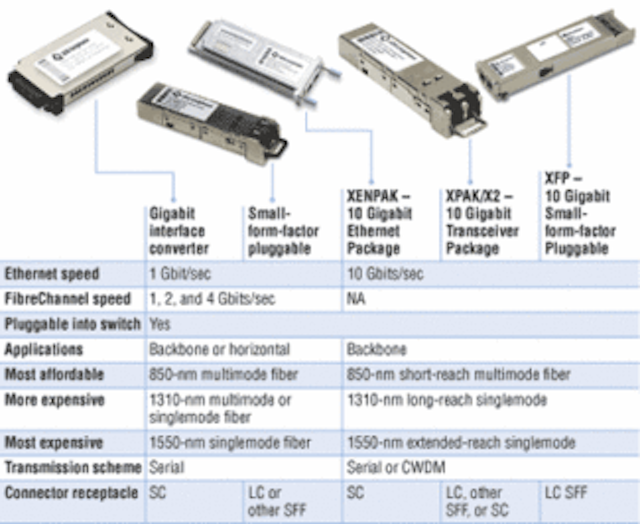 This breakdown of the five most commonly used modules in high-speed optical transmission details the characteristics that will help designers choose one over the others. (Photos courtesy of JDS Uniphase)
Click here to enlarge image
There are two main standards for optical-module applications: the Ethernet standard (IEEE 802.3) and the Fibre Channel standards (10 GFC and FC-PI). Within these standards are listed a bewildering array of port types, with names like 10GBase-LX4 and 1200-M5E-SN4P-1. What's more, there are as many as six different types of modules from which to choose. It's little wonder that some specifiers are left shaking their heads.
To make sense of all this, we'll need to step back for a quick discussion of the fiber and source types used for Gigabit Ethernet transmission, because this has a major impact on the selection of optical modules. Fiber used for short-reach data communications can be singlemode (so named because it transmits one path, or mode, of light through its core) or multimode (which transmits hundreds of modes of light at once).
Over the years, the industry had experimented with a number of fiber choices and systems designed for Gigabit Ethernet local area network (LAN) transmission. They included serial transmission over singlemode fiber, coarse wavelength division multiplexing (CWDM) over multimode fiber, and the use of expensive mode-conditioning patch cords. For short-reach applications, the most cost-effective solution turns out to be 850-nm-based optics with high-bandwidth multimode fiber. Beyond 550 meters to 1 kilometer, higher-cost and longer-reach singlemode-fiber-based systems are required.
Smaller sizes, same functionality
While several types of optical modules exist for Gigabit Ethernet applications, they all have some common design features. At one end is an electrical connector that plugs into a slot on the switch. At the other end is an optical receptacle that typically accepts a duplex connector, which may be the duplex SC, the LC, or another interface.
Here are the most common module types, including their similarities and differences: (see figure, page 26.)
The gigabit interface converter (GBIC) has traditionally been the most common choice for Gigabit Ethernet applications.
Small-form-factor pluggable (SFP) is slowly replacing the GBIC, and offers the same functionality at half the size. Use of small-form-factor (SFF) connectors enables its smaller size, letting users double the density of the data center or save on floor space.
XENPAK 10 Gigabit Ethernet Package is the original 10-Gbit/sec module, and is the largest of all the options.
XPAK/X2-10 Gigabit Transceiver Package is two-thirds the length of the XENPAK.
XFP-10 Gigabit Small Form Factor Pluggable is one-half the width of the XPAK, following the trend toward smaller-size modules. It is enabled by the use of LC SFF connectors, and is being designed into 10-Gbit/sec Fibre Channel switches.
Configure as needed
Network designers and specifiers should now find it easier to translate the nomenclature of optical modules (see sidebar, page 27), making it easier to specify the best products for their needs. Used correctly, these devices will let users configure switch ports to suit their specific reach and cost requirements, for both Ethernet and Fibre Channel applications. With an eye toward maximizing performance and design flexibility, the industry is evolving toward specifying SFF modules to reduce space requirements and selecting 850-nm-based optics to help achieve lowest system cost.
JOHN E. GEORGE is the fiber offer development manager in the systems engineering organization of OFS (Norcross, GA; www.ofsoptics.com), where he is responsible for coordinating development of optical interconnect solutions for short-reach network applications.
---
Understanding naming conventions
The naming conventions for Ethernet and Fibre Channel protocols each include four elements. For Ethernet, the four elements indicate the protocol's speed, encoding scheme, wavelength/reach, and transmission scheme. For Fibre Channel, the elements indicate speed, media, transmitter, and distance. These dissected examples of Ethernet and Fibre Channel naming conventions will help you understand each protocol's essentials by accurately reading the four elements of its technical name.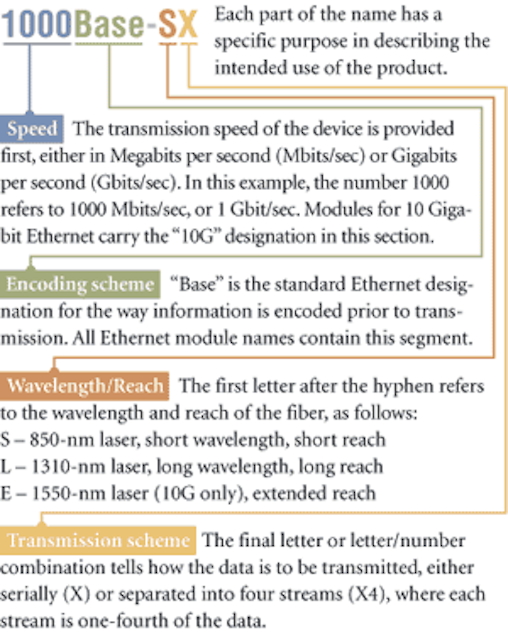 Click here to enlarge image
null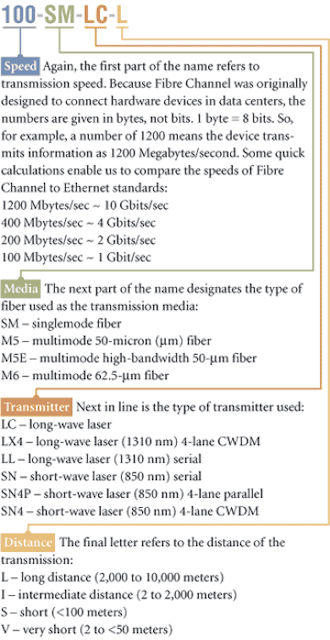 Click here to enlarge image
null