Teaming fiber and electronics to extend high-rate distances
Transceiver vendor aims to raise awareness of short-wave 10-Gigabit benefits.
Apr 1st, 2004
Transceiver vendor aims to raise awareness of short-wave 10-Gigabit benefits.
A strategic marketing initiative between a cable manufacturer and a maker of optical transceivers has the transceiver vendor attempting to educate cabling-system end users, so that users will be aware of cost-effective solutions when purchasing optical networking electronics. The vendors involved are Berk-Tek (www.berktek.com) and JDS Uniphase (www.jdsu.com), and the initiative can be compared to the "Intel Inside" campaign seen throughout the personal-computer market.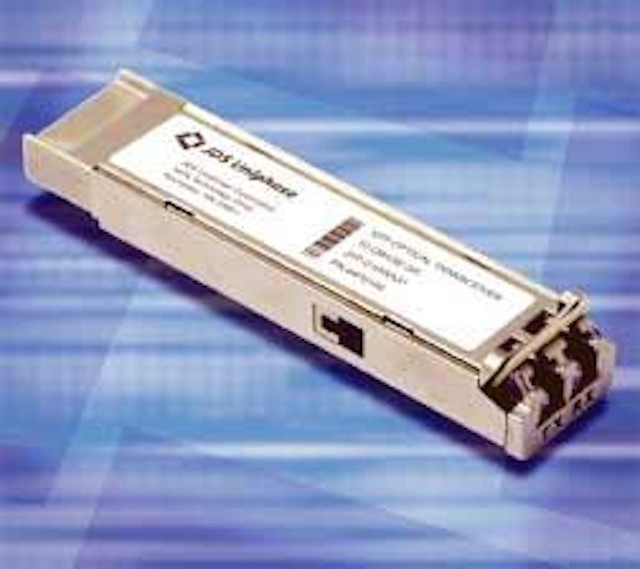 JDS Uniphase's SW 850-nm XFP optical transceiver is a technology that, the company says, will enable lower cost 10-Gigabit connections.
Click here to enlarge image
The idea is that, when purchasing optical electronics such as switches, users will require that the electronics include JDS Uniphase componentry. Representatives of both companies say the primary targets for this campaign are new networks as opposed to legacy systems. "JDS Uniphase sees value in getting word to the end user," says Kevin Shelton, market development manager for datacom products with JDS Uniphase. He says his company is facing an educational initiative to make the cabling industry comfortable with its products and specifying them.
Demonstrated performance
Berk-Tek fits into the picture because the educational initiative is an outgrowth of a performance guarantee offered by the two companies. That guarantee says that when used together, Berk-Tek's GIGAlite-10XB multimode fiber-optic cable and JDS Uniphase's SW 850-nm XFP optical transceiver will transmit 10-Gbit/sec traffic 600 meters—twice the distance specified in the 802.3ae Ethernet and 10GFC Fibre Channel specifications for multimode transmission.
Berk-Tek's perspective is that this partnership brings additional credibility to its warranty program, particularly in terms of distance guarantees.
JDS Uniphase's XFP optical transceiver uses 850-nm vertical-cavity surface-emitting laser (VCSEL) technology. The two companies publicly demonstrated a 600-meter transmission in January.
"We chose to use the JDS Uniphase JXP Series 10-Gbit/sec 850-nm XFP transceiver as part of our demonstration because of JDS Uniphase's reputation for robust technology," said Kevin St. Cyr, president of Berk-Tek, at the time of the demonstration.
"This reputation," St. Cyr claims, "was substantiated in the demonstration as the JDS Uniphase XFP transceiver showed superior performance and reliability over our GIGAlite-10XB multimode fiber. Combined with the commercial availability of the XFP, this demonstration clearly establishes the value proposition of designing lower-cost short-wave 850-nm optical systems."
"We believe this partnership and the resulting technology demonstration prove that there is a robust transceiver/GIGAlite multimode-fiber solution that can help customers reduce network deployment costs," said Don Bossi, president of JDS Uniphase's transmission products group.
"The JXP series 10-Gbit/sec 850-nm XFP transceiver and Berk-Tek's GIGAlite-10XB multimode fiber-optic cable," Bossi adds, "offer the flexibility of seamlessly migrating from 1 to 10 Gbits/sec over a multimode fiber-optic cabling plant at significant cost savings, supported by performance warranties from both companies."
Enabling technology
"The commercial availability of 850-nm 10-Gigabit optical transceivers makes two things possible," Bossi explains. "First, it can help make 10-Gigabit deployments cost-effective." Ten Gigabit transmission is a reasonably expensive proposition for users who would have to use long-wavelength optics and singlemode fiber, he says. "And second, 850-nm technology can help make deployment cost-effective, not only with 10-Gig, but also with 1-, 2-, and 4-Gigabit transmission speeds, allowing users an upgrade path over the same high-bandwidth multimode fiber." That opportunity is particularly relevant in storage area networks, where the 2-Gigabit and the emerging 4-Gigabit Fibre Channel protocols are deployed.
JDS Uniphase is a founding member of the 10 Gigabit Small Form Factor Pluggable (XFP) Multi Source Agreement (MSA) Group, which in March 2003 published specifications for a hot-pluggable small-form-factor transceiver. The specifications are protocol-agnostic, meaning that they are intended to support transmission schemes including 10 Gigabit Ethernet, 10 Gigabit Fibre Channel, and SONET.
By any measure, the 10-Gig XFP MSA Group acted quickly. The first full draft of the specification was put forth in April 2002, and the final draft was adopted 11 months later.
Lower-cost optics
Today, companies including JDS Uniphase are putting these products into networking electronics and emphasizing the advantages of lower-cost 850-nm optics. "If you looked at the cost of cable alone, singlemode fiber is a little less expensive than high-bandwidth multimode like GIGAlite-10XB," Bossi notes. "But the cost savings of short-wavelength optics versus long-wavelength optics make the entire short-wave system a more cost-effective choice."
It is JDS Uniphase's ambition to take that message to the high-speed, long-distance connection market, which the company views as underserved.
The idea is that if users know about the cost-effectiveness of short-wave electronics, and know about the distances that Berk-Tek's GIGAlite-10XB will accommodate, then 10-Gig deployments will become more frequent. And, as the overall tide rises for 10-Gig deployment, JDS Uniphase can capitalize on the "Intel inside" analogy, because their components will be in many of the 10-Gig optical switches sold into the market.
Trend watching
"These short-wavelength solutions allow customers to leverage multimode fiber all the way up to 10 Gig," comments Phil Radics, RCDD, director of business development for Berk-Tek.
He adds that with short-wave 10 Gig deployment a reality today, another trend in the optical cabling industry is to specify 50-µm multimode fiber. "It can handle 150, 300, even 600 meters in this case," Radics adds.
Another trend, among networking-electronics vendors, is the shift toward settling on the LC interface. Companies like JDS Uniphase and other transceiver makers, whose direct customers are equipment makers like Cisco and 3Com, must choose which optical interface to include in their equipment. More and more, the LC is becoming the interface of choice.
This issue of optical-interface adoption reached a peak within the cabling industry five to six years ago when the TIA opted not to specify a single preferred interface, but rather to approve several interfaces for market deployment. The manufacturers of those interfaces, including the LC, each made it part of their strategy to get their designs specified into networking gear. Now at least a couple of industry vendors are saying it looks like the LC will emerge as a leader in that race.
As with most initiatives, the effectiveness of this one by Berk-Tek and JDS Uniphase probably will best be determined over time. Both organizations report positive customer interest since the initial demonstration in January.
Patrick McLaughlin is chief editor of Cabling Installation & Maintenance.