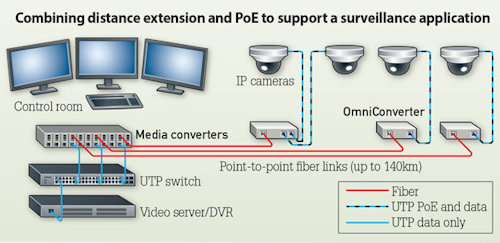 From the July, 2015 Issue of Cabling Installation & Maintenance Magazine
The more esoteric user-connectivity needs get, the more evident converters' benefits become.
By Patrick McLaughlin
When media converters were introduced to the enterprise networking market in the 1990s, fiber-to-the-desktop was the mantra of many in the network cabling business. From a business standpoint, commercial office buildings represented an economic boom for the communications cabling industry, as these properties purchased cabling products and systems at an accelerating rate. From a technology standpoint, then-current data showed multimode fiber-optic cabling's information-carrying capacity dwarfed that of Category 5 twisted-pair cabling.
With Gigabit Ethernet on the horizon and enterprise workstations representing a significant portion of the network cabling user base, the idea of bringing fiber to the desk was to ensure users had a large enough "pipe" to support at least gigabit when that speed migrated from the corporate backbone to the desktop. But a wholesale changeout from copper-based to fiber-based network gear was economically impractical. Media converters would allow user organizations to migrate to fiber-to-the-desk one user at a time, by deploying a converter at each end of the desired links.
Beyond the desk
Nearly two decades later, fiber-to-the-desk has not become the default horizontal architecture that many planned for. But the instruments that were going to play a pivotal role in that migration--media converters--are a mainstay in many enterprise as well as public networks, proving their worth as a networking tool many times over. Deploying media converters outside of desktop applications has enabled user organizations to realize one of fiber-optic cabling's greatest advantages: distance extension. While fiber-to-the-desk networks would have been limited by the industry-standard 100-meter distance, applications across campuses and in other outdoor environments often require fiber's longer distance capabilities. And in many of these scenarios, deploying media converters is a sensible and economical choice.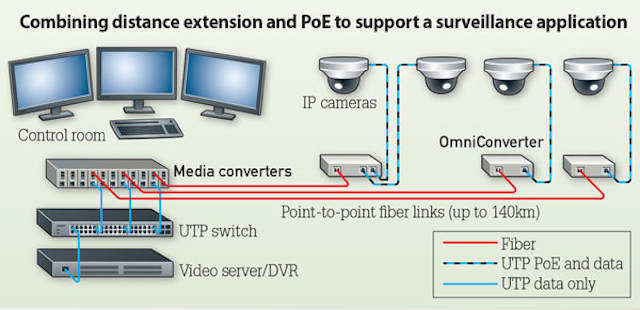 This illustration, provided by Omnitron Systems Technology, shows the use of the company's OmniConverter products to support both power (via PoE) and extended distance in a surveillance application. The illustration was presented as part of a web seminar titled "High Power PoE Deployment Challenges and Solutions." The seminar is available for viewing on-demand at cablinginstall.com.
FiberPlex (www.fiberplex.com) provides media conversion products as well as other fiber-based networking equipment, including cables, waveguides, wave-division multiplexers, and other gear. Its customers include government and military users as well as business enterprises, educational institutions, media/broadcast, and industrial environments. The company frequently produces information about the most-effective use of these technologies, often in combination with each other. As an example, last year the company described its sales of products to government contractor Systems Plus Inc. (www.sysplus.com). "With new acquisitions no longer on the books and fiber-optic communication in high demand for securing government networks, prime U.S. government contractor Systems Plus recently added our fiber-optic products to bolster existing fiber infrastructure for its government and corporate clients," FiberPlex said in August 2014.
Systems Plus corporate resources director Chetan Gulati explained, "New optical fiber multiplexing technology is becoming a critical part of our support strategy for government organizations like NIH, Army base hospitals and other customers that are experiencing larger volumes of data at a time when security is at its highest and budget acquisitions are at their lowest."
Systems Plus is using a combination of WDM and media conversion equipment from FiberPlex, including the WDM16, which can multiplex as many as 16 channels, at 3 Gbits/sec each, onto an existing fiber pair. Media converters fit into the picture, FiberPlex says, because they "make it possible for agencies to interface singlemode fiber cable onto existing multimode fiber transport links. Such bidirectional coupling of the two fiber formats is especially useful to large corporations and government agencies that acquired multimode optical cabling more than a decade ago as part of a government-wide mandate to secure communications, but now want to expand by adding the latest high-performance singlemode optical cable."
FiberPlex's director of government relations, Mitch Abel, commented, "We share the same goal with our partner Systems Plus, which is to provide government agencies with fiber-optic links that offer the capacity and security they need now, without having to wait until they have acquisition budgets to pay for entirely new installations."
Serving harsh environments
EtherWAN (www.etherwan.com) also provides media converters as well as other networking equipment for use in a variety of environments. On its website, it describes how these devices, particularly including media converters, are deployed in an energy facility. "Electric power, water, and gas distribution systems all require communications systems," EtherWAN states. "Communications is critical in measuring, monitoring and controlling various aspects of the systems that provide these services. We have teamed up with a supplier of mission-critical control systems that monitor and control electricity, gas, and water production and distribution. EtherWAN provides Ethernet connectivity devices that distribute communications to the various endpoints that perform the measuring, monitoring, and control functions."
Providing some specifics about the network setup, EtherWAN continues, "In the case of communications systems for electric, gas and water utility operations, part of the system is in an air-conditioned control room and part is in outdoor cabinets. In this case, the connection between the control room and the sensors and control points is a mixture of multimode and singlemode fiber-optic cable. This presents a challenge to provide equipment that meets these requirements and is efficient in the use of space and power.
"Modern supervision control and data acquisition (SCADA) systems use IP communication, which generally requires Ethernet connectivity. In this case, the systems are large and use Ethernet routers to construct a fiber-optic backbone, Ethernet network. EtherWAN fiber-optic media converters are used to connect each field device to the network backbone. By using EtherWAN media converters, this system supplier is able to build the network to match the requirements, regardless of the infrastructure or size of the project. Using the EMC1600 rack-mount chassis and commercial-grade media converters in the control room, and EtherWAN's fully hardened DIN-rail-mount media converters in the field locations, this system supplier is able to construct a network that is extremely versatile."
Distance and power
Just as media conversion technology can serve needs of environments like highly secure government operations and environmentally harsh energy production/distribution facilities, it also can be a solution for a number of commercial enterprise network demands. A common example is for a media converter to enable a user organization to deploy a network surveillance camera at a distant location. In these types of applications, fiber's disadvantage is that it cannot support Power over Ethernet by carrying direct current to the powered device the way a twisted-pair copper cable can. These cases are examples of media converters' versatility and ability to meet specific user needs, e.g. extended distance and PoE support.
In a technical paper titled "Overcoming the Distance Limitations of Copper Cabling to PoE Devices," Omnitron Systems Technology (www.omnitron-systems.com) lays out scenarios of this type and explains media conversion's ability to answer them. Specifically, it says, media converters with PoE or PoE Plus convert copper to fiber, and also serve to inject PoE over the copper cabling. "PoE media converters are DC powered, and are available with an AC-to-DC power supply (100 to 240 VAC) that connects via a barrel connector. They can also be powered with direct DC power input," Omnitron explains.
In these scenarios, PoE-capable media converters are placed within 100 meters of the powered devices, because that is the maximum distance for the twisted-pair copper portion of the link. The technical paper describes: "Fiber is brought to the PoE media converter located near a convenient AC or DC power source. Not only does the media converter convert fiber to copper, but it also functions as a PSE [power sourcing equipment] and injects PoE power over the copper Ethernet cable. The PDs can be IP cameras, wireless access points, IP phones, etc."
In April Omnitron introduces the OmniConverter GHPoE/S, a multi-port 60-watt PoE gigabit media converter. The converter is compatible with IEEE 802.3af (15-Watt) and 802.3at (30-Watt) specifications. When introducing the converter, the company explained, "There are now more than 100 million devices powered by PoE, yet the nominal amount of power delivered has limited the ability to deploy power-hungry PoE devices like outdoor pan/tilt/zoom cameras with blowers and heaters, and multi-band wireless access points. In addition to the increasing power required by PoE devices, the 100-meter distance limitation of UTP cabling is a challenge in large facilities like airports, arenas, building complexes, and government facilities."
The GHPoE/S functions as a PoE mini-switch, Omnitron further stated. It has optional dual fiber ports and dual RJ-45 PoE ports. The dual fiber ports enable daisy-chain topologies to cascade multiple media converters, or redundant fiber links for critical applications. The dual RJ-45 ports can power two PDs simultaneously, with up to 60 Watts each.
Meeting real needs
Like several other media-converter providers, Omnitron offers a variety of converters and fiber devices for specific applications, such as network interface devices and customer demarcation points, T1 connections, mobile backhaul and others. Similarly, Signamax Connectivity Systems (www.signamax.com) provides a portfolio of fiber transmission products that include media converters as well as switches, SFP modules and network interface cards. The company's media converters include unmanaged media converters (standalone or chassis-mountable), as well as managed media converters.
Signamax's website contains a frequently-asked-questions page addressing a number of common deployment issues with media converters. One of that page's Q-and-A's asks about a service provider (telephone, cable or Internet Service Provider) delivering service over a T1 line. "They terminated this circuit in a telephone cabinet, and I need to bring that circuit back over fiber-optic cable to where my T1 router is located in our server room," it says, then asks, "Can I use the 10/100 or Gigabit Ethernet media converters I have on hand to do this?"
The answer is another example of how esoteric media converters' capabilities can be, and how that characteristic can work to the benefit of network administrators. "Unfortunately, no," Signamax's response begins. It then explains, "T1 circuits are a completely different type of data transmission that is incompatible with packet-based Ethernet data transmission. T1 media converters are relatively expensive and difficult to obtain quickly, since the market for them is relatively small compared to the market for Ethernet applications. Signamax does not currently have a T1 media converter product in our line. However, we at Signamax may be able to help you if the T1 connection is to be used for Internet access, private network data, or Voice over Internet Protocol (VoIP) services, rather than standard, non-VoIP telephone service.
"The T1 routers available from many manufacturers that are used to connect into a switched Ethernet local area network (LAN) have two connections; one is a connection to the LAN, and the other is a connection to the T1 service provider, commonly called a wide area network. Since most T1 routers are administered using the LAN port rather than a local console serial connection that requires close proximity to the administrator, there is no administrative reason to locate the router in the server room. If the router can be co-located with the T1 circuit termination (also known as the demarcation point or demarc point), the Signamax 065-11xx series of 10/100BaseT/TX to 100BaseFX media converters can be used to connect the router's LAN port over fiber-optic cable to the LAN switches, wherever they might be on the premises."
The company recommends a conversation with technical support to determine exact needs in this situation. Other information on Signamax's FAQ page describe how its media converters can be used in applications like RS-232, RS-422, or RS-485 data; harsh-environment Ethernet; and analog video.
The knowledge base on the B&B SmartWorx website (www.bb-smartworx.com) includes a document on troubleshooting and autonegoriation features for media conversion products. The document explains, "Media converters are low-level OSI protocol stack products … No networking packet delays or data loss are introduced because there are no packet store-and-forward functions or retiming of data. Media converters are completely transparent to the network. There are no MAC or IP addresses to consider; converters can be placed anywhere in the LAN without concern for data degradation.
"These features make media converters extremely inexpensive and easy to use. These same features, however, can also make media converters the 'missing link' of the network, so to speak. Because many media converters are transparent devices and/or are often located at remote sites, when problems occur with cabling, troubleshooting can be difficult for network managers. In addition, network managers often upgrade some equipment and/or deploy 10/100-Mbit/sec hardware in an attempt to future-proof their networks. Compatibility issues can sometimes occur when using media converters."
To address these issues, the company explains, it added troubleshooting features and autonegotiation functionality to media converters. When media converters have capabilities like these, B&B explains, they can enable network administrators to locate "silent failures" on the network.
Fiber may not be the most-popular to-the-desktop medium in corporate office buildings, but it is an essential enabling technology in public and private network environments around the world. In many of those networks, media conversion technology facilitates the deployment of that fiber.
Patrick McLaughlin is our chief editor.