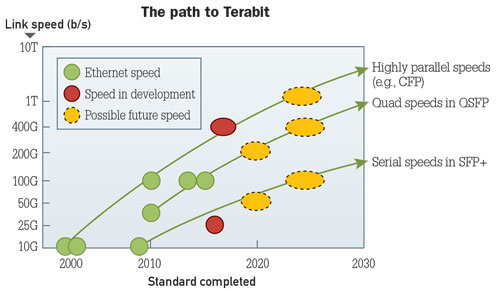 From the May, 2015 Issue of Cabling Installation & Maintenance Magazine
Prominent developers of Ethernet technologies gaze into the future and see 100-Gbit/sec transmission not as the endpoint, but as a building block.
By Patrick McLaughlin
When the Ethernet Alliance (www.ethernetalliance.org) debuted its 2015 Ethernet Roadmap at OFC in March (see page 27), the organization also published a white paper that lends perspective to the roadmap document. Authored by John D'Ambrosia, chair of the Ethernet Alliance board of directors; and Scott G. Kipp, the alliance's president, the paper takes a moderately deep dive into some of what's in the planning stages for Ethernet standards and technologies.
"The Ethernet community is no longer locked into the notion of introducing new speeds in factors of 10; rather, the cast of Ethernet users has become so varied that no longer can such a diverse Ethernet ecosystem be expected to leap to any single, next given speed," they wrote, after recalling that the "10x" path was broken in (perhaps ironically) 2010 when the IEEE completed specifications for 40- and 100-Gbit/sec Ethernet simultaneously. "Today the varied developers of IEEE 802.3--with projects based on specific use cases with clear objectives and solution spaces--is at work to deliver standards that meet the needs of well-defined users and applications," the paper says.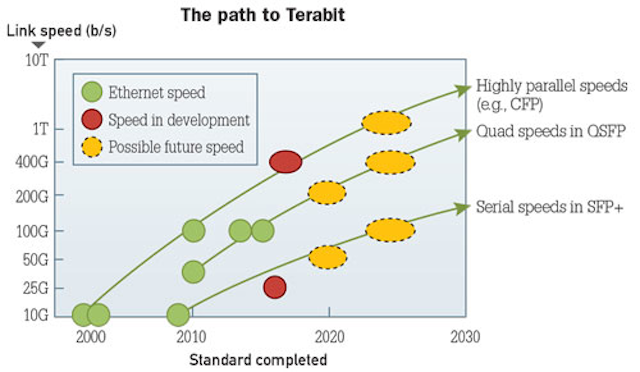 Taken from the Ethernet Alliance's 2015 Ethernet Roadmap white paper, this graph depicts the trend of increasing lane speeds. The bottom line shows how individual lanes are increasing from 10 to 25 to 50 Gbits/sec, and eventually 100 Gbits/sec in the 2020s.

400G and Tbit
400-Gbit Ethernet is one of four projects (along with 25, 5, and 2.5 Gbit) making their way through the IEEE 802.3 Working Group. About 400-GbE, D'Ambrosia and Kipp noted, "The Bandwidth Assessment Ad Hoc spent two years assessing the Ethernet market's emerging application needs and concluded that 400-GbE would strike the correct balance among varied considerations including cost, power, density and bandwidth demand." The development of 400-GbE was then officially launched in March 2013.
Later the paper explains, "The 400-GbE Task Force is using 16 lanes of 25-Gbit/sec technology in the CDFP form factor, but the industry also wants to use eight lanes of 50 Gbits/sec to create higher-density 400-GbE in the CFP2 form factor. 50-Gbit/sec lanes will enable 50-GbE in the SFP+ form factor and 200-GbE in the QSFP28 form factor. The speeds based on 50-Gbit/sec lanes should be available by 2020."
That explanation was in the context of the Ethernet Alliance's vision for a future Terabit-per-second specification. "The purpose of a roadmap is to show people where they can go. They want to go places they've never been," the paper says, then: "The 2015 Ethernet Roadmap shows how the industry is progressing toward Terabit Ethernet (TbE). TbE is in the future and expected after 2020. Significant investment is needed to get to Terabit speeds."
The post-2020 Tbit Ethernet will be enabled, in no small part, by the engineering feats that allow ever-higher data rates per lane. "Individual lanes are being increased from 10 Gbits/sec to 25 Gbits/sec to 50 Gbits/sec," the paper says, referring to both current and future capabilities. "The first Terabit speeds could be 1-Tbit/sec (10 lanes of 100 Gbits/sec) or 1.6-Tbits/sec (16 lanes of 100 Gbits/sec). The 100-Gbit/sec lane technology is, thus, the building block for TbE.
"Technologies beyond 100-Gbit/sec lanes are very costly right now, and the industry will have to invest hundreds of millions of dollars before these technologies reach the cost points of Ethernet," the paper asserts. "These technologies will become clear over time."
Fiber and connectivity
These excerpts paint only part of the comprehensive picture the Ethernet Alliance has produced with its 2015 Ethernet Roadmap and accompanying white paper. Both documents can be downloaded from the alliance's website.
While speeds like 400 Gbits/sec and 1 or even 1.6 Tbits/sec are not in the short- or even mid-term plans for data center managers today, the concept of parallel optics and multi-lane transmission are the here-and-now for many. As such, the general approach to cabling architecture being applied today may very well carry a data center through to some of these higher speeds. As far back as 2010 recommendations for array-style multi-fiber connectivity were being made to data center managers who would one day want to migrate from 10-GbE to 40- or 100-GbE.
One article in particular prophetically advised, "The choice in physical connectivity is … important. Because parallel-optics technology requires data transmission across multiple fibers simultaneously, a multi-fiber (or array) connector is required. Using MPO-based connectivity in today's installations provides the means to migrate to this multi-fiber parallel-optic interface when needed." ("Migrating to 40 and 100G with Om3 and Om4 connectivity," authored by David Kozischek and Doug Coleman, Corning Cable Systems [now Corning Optical Communications], November 2010)
That years-old advice is relevant today and appears to hold relevance for the future as well. Some much newer--in fact, still-in-development--fiber technology could be another puzzle piece. The Ethernet Alliance's D'Ambrosia and Kipp described 100-Gbit/sec lanes as the "building block" to future high speeds, and a multimode fiber type currently under development could be an essential piece of that building block. Dubbed wideband multimode fiber (WBMMF), the optical fiber will support wave-division multiplexing (WDM).
Paul Kolesar, engineering fellow in CommScope's (www.commscope.com) enterprise solutions division, introduced the WBMMF concept in a blog post in late 2014, saying the need for a WDM-capable multimode fiber has made itself self-evident. "Existing Om3 and Om4 multimode fibers have a rather limited ability to support high-speed transmission using wavelengths different than the 850-nm wavelength for which they are optimized," Kolesar explained. "WBMMF can support four or more wavelengths to significantly improve capacity. For example, this new fiber type could enable transmission of 100 Gbits/sec over a single pair of fibers, rather than the 4 or 10 pairs used today."
In October 2014, the Telecommunications Industry Association (TIA; www.tiaonline.org) accepted a project request to initiate a standard document specifying a multimode fiber that can support WDM. The multimode fiber specified will enable transmission of at least 28 Gbits/sec per wavelength, totaling at least 100-Gbit/sec transmission capability.
If 100-Gbit/sec transmission is indeed a building block rather than a finish line for high-speed data transmission, it appears as if the combination of established architectures and connectivity, along with emerging optical fiber capabilities, will enable cabling systems to support that building block.
Patrick McLaughlin is our chief editor.
More CIM Articles
Archived CIM Issues