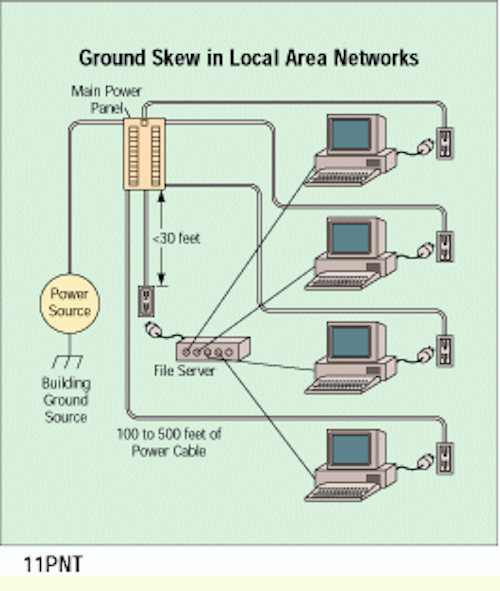 Donald R. Covington
Lightning Diverter Systems
Installers should be aware that they may be liable for damage to equipment connected to surge protection devices if the manufacturer can show that installation errors occurred. During the past two or three years, several manufacturers of surge protection devices have been offering equipment protection programs for equipment connected to their devices. Some of these guarantees are now up to $5 million.
Some equipment protection programs have been very successful at promoting these surge protection devices to local area network users. However, there is no one magic product or product group that will improve the reliability of all local area network systems. Resolving reliability problems in these networks requires examination of each building and uncovering the incompatibilities between the power distribution system and the local area network data links.
One factor to keep in mind is that surge protection devices in local area networks can sometimes contribute to ground skew, which increases data-transmission errors, reduces equipment reliability and causes failures in network interface cards and power supplies. But how can a surge protection device cause this to happen in a local area network?
Path of least resistance
Surge protection devices divert surges traveling along power lines and data links to ground. In homes and small offices, for example, when a surge enters a building from the power or data-line conductors, these protection devices limit the surge to a level that the equipment can withstand.
However, lightning striking a high-rise building or office complex can cause the building grounding system to impulse to several thousand volts. These ground surges, or impulses, enter the power distribution system by the grounding conductors. Surge protection devices depend on ground remaining stable at or near zero volts, but when several hundred devices--as in a local area network--divert surges to ground, the voltage on ground increases. Higher ground-system voltages mean higher grounding skew and more system failures.
Ground skew occurs as impulses travel along the grounding wiring in buildings. A voltage skew occurs naturally as an impulse and is delayed because of differences in wiring lengths from the building ground electrode to individual duplex outlets in the building.
Every grounded duplex outlet in a building responds to impulses applied to the building ground electrode. The time of arrival of the impulse at an outlet is determined by the length of wire traveled through to get to that outlet. The instantaneous voltage at the duplex outlet ground is determined by the rate of rise of impulse voltage and the delay time caused in the wiring.
Because each delay time to an outlet is different, the voltage at each outlet is different, and these differences can be hundreds or thousands of volts. Voltage is pressure, and pressures seek equilibrium. Higher voltages cause the current to flow to lower voltage levels to equalize the differences. The path of least resistance to equalize ground skew voltages in a local area network is current flow in the copper-wire data links.
Fiber solves the problem
The most effective solution to this problem is fiber to the desktop. Fiber-optic cables are light waveguides and therefore do not conduct electrical currents. Fiber-optic modems contain light-emitting diodes or laser diodes that convert electrical signals (representing data) to light pulses. Optical receivers then reconvert the light pulses to electrical signals that can be used by electronic circuitry.
Fiber to every desktop may not take place for several years. In the meantime, failures from ground skew will continue to appear in specific patterns in a building. The ground skew voltages will have higher levels of energy at network-to-network interconnect points. Each power isolation transformer in a building is considered a separately derived power source and is grounded back to the building ground electrode. When a local area network data interconnect--for example, a file-server-to-file-server data link--inadvertently interconnects grounds from two power transformers, the ground skew stresses are very high. Problem network-to-network data links should be replaced with fiber-optic data links.
Another measure--and one that retains the copper-wire data links--is to redesign the building wiring systems so that the distance that the impulse must travel to each outlet is nearly identical. An ideal power distribution system would resemble a Ferris or wagon wheel.
While we wait for this ideal system, however, there are a couple of things you can do.
-The ground skew stress levels on data links can be lessened by bonding together the grounds of each separately derived power source in the building from one central nodal or radial point.
-Ground conductors in computer complexes should be as large as phase conductors.
-When the phase conductors are in conduit, the ground conductors must also be in the same conduit.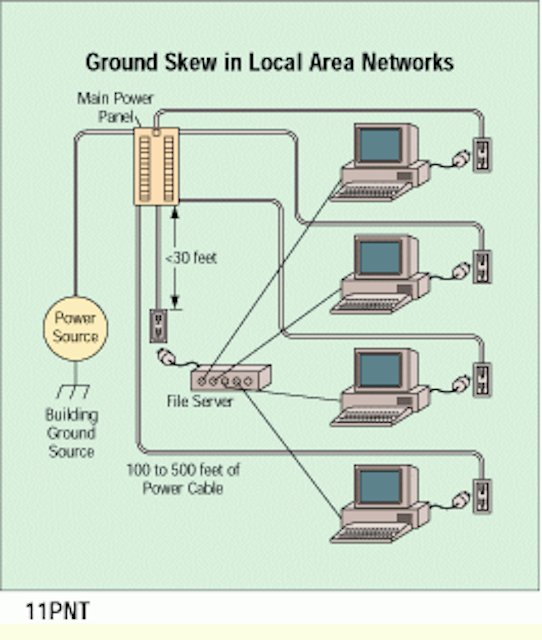 Click here to enlarge image
Ground skew voltage occurs because of differences in the wiring lengths between the ground electrode and each outlets. For example, the power cable from the main power panel to the file server might be less than 30 feet long and the cables that go out to the terminals, 500 feet long.