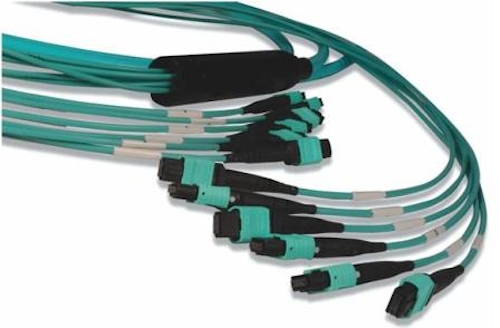 A new set of fiber-optic cable assemblies from Siemon have OM4 fiber and MTP connectors. The OM4 Plug and Play assemblies are now available globally. Up to this point, Siemon's OM4 connectivity products were available on a customer-by-customer basis.
OM4 fiber has been recognized in the IEEE 802.3ba specifications for transmission of 40- and 100-Gbit/sec Ethernet for distances of 150 meters. OM4 fiber cabling can also be used to extend distances of 10-Gbit/sec and other high-speed links.
The product set inclues MTP-to-MTP connectivity and is available in custom lengths. They can be equipped with fiber counts from 12 to 144 in increments of 12.
Also available from Siemon with OM4 fiber are factory-terminated MTP-to-LC and LC-to-LC or SC-to-SC fiber-trunk cable assemblies. The company explains that the 10-Gbit/sec MTP-to-LC assemblies allow multi-fiber MTP connectors to integrate with LC or SC interfaces in current network equipment, while the LC-to-LC and SC-to-SC trunks provide high-performance 10-Gbit/sec fiber links without the complexity and performance variability of field terminations.
The company says these plug-and-play options allow links to be deployed 75 percent faster than traditional field terminations.
Other products in Siemon's OM4 fiber line include indoor/outdoor tight-buffer distribution cable, indoor interlocking-armor tight-buffer cable, indoor/outdoor tight-buffer and loose-tube cable with OFNR, OFNP and LSZH jackets.