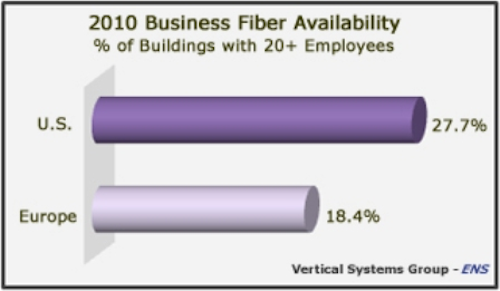 Research recently conducted by Vertical Systems Group indicates that in both the United States and Europe, small and medium-sized businesses far outpaced enterprises in gaining access to fiber-optic connections for their businesses last year. Despite that boost in 2010, the reality remains that most small/medium business locations do not have direct accessibility to fiber while most enterprise locations do.
A principal at Vertical, Rosemary Cochran, explains, "Investments in fiber deployment during the past year were spurred by demand for higher-speed Ethernet services to support domestic and multinational enterprise networks. Rollouts of residential fiber also extended to many adjacent commercial sites, which particularly benefited small and medium-size business locations. New low-latency offerings are another driver for recently lit fiber. These services focus on ultra-high performance connections for financial, content delivery and other applications."
In all, business fiber penetration rose to 27.7% in the U.S. and 18.4% in Europe by the end of 2010. "Fiber expansion is cited as a top priority for network operators throughout the world, including incumbent carriers, competitive providers and cable MSOs," the company said when announcing its findings. "Bandwidth scalability, operational simplicity and ease of provisioning are proven advantages of fiber-based service deployment."