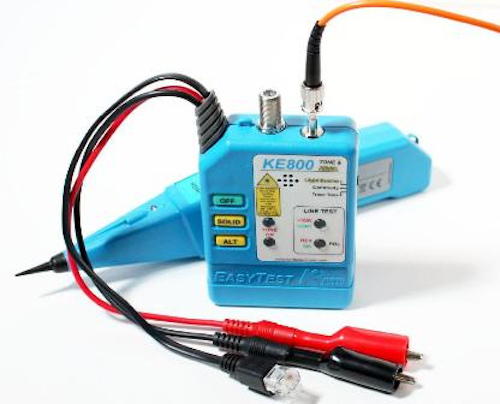 Kurth Electronic has introduced the KE801 Digital Multimedia Test and Trace Kit, which can troubleshoot and trace fiber-optic as well as copper cabling.
The KE800 test unit uses a non-contaminating 2.5-mm metal ferrule to deliver a powerful but safe Class II 650-nm laser into a fiber cable. Visible to the human eye, this blinking red laser light can identify a target fiber cable at the far end of the link and also reveals faults such as broken fiber by producing a glow that is visible through the cable jacket. When connected to the KE800, a fiber cable can also be identified midspan by carefully bending the cable to reveal a dim glow.
Kurth describes the KE801 as a rugged, professional-grade copper and fiber test kit. It has digital controls and a visible and audible user interface. It will withstand voltages of up to 500V without damage, Kurth adds.