Fusion splicer is the size of a digital camera
Aurora's MiniMod has high-level sophistication like three-axis alignment in a 23-cubic-inch, 1-pound unit.
Feb 11th, 2011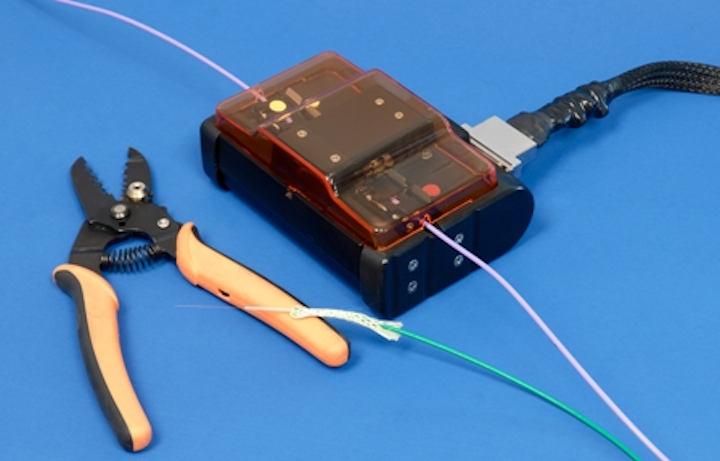 Aurora Optics has created a fully automatic fusion splicer, called the MiniMod, that is the size of a digital camera. Aurora says the splicer's size makes it usable in extremely difficult and hard-to-reach environments. The company also says MiniMod is the world's smallest fully automatic fusion splicer. It is 23 cubic inches in volume and weighs 1 pound.
The MiniMod is operated from a remote control unit, connected by an umbilical cable. This setup enables the splicer to offload functiions that do not have to be at the fiber location, such as display monitor, control keypad, microprocessor and power supply. Only those functions directly affecting the fiber (imaging system, precision fiber positioners and high-voltage fusion arc) are kept in the splicer itself.
Aurora says that despite its small size, the MiniMod maintains high levels of sophistication. The splicer's features include three-axis auto alignment, automatic fiber placement, sub-pixel image processing, sophisticated arc fusion control and splice-loss estimation. The MiniMod works in any orientation, including upside-down, and meets MIL-PRF-28800 environmental specifications including ambient temperature from -10 to +55 degrees Celsius, relative humidity from 0 to 95 percent and altitude to 5000 meters.
Typical loss for a singlemode fiber is 0.02, according to Aurora.