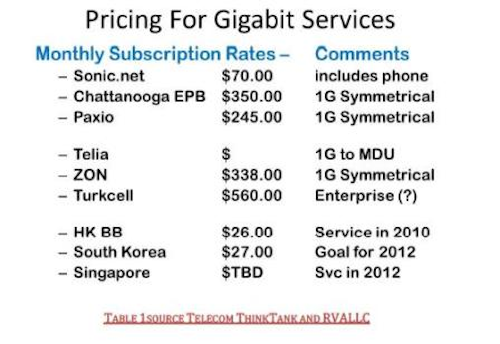 A report commissioned by the Fiber To The Home Council and conducted by Telecom ThinkThank Inc. and RVA Market Research LLC sizes up the "typical" residential broadband subscriber who receives Gigabit-per-second service to the home. Among the analysis in the report is that pricing for early gig-speed connections are out of whack, on a cost-per-bit basis, with other, more-widely-available broadband services.
Entitled "Residential Gigabit Subscribers: Services, Applications and Attitudes," the report states, "Our March 2012 estimate is that global residential subscribers number is in the hundreds." So the population analyzed in the report is small. However, the report adds, "In 2012, it is anticipated that South Korea, Singapore and Google (Kansas City, USA) will deploy large FTTH networks and offer gigabit services."
The report points out that gigabit-speed service was first introduced by Hong Kong Broadband in 2010. In announcing the report's availability, the FTTH Council said, "Since then, the number of telecoms offering gigabit services has been rapidly growing and includes mostly small-footprint operators serving densely populated areas and a few rural telecoms that are using their fiber infrastructure to attract new business and to bring their rural populations into the information age."
Most current service offerings are symmetrical, the report notes, meaning that subscribers have both upload and download speeds of 1 Gbit/sec.
The table at the bottom of this page, taken from the report, compares monthly subscription rates for available 1-Gig residential service. In the report, Telecom ThinkTank Inc. and RVA Market Research point out, "These early gigabit prices do not seem to correlate to competitors' service offerings. Comcast Xfinity Xtreme 105 Mbps service in California is $199 per month while Sonic.net is $70 per month. Verizon's top tier is 105 megabits at $195 per month, and AT&T's tops out at only 25 megabits." The FTTH Council points out that prices from Gbit/sec service providers varies widely, "from a low of US$26 per month from Hong Kong Broadband to a high of IS$560 per month at network operator Turkcell." The report adds that services from the likes of Comcast and others have monthly data caps, most offerings from current gigabit-speed providers do not cap subscriber use. "What's the use of having gigabit speeds if you have to watch your use?" the report asks rhetorically.
The FTTH Council summarized three characteristics of Gbit/sec residential subscribers, saying they are:
Online an average of 8 hours/day, compared with U.S. internet user average of 2.5 hours/day,
The "earliest of early adopters," with home networks consisting of five or more devices, and
Content creators - a characterization supported by traffic measurements showing that Hong Kong Broadband's Gbit/sec subscribers use three times the upload bandwidth compared to their download use.
"Upload speed is critical for distributing HD photos and videos, efficient cloud computing and virtual presence video conferencing," the FTTH Council notes.
Heather Burnett Gold, president of the FTTH Council Americas, commented, "Essentially, this study confirmed what one might expect, that those who subscribe to gigabit service have multiple applications in play at all times, including social networking, HD downloads, and streaming media via Netflix, Hulu and other sources, all while they participate in several multiplayer online games through multiple consoles.
The 11-page study is available for free download through the FTTH Council, here. (How quickly you're able to download it probably will depend on the speed of your connection to the outside world.)