IGI taking quarterly look at active optical cable market
Researcher gathers trends, data on market drivers including USB 3.0, Light Peak, and even the iPad.
Mar 16th, 2010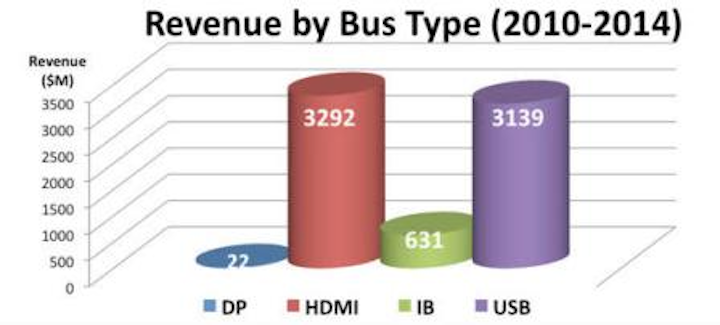 Research firm Information Gatekeepers Inc. (IGI) recently published its inaugural Active Optical Cables Quarterly Update, which covers the worldwide market and technology developments in active optical cables (AOCs). The ongoing publication will provide both marketing and technology information necessary to stay up on new developments and business opportunities for suppliers of AOCs. IGI has predicted sharp growth for AOCs in the near and mid term.
The Q1 2010 publication provides analysis on USB 3.0, an update on Intel's Light Peak plans, and the iPad's potential for making waves with optical data transmission. It also contains information on AOC revenue, VCSEL counts, and revenue outlook for the current year (see chart at bottom of this story).
IGI also forecasts that PC- and CE-related AOCs will continue through engineering-development phases toward volume production in either the last quarter of 2010 or early 2011. The researcher expects this surge in activity to produce significant increases in cable volume and related revenue change rates, particularly over the next two to three years.