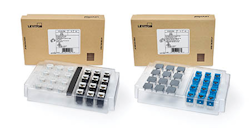 Leviton
Leviton recently announced its new GreenPack packaging, optimized to support efforts of IT network managers constantly seeking more efficient and cost-effective options for large connector installations, while contributing to an organization's environmental initiatives. The bulk packs — available for select Atlas-X1® and eXtreme® RJ-45 connectors — hold 12 connectors in individual, clear pockets.
The bulk packaging is available for the Leviton Atlas-X1 Cat 6A and Cat 6 UTP and shielded connectors, and eXtreme Cat 6A UTP connectors. The connectors can be removed quickly, one at a time, with remaining connectors and components well organized and easily counted. The packs offer an environmentally sound alternative to individually packaged jacks, and the corrugated cardboard sleeve and PET plastic packaging is 100 percent recyclable.
Other key GreenPack benefits, according to Leviton, include:
GreenPack saves time on the jobsite, enabling faster unpacking and deployment versus individually bagged connectors.
The packaging features secure corner tabs that open and close easily and create added protection for all connector components.
A see-through window on GreenPack boxes allow for quick product identification.
GreenPack is available in three connector colors for better network planning.
Atlas-X1 and eXtreme connectors are compatible with all Leviton QuickPort® products.
A 12-connector GreenPack provides the right number of connectors to match patch panel configurations (12 ports = 1 Pack, 24 ports = 2 Packs, 48 ports = 4 Packs).
Leviton connectors, including those sold in the new GreenPack, are available through the company's extensive distribution network. 
"The innovative GreenPack packaging is easy to open, reusable and generates more jobsite efficiency with less waste," comments Yuna Shin, senior product manager for Leviton Network Solutions. "These benefits are especially noticeable in larger installations: In a typical 10,000 connector installation, using GreenPack provides a 3 percent total project cost savings in materials and labor."
RELATED:  The benefit of snagless RJ-45 plugs