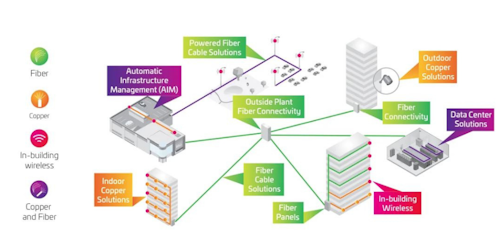 CommScope
A new blog by Jason Reasor, director of strategy and technology for enterprise systems at CommScope, investigates the connected campus as a "smart city proving ground."
"Hardly confined to higher education, connected campuses include medical and technology parks as well as corporate campuses and airports that are miniature smart cities," notes Reasor.
RELATED ARTICLE:  Creating building-to-building connections
As further pointed out by his blog, "In addition to highly connected workspaces, smart campuses such as those owned by Google and Apple include childcare, sports and recreational facilities, cafeterias, health-care facilities and smart transportation systems. Less intricate examples include healthcare campuses, often anchored by a hospital which is surrounded by a variety of outpatient facilities and doctors' offices; or technology parks where multiple companies work independently but also collaborate on common projects."
CommScope has developed an interactive connectivity map that does a good job of explaining the various infrastructure systems and how they are connected. 
It is Reasor's contention that regardless of size or scope, every connected (or smart) campus relies on most of the same network infrastructure elements needed for the smart city. His blog maintains that "seamlessly integrated fiber and high-speed wireless networks combine to form the central nervous system of the campus, both within and among the various buildings. Copper and fiber access networks are needed to support the disparate IoT networks and connected devices, [as are] robust and redundant inter-connects between the outside fiber plant and the data center."
Other commonalities in smart city and campus deployment requirements, according to CommScope's Reasor, include "flexible data infrastructure, including secure connections to cloud-based or virtualized on-premise compute and storage assets [and] infrastructure intelligence to automatically monitor and manage the entire physical layer."