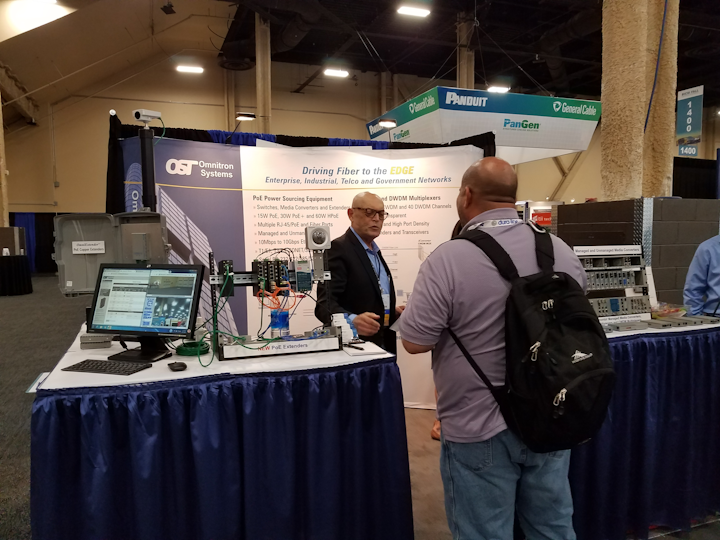 Cabling Installation & Maintenance
At the recent BICSI Las Vegas (Sep. 30 - Oct. 2) and SCTE Cable-Tec New Orleans (Sep. 30 - Oct. 3) exhibitions, Omnitron Systems, a specialist in Power over Ethernet (PoE) and fiber networking products, introduced its IEEE802.3bt OmniConverter GHPoEBT/S fiber to 60 and 90 Watts PoE Power Sourcing (PSE) Media Converters product line.
"Since the ratification of the IEEE802.3at 30 Watts standard in 2009, and until September 2018 when the IEEE 802.3bt 100 Watts standard was ratified, all high power PoE applications utilized proprietary methods challenged with interoperability issues," observes Sankar Ramachandran, Omnitron's product marketing director. "Utilizing the new 802.3bt standard, Omnitron's GHPoEBT/S fiber to PoE media converter and power injector meet network demands where fiber data reach, high PoE power, and interoperability is required and expected."
According to the company, typical network applications for the new devices encompass delivery of data and power to powered device (PD) appliances, including PTZ surveillance cameras, Wi-Fi access points and wireless small cells.
Per Omnitron, the OmniConverter GHPoEBT/S is an unmanaged multi-port media-converter/injector with different fiber, and 10M/100M/1G RJ45 copper port, models available. Units are available with one or two 60 and 90 Watts power ports; models also support the 802.3af (15 Watts) and 802.3at (30 Watts) PD devices. Units with two fiber ports can be daisy chained or deployed in a redundant fiber topology for critical applications.
Models with two RJ-45 ports can fully power two 802.3bt PoE 90 Watt PDs simultaneously. Fiber ports are available with SC, ST and LC fixed-fiber connectors, or with Small Form Pluggable (SFP) transceiver sockets that support 100M or Gigabit multimode or single-mode fiber with a variety of CWDM and DWDM wavelengths and distances.
The GHPoEBT/S can be wall-mounted, rack-mounted or DIN-rail mounted, and can be powered using external AC to DC power adapters. Models are available for commercial (0 to 50 degC), wide (-40 to 60 degC) and extended (-40 to 75 degC) operating temperatures. 
Some of the GHPoEBT/S line's key features include remote link-fault detection modes and remote PoE Power Reset modes. These features enable remote diagnosis and remote powered appliance reset reducing the cost of network maintenance.
All OmniConverter products are made in the USA and are TAA -compliant, and are supported by free Lifetime Warranty and 24/7 technical support. For product and reseller information, contact the sales department at Omnitron Systems by phone at 800-675-6410 or 949-250-6510, or by e-mail at sales@omnitron-systems.com.