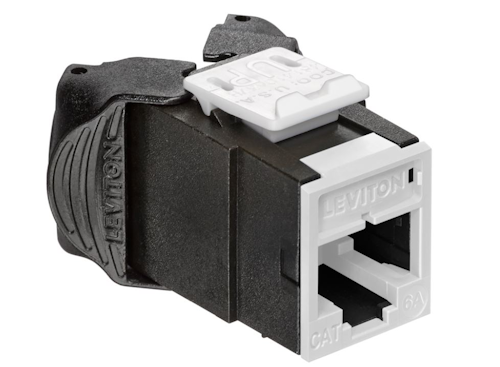 Leviton recently announced its 100-watt PoE products have been verified by Intertek ETL to meet the IEC 60512-99-002 specifications for support of IEEE 802.3bt Type 4 Power over Ethernet applications. The maximum output of 802.3bt Type 4 power sourcing equipment is 90 watts.
"With the rise of the Internet of Things and digital buildings, PoE is poised for unprecedented expansion in the enterprise," Leviton said. "Leviton 100-watt PoE products are specifically designed to enable the transmission of power and data to a wider range of remote devices which rely on PoE, including lighting, access controls, computers, IP cameras, information kiosks, industrial automation equipment and wireless access points."
Following the 2018 ratification of IEEE 802.3bt, all Atlas-X1 and eXtreme jacks, as well as select patch panels, were tested and have now gained full third-party verification. "This makes Leviton the first and only company in the cabling industry to-date to achieve third-party verification at this power level for its PoE products," the company said.
"We're pleased with this development given how demanding the testing process is," said Yuna Shin, senior product manager at Leviton Network Solutions. "This once again demonstrates Leviton's commitment to delivering the highest-quality system solutions for PoE applications."
The verified products feature Leviton's patented PoE-optimized tine geometry to prevent arcing damage at the mating zone between jack and plug, and retention force technology (RFT) to prevent intermittent disconnects. They also support higher bandwidth and power while limiting the temperature rise in large cable bundles. The verification confirms the testing that Leviton performed and announced in 2016, in which Atlas-X1 Category 6A jacks successfully delivered 100-watt remote-power performance.