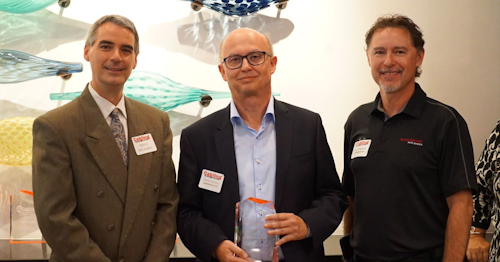 PLATINUM HONOREE: Fiber-optic connectors with Lotus Effect
Rosenberger OSI offers fiber-optic connectors that incorporate the Lotus Effect—self-cleaning properties that result from ultrahydrophobicity, which can be witnessed in nature on the leaves of the lotus flower.
The company explained, "A big part of interferences with fiber-optic cable is due to contamination of connectors. Our goal has been to develop a connector that eliminates the adhesion of particles on its surface. The elimination of staining increases the optical fiber links' reliability, resulting in more-stable networks and less downtime."
Rosenberger OSI achieves the Lotus Effect on connectors by applying a coating under low-pressure plasma conditions. The company explains that, by applying this coating, it has "successfully developed fiber-optic cables with fiber end surfaces preventing contamination characterized by hydrophobic and oleophobic features." The applied coating generates an anti-static effect that generally prevents the adhesion of particles on the surface. "This provides a radically new approach, solving one of the neuralgic problems of the contamination of fiber-optic couplers with the development of a specific process for coating of glass/ceramic surfaces, which can be smoothly implemented in the production process." A connector with this coating applied exhibits dirt-, humidity-, and fat-repellant features.
"Controlling the contamination problem significantly increases the reliability and availability of fiber-optic networks, and eliminates time- and cost-intensive downtime," Rosenberger OSI explains. "Furthermore, the cleaning of the connector surface during the installation of cables is redundant, which results in time and cost savings."
The company further states, "There's one fact that can't be changed: The data center is the heart of every company's IT. With its availability, business processes stand and fall. Failures can be expensive. That's why it's essential to investigate the causes quickly, if the IT does get out of sync.
"Physical disturbances and contamination of any kind can be factors for errors in the passive data cabling and hinder the operation of the data center, or even shut it down. Our service team is often called by customers to fire-brigade action when the cabling no longer plays along. Such operations often show that malfunctions in the fiber-optic infrastructure are caused by impurities on the connector surfaces.
"Such contamination of connectors occurs more frequently than one might think. The reason for this is usually the time pressure under which in-house technicians are working in the data center. Inspection should be standard practice, but this decisive and costly step is often neglected for reasons of time and cost. This lack of care during installation shows. The adhesion of dust, moisture or grease particles on the contact surfaces are frequent reasons for cabling failure. Even a small fingerprint on the connector can have a fatal effect. In the case of fiber-optic cabling, this often causes considerable performance problems or total failure."
The company says that with the Lotus Effect, "impurities in fiber-optic cabling are finally a thing of the past."