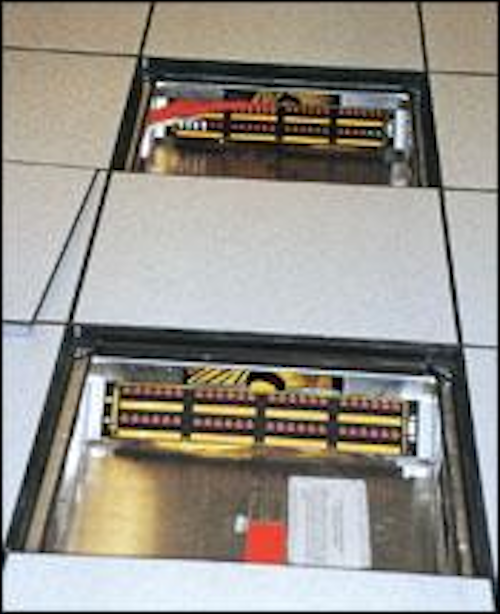 The systems in place at Nordstrom's Seattle facilities are the blueprint for its other sites.
One hundred years ago, when John Nordstrom opened his first store in downtown Seattle, he had no idea that his family business would grow to become the largest shoe store in Seattle by the 1960s, and then expand to be one of the largest clothing-store chains with more than 150 locations worldwide today. To handle the growing inventory and better manage the stores' operations, Nordstrom, now headed by Blake Nordstrom, recently celebrated its 100th birthday by moving into new headquarters.
With a new corporate LAN and WAN architecture in place, the Nordstrom headquarters has been outfitted with the organization's first high-speed structured cabling system for voice and data. Nordstrom selected a combination of optical-fiber and Category 5e copper cabling, and specified Ortronics' (www.ortronics.com) GigaMo connecting hardware. The system within corporate headquarters is the cookie-cutter design that will be followed in all of the retailer's locations worldwide-including corporate offices, stores, distribution centers, and warehouses.
From the top
The corporate headquarters and Nordstrom's Integrated Services Group (ISG) recently moved into two downtown Seattle complexes: the Tower and Met Park. The corporate administration offices occupy 15 of the 22 floors within the 1700 Seventh Avenue Building (the Tower). Nordstrom says it's dedicated to constant research and development of the most advanced in-store systems for customer service, and inventory procurement required investment in a full-service high-technology facility.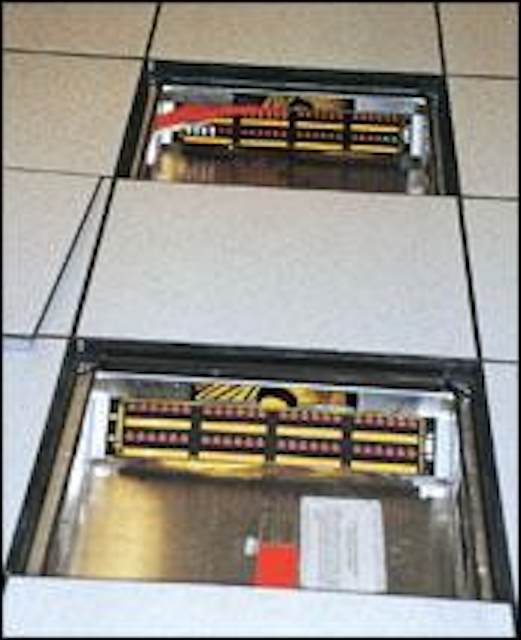 Nordstrom's test laboratories include floor boxes with separate data connections from those in the rest of the building.
Click here to enlarge image
When the nearby Metropolitan Park North (Met Park) facility became available, Nordstrom moved its information-services department into the entire five-floor facility. This location includes new development labs to test and use state-of-the-art software for all the company's cash registers, point-of-sale activities, time-keeping, and active electronics and servers. Nordstrom is in the process of rolling out a wireless system to perpetually manage inventory-a system that stems from the newly installed network, including the cabling infrastructure.
In the Tower, Nordstrom occupies 324,000 square feet of office space. Although the main Nordstrom data center is located in Denver, the Tower facility will provide technology to the Denver data center, and provide high-speed LAN and WAN access to all locations.
Hargis Engineers Inc. of Seattle, a firm that has designed systems for Nordstrom for 30 years, designed and proposed the structured cabling system. "With the new corporate headquarters, we knew that we needed to install a fully warranted system that could be retrofitted to all their other locations to provide them with all the bandwidth and speed needed for all their applications," says Chris Sheldon, RCDD/LAN Specialist, director of telecommunications for Hargis.
"We put together a design and presented 'phasing' plans to the corporate decision-makers," adds Hargis. "In doing so, we recommended a complete Ortronics end-to-end structured cabling solution, encompassing an enhanced optical-fiber backbone with Category 5e for voice and data. For each location, we will assist the Nordstrom store planning project manager, general contractors, and ISG project manager in selecting an Ortronics-certified installer who can efficiently support this system and provide a complete warranty."
The system, which was approved and installed in the Tower, includes a redundant optical-fiber backbone to the server room on the third floor. Working with the architect, Hargis designed the system so that the telecommunications rooms on each floor were stacked for easier connectivity between them.
Choices in plenum spaces
From the main crossconnect (MC), two, 36-strand enhanced multimode optical-fiber cables run to each intermediate crossconnect (IC). "Through Graybar (www.graybar.com), the stocking distributor, we supplied our plenum distribution cable, which included three subunits of 12 fiber strands within the cable," states Bryan Roberts, Pacific Northwest regional manager for cable manufacturer CommScope (www.commscope.com). "The fiber was our Ultrafiber, the highest-quality glass we offer."
The fiber cable is terminated to Ortronics ORMMAC rack-mount cabinets, which are housed within FiberMo cable-management racks. From there, the data cable is patched into GigaMo patch panels within Mighty Mo3 racks. Three runs of Category 5e cable route to each workstation, including walled offices and modular workstations.
"Because of the mechanical HVAC ducts that were installed by a design-and-build firm prior to the cable installation, we had to route the cables on bendable cable trays," Sheldon explains.
"A ladder tray or conventional tray would not have allowed us any flexibility and would have been expensive to install," adds Jerry Spalti, general manager of the structured cabling group for Holmes, the installation company selected for the Tower job. "So, we installed Cablofil's (www.cablofil.com) EZ-tray, which is a mesh tray that easily can be installed around any ducts or other interference with cable runs."
Reel difference
Holmes installed 850,000 feet of Category 5e cable in the Tower. "Originally, we were going to use 1,000-foot payoff reels," says CommScope's Roberts. "But we were informed that the customer wanted 2,000-foot reels. Due to the critical timing of this job, and with the cooperation of us and Graybar, we were able to modify the specification and change out the reels within eight days."

Graybar's Lewis Hoffer, the distributor's national account manager for Nordstrom, explains, "Graybar is in the process of completing 16 full-service zone warehouses around the U.S., which will stock more than $600 million of comm/data and electrical inventory to support our major customers and contractors. The Puyallup, WA facility will provide products and services to the Nordstrom headquarters and Northwestern locations."

Neal Stobaugh, managing partner for Teknon, which installed the cabling system in the Met Park facility, says, "We originally wired the Met Park building according to previous specifications for a dot-com company. In fact, we were 85% complete when the dot-com decided not to move in and Nordstrom leased it instead."
---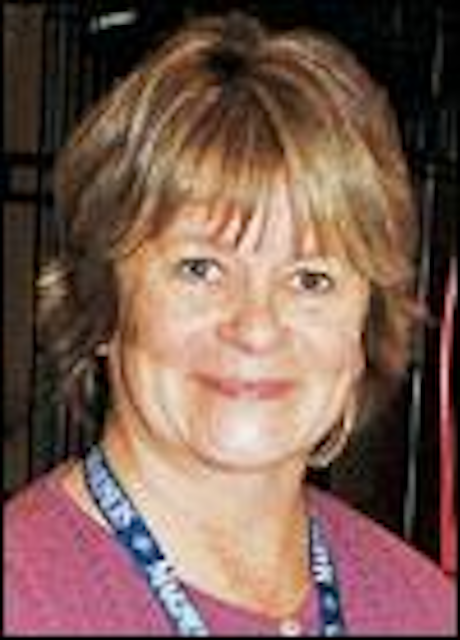 Click here to enlarge image
"We are testing new time-keeping methods for employee records, as well as the wireless infrastructure for constant inventory at all our locations."
-Hollie Morris, Nordstrom ISG
senior project manager
---
The Met Park project required removing and recycling the just-installed horizontal cable, matching the horizontal system in place at the Tower, reusing the copper riser, and matching the Tower's fiber riser, per Hargis' specifications.

Project differences
Although the Met Park facility was smaller than the Tower, it posed unique connectivity challenges within its development labs. "The labs each required separate electrical connections as well as a separate backbone for voice and data, due to the nature of their applications," states Hollie Morris, Nordstrom's ISG senior project manager. "The test labs, which are located on each floor, are constantly rolling out new software applications, so they needed separate connections and their own system.
"Currently, we are testing new time-keeping methods for employee records, as well as the wireless infrastructure for constant inventory at all our locations. This will allow instant, real-time updating of our inventory from the point of purchase."
"I suggested that we install dedicated ORMMAC Mini-Mod lockable cabinets that contained both 8-pin modular copper and fiber connections," says Ken Monaghan of manufacturers' rep Stringer and Company of Vancouver, WA. "These panels, which were custom-built for this installation, clearly identify the dedicated backbone within the cabinets."
Tailor made connections
Voice cabling in both complexes included 25-pair Category 5e backbones, which were terminated to wall-mounted 110 crossconnect system terminal blocks in the TRs. For the data and voice horizontal runs, Nordstrom uses its own color-coding scheme. Red cable denotes data, blue denotes voice, and gray denotes an analog line, which could be a fax or a modem. "This makes it easier to identify applications, as well as location, when the IT department does our own moves, adds, and changes," says Nordstrom's Morris.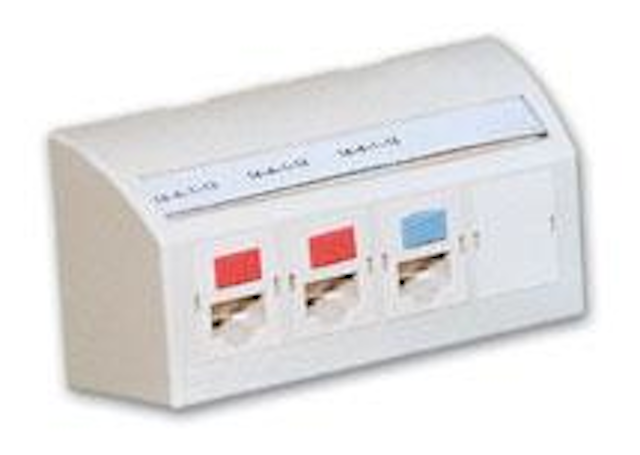 Ortronics' standard TracJack outlet was redesigned, as shown here, to provide the additional depth that Nordstrom needs.
Click here to enlarge image
Unique to this installation were custom-built modular furniture bezels to accommodate both Category 5e and future fiber-to-the-desk for data and voice. "Some things we took for granted when the job was being specified, like four-port furniture bezels and color swapping to match Nordstrom's standards," says Stringer and Co.'s Monaghan, noting that Ortronics engineers modified existing products to meet the specifications.

Ortronics redesigned its standard TracJack outlets for modular furniture to allow the additional depth that Nordstrom needed. The challenge came in allowing for enough bend radius in future optical-fiber connectivity. "The redesigned Ortronics TracJack has four ports-three for interchangeable Category 5e voice and data ports, and one for future fiber," says Hargis project manager Jeff Gray. "This product will probably become a standard line item since we will be using it at all future Nordstrom locations."
Hargis' Sheldon says the "base plan and specific products will be used for all subsequent locations. This will allow several stores and locations to be rewired in tandem with the same structured cabling system. Some tasks will be done on a national level, including distribution, site surveys, and delivery scheduling. Graybar is now stocking products per our forecasts."
Morris notes, "Just as this company was founded on the principle of earning the trust of our customers one at a time, this new infrastructure will serve to improve each location, one at a time, to increase our productivity and ultimately customer service. And it is our intent to guarantee this cabling infrastructure for the next generation of customers."
null
---
Arlene Franchini is director of communications for Ortronics (www.ortronics.com). Carol Everett Oliver is principal of Everett Communications.



Off the rack
Nordstrom is retrofitting a Category 5e and optical-fiber cabling solution in all its offices, stores, and warehouses. But many locations do not have adequate space for telecommunications rooms, so the telecommunications equipment will be located in cabinets among the clothes racks and boxes in the back rooms.
When challenged to design an all-inclusive cable-management cabinet for Nordstrom's retail stores, Ortronics developed a specially made Mighty Mo Cable Management Cabinet with a lockable curved glass door, thereby making it secure in a stock-room environment. The product is a full-size 7-foot cabinet that complies with EIA specifications with 12 to 24 tapped rails to hold the active and passive components.
Instead of individual rings or sheet-metal organizers, the cabinets include two 4-inch-wide-by-6-inch-deep vertical cable management channels with latches. These vertical "cages" are mounted to the front rails and provide organized routing for the equipment cables and patch cords.
null
null