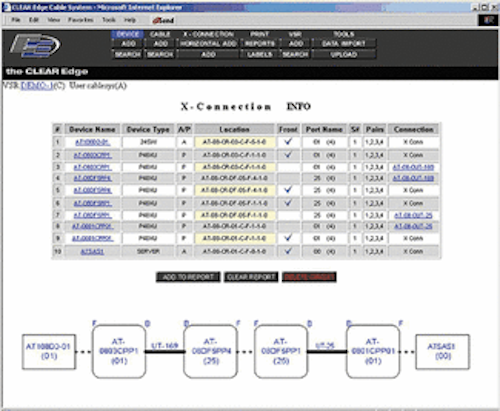 Cable-management software allows for smoother moves, adds, and changes, improving disaster recovery times.
After researching the need for cable-management software, Fred Klerks, chief operating officer, the CLEAR Edge (www.theclearedge.com), found that 70% of all service calls are cabling-related, and that technicians spend 80% of their service call time searching for the problem and 20% actually fixing it.
Most of that 80% is spent locating end-to-end connectivity. The situation worsens when the connection spans multiple floors or buildings. Sound familiar? If so, you may want to invest in cable-management software (CMS). (See table, page 50.)
A simple definition of CMS would be software used to document the physical components of a cabling plant and to show the interconnection of those components. This suggests that CMS is used by and benefits the manager, user, or owner of the cable plant. But soon, that definition won't be quite as simple, as vendors are seeking to expand CMS' capabilities. In essence, CMS helps IT personnel significantly reduce the time and cost of locating and fixing problems in the infrastructure.
Moves, adds, and changes
The most difficult network management problem is the move, add, and change (MAC) process. This is usually accomplished with work orders, a function commonly found in today's CMS. Work orders let you monitor, assign, measure, and plan MACs.
Peregrine Systems Inc.'s (www.peregrine.com) AssetCenter Cable & Circuit Management module lets you place your network assets into a centralized inventory repository, and re-deploy them as soon as new requests (work orders) for these assets are made. The module can also be used to acquire existing or available resources to procure new assets. Peregrine's Cable & Circuit module, seamlessly integrated into the AssetCenter suite, manages the physical connectivity of your infrastructure.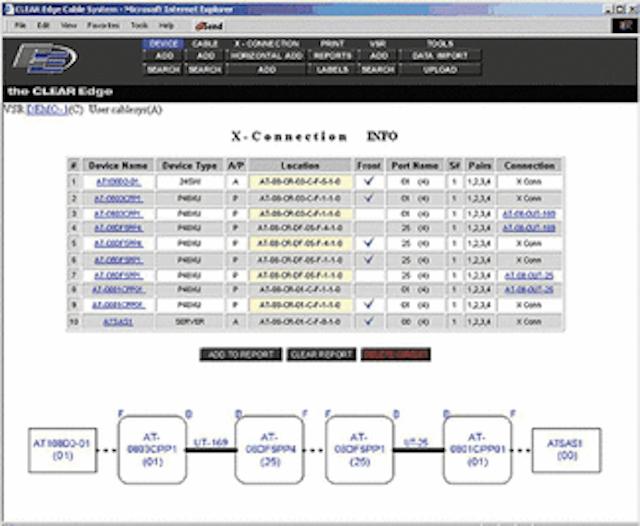 The CLEAR Edge system lets you generate a full end-to-end connectivity trace in tabular form as well as in a Visio schematic. This can be seeded into a third-party Trouble/Help Desk ticket or work order.
Click here to enlarge image
Andrew Leuthe, senior product marketing manager, explaining the scenario of a new employee who will need phone services and a PC, says "Using AssetCenter, the organization can procure the appropriate assets and detail the necessary voice and data services required by the new employee." Work orders are then provided to the technicians to ensure that proper connections and patches occur.
With PaeTec Communications Inc.'s (www.paetec.com) Pinnacle Communications Management System, you are on your own as far as administering MACs in the field. But its cable management helps you plan possibilities. "What you can do prior to going out into the field is query into the database to find available pairs in the cables that are affected, so you will know ahead of time which pairs you could possibly use," says Paul Bolz, vice president, sales and marketing. You update the database by entering details about what occurred in the field.
Panduit Corp.'s (www.panduit.com/ncg) PanView software has different modules that allow single user changes or complete department moves. A work order module and link module guide you. Mike Zaida, business development manager for the PanView line, says its CMS can help guide the removal and insertion of patch cords. The software controls LEDs above each port on the patch panel, and will sequence all of the MACs so that all of the removals are completed before beginning the process of adding patch cords.
"When you go into the telecommunications room and initiate a guided patching change, the LED will blink to indicate that the patch cord should be disconnected," says Zaida. "The CMS will make them blink one-at-a-time so that you don't get confused or make a mistake. Once you remove the patch cord, the blinking lights go out. If you have multiple moves to perform, the next set of LEDs would start to blink once the first task is finished." The PanView software continually monitors the patch field and sends alerts whenever there are changes in patch cord connectivity-scheduled or not.
Disaster recovery
A solid CMS can be your foundation when disaster strikes. "Building a system is like building a house," explains Zaida. "If you don't start out with a good foundation, it can be shaky." The ability to perform MACs quickly helps in disaster recovery.
PanView's electronic scanners collect connectivity data using Master and Satellite scanners attached to the patch panels. Connections are monitored 24 hours a day. The system's PanMap module tracks MACs and queries the switches so that no unauthorized MACs can occur without being documented.
Veramark Technology Inc.'s (www.veramark.com) Work Order/Trouble Ticket/Help Desk module sends pertinent information to the technician in times of network disaster. This module has the ability to transmit a work order or "trouble ticket" to multiple technicians and work groups with separate but related responsibilities. A special feature allows for any type of file(s) to be attached to the ticket (i.e., CAD drawings, e-mail requests, configuration specifications, etc.) that may help you troubleshoot the problem.
Trouble tickets are integrated with cable management in PaeTec's Pinnacle Communications Management System. Bolz says its trouble tickets give detailed information, such as location, the jack and port used, where it is crossconnected at the closet, and the identity of the riser pair.
You can know where the problem lies with trouble tickets, but your infrastructure can still experience the disaster. The CLEAR Edge cable management, power management, and infrastructure management modules are built to support a "two-sided" infrastructure. Losing one side of the network will shut down only half of the vital operation services, letting you minimize losses related to the disaster. "We can manage this all the way down to the desk," says Vince Palmieri, vice president, professional services at the CLEAR Edge. "So, in the event of a critical outage, the client feels he can present a 50% stability rate." The CLEAR Edge software also helps you create documentation on personnel evacuation. "A number of our clients were affected by 9/11, and we were able to dynamically create alternate environments in just a few days," says Palmieri.
Evolving capability
"CMS is a growth market, and there is a push to make software designed for medium- and smaller-sized companies," says Gary Kirchberger, cable test records software manager, Fluke Networks (www.flukenetworks.com). "This is a result of maturity of the industry, better tools, and improving technologies." Currently, the CLEAR Edge provides a scaleable application service provider (ASP) solution that lets smaller companies benefit from a full-feature CMS for a monthly fee.
Companies are forming alliances to offer additional services. Fluke Networks' CableManager test management software can be integrated with the CMS solutions of The Clear Edge and Planet Associates Inc.'s (www.planetassociates.com) PlanetTM. These services include project management and, in some cases, maintaining the database for the customer. Each vendor assumes individual responsibilities. Fluke's CableManager keeps track of certification data of cables in the infrastructure. "Providing access to and interpretation of this test data tells the end user or network owner how much performance one can expect from the network or a given link in the network," says Fluke's Kirchberge. The test data will identify improperly terminated connections or sub-par cable performance, and is integrated into the CMS. (By late fall, Fluke hopes to give Scanlink Tools this same capability.)
To accommodate the ANSI/TIA/EIA-606A labeling standard, vendors are looking to combine capabilities so that records in CMS match the labels on the cable and active equipment. Vendors are looking to integrate labeling software with its CMS.
Another new development is the "intelligent patch panel," which can monitor active components as well as the physical plant. This is not currently part of common CMS, but it can interface with network management software packages. The panel's auto-discover capability can immediately report port connections, and show that each port is connected properly and operational for ongoing maintenance. Panduit's PanView software is the closest so far to this description, but it is only designed for a Panduit system.
---
If you are interested in more issues to ask your CMS vendor, see "A new era ahead for cable management software," May 2001, page 37.
Ryan Cliche is assistant editor of Cabling Installation & Maintenance.
---
null