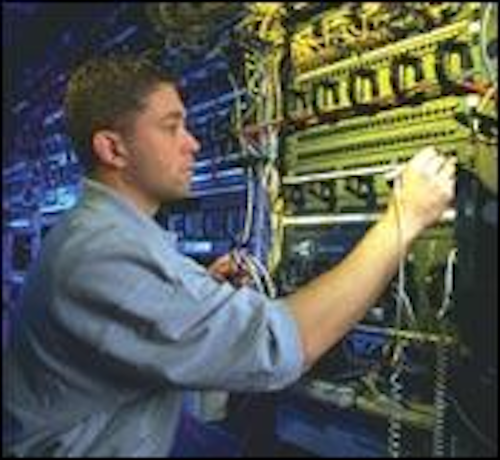 For retrofits or new builds, emerging intelligent patch panels can instantly document MACs.
Cable management systems that feature intelligent patch panels are making their way into the market, and three major software providers are carving out a niche as they pair up with structured cabling manufacturers.
The systems differ in the details-some are aiming for both the retrofit and new build market, some can work with any structured cabling system, while others are proprietary. But they all share a common denominator.
"What they are promoting is a real-time monitoring advantage," says Dave Valentukonis, a LAN specialist and former cable installer who now works for The Siemon Company (www.siemon.com).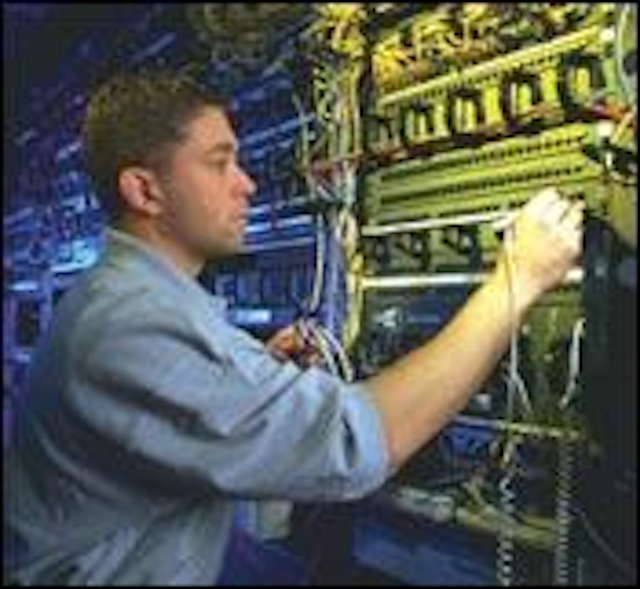 Jerry Hardy Jr., a product specialist for Molex Premise Networks, works at one of the company's Real Time Patching Systems.
Click here to enlarge image
Patch panels allow easy moves, adds, and changes (MACs) through simple plug-unplug technology. But still, the churn rate for MACs has become so high for some companies that managers have found it difficult to keep track of them all.

With these challenges in mind, some manufacturers are developing cable management systems that incorporate software and allow for instant notification and documentation whenever a MAC is made.

"Businesses are relying more on their day-to-day activities and placing greater relevance on their networks being up all the time," says Mike Zaida, business development manager for PanView at Panduit Corp. (www.panduit.com). "They need the ability to provide a better response time in terms of moves, adds, and changes."
Intelligent patch panels are still relatively new to the marketplace, but because the systems can monitor networks in real time, they bring significant management advantages and cost benefits. In essence, they automate what would normally be a process of keeping patching records or crossconnect logs on tabulated sheets of paper.
Prices vary depending on prices offered by the structured cabling manufacturers. A system powered by RIT (rittech.com) software, for example, could cost between $15 to $25 per port.
Kevin Morovich, network system administrator for the Kern County Department of Human Services based in Bakersfield, CA, testifies to the value of intelligent cable management systems. Four years ago, he says, the department sought a cable management system run by iTRACS (www.itracs.com) software to keep track of cable drops and frequent MACs in 20 buildings.
"We had trouble with MACs and network downtime," says Morovich. "Before we had the software, the technician would have to go find a person in the building, and they'd say, 'I'm over by such and such a cubicle.' "Now, we can look at it (MACs) graphically, and be able to make a print-out and walk right over to the user and know what port is hooked up. Or, if another technician removed a patch cord, we can see what happened and where they moved it."
Intelligent patching systems constantly update a database. The systems monitor, through the patch panel, any change in connection status for host ports and hubs and switches. Likewise, the systems detect the presence of a connector in a given port to electronically guide any MACs.
Intelligent patching systems deal with these issues and more; the horizontal patch panels, host ports, and hubs or switch connections within the system can be monitored, with any change in connection status reported to the database. This removes the possibility of the database information lagging behind reality.
The systems typically feature a rack that includes the intelligent patch panel equipped with sensors. The panel is connected to the back of an analyzer, which acts as a brain for the system. The analyzer includes a network interface card (NIC) that is plugged into the IP network and enables communication with active components, establishing communication with the LAN and WAN.
"When people try to manage their networks, they are working with switches, routers, port transfers. And historically, there has been no way to manage this electronically," says Anne Watmore, global marketing manager for Molex Premise Networks (www.molexpn.com). "But this intelligent patching allows them to do that, and brings all the features and the entire network together."
The systems differ from manufacturer to manufacturer, but most provide the ability to detect the presence of a connector in a given port, allowing MACs to be guided electronically. A network manager can create a work order to disconnect a user from one location and repatch them to a different location. The information can then be presented on a Web browser interface.
Software differences
Three manufacturers-iTRACS Corp., RiT Technologies Inc. and Avaya Inc.-all provide software for the intelligent systems, with all three featuring Category 5e and Category 6 solutions.
iTRACS is aiming for a solution that can be used in a new build situation. But a key feature is that it can also be retrofitted to legacy cabling systems, giving companies the ability to migrate to intelligent connectivity management throughout their organizations.
iTRACS is an Internet-enabled, standards-based, hardware and software solution that automatically discovers and monitors port connectivity at data centers and wiring closets in real time. The system is designed to work with all cabling systems, and the company promotes its product as being compatible with a crossconnection or interconnection cabling scheme.
The iTRACS system is compatible with copper and optical-fiber products, and its open architecture is designed to allow for interoperability with other software systems and any type of equipment, enabling the retrofitting of any panels or switches. The solution's software is a 32-bit Windows-based application. Users can query and manage the system via the Internet or direct-dial access.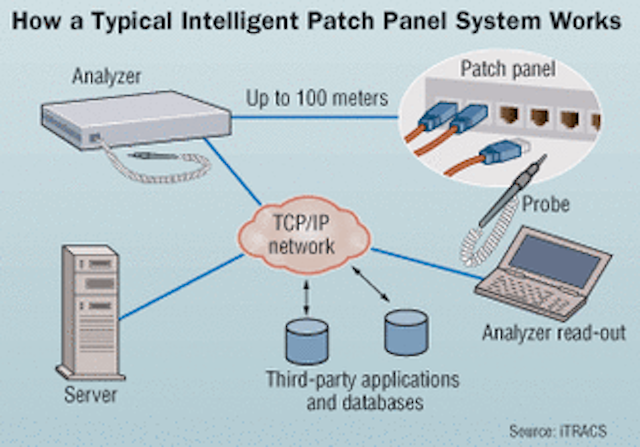 An intelligent patch panel, located on the far right, is equipped with sensors. The panel is connected to the back of an analyzer. The analyzer includes a network interface card, which is plugged into the IP network. This establishes communication with the LAN and WAN. When the pen is touched to the sensor on the patch panel, a read-out gives connectivity information about a particular circuit. Information about moves, adds and changes, as well as lost connections, are presented in a database.
Click here to enlarge image
The iTRACS hardware uses three basic components: sensors, patch cords and an analyzer that monitors the ports on any vendor's network equipment or patch panel. The patch cords have an external probe built in that touches the sensor located on the outside of the port. When the other end of the patch cord is inserted into another port, a "short" is created, connecting the two sensors together. The analyzer detects the "short" and communicates the port IDs to the iTRACS software over a TCP/IP network
Ortronics (www.ortronics.com) makes iTRACS-ready Clarity patch panels for intelligent structured cabling solutions. The systems, when deployed with iTRACS' network monitoring software, are designed to help corporations reduce IT management costs and improve network service levels by automatically documenting network topology and MACs, as well as identifying port connectivity problems in real time. The Ortronics patch panels will incorporate the proprietary patch cords, sensor strips and analyzers required to transmit network information to the iTRACS software.
"What we are doing is incorporating their technology into our patch panels," says Tony Siderewicz, vice president of copper products at Ortronics. "Once they [the end user] connect all this, they will do no manual labor."
AMP Netconnect (www.ampnetconnect) has also partnered with iTRACS, forming a strategic relationship to develop an intelligent structured cabling solution. The company had planned a June release of its AMPTRAC-a software-ready intelligent structured connectivity management system for automating the management of the physical layer. The system consists of AMP Netconnect premises cabling combined with proprietary patch panels, patch cords, sensors, analyzers and all the accessories needed to deploy real-time network monitoring software from iTRACS. Category 5E, Category 6, and MT-RJ optical-fiber solutions will be available for both new and existing networks.
Molex Premise Networks has partnered with iTRACS to develop the Real Time physical layer management solution. It's designed to enable companies to improve infrastructure service levels, asset utilization, and security, while reducing IT management costs.
The system includes intelligent patch panels, patch cords, cable and physical layer management hardware and software. Real Time patch panels incorporate a sensor contact enabling the presence of a Real Time patch cord to be detected. It is designed to provide IT managers with real-time cabling infrastructure information, monitor MACs and assist with automated network mapping and work orders. Self-learning port identification reduces set up time.
ITT Industries (www.ittind.com), has teamed up with iTRACS to launch LANSense-a network asset management system that enables a company to monitor MACs. The system monitors networks and keeps track of MACs through patch panels, which feed information to electronic analyzers that are connected to an Internet database. Network operators can keep tabs on available space within the network, and how it is being used.
The new build market
Solutions by RiT and Avaya, meanwhile, are aimed primarily at the new build market. These solutions are more compatible with crossconnection cabling schemes.
RiT, based in Israel, manufactures PatchView for the Enterprise, which is designed to automate network troubleshooting, maintenance and documentation procedures. It provides real-time network visibility-from physical connectivity components, to hardware network resources, all the way to network information about the user. Patch View for the Enterprise is aimed primarily at the new build market. But RiT also offers ReView, a retrofit solution that lets customers manage their legacy cabling system throughout their operations.
The RiT system contains micro switches on its jacks; when a plug is inserted into a cord, it triggers the switch, showing connectivity. When a patch cord is removed, LEDs at both connecting ends will blink.
"When you walk into a crowded wiring center, there are hundreds of patch cords, and it's difficult to trace the patch cord you disconnected," says Motti Kleinmann, president for RIT. "This will show you where the other end is."
Panduit Corp. partnered with RiT to create the PanView system, which can be used with an existing infrastructure. Panduit's Zaida points out that the system requires a crossconnection scheme. "Ours can be retrofitted, but at this point, most of our [client] emphasis is on new construction," says Zaida.
The system uses software that has different modules that allow single user changes or complete department moves. PanView can help guide the removal and insertion of patch cords, and sequence all MACs so that all of the removals are completed before adding patch cords.
PanView's electronic scanners collect connectivity data using Master and Satellite scanners attached to the patch panels. "The Master scanner pulls all of the information together from the Satellite scanners that are attached to it and then communicates over the network to the PanView server," says Zaida. "This allows the software-management station and the system to talk."
Connections are monitored 24 hours a day, and the system's PanMap module tracks MACs and queries the switches so that no unauthorized MACs can occur without being documented.
A proprietary system

Avaya Inc. (www.avaya.com) manufactures the iPatch monitoring system, a proprietary system that accommodates a standard modular patch cord, but consists of iPatch System Manager Software, iPatch Network Manager, iPatch Rack Managers and iPatch Panels. The iPatch Panel is built on the SYSTIMAX1100 panel design and is available in 24- or 48-port configurations for SYSTIMAX GigaSPEED or SYSTIMAX Power Sum applications.
The system uses a micro-switch to sense when a patch cord is present. It tracks the location, availability and use of ports, and creates a connectivity map showing patch cord links between the network equipment and voice and data workstation outlets. The connectivity map can be viewed at any time from a remote PC, or from the iPatch system equipment in the telecommunications room.
Avaya says iPatch automatically updates the map every time a port change occurs, helping to assure that system administrators have an accurate picture of their status. System administrators can use their computer to schedule work orders, track their fulfillment and receive immediate alerts when unauthorized port connections or disconnections occur.
---
Brian Milligan is senior associate editor for Cabling Installation & Maintenance.
null
null