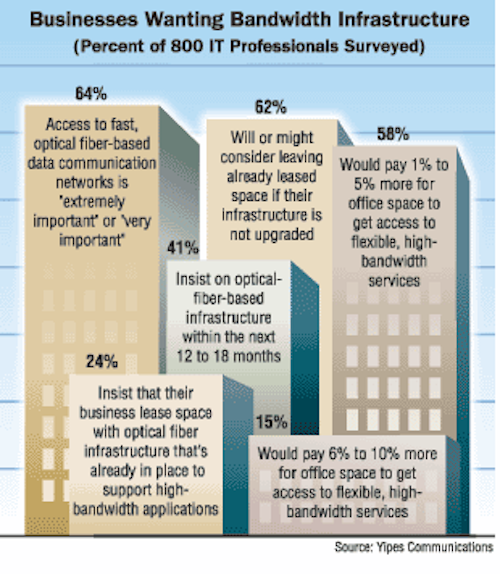 The rapid adoption of advanced Internet applications is driving businesses to demand access to optical fiber networks at their office sites.
This demand is proving to be a lead driver as business consider staying at their present locations, or leasing buildings from another location. If they can't upgrade their systems, information technology professionals want their companies to seek a building that will offer an upgraded network, and they want the changes to happen fast.
Those are the results of a survey of more than 800 IT professionals nationwide, conducted by San Francisco-based Yipes Communications, Inc. (www.yipes.com). The survey looked at the drivers that led to office location choices, and uncovered data on the growing value of high-bandwidth connectivity options at business locations.
The push for buildings that offer greater bandwidth is fueled by the push for the advanced telecom features that it fosters. Ron Young, co-founder of Yipes Communications, says this is a marked change in demand from the past decade.
"Things that are now important or extremely important are not the things they thought of a few years ago," says Young. "It used to be location. Now, it's bandwidth."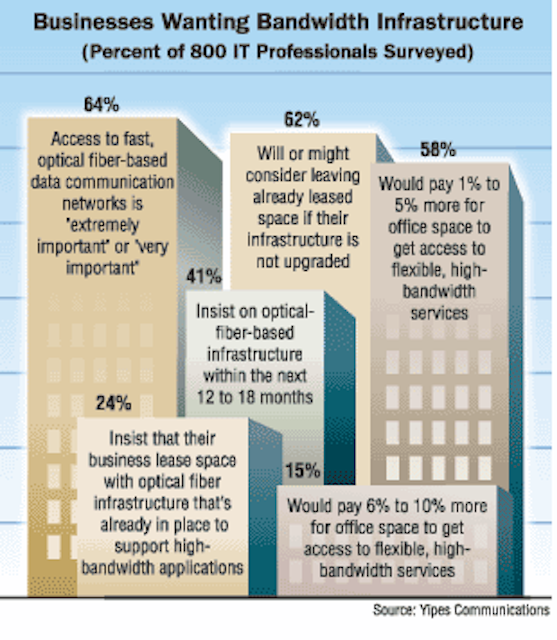 Click here to enlarge image
A large majority of those surveyed said their businesses are willing to pay a premium for office space served by high-speed data communications infrastructure. More than half said they might consider relocating to a new space if such infrastructure does not become available.
Specifically, the survey found that 64% of IT professionals who replied said access to fast, optical-fiber-based data communication networks was "extremely important" or "very important." Twenty-four percent said they already insist that their businesses lease space with optical-fiber infrastructure in place to support high-bandwidth applications; another 41% said they will insist on such availability within the next 12 to 18 months. Sixty-two percent of those responding said they will or might consider leaving already leased space if their infrastructure is not upgraded. Fifty-eight percent said their business would pay 1% to 5% more for office space to get access to flexible, high-bandwidth services; 15% said their businesses would pay 6% to 10% more.
Young says the results reveal that businesses consider fast, flexible networks as essential as proximity to customers, transportation and skilled labor. These businesses are seeking buildings with ample bandwidth that can support e-commerce, customer and supplier extranets, Web-based marketing, videoconferencing and other applications.
To move to a location that doesn't offer such bandwidth simply doesn't make sense any more to many businesses. "It would be counterproductive, like moving to an office that doesn't have phone lines," says Young. "Now it's big bandwidth that they want."
-Brian Milligan