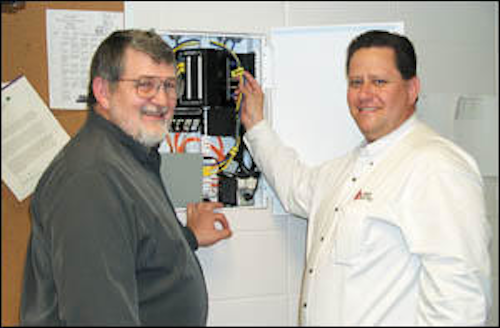 A new high school with visions of distance learning turns to a residential system with a fiber backbone.
"Each classroom is like a house. The students live there for eight hours a day," states Jack Moore, technology coordinator for the BCLUW (Beaman, Conrad, Liscomb, Union and Whitten) school district in Iowa. Accordingly, the new district high school is wired with a residential cabling system, dubbed "home works."
The system consists of an optical-fiber backbone from the MC (main crossconnect) to Ortronics (www.ortronics.com) residential enclosures as ICs (intermediate crossconnects) for each classroom. These enclosures were termination points for Category 5e, Category 3, fiber and coax cables to "launch" all data, voice and video applications within the high school.
Major grading
The driving force behind the new school was handicap accessibility. "We realized that in our previous three-story building, which contained 17 different stair levels, that it became not only a nightmare for handicap accessibility but also for proper data and video wiring," states Moore. "When we looked at the cost of rewiring and remodeling, it made sense to level the old school and build an efficient school for all student and faculty needs," he adds.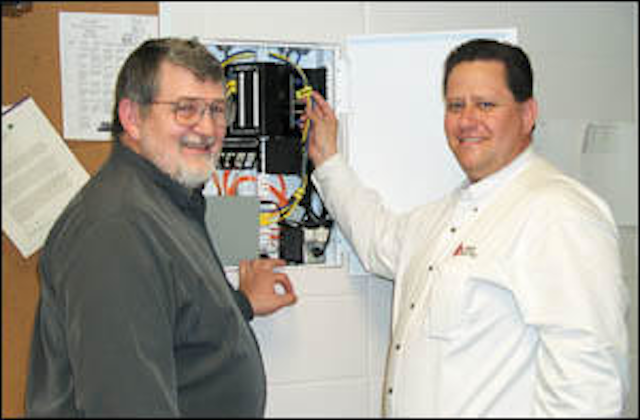 Jack Moore (l), technology coordinator for the BCLUW school district in Iowa, and Kevin Lemon, project installation manager for Baker Electric, show the plug-and-play capabilities of an Ortronics residential enclosure that serves as an intermediate crossconnect in each classroom.
Click here to enlarge image
Because the new school would be built all on one floor, there was concern of long cable runs. So, designers decided on a fiber backbone, which also connects the high school with the elementary and middle schools as well as with administrative offices. Through research and cost analysis, designers realized that rather than an all-fiber solution, it was more cost-effective to bring fiber into the classroom and then combine with appropriate media converters and hubs to run data over copper-with the ability to switch over to fiber at a later date, if necessary.
"It was very important to make proper decisions for future-proofing," Moore says. "It's unknown at this point what applications we will be running 10 years from now. We probably won't be in a position to re-invest in a new infrastructure. For the same price as a copper-based system, we were able to install two strands of fiber for the backbone and four strands of dark fiber for future applications."
Once the design was approved, structured cabling systems and products from various manufacturers were reviewed and graded. "The standard residential cabling products that Ortronics offers made a lot of sense since all coax, twisted- pair and fiber could be enclosed and locked in one box," states Kevin Lemon, project installation manager from Baker Electric Voice and Data Cabling.
"We took an existing residential/small commercial lockable enclosure and mocked it up, tailored to the school's current and future applications, with a hub and fiber module, a station panel for data and voice cabling and a video panel for the coax cable," explains Lemon. "It pretty much sold itself because the school superintendent as well as Jack, the technology coordinator, were looking for an all-inclusive lockable multimedia box that they didn't have to get custom-built," he explains. "Since it is literally a 'plug and play' design, it is easy for future expandability to add more connections and for moves, adds and changes."
Zoning out
The MC is located in a server room in the high school. "The wiring schematic for the school is laid out in zones," says Jeff Butterbaugh, a sales professional with Ortronics manufacturer's representative Mertens Stolberg and Associates. "Instead of cabling from a main distribution point to several intermediate closets, it goes directly to the classrooms where it is terminated into the residential enclosures, that then launches connectivity and power to the outlets for data, voice and video."
The backbone consists of Berk-Tek (www.berktek.com) multimode fiber cable to each zone or termination point for the classrooms and administration offices. "We also splurged and installed a 24-strand (12-strand multimode/12-strand singlemode) to the elementary school for future potential there," states Moore.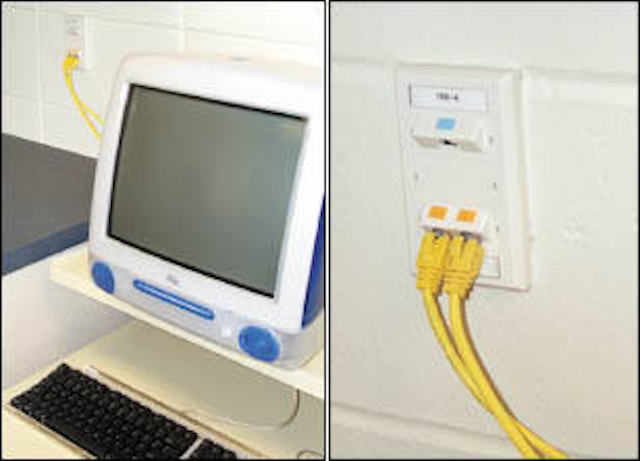 A typical classroom would have four Ortronics Series II outlets, with a combination of connections totaling two coax, three voice, and five to six data.
Click here to enlarge image
Berk-Tek cable was installed from the residential boxes to the workstation outlets for data and voice. The video cable was pulled from a separate video feed room, and then RG-6 coax cable was terminated to the boxes through a video panel. Most of the cable was installed through the drop ceilings from the MC and video feed room.
"We were fortunate that we were able to pull cable in the construction phase, because we had open access to the ceiling and kept the cables out of harm's way from other innerduct used for heating and security alarms," says Moore. Distribution cables from the enclosures to the outlets were encased in a raceway along the walls.
Launch boxes
Each enclosure, or appropriately nicknamed "launch boxes," houses a variety of coax, fiber and voice and data cables, depending on how many outlets each one serves. The enclosures, with hinged and lockable door, contain a compact hub, a station panel to allow 110 punchdown of the blue voice cable and data cable, a video patch panel for coax cable, and a power box. The enclosure was inset flush with the concrete wall in each classroom, giving the appearance of an electrical box so that it would discourage student curiosity or tampering.
From the enclosure, cable is pulled and terminated to several Ortronics Series II outlets per classroom. "A typical classroom would have four faceplates with a combination of connections totaling two coax connections, three voice cables and five to six data connections," explains Moore. "For example, you could have one data, one voice and one blank for future expansion on one outlet, and on another outlet you could have two data, two voice and one coax. It just depended on how the room was configured and what the teachers' requirements are," he adds. The varied ports let teachers change the layout of their rooms, if needed. Data and voice ports are angled to protect the connections.
Unlike a commercial environment where there is a workstation outlet per person, the classroom was able to scale down the number of outlets using a mobile computer lab. Instead of providing a connection for an estimated 24 students per class, the workstation outlet was for connection to the mobile lab containing 24 laptops.
Over hills and dales
"Not only are we concerned with our immediate school districts, but we are very concerned with distance learning and reaching students outside of our district," Moore says. "Although our driving force for the new school started out as being handicap-accessible, the outcome has been technology-driven," adds Moore. With its fiber-based zoned cabling infrastructure, the BCLUW school district can take advantage of applications such as distance learning, which becomes a necessity in outlying rural areas.
"We now have a classroom with access to the ICN (Iowa Communications Network). This gives us a two-way audio/video line to basically any school or university in Iowa that is on that network. ICN was put in place for long-distance education. For instance, a school 20 miles away might have an outstanding Spanish teacher and if we're short on Spanish teachers, this is an excellent alternative," Moore adds.
The success of this type of zone cabling system in BCLUW High School has become a model for other schools in the district who are planning to install the same infrastructure.
"We may not be a big school in numbers, but we are way up there with the technology for our future growth factor and expandable potential," says Moore. "Maybe someday, the home boxes, or residential cabling system that we have installed in our school, will actually be used to broadcast learning to kids at home."
---
Carol Everett Oliver, principal of Everett Communications (Ashland, MA), is a freelance writer specializing in cable, connectivity and testing of LAN installations. Arlene Franchini is director of corporate communications and public relations for Ortronics (www.ortronics.com), New London, CT.