New Products
Use our online center to request free product information www.onlinecenter.to/cim or fill out the reader service card.
Aug 1st, 2002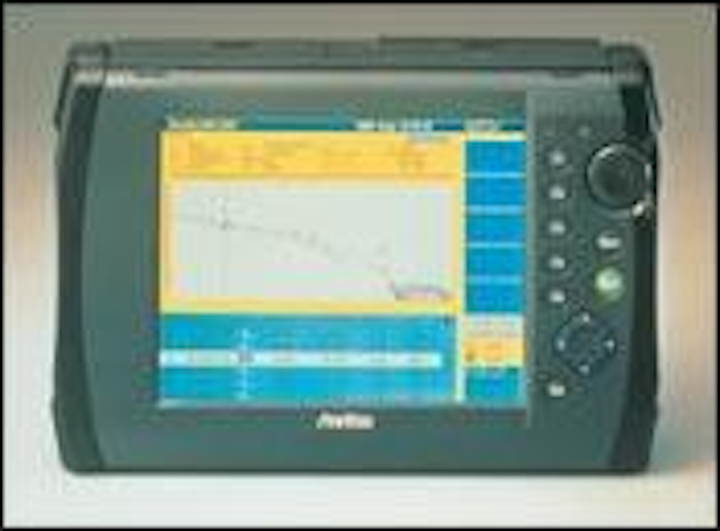 Compiled by Ryan Cliche
Use our online center to request free product information www.onlinecenter.to/cim or fill out the reader service card.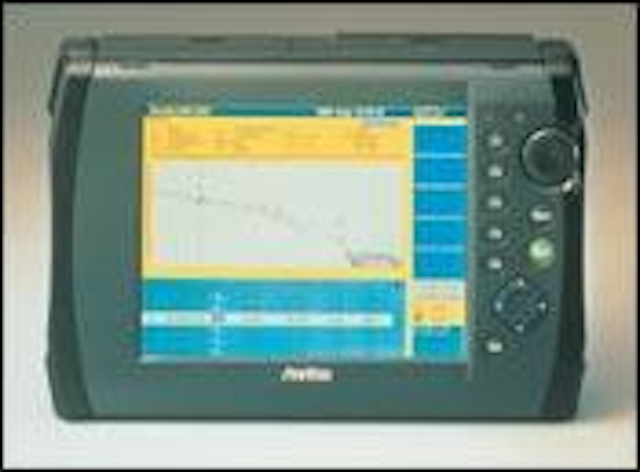 Click here to enlarge image
Optical time-domain reflectometers
Covering the 850-nm and switched 850/1,300-nm wavelengths, Anritsu's MW9076J and MW9076K optical time-domain reflectometers (OTDRs) feature a short dead zone for close connections and a connector-type adapter for analyzing fiber in short-haul applications. The OTDRs have an event (or reflective) dead zone of typically 1.5 meters at 850 nm with a reflectance of 45 dB, according to company claims. Both OTDRs have 5-cm data resolution, and the company claims the units can conduct measurements in 10 seconds. They execute standard functions, including wavelength/channel switching, file saving, and printing.
ANRITSU CORP.
www.us.anritsu.com
CIRCLE NO. 115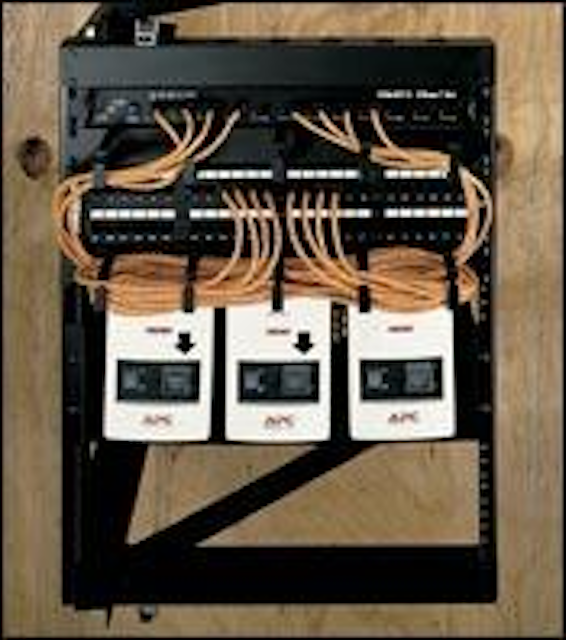 Click here to enlarge image
Open-frame rack, cable ladders
Designed to house patch panels, switches, hubs, and routers in secure rooms or closets, Middle Atlantic Products/DataTel's SFR Swing Frame Rack supports up to 100 pounds of equipment, according to company claims. It features a fully reversible frame that can be situated to let equipment swing out 90° from either side to a positive stop. Cable pass-throughs and tie points improve cable management. Each TIA/EIA-compliant unit is constructed of 14-gauge steel with 11-gauge steel rackrail in a black textured powder coat. The racks are available in 12- or 20-space heights with an overall depth of 18 inches.
Click here to enlarge image
Middle Atlantic Products/DataTel's cable ladders are available in 6- and 10-foot segments that are each 12 inches wide and feature triangle wall support brackets for secure fastening. Accessories include 90° inside, outside, and horizontal bends to fit into various environments. The ladders are fully welded and compatible with most other brands of cable ladders.
MIDDLE ATLANTIC PRODUCTS INC./DATATEL
www.middleatlantic.com
CIRCLE NO. 116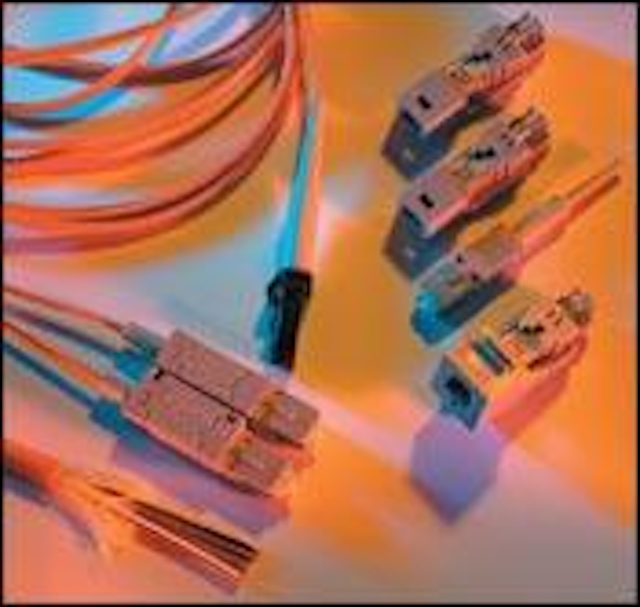 Click here to enlarge image
Optical-fiber cabling solution
Tyco Electronics' AMP Netconnect XG Fiber System is designed to provide a seamless migration path from 10 Mbits/sec up to 10 Gbits/sec, using the same multimode optical-fiber cabling. It uses AMP/Pirelli fiber cable containing 850-nm laser-optimized 50/125-µm multimode fiber designed to support 10-Gbit/sec applications to 300 meters in structured cabling building backbones, according to company claims. The system also includes a line of the company's XG connectors.
TYCO ELECTRONICS
www.ampnetconnect.com
CIRCLE NO. 117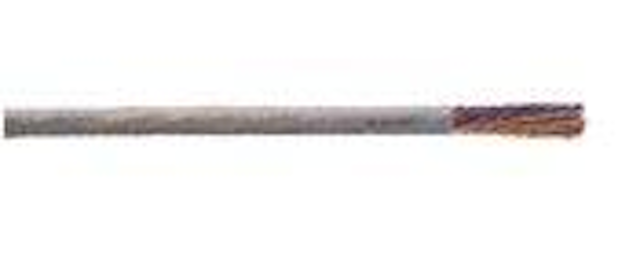 Click here to enlarge image
Category 5e cable
Berk-Tek's 24-pair Category 5e Power Sum cable is ITS ETL Semko (www.etlsemko.com)-verified and meets the ANSI/TIA/EIA-568B.2 Category 5e standard. The construction is designed to give you reduced tray and conduit fill rates as well as allow for switch-to-switch and switch-to-panel interconnections. It is available in plenum- and nonplenum-rated designs.
BERK-TEK
www.berktek.com
CIRCLE NO. 118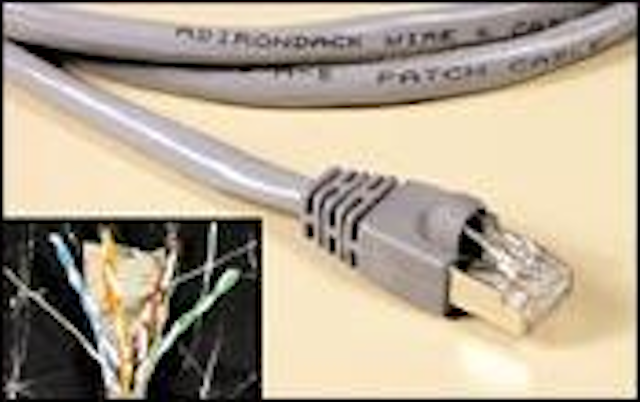 Click here to enlarge image
Shielded Category 5e patch cord
AWC/US Fiber Optics' shielded twisted-pair (STP) Cat5E350 patch cord is designed to meet TIA/EIA-568A.4 and is tested to 350 MHz for improved attention-to-crosstalk ratio (ACR), near-end crosstalk (NEXT), and power-sum near-end crosstalk (PSNEXT) performance, according to company claims. Each cable has a high-resolution cable legend on the jacket for efficient installation and cable management.
AWC/US FIBER OPTICS
www.awcacs.com
CIRCLE NO. 119
Cutting/stripping tools, tone/probe kit
Greenlee Textron's Pro Plus Stripper blades are marked for both solid and stranded wire with graphics. The machined stripping stations come with a positive stop designed to provide accurate stripping diameters. The tools have screw-cutting stations, come with pliers nose for working with small nuts and pulling wire, and are equipped with a hole in the jaws for looping wires. Also, an opening stop prevents the spring from disengaging, while a locking tab protects the cutting edge during storage.
Greenlee Textron's 711K Kit consists of a 77GX tone generator and a 200GX inductive amplifier. The tone generator features microprocessor-controlled circuitry, three selectable tone outputs for multiple line identification, two-line polarity indication for outlet checks, selectable power outputs for use on open or shorted pairs, continuity testing, and automatic shut-off. The amplifier has one-button operation and an ergonomic design. An adjustable volume control, LED visual signal strength indication, and a speaker let you use it in noisy environments.
GREENLEE TEXTRON
www.greenlee.textron.com
CIRCLE NO. 120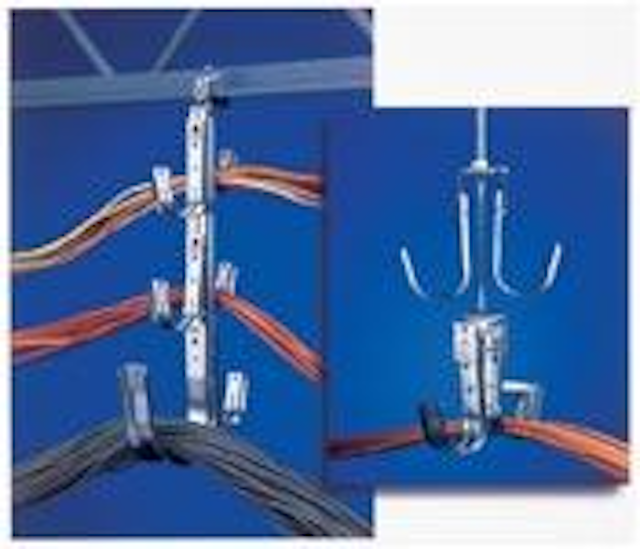 Click here to enlarge image
Angle brackets
Erico's CATHBA bracket has reinforcing ribs designed to provide support, eliminate rocking, and fit the CableCat J-Hook profiles. These can be nailed or screwed to the structure, or bolted to a supporting fastener and installed on the structure. A long drop lets you install multiple J-hooks, and a 3/16-inch mounting hole lets you install the unit with powder-actuated tools. The AFAB brackets feature tabs that speed assembly and stabilize J-hooks. These are available with different mounting hole sizes, including: the standard 1/4-inch, 3/16-inch for powder-actuated tools, and one that can accommodate 3/8-inch and 10-mm threaded rod or bolt.
ERICO INC.
www.erico.com
CIRCLE NO. 121
F-type connector, compression tool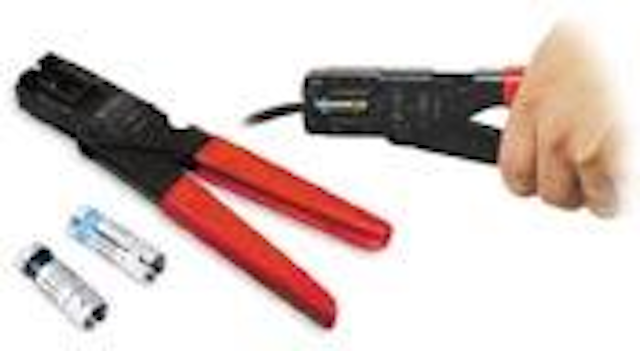 Click here to enlarge image
ICC's one-piece cable TV F-type connector meets requirements for moisture migration, connector pull-off, shielding effectiveness, corrosion, and return loss. Available for shielded and quad-shielded cable, these compress-and-trap design connectors may be used for RG-6 or RG-59 cables. For use with the connector, the F-type connector compression tool's non-ratcheting design lets you control the compression, letting you stop at any time to realign the connector. The tool's PVC Dip Grip design provides comfort during use.
ICC
www.icc.com
CIRCLE NO. 122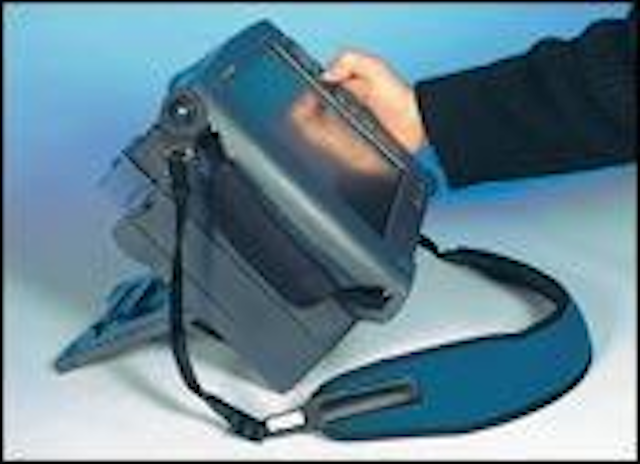 Click here to enlarge image
Modular tester
Agilent Technologies' Modular Network Tester features snap-on measurement modules compatible with optical time-domain reflectometer (OTDR), loss test, optical spectrum analysis, and dispersion measurement modules. The user interface offers touch screen, user-definable soft keys and the company's navigation key. USB and LAN ports allow data exchange, report generation, and trace storage. The tester also has built-in data processing applications for on-site report generation and PC-based documentation software.
AGILENT TECHNOLOGIES INC.
www.agilent.com
CIRCLE NO. 123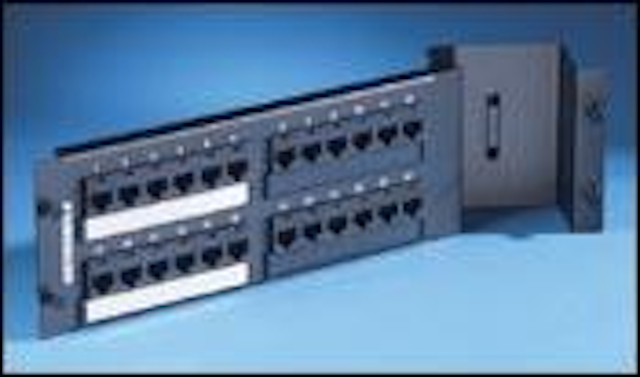 Click here to enlarge image
Residential/commercial patching system
Ortronics' Voice and Data Patching System for residential and small commercial applications is designed to let you reconfigure wall outlets through the use of a patch cord located inside the distribution enclosure; no re-termination is required. Outlets can be switched from voice to data and data to voice. Likewise, it will accommodate users who require specific phone lines to appear at specific locations. Incoming phone lines are terminated to the host panel; from the host panel, patch cords are run from the appropriate port in the patching field to the corresponding port on the 24-port station panel.
ORTRONICS INC.
www.ortronics.com
CIRCLE NO. 124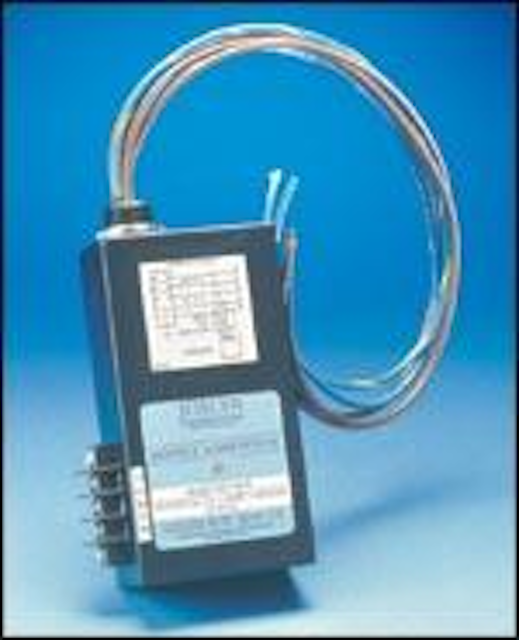 Click here to enlarge image
AC power surge suppressor
Current Technology's Joslyn Surgitron III surge protector for AC power circuits is designed for installation at the main service entrance, distribution panels, and subpanels to protect facilities from transients. These medium-duty protectors are designed for service entrances in moderate lighting environments, in subpanels, or to provide secondary protection from external or internally generated surges.
CURRENT TECHNOLOGY INC.
www.currenttechnology.com
CIRCLE NO. 125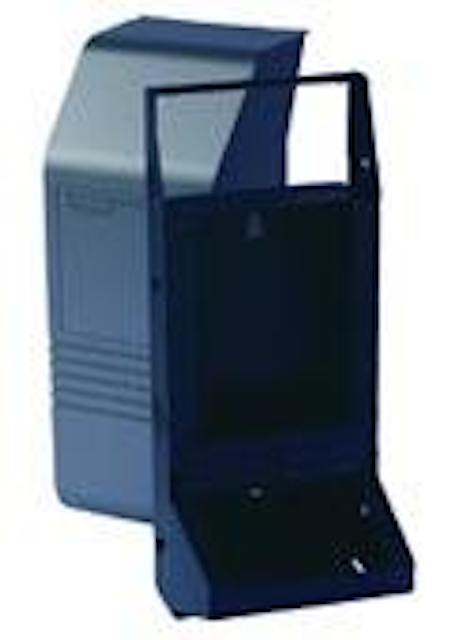 Click here to enlarge image
Home network bracket
Pass & Seymour/Legrand's surface-mountable, modular home network bracket is designed for smaller homes, such as single-family, condos, and apartments, as well as remodel/retrofit applications. A single bracket can provide support for video and telephone modules with the option for one additional module upgrade. The bracket can also be ganged for future expansion, and multiple brackets can be connected to form a more advanced system. A snap-on cover protects the installed modules.
PASS & SEYMOUR/LEGRAND
www.passandseymour.com
CIRCLE NO. 126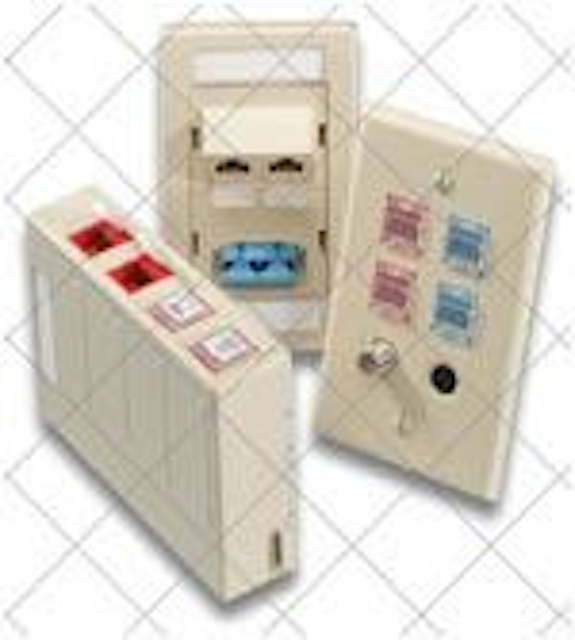 Click here to enlarge image
Field-installable shutters
Leviton Voice & Data's QuickPort field-installable shutters protect connectors with a one-piece hinged door designed to keep dust and contamination out. Suitable for commercial or residential workstation applications, the shutters work in any QuickPort housing and fit on Universal Service Order Code (USOC) 8-position, Category 3, 5, 5e, and 6 connectors. Labels and recessed windows (complete with cover) accept icons for port identification. Two accessory kits are available.
LEVITON VOICE & DATA DIV.
www.levitonvoicedata.com
CIRCLE NO. 127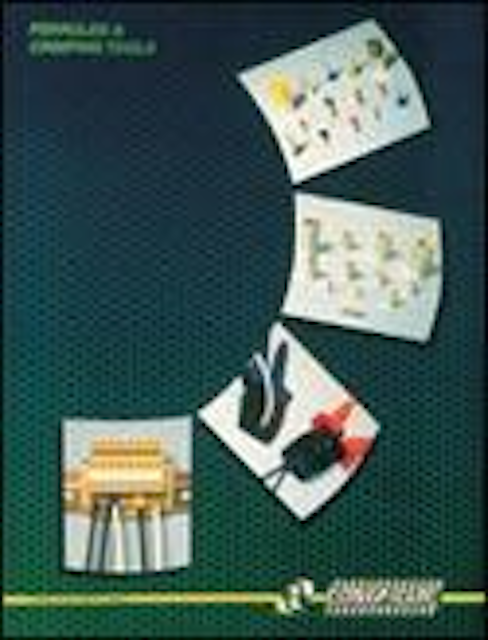 Click here to enlarge image
Ferrule and tool catalog
Conta-Clip's ferrule and crimping catalog details the company's line of ferrules and crimping tools. You can choose from insulated, single-, and dual-wire ferrules, as well as uninsulated ferrules. In addition, the catalog offers sections on ferrule assortment boxes and crimping tools. The line of crimping tools includes both front and side wire-entry crimpers.
CONTA-CLIP
www.contaclipinc.com
CIRCLE NO. 128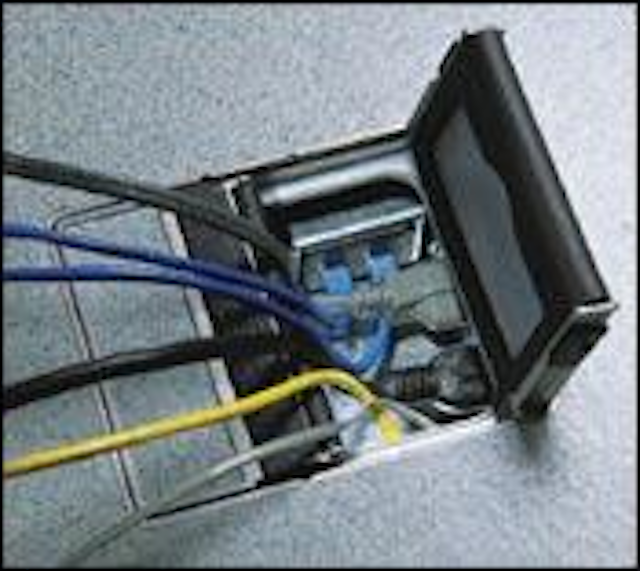 Click here to enlarge image
Infloor activation cover, device brackets
The Wiremold Company's FloorPort activation covers are designed to work interchangeably with the company's Resource RFB floor boxes, Walkercell cellular raceway, and Walkerdeck and N-R-G-Flor cellular floor decking systems. Designed to meet pending Underwriters Labora tories Inc. requirements for scrub water exclusion (effective in June 2003), TopGuard protection prevents water from entering power outlets and communications ports during routine maintenance. It can be installed on carpet, tile/terrazzo, or wood floors. Flanged and flangeless styles are available in brass, aluminum, and black-coated finishes.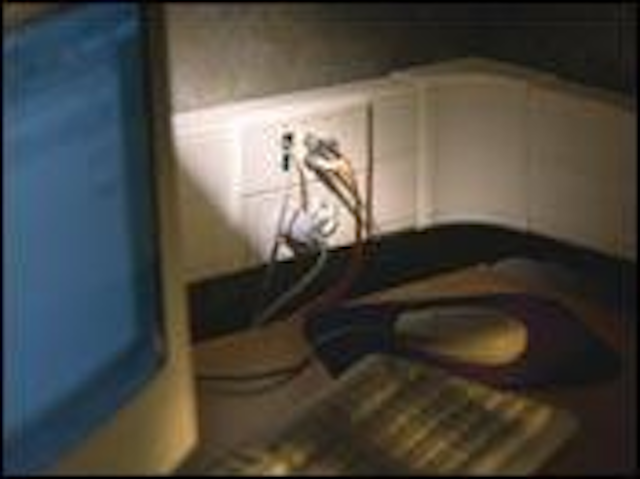 Click here to enlarge image
Quick-N Device Ports accommodate Ortronics (www.ortronics.com) TracJack and Series II connectivity modules without the need for an adapter. These also support Pass & Seymour (www.passandseymour.com) Network Wiring Activate modules, Wiremold's CM Series open system modules, and modules from other manufacturers. It fits all of the company's Perimeter raceway systems.
THE WIREMOLD COMPANY
www.wiremold.com
CIRCLE NO. 129

Click here to enlarge image
Rack-mount media converter
Signamax Connectivity Systems' 065-1200 12-channel rack-mount media converter contains 12 channels of media conversion in a standard rack-mountable case, one rack unit high. It offers a choice of configurations, using switching 10/100Base-T/TX to 100Base-FX conversion with ST, SC, MT-RJ, VF-45, or LC connectors. An additional configuration choice is 12 channels of Gigabit Ethernet 1000Base-T to 1000Base-SX media conversion.
SIGNAMAX CONNECTIVITY SYSTEMS
www.signamax.com
CIRCLE NO. 130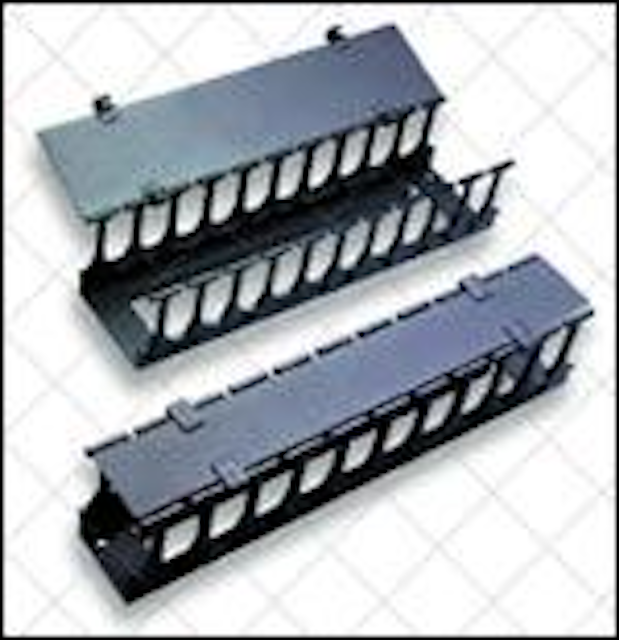 Click here to enlarge image
Cable management solution
Chatsworth Products' Universal Hor izontal Cable Manager provides a horizontal pathway for cable from .187-inch-diameter unshielded twisted-pair cable to .40-inch-diameter coaxial cable. Contoured plastic cable guides create a pathway for fanning the patch cords from the patch panels and routing them to the sides of the rack. Cable guides are offset 1.3 inches from the front of the rack for proper patch cable bending radii. It is available for 19-inch- or 23-inch-wide racks (self-support or wall racks) and cabinets.
CHATSWORTH PRODUCTS INC.
www.chatsworth.com
CIRCLE NO. 131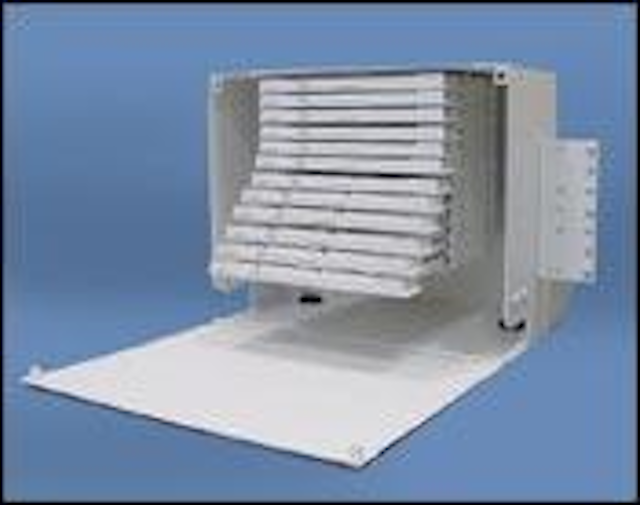 Click here to enlarge image
Rack-mount splice shelves
FONS Corp.'s HRC series rack-mount splice shelves, accommodating up to 288 fibers, are designed for applications where splicing within a rack or frame is preferred. The shelves are available in 72-, 144-, 216-, and 288-fiber configurations for individual fiber splicing; higher density capacity can be achieved by using mass fusion splicing within the shelf. It can be used as a standalone unit or stacked with other interconnect optical crossconnect shelves.
FONS CORP.
www.fons.com
CIRCLE NO. 132
Optical-fiber polishing cloth
WRSystems' APC 100 Series abrasive polishing cloth promises one polishing step on one sheet of cloth that lasts up to 15 times as long as traditional film and paper. It is designed to work with any optical-fiber connector type, epoxy type, and any puck for hand or machine polishing.
WRSYSTEMS LTD.
www.wrsystems.com
CIRCLE NO. 133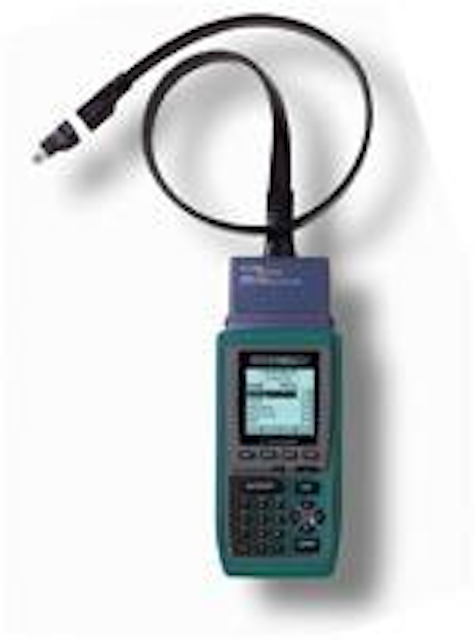 Click here to enlarge image
Permanent link adapter
Fluke Networks' Universal Permanent Link Interface Adapter (OMNI-LIA101S) for the OMNIScanner Series meets Level III accuracy, providing the same repeatable test results delivered by the DSP-LIA101S. It features interchangeable personality modules designed to support Category 6 connector systems without a separate adapter. Each adapter includes a Personality Module for Category 6 use, plus additional modules are available for improved performance with some manufacturers' jacks.
FLUKE NETWORKS INC.
www.flukenetworks.com
CIRCLE NO. 134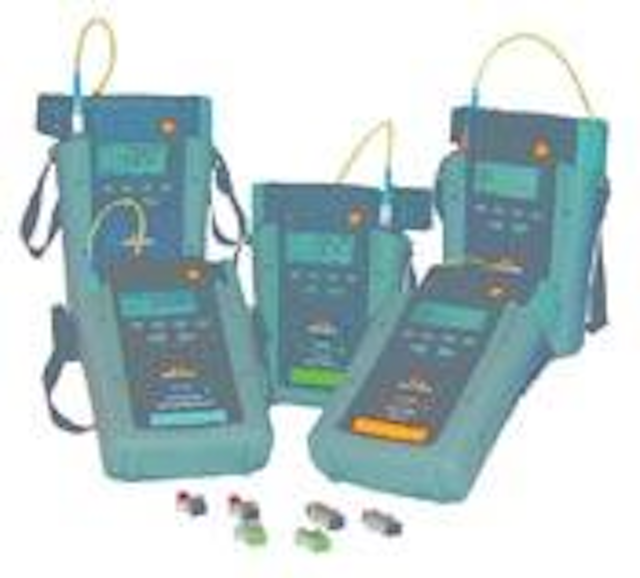 Click here to enlarge image
Optical handheld testers
Sunrise Telecom's Sunlight family of optical handheld testers is designed for (singlemode or multimode) optical-fiber cable installation, commissioning, network troubleshooting and maintenance, as well as testing of systems. The product line includes: an optical power meter, laser light source, Ultra Stable laser source, loss test set, and automated optical attenuator. These testers feature no warm-up time, three-way powering, measurement storage, and autotest functionality.
SUNRISE TELECOM INC.
www.sunrisetelecom.com
CIRCLE NO. 135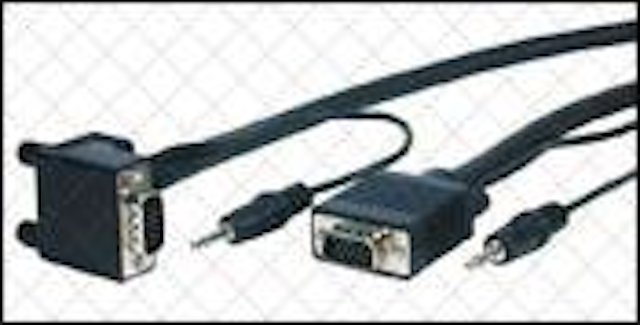 Click here to enlarge image
Cable with audio
Comprehensive Video Group's HR Series Premium VGA/UXGA cable with audio is 100% shielded with a molded 90° right angle HD15 pin connector on one end. The right angle connection lets the cable come straight up or down out of a wall plate, keeping the cable flush with the wall. It also includes an integrated stereo audio cable with mini plugs at each end. This cable has a lifetime warranty and is Underwriters Laboratories-approved.
COMPREHENSIVE VIDEO GROUP
www.comprehensivevideo.com
CIRCLE NO. 136