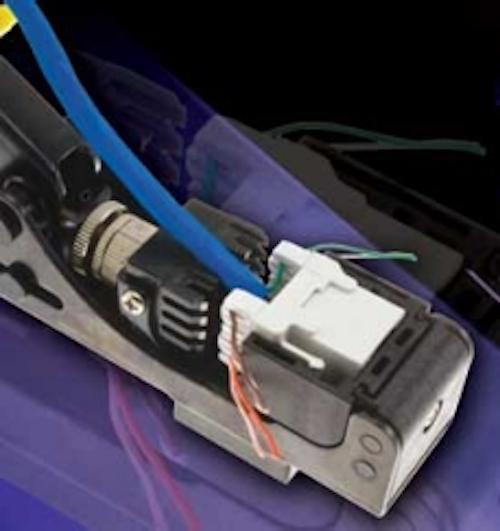 Compiled by Patrick McLaughlin
Rapid Punch Tool reduces installation time
comCables (www.comcables.com) has released its proprietary Rapid Punch Tool. The tool is designed to help low voltage contractors reduce installation time, create consistent terminations and improve testing results.
"The rapid punch tool will provide better consistency amongst technicians regardless of experience due to the design of the tool," says Andy Work, director of product management for comCables. "This device may reduce installation time and increase profit margins for cabling projects."
Greg Greenwood, CEO of comCables, comments, "We want every contractor to have this tool, which is why we're offering this new release special. This tool will allow non-traditional cabling contractors, such as those installing IP-based cameras, access control systems and audio-video equipment, to have a reduced learning curve and a stronger sense of comfort using structured cable." The company offered the new tool free to any customer that ordered 50 or more of its Category 5e or Category 6 jacks by August 31.
---
UL accuses two companies of using its mark without authorization
The two entities involved in a recent alert issued by Underwriters Laboratories have made brief additional comments on the alert, and a cabling industry association has made more extensive commentary on the situation.
On July 26 Underwriters Laboratories (UL; www.ul.com) issued an alert about Category 5e cable from Vertical Cable (www.verticalcable.com), saying the product was not authorized to bear the UL mark but did anyway. When asked more specific information concerning whether or not the product was ever authorized to use the mark, UL spokesman Joe Hirschmugl responded, "The Vertical Cable cables which we procured from the marketplace were not marked properly, so they should not be considered as Listed products. As stated in the public notice, the cable does not comply with the standard for safety for the United States and Canada, and is not authorized to bear the UL Mark or reference UL."
Vertical Cable private-labels the cable for which the alert was issued. The company's marketing director James Piguet said he is aware of the situation with UL and Vertical Cable is working with the actual manufacturer to determine if there is a problem. If the company finds there is indeed a problem, it will correct it, he said.
The Communications Cable and Connectivity Association (CCCA; www.cccassoc.org) had significantly more to say about the situation than either UL or Vertical Cable. Neither UL nor Vertical Cable is a member of CCCA. In a release the association said, "UL has taken strong actions to maintain the integrity of its UL Mark and cable performance certifications by publicly identifying manufacturers and their distributors who are supplying substandard and unsafe cable products into the market. In addition, UL has established further initiatives to verify the integrity of UL Listed cables through detailed analytical testing of cable component materials and new marketplace surveillance. These efforts are, in part, a result of CCCA sharing information and encouraging each of the two independent testing/certification agencies to develop stronger measures to assure compliance to national fire safety codes and telecommunications industry standards for transmission performance." The statement further applauded UL for its actions and expressed satisfaction with CCCA's role in helping UL improve its quality-assurance procedures.
On August 2 UL issued another, similar alert about cable available from Cable Manufacturing Business (www.cablemanufacturing.com). That company's president, Chris Badinelli, told Security Systems News that the situation results simply from an error made by the OEM that makes the cable. "We were never meaning to claim to have a UL listing," he told Security Systems News, further stating the erroneous UL reference occurred on a single shipment of product to one customer. "We weren't happy that the OEM made this error. We have taken corrective action," he said.
---
White paper talks about virtualization's effect on cabling
A white paper co-authored by Fluke Networks (www.flukenetworks.com) and Broadcom Corporation (www.broadcom.com) explain the effects that virtualization will have on cable and connectivity. Fluke Networks' David Veneski and Broadcom's Abhijit Aswath collaborated to write the paper entitled "Connectivity in the Virtualized Datacenter: How to Ensure Next-Generation Services." In it they describe how and why virtualization is changing data center design, which in turn is driving necessary change in cabling topologies.
The paper describes the pre-virtualized data center as one in which "each asset (server, storage device, etc.) is individually linked to an Ethernet switch. This topology uses structured cable connections that are difficult to modify. Since virtualization facilitates change, a network architecture that inhibits it is inherently problematic. This conventional topology is also dated, as a large number of 1-Gigabit links is incongruent with consolidated servers that need fewer, faster connections. This shift from many 'thin roots' to fewer 'thick roots' must be supported by the network."
It then explains end-of-row and top-of-rack topologies and their tiered physical connections. In that portion of the paper, the authors explain that regardless of the topology chosen for a virtualized data center, three truths about cabling will hold.
Cabling will change
Cabling will outlive many computing, storage and networking assets
Failures of data center network cabling can impact even virtualized services.
The authors list in table format and in more-descriptive text the cable types that can be used, to what distances and in what configurations, in a virtualized environment. It also discusses the emergence of 10GBase-T as a protocol that can support virtualized networks and the certification steps required to ensure a cabling system is up to the task.
Anyone can register and download the white paper from Fluke Networks.
---
Data center expert blogging about optical components
A technical expert in the field of data center technologies has launched the Optical Components blog (www.opticalcomponents.blogspot.com). Lisa Huff, whose name you may recognize as a speaker at some of our webcast seminars over the past couple years, started the Optical Components blog in late June; her first entry discussed the real-world implications of the 40/100Gbit Ethernet standard ratification.
Huff also conducts market analysis and has written research reports for CIR (www.cir-inc.com). In a report published earlier this year, Huff concluded that fiber-based 10GBase-SR, not twisted-pair copper-based 10GBase-T, is the most economical flavor of 10Gbit Ethernet for the end user.
The Optical Components blog is worth watching. Lisa Huff is a veteran of data center technologies and her insights can be of practical value to network managers.
---
Megapixel IP cameras watch over massive biker rally
Daily visitors: 30,000
Bartenders on duty: 100+
Video cameras to watch over it all: 10
That's the story IQinVision (www.iqeye.com) is telling about its technology's deployment at Michael Ballard's Full Throttle Saloon, described as the epicenter of the Sturgis Motorcycle Rally, which was held August 9 through 15. "Full Throttle's 300 employees, including 100-plus bartenders, can focus on keeping their thousands of customers happy," while IQinVision cameras put in place by Clearwater Security and Investigations mind the cash exchange and record patrons, the camera manufacturer says.
Clearwater's owner Jeff Haase says using the cameras "has made our daunting task much easier. Imagine trying to keep an eye on 30,000 visitors and 100 bartenders. You've got to follow the cash, each transaction, and make sure that Ballard's money stays where it's supposed to stay."
How is that accomplished with just 10 cameras? IQinVision says six of its Mini Domes, three Alliance domes and one Sentinel do it all. Haase adds that with the "Alliance series megapixel cameras, we're able to digitally pan, tilt and zoom in so close that we can literally count each bill that is placed in the cash register." Cameras also cover the Full Throttle Saloon Bank, which allows monitoring of cash as it makes its way through thousands of bar patrons, to the teller, and into the vault. "The new cameras we've deployed this year in the bank allow us to count each bill, track what the teller is entering into the bank's computer system, and observe the teller place each cash register's net deposit into the vault," he said. In all the saloon stores more than 10 terabytes of video.
---
New datacom manufacturer opens for business
Staring down the "worst recession since The Depression" as we have all heard ad nauseam, data-communications industry veteran Tony Casazza has launched QuickTreX (www.quicktrex.com), a product manufacturer. Currently the QuickTreX brand includes four product categories, but Casazza says more will be added in the coming year. The initial product set includes the following.
Copper cabling hardware including plugs, jacks and patch panels
FiberWhips - preterminated fiber-optic cable assemblies that can be custom ordered
Tools for terminating, testing and installing network cabling
Toolkits
Though launched this year, the company is based on an idea Casazza says he's had for many years. Before founding QuickTreX, he operated online data-communications supply store LANshack (www.lanshack.com) for more than a decade after years of field work as an electrician and structured cabling installer. LANshack is still in full operation and carries QuickTreX products. "In the online store we faced the product limitations set by various manufacturers and always knew that we could do much better in many different ways," he says.
Casazza said that he has identified entities that are willing to work with QuickTreX to develop new products. Some of those established partnerships have resulted in the products now available from QuickTreX, with the promise of more to come. "QuickTreX tools ... are thoroughly designed, engineered and tested by experts under real-world conditions," Casazza states.
More CIM Articles
Past CIM Articles