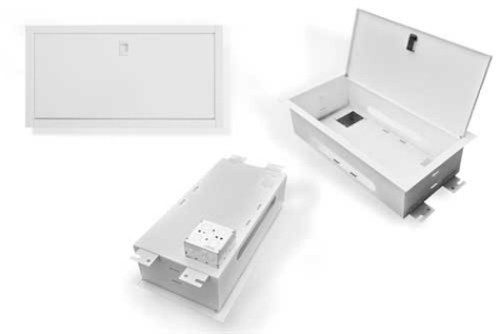 A Florida school district initiative gives rise to a new ceiling enclosure.
By Michael O'Connor, RCDD, NTS
As the ninth largest school district in Florida that educates nearly 80,000 students in grades K through 12, Lee County Public School District (www.leeschools.net) encompasses nearly 100 schools and has been a model district for others throughout Florida and the nation.
One of the district's recent initiatives involved deployment of advanced audiovisual (AV) technologies into each classroom, including projectors and interactive, electronic Smart boards for teachers to create content-rich, dynamic lessons that enhance teaching and learning. Installing media systems, projectors and controllers in thousands of classrooms is not without challenge, but when Terry Leonard, IT project manager for the district, teamed up with Graybar Electric Company (www.communicationconnexxions.com), Crestron (www.crestron.com) and Hubbell Premise Wiring (www.hubbell-premise.com), a new AV solution was conceived.
First pass
To embark on the AV project at Lee County Public Schools, Terry Leonard extensively researched deployment of classroom projectors throughout the county. The county decided to implement the Crestron iMedia solution, with receivers in the ceiling to connect to the projector and a desktop media controller to connect to each teacher's computer.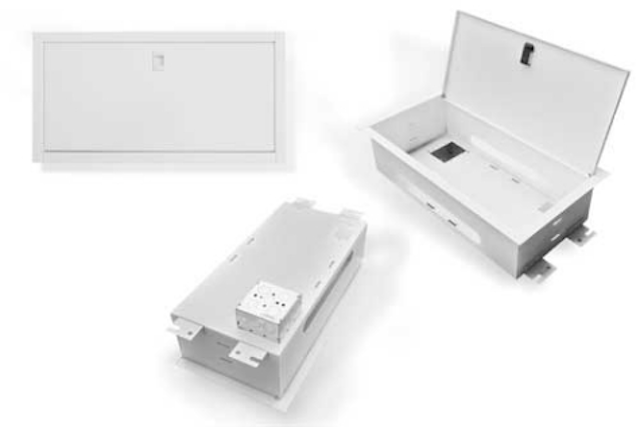 The Hubbell AV Electronics Ceiling Box is now part of the company's AV product line, with additional versions to follow for a variety of AV applications.
"Teachers can easily plug into the media controller at their desk to display presentations, video or any other AV application from their computer," explains Leonard. "The Crestron units enable the county to add various technologies in the future, such as audio enhancement and TV/video in the classroom. We also have connected the units to the school's local area network (LAN) for remote monitoring."
When the district first implemented the system, the AV equipment and associated cables were exposed, which was not only unsightly but also presented a security issue. "I really didn't like seeing the cables. It was a rat's nest," recalls Leonard.
When Bill Moore, executive director of school support, inspected the initial installations, he suggested a ceiling enclosure that could house the equipment. Finding a ceiling enclosure that would properly house the AV equipment and connections was not an easy task, and Leonard could not find an existing enclosure that fulfilled the need. After drawing up a design for a solution that would fit the application, Leonard worked with Graybar Electric Company to create a custom enclosure.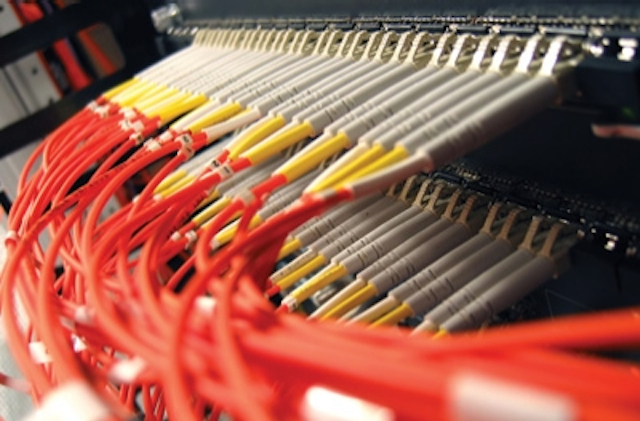 This "before" photo shows the box originally installed in the Lee County public schools. It left cables exposed, which was both unsightly and presented a security issue.
Graybar employed a local metal manufacturer that produced an enclosure to Leonard's specifications. While this new enclosure fit the application, Leonard was not completely satisfied. "The first enclosure worked well, but it was not a total solution to the problem. We wanted a better enclosure and a way to integrate power, cables and electronics into the enclosure."
An integrated solution
Leonard had been working with Hubbell Premise Wiring for the AV system's media and low-voltage connections and cabling. When Hubbell learned of the district's dilemma and need for a custom AV box, they offered their assistance.
"We worked with Graybar and Telecommunications Connexxions, the contractor, to create a solution that addressed all the issues that were presenting themselves during the installation," said Bill Pflueger, RCDD, CSI, regional specifications manager for Hubbell Premise Wiring. "We all wanted an enclosure that would be a perfect fit."
Hubbell arranged a meeting with the district's production managers at a local conference and presented a new enclosure solution. The demo enclosure provided an integrated double-gang electrical outlet and a single-gang outlet to fit an industry-standard wallplate. Hubbell also designed the enclosure to properly house the Crestron iMedia multimedia equipment with cable access for easily connecting to the projector above the ceiling tiles, thereby eliminating unsightly exposed cables.
"While the first enclosure was just a box, the solution that Hubbell proposed was so much more, and it was at the right price point," says Leonard. "Because we were already dealing with Hubbell on the AV and data connections, they were also able to provide us with a full kit that included every connection and patch cord we needed for powering and connecting the AV equipment."
A whole new product
Lee County School District ultimately ended up purchasing the Hubbell AV Ceiling Enclosure for the second phase of the project. They plan to standardize the enclosure for future renovations and expansions. Because the enclosure was such a success, it has become a component in Hubbell's AV product offering. "The enclosure was such a success that we are now demonstrating it to other school districts and engineers around the country," says Pflueger. "We will also be offering additional versions to suit a variety of AV applications."
Telecommunications Connexxions of Florida's Robert Radcliff says, "We are excited that we all contributed to solve the dilemma in Lee County by providing an AV enclosure that completely fit their need. We believe that the entire solution of enclosure, electrical outlets and cable kit save the county approximately 30 minutes per installation. It's nice to know that everything is there in one enclosure to complete the job."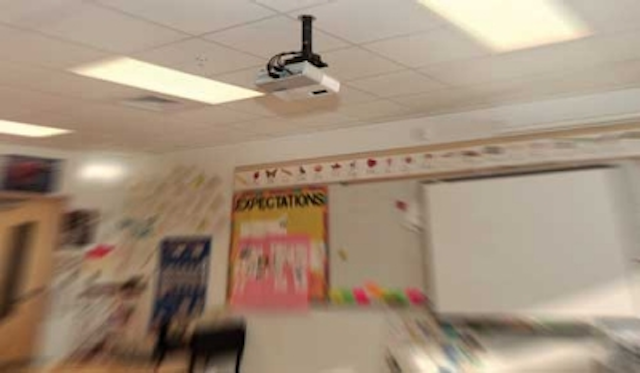 This box, which was custom-designed for Lee County by Hubbell Premise Wiring, integrates a double-gang electrical outlet and a single-gang outlet to fit an industry-standard wallplate.
The new Hubbell AV Electronics Ceiling Box (AVCE01) takes up one-half of a standard 2x2-foot ceiling tile, creating an aesthetically pleasing option for hiding AV equipment and cables in classrooms, auditoriums, conference rooms or any other space where ceiling AV equipment is deployed. In addition to a two-gang electrical outlet for powering AV equipment and other equipment associated with projectors and sound systems, the AV Enclosure Ceiling Box includes a single-gang outlet that fits any standard wallplate. The box includes durable supports for use with guy wires or threaded rods, hook-and-loop strap knockouts for managing cables and side cable access. Hubbell also has the ability to outfit the AV Ceiling Box with receptacles, faceplates, data and AV connectors, patch panels, patch cords or other connectivity required for connecting AV equipment.
"We like being able to get everything we need from one company–the box, the data, the power, the cords," says Leonard. "We also like that the new enclosure gives us the space and connections we need for future expansion. For example, we can easily add an extra data jack if we want to add wireless or other services to the classroom."
Michael O'Connor, RCDD, NTS is director of datacom product marketing for Hubbell Premise Wiring (www.hubbell-premise.com).
More CIM Articles
Past CIM Issues