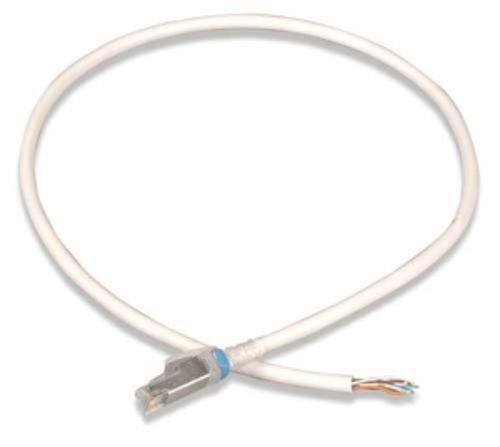 Compiled by Patrick McLaughlin
Siemon's 6A Z-Max solid-conductor patch cords extend the distance reach from crossconnects and consolidation points when compared to Category 6A patch cords made with stranded conductors, Siemon says. The company explains that stranded-conductor 6A patch cords must be de-rated per industry standards. Not so with these solid-conductor cords.
Available in both shielded and UTP configurations, the solid-conductor patch cords feature Siemon's Z-Max 6A RJ-45 Smart Plug design, which integrates a printed circuit board (PCB) into every plug. According to Siemon, most often a PCB is found only in outlets. The PCB integrated into this plug provides enhanced tuning capabilities, Siemon says, allowing the cord's transmission parameters to be matched to the Z-Max outlet into which it is plugged.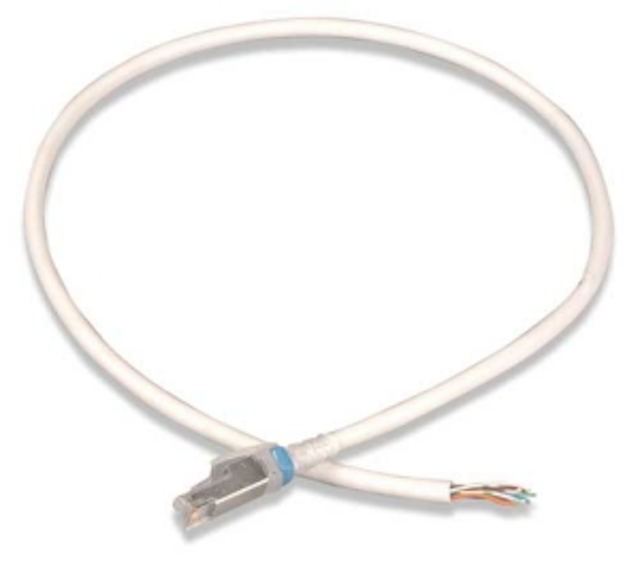 Explaining the signficance of the patch cords' solid-conductor componentry, Siemon states, "Standard RJ-45 plugs cannot be factory or field terminated to most solid-conductor Category 6A cables because of their inability to accept the larger-diameter solid-cable conductors. However, within the Z-Max plug, cable conductors are terminated to the PCB at the rear of the plug rather than directly to the plug contacts, as they are in traditional plugs." Siemon says its approach not only supports larger conductor sizes, but also minimizes the pair untwist that often is responsible for transmission issues in standard plugs. The Z-Max plug also features the Zero-Cross termination style, which eliminates the split pair (the 3-6 pair) and pair-cross condition that is responsible for increased signal noise and performance degradation that is common in non-PCB RJ-45 plugs. Siemon explains that the Z-Max plug's fixed front contacts also ensure proper mating with outlets to eliminate performance issues with the contact-height variability inherent in traditional crimp-style terminations.
The 6A Z-Max solid-conductor patch cords are standard-compliant and backward-compatible with any standards-based RJ-45 outlet. Their low-profile boot design optimizes their ability to be side-stacked, thereby enabling use in high-density environments. And a cantilevered latch design enhances the cord's high-density accessibility by allowing latch activation from far back on the boot.The patch cords' removable colored clips enable field color-coding even when they are connected.
CommScope being acquired, taken private
CommScope, Inc. has struck a definitive merger agreement with alternative asset manager The Carlyle Group via which Carlyle will acquire all of the outstanding shares of CommScope common stock for $31.50 per share in cash. The total transaction is valued at approximately $3.9 billion andwill transform CommScope from a public to a private company.
The transaction is expected to close in the first quarter of 2011.
Reuters reports that analysts see little likelihood of rival bids emerging for the communications cable maker. The offer by Carlyle CYL.UL -- which Reuters notes has a checkered history in telecoms deals -- of $31.50 a share in cash is a premium of 36 percent to CommScope's closing price on Friday. CommScope has a "go-shop" period until December 5, during which rival bidders can submit offers.
Carlyle has a long history with CommScope and said in a press release it had known senior members of the company's management for many years. Carlyle said equity financing for the CommScope deal would come out of two of its funds -- Carlyle Partners V, a $13.7 billion U.S. buyout fund, and Carlyle Europe Partners III, a 5.4 billion euro European buyout fund.
The Carlyle Group is a global alternative asset manager with $90.9 billion of assets under management committed to 66 funds as of June 30, 2010. It invests across three asset classes - private equity, real estate and credit alternatives - in Africa, Asia, Australia, Europe, North America, and South America. The investments focus on aerospace and defense, automotive and transportation, consumer and retail, energy and power, financial services, healthcare, industrial, infrastructure, technology and business services, and telecommunications and media.
Some of Carlyle's previous telecommunications deals have not fared well, noted Reuters. The firm acquired debt-laden Hawaiian Telecom in 2005 for $1.6 billion from Verizon Communications. Three years later, the Hawaiian provider of local and long-distance telephone service filed for bankruptcy.
"We are proud to enter into this agreement with Carlyle and believe this transaction is in the best interest of CommScope and our stockholders," said Frank Drendel, chairman of the board and chief executive officer, CommScope. "After careful and thorough analysis, together with our independent advisors, our board of directors unanimously approved this transaction with Carlyle, which has a strong reputation and global network, and a proven record of success in acquiring and guiding companies like CommScope."
Eddie Edwards, CommScope's president and chief operating officer, said, "As a private company, we believe CommScope will have greater flexibility to focus on our long-term strategic direction as a global leader in infrastructure solutions for communications networks. Carlyle understands our industry and our business well, and will be a tremendous asset as we build upon our leadership position and continue to implement our strategic plan to deliver enhanced value to our customers around the world."
Drendel, Edwards, and other members of CommScope's executive management team are expected to stay in leadership positions after the transaction closes.
Bud Watts, managing director and head of Carlyle's Technology Group, said, "We've known Frank, Eddie, and other senior leaders at CommScope for many years. We have the greatest respect for them, CommScope's many talented employees, and the business they have built together. CommScope has a clear strategy, a culture of operational excellence and strong commitments to its employees, customers and partners around the world. We look forward to working with the 'One CommScope' team as it pursues the next phase of the company's growth."
CommScope expects to hold a Special Meeting of Stockholders to consider and vote on the proposed merger and merger agreement as soon as practicable after the mailing of the proxy statement to its stockholders.
The transaction is subject to the approval of CommScope's stockholders, regulatory approvals and other customary closing conditions. The transaction has fully committed financing and is not subject to any condition with regard to the financing. Equity financing will be provided by Carlyle Partners V, a $13.7 billion U.S. buyout fund, and Carlyle Europe Partners III, a €5.4 billion European buyout fund; debt financing will be provided by J.P. Morgan.
Cat 5e cables for industrial apps
Two Belden Cat 5e cable products have been added to the manufacturer's DataTuff Industrial Ethernet line. The 600V AWM-rated shielded cables incorporate the company's bonded-pair technology and are designed to be rugged enough for use in listed motor control centers and switch gear in environments with high levels of electromagnetic interference (EMI).
According to Belden, the cables' AWM rating allows them to be used on or within a listed cabinet or machine, as well as more traditional Ethernet applications. Belden points out that the cables are not intended for 600V power delivery. They feature an overall shielded design with 24-AWG bonded-pair solid bare copper conductors, polyolefin insulation, a 24-AWG stranded tinned copper drain wire, and an industrial-grade oil- and sunlight-resistant PVC jacket.
The cables' part numbers are 7958A and 7957A. 7958A has an overall Beldfoil shield, which Belden says meets the EMI requirements of most plant environments. 7957A has an overall Beldfoil shield plus 70-percent tinned copper braid, which Belden says allows it to stand up to more-extreme EMI environments and provides additional structural integrity. Both cables, the company adds, are Ethernet/IP compliant.
White paper addresses NEC changes affecting comms, data cabling
A white paper posted on the website of the Communications Cable and Connectivity Association (CCCA) summarizes changes to 10 articles in the 2011 National Electrical Code that the CCCA believes will be of interest to users, installers and manufacturers of communications and data cable as well as code-enforcement officials.
The paper summarizes notable changes in the NEC, including revisions to Article 645 covering computer rooms that establish a new category of data centers with enhanced fire protection as well as the adoption of Article 840, which deals with optical-fiber-based broadband communications. Additionally, applications and installation rules for optical fiber and communications cables have been extensively revised, the CCCA notes, including new restrictions on wiring in air ducts.
CCCA executive director Frank Peri said the white paper is "a great example of how CCCA strives to stay on top of key developments that affect our industry. We are pleased to provide this well-organized and informative guide to help navigate through the changes in the 2011 NEC of interest to the structured cabling industry and code-enforcement officials responsible for inspecting installations for code compliance."
Optical-fiber security system detects perimeter intrusion
AFL has brought to the United States market an optical fiber security system that detects perimeter intrusions using optics' light-transmission properties. The system, called Fiber Security, has been deployed in Canada and Japan at more than 40 sites by AFL's parent company, Fujikura Ltd., the company says.
Fiber Security comprises a fence-mounted fiber-optic cable, optical couplers and a vibration-sensing unit. AFL says the sensing unit's algorithm can distinguish between high and low vibration levels and it filters out vibrations that are not actually intrusions. Users can set up as many as 100 individual zones, and the zones can have varying sensitivity levels. According to AFL, the system's detection accuracy is plus-or-minus 2 percent over the entire perimeter, which can be up to 5 kilometers in length. The system does not require power in the field; 110V is required at the sensing unit as well as the PC.
AFL says that intrusions such as cutting, lifting or climbing on a fence are detected while environmental noise such as that caused by moving vehicles or weather is filtered out. Fiber Security's ability to discern between intrusion-vibrations and noise-vibrations reduces false alarms, AFL points out.
Fiber Security can be integrated with other systems, including video passive IR sensors through connections such as Ethernet or RS232.
Greenlee Communications replacing other brand names
Beginning immediately and rolling out in full over the next year, Greenlee will consolidate its line of communications products under the brand name Greenlee Communications. The practical effect of this change for buyers and users of cabling products and tools is that the following brand names will change to Greenlee Communications:
Chesilvale Electronics
Datacom Technologies
Industrial Technology
Paladin Tools
Progressive Electronics
RIFOCS
Tempo
Greenlee says that several new products will be branded Greenlee Communications in the near term, and the rebranding of existing products will be implemented over the next year.
"Rest assured, only the brand name will be changing," explains Martha Kness, vice president of marketing and customer service. "Our customers can continue to trust in the same high-quality products, manufactured to the same high standards and supported by the same team of sales professionals."
She added that Greenlee will provide its distributors with collateral material to facilitate a smooth transition. She encourages those distributors to contact Greenlee sales or customer service representatives if they have questions.
Cable-pulling winch speeds underground installation
The HydroGuide HG5 high-speed cable-pulling winch from HammerHead maximizes efficiency and minimizes setup time for underground cable-pulling projects, its manufacturer says. The HydroGuide HG5 is powered by a 33-hp liquid-cooled engine that drives the dual capstan and dual direct-drive motors.
The winch has a payout speed of up to 50 meters (165 feet) per minute and its 5.5-ton pulling capacity along with a 120-foot-per-minute maximum pullback speed equate to quick project completion, HammerHead adds.
The domestic model of the winch has a maximum cable capacity of 1000 meters (3280 feet). Standard features include an electric axle brake system, control light panel, electric start, manual front and rear stabilizer jacks, 12VDC auxiliary power port and fuel gauge.
Belden buys, sells, returns to cabling core
Within a few days of each other, Belden made two significant moves in the acquisition realm that suggest a return to the company's roots of cable and connectivity.
First the company agreed to buy the communications products of Thomas & Betts for $78 million. The comms-product business is part of T&B's electric segment. It includes coaxial drop connectors, pole line hardware and other products. The unit generated about 9 cents of earnings per share and $45 million in revenue in the first nine months of 2010.
Belden said the products it is acquiring complement its existing audio, video and security cables, adding that it expected the acquisition to close by the end of this calendar year and add 5 cents per share to earnings in 2011.
"This was an opportune time to divest this nonstrategic business," said T&B chairman and chief executive Dominic Pileggi. "We continue to focus on our strategy of enhancing our cor electrical-products portfolio and expanding our global market presence."
A few days after announcing the acquisition of the Thomas & Betts unit, Belden divested Trapeze Networks, selling the business to Juniper Networks. The $152-million deal was also expected to close by the end of 2010. Belden acquired Trapeze in 2008 for $133 million.
Much like Belden expressed in 2008, Juniper now expects to see significant upside to its acquisition of Trapeze. Juniper's executive vice president and general manager for fabric and switching technologies David Yen said that bringing Trapeze into the fold "will enable our customers to provide a seamless, high-quality secure experience to their users regardless of where and how they access the network. Juniper's strong history of technology execution combined with Trapeze's accomplished team ideally positions the company to deliver end-to-end high-performance networking for the world's most demanding networks."
Belden's president and chief executive officer John Stroup said that divesting Trapeze "enables our organization to remain focused on the long-term growth opportunities for wireless technology in our core markets, including the nascent industrial networking market."
40-GbE really is rocket science
At the SuperComputing 2010 (SC10) conference last month, Extreme Networks announced that it is working with NASA Goddard Space Flight Center in evaluating high-speed, standards-based 40-Gbit Ethernet connectivity in support of scientific research that studies global climate.
The demonstration of high-performance networking, performed at NASA's SC10 booth, complemented an ongoing and collaborative study of global climate. The networking experiments enable enhanced research capabilities through dramatically improved network performance without a step-up in overall network infrastructure costs, according to Extreme. The demo employed Extreme's standards-based 40-GbE switch, the Summit X650.
"Our high end computer networking [HECN] team at NASA Goddard Space Flight Center is looking forward to using Extreme Networks' 40-GbE modules in our environment," said J. Patrick Gary, project manager for the HECN team. "We've been link aggregating mutliple 10-GbEs for quite some time, and prefer to have 40-GbE, especially given Extreme Networks' announced price. The demonstrations at SC10, involving the transfer of very large files, can help propel climate research further."
"Extreme Networks has remained at the cutting edge of networking and this bodes well for wide-scale science being performed by NASA Goddard Space Flight Center, and also for universities and similar research centers," said Harpreet Chadha, senior director of product management for Extreme. "Having the first-to-market 40-GbE solutions delivered to NASA for this event is a true honor and we look forward to seeing the results."
Files transferred ranged from 32 to 128 Gigabytes. All testing occurred on the show floor during the exhibition. By implementing 40-GbE in the core, Extreme says network operators stand to realize further reductions in cost, configuration and cabling complexity, where a 40-GbE implementation reduces core cabling and delivers aggregation options for 10-GbE.
The SC10 demonstration connected Extreme Networks with Finisar's Quadwire 40G parallel active optical cables to transmit data while reducing latency, weight, density and power consumption. Color Chip provided long-haul transceiver solutions supporting distances up to 10 kilometers. Spirent provided on-site test verification of Ethernet connections on the shwo floor. Ixia's higher-speed Ethernet solutions, which perform Layer 1 through 7 line-rate testing with real-world traffic emulation, also verified the performance of 40-GbE connections.
Deep rack addresses next-gen servers and heat flow
The HP 10000 G2 Series 1200mm Deep Rack enclosure is specifically designed to better cable management, hot-air reduction and accommodating longer next-generation server, storage and switching products.
The 19-inch rack in 42 and 47U heights features an eight-layer rolled steel frame construction for improved loading capacity up to 2,500 pounds dynamically and 3,000 pounds static. The rack can also be customized with a rack badge for corporate logos. This option, HP points out, enables users to present a consistent IT image and, from a practical standpoint, makes for easier rack identification.
According to the company, the HP 10000 G2 Series 1200mm Deep Rack also offers: a fully welded (not bolted) frame; 100 square inches of additional perforations for better airflow; full cable access; front and rear door handles and locks for added security; side panels for ease of manageability and mounting; cable management accessory compatibility; rack stabilizer, baying and grounding kits; zero-U mounting areas to maximize space for servers and storage; and a three-year warranty on parts.
Customers can receive the rack fully loaded and ready for instant deployment when shipped on an optional shock pallet. Customers can also have their equipment preinstalled within the rack with cables already dressed, saving setup and unpacking time.
The HP 10000 G2 Series 1200mm Deep Rack is compatible with all 19-inch rack products, HP says. It is available now and sold through authorized dealers.
Pricing starts at U.S. $1,749. The stabilizing kit, baying kit, grounding kit and side panels are optional and sold separately.
HP advises that pricing may vary by country or region.
More CIM Articles
Past CIM Issues