Modular multimedia outlets offer flexibility in creating and maintaining a cabling system
To accommodate the different cabling media used in today`s telecommunications installations--copper, fiber and coaxial cable--manufacturers developed the modular multimedia outlet (MMO). These outlets are known as work-area outlets, information outlets, multimedia outlets and, more recently, multiuser telecommunications outlet assemblies, or mutoas, which can also be used in open-office configurations (see "New Standard for Open-office Architectures," page 6). The outlet is the point of connecti
Nov 1st, 1996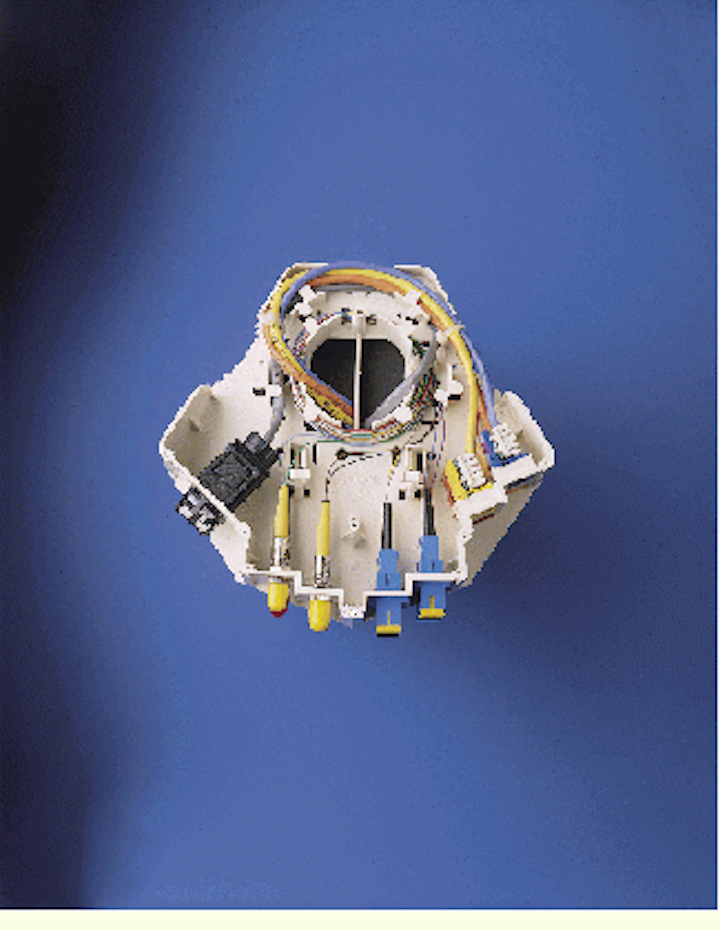 Barbara E. Thompson
To accommodate the different cabling media used in today`s telecommunications installations--copper, fiber and coaxial cable--manufacturers developed the modular multimedia outlet (MMO). These outlets are known as work-area outlets, information outlets, multimedia outlets and, more recently, multiuser telecommunications outlet assemblies, or mutoas, which can also be used in open-office configurations (see "New Standard for Open-office Architectures," page 6). The outlet is the point of connection between the horizontal, behind-the-wall cable and the work-area cable running to users` telephones and computers. It is critical, therefore, that it enable you to install cable easily and make reliable connections.
"Ease of installation and reliability are important to me," says Bruce Foreman, technology service specialist at Fishel Technologies Inc. (Columbus, OH). "I`ve had trouble on occasion with opens in the patch panels or faceplate modules. Once that happens, you have to take off the cables and reterminate all of them."
Before modular devices were developed, an outlet introduced two additional connection points: at the workstation side and on the mating cable in the back. With the modular outlet, you do not have to move the horizontal cabling once you have connected it properly to the back of the outlet. The concept is that the MMO can provide a "frame" that will accept any type of cable or connector interface. You can configure and modify outlets to meet customers` needs, and when changing or upgrading the installation, you just remove the existing modules from the wallplate and replace them.
"Our customers sometimes need more than just unshielded twisted-pair (UTP) cable for their installations," says Jim Copeland, vice president for technical services at LANmark Communications (Auburn, MA). "They may have a Thinnet system now but are planning to bring in fiber in the future."
The tia/eia-568a standard for structured premises wiring recommends a minimum of two ports at each work-area outlet. They can be side by side or over and under, but preferably in the same receptacle. With the advent of new technology and applications, such as videoconferencing and fiber-to-the-desktop, users need more ports and different types of cabling brought to the desktop. Besides using patch panels in the telecommunications closet, you can bring Category 3, Category 5, fiber-optic and coaxial cable to the desktop for voice, data and video with the newer 6-, 12- and 16-port multimedia outlets.
The dictionary defines multimedia as "using, involving or encompassing several media." In the case of the multimedia outlet, the medium is cable--either UTP, shielded twisted-pair (STP), screened twisted-pair (ScTP), IBM Type 1, coaxial, F-type for cable TV or fiber-optic cable. However, with the telecommunications technology constantly evolving, some in the industry say that a multimedia outlet is one that supports Category 5 UTP and fiber-optic cable.
"The industry and technology are leaning toward a two-media solution: Category 5 UTP and 62.5/125-micron multimode fiber," says Tony Beam, director of systems marketing at AMP Inc. (Harrisburg, PA). "AMP is positioning itself as primarily supporting Category 5 and multimode fiber cable."
As Gregg LaFontaine, product manager at Hubbell Premise Wiring Inc. (Stonington, CT) puts it, "Most of the discussion today is to ensure [that] you can include fiber. The term [multimedia] should mean more of a broad application, but many people say that if you can have fiber and UTP together, then it`s multimedia."
At Panduit Corp. (Lockport, IL), the latest addition to its outlet product line is a multimedia fiber outlet, although it is not just for fiber. Andrew Caveney, product manager, network systems division, explains: "Our products accept all the different cabling out there--STs, dual SCs, Category 3, coaxial, audio jacks and F for video--but this one is geared more toward Category 5 and fiber applications."
Some manufacturers may take a different approach, however. According to Mike Lin, marketing manager at International Connectors and Cable Corp. (Cerritos, CA), "We have a new product--multiport system, or MPS, that has a variety of different modules, including BNC, cable TV, Category 5 and fiber. They are all plug-and-play modular design, and come in nine different colors."
Thomas & Betts (Memphis, TN) is introducing the omni faceplate with 16 RJ ports that can also be reconfigured to hold six all-LANs, some RJs and a couple of fibers. "The all-LAN connector," says Jay Lahman, product manager, "was developed jointly with IBM. Then Thomas & Betts came up with a complete system that includes an individually shielded twisted-pair cable with an overall braid. It is similar to a Type 1 cable."
In many cases, however, one outlet may not be able to service all types of media, and some are more difficult to install than others. For example, the Type 1 connector is larger than other connectors; and coaxial cable, STP and ScTP cable all have larger outside diameters (ODs) than those of twisted-pair cable. In a high-density multimedia outlet, they can be difficult to install.
"The problem with coaxial [cable] is having enough space behind an existing box to get everything in," says Foreman. "Coaxial [cable] sticks out from the back of the faceplate and it`s difficult to maintain bend radius. In one school, we couldn`t get the faceplates back in."
Bend radius and storage
Another concern for installers is maintaining the correct bend radius for the cable; that is, 10xOD for fiber, 10xOD for multipair (25-pair) copper and 4xOD for 4-pair UTP. The tia/eia-568a standard recommends that the [outlet] box have the ability to secure optical fiber at a minimum of 1.18 bend radius and a minimum storage of 1 m of 2-fiber or two buffered fibers.
Although the industry trend is toward a growing number of connections at the desk, this means the multimedia box is larger, which can make it difficult to install in a small electric box that fits behind the outlet. Manufacturers are addressing some of these concerns by making higher-density, low-profile multimedia outlets, and most of these MMOs have a fiber spool for storing slack fiber.
For example, Panduit`s multimedia fiber outlet supports six terminations, and you can snap on a bridge to upgrade it to 12 terminations. "You can store 12 m of buffered fiber," says Caveney, "and it`s a captive spool; that is, once the fiber is in place, it`s kind of locked in until you remove it. It keeps the fiber managed, and the cover has a tamper- resistant screw for security."
Introduced in October, AMP`s latest outlet is the hideaway which, according to Beam, "allows hands-off termination of Category 5 or Category 3 jacks. You can punch down the cable with a minimum amount of UTP jacket in the electrical box. It also has an easy-to-install fiber-slack loop outside the electrical box, which allows the outlet to be installed in the smallest electrical box."
Krone (Englewood, CO) released its 16-port multimedia outlet in September. According to Brian Lee, product manager, "We`ve provided working space near the connector where it`s needed, plus a low sidewall design around the spool to allow easy access during installation. Our dual-spool design provides convenient separation of copper and fiber."
One concern with a modular-furniture environment is that sometimes the cableways in the furniture do not accommodate the bend radius for optical fiber. "If you`re going with optical fiber," says Paul Andres, executive vice president at mod-tap, "the outlet should be flush-mounted."
Hubbell`s LaFontaine recommends a surface box with a side exit for any medium. "First, if you exit [the cable] from the bottom, you`ve addressed the gravity issue. Second, a chair or a file cabinet slid against the outlet will hit the housing before it hits the connection; there`s more impact protection this way. People who have respect for their fiber will point the cable straight down from the outlet--and I`m talking about a 90 versus a 45 angle."
Installer concerns
Installers, however, are concerned about how long it takes to install the outlet, whether it will pass Category 5 or fiber bend-radius tests, and standardization. "At Fishel, we are mostly concerned with ease of installation, reliability and price," says Foreman. "Occasionally, we`ll have a customer who doesn`t care [about price] because they want the best and have the budget to pay for it. Most of the time, it`s `Here`s my wish list and here`s my budget. What can we do until next year`s budget?` "
Deciding what type of outlet to use and where to locate it will depend on the application and will also differ for new installations and retrofits. Many MMOs can be mounted to a double-gang or a single-gang box. "Although it`s a surface-mount box," says Caveney, "many people will use it for in-wall applications because it provides cable protection, high density and a fiber spool."
At the University of Vermont, however, Jerry Thornton, assistant manager, network services, says, "We`re not using multimedia outlets yet because the cable plant is still quite old. We do have a fiber backbone and, this past summer, we installed all Category 5 cables and a coaxial [cable] in each room (for future television)."
Why should an end-user or installer use modular multimedia outlets? Because they let you support legacy, current and emerging applications; they provide an easy upgrade path without requiring excessive recabling or changes in hardware; you can wire a single outlet for different applications, some with 16 ports that can be mixed and matched; and you can often use standard and proprietary inserts, if necessary.
Other features offered are colored icons, bezels, labeling and other administrative accessories that may help to ensure that your installation complies with the tia/eia-606 standard.
In addition, several manufacturers of MMOs have recently added features to their product lines. For example:
AMP Inc. (Harrisburg, PA) offers the Hideaway outlet, which provides 45-degree UTP connections and 90-degree fiber-optic connections.
Leviton Telcom (Bothell, WA) announced its QuickPort multimedia outlet system (MOS) with a dual-ring system on the surface-mount box that stores and manages the fiber loop and protects bend radii to each port.
Mod-tap (Harvard, MA) offers its PassPort family, which includes high-density wall plates and matching electrical duplex and switch-cover plates. The optical-fiber outlet installs "in seconds" and manages bend radius, fiber loops and strain relief.
Ortronics Inc. (Pawcatuck, CT) has a workstation outlet, Fib-or-Cop, with six copper ports on the faceplate, six fiber connections in the base, and four ring clamps to manage internal fiber cable.
The Siemon Co. (Watertown, CT) offers its CT multiuser/multimedia surface-mount box that accepts 6 CT couplers, 12 ports of mixed media or 24 fiber ports.
The Wiremold Co. (West Hartford, CT) introduced the Communication Activation Series, which installs into metallic and nonmetallic raceways, tele-power poles and surface- and flush-mount boxes.
In January, Hubbell Premise Wiring Inc. plans to release its AMO multimedia housing, which offers capacity for 12 fiber or UTP terminations with all connections exiting from the bottom.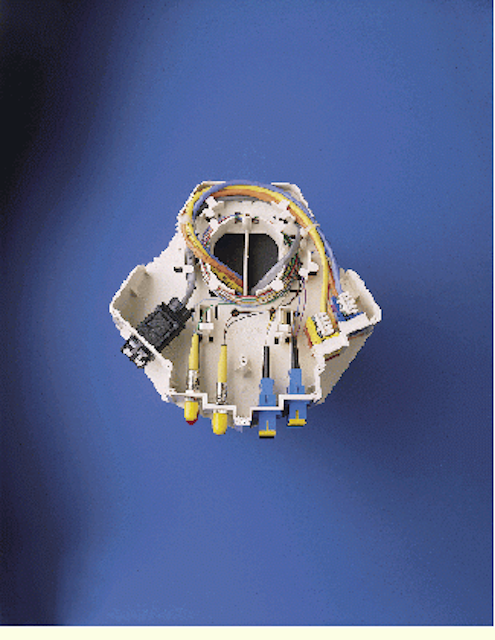 Click here to enlarge image
Cable access to krone`s multimedia box is from the rear or via raceway from any of three sides. The unit has numerous mounting holes to meet U.S. and European standards.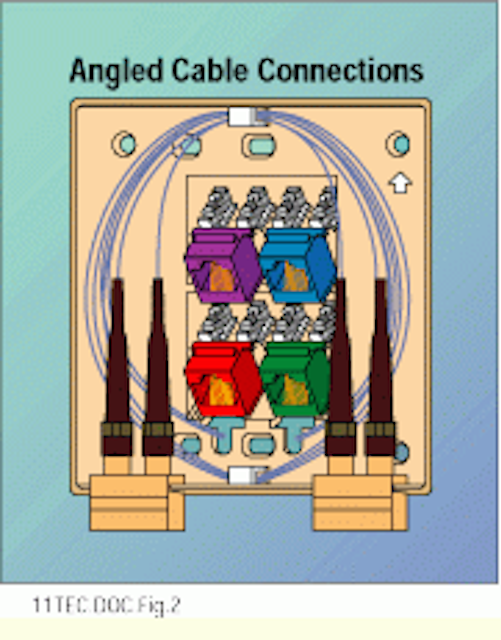 Click here to enlarge image
hideaway from AMP provides 45! UTP and 90! fiber-optic cable connections.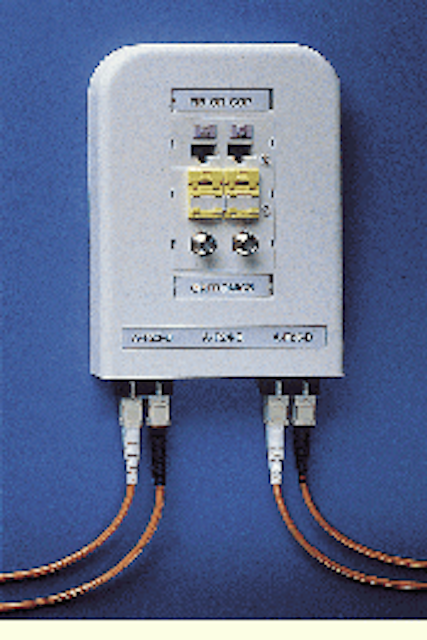 Click here to enlarge image
Ortronics` Fib-or-Cop workstation outlet holds up to six SC or ST fiber connections in its base and six copper ports in the faceplate.
New Standard for Open-office Architectures
The technology, standards and products in the telecommunications industry are constantly evolving, and the latest outlet is the multiuser telecommunications outlet assembly, or mutoa.
Paul Andres, managing director at mod-tap, explains that Othe (mutoa) has been defined by the Telecommunications Industry Association as the open-office cabling standard for 25-pair Category 5 cable. It can be a box in the ceiling or under the floor. However, most of the outlets today do not meet fire codes for plenum spaces, so there?s a safety issue to be considered. For open-office configurations, you can use up to 15 m (50 feet) of patch cable from the outlet to the mutoa, or consolidation point.O
A mutoa, or consolidation point next to the office furniture, makes cabling moves easier and less expensive, because the mutoa and the horizontal wiring do not have to be moved when the modular furniture is moved.
OThe multiuser telecommunications outlet assembly allows you to run a patch cord from that consolidation point to the workstation instead of to the modular furniture,O says Andrew Caveney, product manager, network systems division, at Panduit Corp.