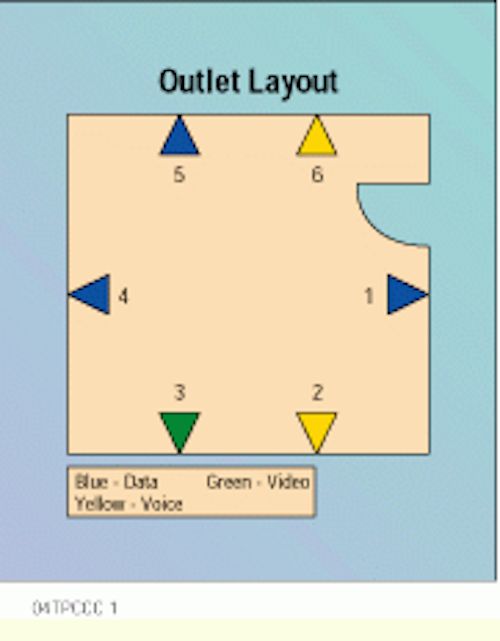 Bud Davee
Coastal Computer Connections Inc.
Problem
In large-scale installations, it is important to have an efficient, time- and labor-saving labeling and documentation scheme. With all the information required to document what is located in multimedia outlets, it can easily become a nightmare to maintain your documentation according to constantly changing standards.
Solution
By following a numbering system similar to that which manufacturers use to number their products in catalogs, you can facilitate the labeling and documentation process. You can use the following procedure as a working platform for outlet labeling.
Procedure
1) Use the most recent set of project blueprints to establish a unique identification (ID) for each outlet.
2) Start with the highest room number and begin with the first outlet in the room as you enter, from left to right; this will be outlet number 1. Walking through the documentation in the same sequence helps to make the numbers more consistent, and you won`t miss any outlets.
3) Start a list of the required data for the outlets, one at a time. A simple hand-written list will suffice as a working copy.
4) The first set of numbers should be the physical location of the outlet. For example, the first number in the ID would be the floor number (if it is a multilevel building); number 2 would indicate the second floor. The next number will be the section or rack letter (if available), say D, and then the room number, 013. That completes the physical location of the outlet.
5) Now, you should identify the type of cable--D for data or V for voice--and the cable number--D1, D2, etc.
6) The last number in the sequence will be the outlet number--number 1.
7) Put it all together, and the outlet label ID is 2D-013-D-D1-1.
8) Mark that number on your blueprint and go on to the next outlet.
9) When you have finished numbering all the outlets on the blueprint, you have documentation that is easy to understand. The documentation can then be attached to the equipment rack, with a copy on file. This form will facilitate label making.
Bud Davee is project manager at Coastal Computer Connections Inc., Gulf Breeze, FL.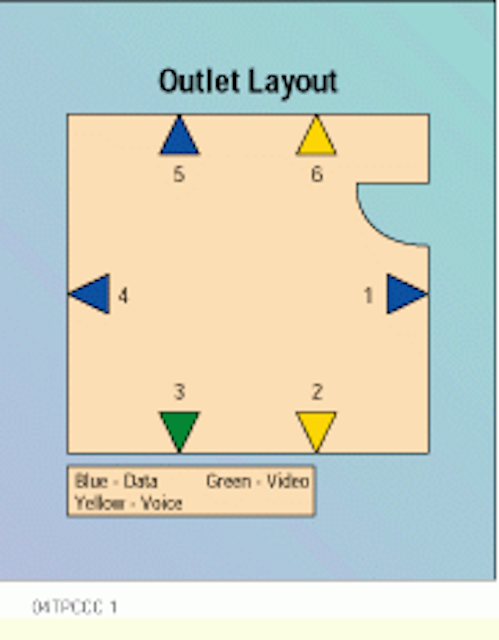 Click here to enlarge image
Outlets in a room are color-coded to identify the type of media each supports.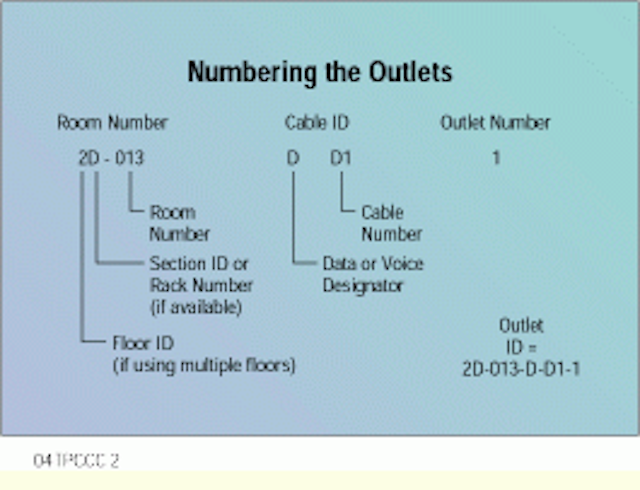 Click here to enlarge image
In numbering outlets, start with the physical location, then the cable identifier and outlet number.