Lynn Haber
Time is the best test for a new technology. That is certainly the case with the quick-connect fiber-optic connector. Both installers and their customers have been finding that these products are reliable and provide the performance they have come to expect from fiber-optic connectors. As a result, they are moving away from older and time-tested connector technologies and are switching to quick-connect products.
The way Jim McGibney, president of Power Communication Services Inc. (Yonkers, NY), sees it, quick-connect fiber-optic connectors have come into their own. "I can install them and not worry," he says--and product confidence is what the fiber-optic connector game is all about. In fact, McGibney reports that in the first half of this year, he has installed more than 4000 quick-connect connectors.
Although for the last two years he has primarily used products from AMP Inc. (Harrisburg, PA), McGibney says that he will use other quick-connect products as well, particularly when they are requested by the customer.
There can be no doubt that optical fiber will be the prime cabling medium of the future, but it is also a big chunk of today`s business for most cabling and installation companies. Fiber uniquely fits the needs of high-speed data networks, and it is now priced competitively with Category 5 copper cable. In addition, quick-connect fiber-optic connectors are helping to enhance the image of optical fiber as an easy-to-use and cost-effective technology --and to dispel its past reputation as an exotic medium requiring special equipment and expertise to install.
Five companies now offer a variety of quick-connect fiber-optic connectors: 3M Telecom Systems Div. (Austin, TX); AMP Inc.; Automatic Tool & Connector Co. (Union, NJ); Nordx/CDT (Montreal); and Siecor Corp. (Hickory, NC). Products are available for both singlemode and multimode fiber; they come with ceramic, stainless-steel and composite ferrules; and they are available for industry-standard ST and SC interfaces.
The basis of quick-connect technology is the connector`s ability to achieve a fast, secure interconnection with the fiber-optic cable. However, vendors` methods of achieving this goal vary.
Because this technology eliminates the need for epoxies, all vendors boast connection times of minutes--usually less than five minutes. But some quick-connect products require polishing while others do not. For example, AMP`s LightCrimp and 3M`s CrimpLok products fall into the former category, while Nordx/CDT`s OptiMax and Siecor`s CamLite and UniCam products fall into the latter.
Automated Tool`s Terminator products fall into a category of their own. Unlike the Nordx/CDT and Siecor offerings, which are shipped prepolished from the factory, Automated says it can achieve low loss with no factory polishing--and no field polishing either.
Epoxy`s pros and cons
The requirement to splice fiber-optic cable has been a fact of life for cable installers for years. This is because technicians have had to rely on connectors that use epoxy to hold the fiber in position within the ferrule. Epoxy forms a strong, long-lasting bond that does not degrade fiber performance too much, which is why some installers and users still prefer it. However, adhesives like epoxy account for a large portion of the time it takes to terminate a connector.
The epoxy must be prepared, placed in the connector ferrule and cured; then the connector must be polished. Curing time is as long as 20 minutes per connector, and this does not take into account the need to warm up the curing oven. Ovens also need electricity, which is not always at hand on a construction site.
The greatest benefit of field-installable, quick-connect fiber-optic connectors is that they slash installation time by eliminating the need for epoxy adhesives. "We say it takes two minutes to use our quick-connect connectors, compared to 10 to 30 minutes to use an epoxy-based connector," says Michael S. Peppler, associate director of marketing for fiber-optic and broadband systems at AMP.
Quick-connect technology has not only cut down on labor time, but installers say that it is also a neater process, and it eliminates the need to haul around a curing oven and find a power source.
James Kraft, president of K. St. James Inc., a cabling installation company in York, PA, says quick-connect connectors have helped his firm keep pace with a growing demand for fiber-optic cable without having to increase staff. Kraft says his 20 technicians understandably have different skill levels. "Quick-connect technology allows us to use technicians with lesser skills to do the job and do it well," he adds. "We have customers who want work done now--no waiting."
Kraft uses quick-connect products for all horizontal applications. "This technology is particularly well-suited for fiber-to-the-desktop applications," he says. Ease of installation and the need for only a few tools make it convenient for installers to work under desks and in other tight spaces. "Quick-connects can practically be installed hanging upside down or lying on your back," Kraft says.
Gaining acceptance
Market acceptance for quick-connect fiber-optic connectors has not come easily. In fact, early products did not live up to the reputation for reliability established by connectors installed using traditional epoxy-based methods. The biggest obstacle for manufacturers to overcome is pistoning--having the fiber move back and forth with changes in temperature or cable tension. The result of pistoning is that a connector falls off, or its performance is degraded.
Crimp-type connectors use a mechanical method to hold the fiber in place, but vendors have their own variations. With its CrimpLok connector, for example, 3M uses a metal element to grip the glass fiber in the connector so it doesn`t move around. "It`s placed behind the ferrule so you don`t have a lot of glass in the connector to piston,"says Dan Silver, market development manager at 3M.
According to Silver, the CrimpLok also has additional mechanical support at the back end of the connector, or buffer. A plastic buffer-retention insert prevents fiber movement by gripping the buffer without crushing it when the crimp ring is crimped. Finally, the crimp ring grabs the Kevlar strands of the jacketed cable to prevent the fiber connection from breaking when the cable is pulled.
"We`re sensitive to some market opinions that crimp-type connectors don`t hold up like epoxy-type connectors," says Silver, who believes there is still a need to educate both installers and customers on the reliability of quick-connect products.
AMP`s LightCrimp connectors were also designed to meet long-term performance specifications, as well as eliminate pistoning and fiber protrusion and the subsequent damage they can cause, says AMP`s Peppler. The LightCrimp crimping mechanism clamps on both the buffer and the bare fiber in one motion. "We`re concerned about some public perceptions that epoxyless connectors aren`t as good as those that use epoxy," Peppler says.
To allay those fears, AMP`s connector crimps to the fiber and cable at four different points: on the bare glass fiber, the buffer around the fiber, the cable strength members and the cable jacket.
AMP finds that the best way to convince people that epoxyless connector technology works is to let them try it. When they see the performance of these products, they`re usually convinced.
Users currently pay a 10% premium for epoxyless connectors compared to traditional products, but the cost differential is more than made up for in labor savings. Users save 8 to 28 minutes with epoxyless connectors, according to Peppler.
Automatic Tool`s Quick Term and Quick Term 2 products use mechanical methods similar to those of 3M and AMP to achieve a secure, epoxyless fiber-optic connection.
Manufacturers of quick-connect products that require polishing boast that epoxyless connectors reduce polishing time to minutes because there is no epoxy to remove from the glass during the polishing process.
Pushing the benefits of field-installable fiber-optic connectors a step further, Nordx/CDT and Siecor offer products that eliminate the need for polishing entirely. This is because the manufacturers polish the fiber and preinstall it in the connector. "We`ve cut installation time down to a minute," says Richard Plamondon, product manager for fiber products at Nordx/CDT.
To install the OptiMax connector, the installer strips and cleaves the fiber, inserts it into the connector, pulls a wire that activates a plunger and then crimps on the 900-micron buffer. The OptiMax multimode ST-compatible connector incorporates a prepolished fiber stub and a splice mechanism.
Siecor`s line of singlemode and multimode UniCam connectors, introduced this past January, replaces the company`s previous CamLite connector line. Like its predecessor, the UniCam is a no-epoxy, no-polish, field-installable connector. "The UniCam is intended to lower the cost of fiber-to-the-desktop," says Jetta Pyatt, product manager at Siecor.
Siecor`s splicing technology utilizes a universal workstation splicing tool based on a rotating cam action. Installers can, therefore, use one tool for a variety of connector types, such as ST, SC or FC. Previously, companies had to buy a different tool for each connector-interface type.
Connector costs
The cost of these Siecor connectors tends to be higher than that of competitors` quick-connect products--about $9.50 each, compared to $4 to $6 from other manufacturers. However, the universal splicing tool and the reduced labor cost make the UniCam a competitive product, according to Siecor. "Our cost argument is technology," says Pyatt. "Other vendors don`t protect the fiber inside the connector; it`s bare. We bond and protect the fiber in our connectors with epoxy at the factory."
Factory preinstallation is what the UniCam is all about. Best described as a mini-pigtail, it incorporates a fiber stub that is fully bonded into the ferrule. The other end is cleaved and placed into the alignment mechanism of the mechanical splice section of the universal tool. The technician then cleans, cleaves and inserts the field fiber into the mechanical splice. A small installation tool is used to complete the connection in less than one minute.
Betty Dean, president of Tricom International Cabling Corp. (TICC, Springfield, VA), is a big fan of Automated Tool`s Terminator products, which require no epoxy or polishing. "In our business, time is money, and in order to be supercompetitive you have to reduce labor time to reduce costs," she says. The Terminator helps her do that.
Using the Terminator is easy, adds Al Chaiken, president of Automated Tool. You just strip, crimp and cleave. Although the Terminator does not require mixing epoxy or curing, the product does come with a preloaded syringe that is used to apply a small amount of adhesive to the fiber near the buffer.
Dean likes these connectors because they have a stainless-steel body and are very durable. The ferrule is made of zirconia ceramic. Chaiken says that the connector is compatible with all 900- and 250-micron buffer cables. Also, the Terminator offers low loss without factory or field polishing. The loss averages 0.35 dB, with a maximum of 0.6 dB.
Installers are advised to keep an eye on a proposed fiber-optic connector standard, 47500AB, which will define connector requirements for any type of fiber-optic connector used in local area networks. The proposed specification is currently being written by the Telecommunications Industry Association (Arlington, VA).
Manufacturers offer quick-connect toolkits at varying prices. Plamondon says that Nordx/CDT`s toolkit provides a low-cost entry into the quick-connect arena for installers. The OptiMax toolkit is priced at $539, almost half the cost of other quick-connect toolkits, which sell for $1000 or more. The Terminator toolkit is priced at $1500, for example.
It is important, however, to look at the big picture when evaluating the cost of quick-connect products. Depending on what kind of product is being evaluated--one that requires polishing or one that doesn`t, for example--various costs can be eliminated when compared to traditional epoxy connectors. For instance, the cost of consumables drops as the need for epoxy, curing equipment and polishing paper is eliminated.
Furthermore, training time can also be reduced. Manufacturers may provide cable installers with a training video on their fiber-optic connectors, which they claim is all most people need to get started. However, most will also provide individual or group training to installation firms that ask for it. 3M, for instance, offers a one-week course, which is presented monthly for companies that are just getting into fiber optics.
The greatest educational task facing both manufacturers of quick-connect fiber-optic connectors and installers who use them, though, is raising the level of awareness among consumers. Optical fiber has come a long way in just the past few years. It is now a mainstream technology, and its products continue to evolve, making optical fiber as easy to install, service and maintain as copper wire. q
Lynn Haber is a freelance writer based in Norwell, MA.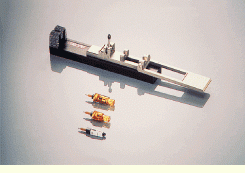 Click here to enlarge image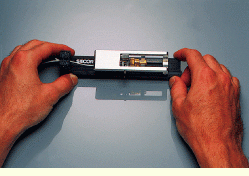 Click here to enlarge image
UniCam quick-connect fiber-optic connectors from Siecor Corp. (Hickory, NC) require no epoxy and no polishing. They are attached using a universal splicing tool that can be used on SC, ST and FC connector types.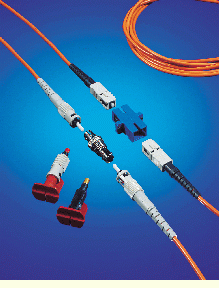 Click here to enlarge image
CrimpLok SC and ST bayonet connectors from 3M Telecom Systems Div. (Austin, TX) feature a malleable metal element for gripping.