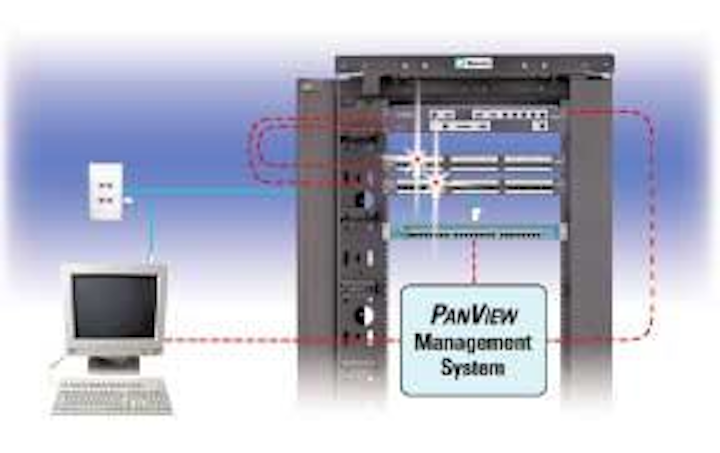 The concept of "intelligent" patching systems that provide users with vision into—and management capability of—patching fields is not brand new. Yet while the concept has been around for several years, many of the intelligent-patching systems available from very recognizable vendors of cabling products are fairly new.
Eight intelligent systems are available, and those can be broken down into three groups, based on the hardware and software from which they are made. One group includes the PatchView system from RiT Technologies (www.rittech.com) and PANView system from Panduit (www.panduit.com). RiT's PatchView system was the original intelligent patching solution, introduced in the late 1990s. Panduit's PANView system, which incorporates the technology found in PatchView, was introduced early last year.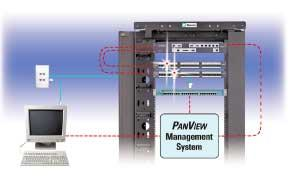 The components of Panduit's intelligent patching system are, from top to bottom inside the rack: scanning hardware, enabled patch panels and cords, and a network switch (not part of the PanView system).
Click here to enlarge image
Five vendors—ITT Network Systems & Services (www.ittnss.com), Molex Premise Networks (www.molexpn.com), NORDX/CDT (www.nordx.com), Ortronics (www.ortronics.com), and Tyco Electronics/AMP Netconnect (www.ampnetconnect.com)—each offer an intelligent patching system that incorporates its own connectivity hardware as well as hardware and software from iTRACS Corporation (www.itracs.com). Of these, ITT's LANSense was the first to market, introduced in January 2001.
The iPatch system from Avaya (www.avaya.com) is essentially its own "group" of intelligent patching systems. That is to say the specific technologies, including software capabilities, found in iPatch are unique to that system and are not found in another intelligent-patching solution. The iPatch system debuted in April 2001.
Similar, but different
All eight systems on the market accomplish similar results but have their unique attributes as well. For example, all use a combination of hardware and software to track and document connectivity within telecom rooms. As such, they streamline cable-management practices and make a compelling case for long-term cost-effectiveness as an administration tool. Each system includes similar components: patch panels with sensors to determine connectivity or lack thereof, scanners that collect connectivity data, and database software that automatically updates connectivity status.
The differences among the three system types exist in both functionality and component characteristics. Some systems offer management for both copper and optical-fiber connections, while others offer it for copper only. Most systems require the use of proprietary patch cords, but Avaya's iPatch accepts any standard-compliant cord.
And the intricacies of each system's software package distinguish one from another.
"Version 3.0 of the software system was recently released," says Mike Zaida, Panduit's PanView product line business-development manager. "The new version allows for total system management via the Web. The graphical-user interface was made more intuitive with drop-down features. The new-version software includes AutoCAD capabilities and Voice-over-IP phone recognition."
Avaya's iPatch product manager, George Brooks, explains similar and different features about his company's product: "Since iPatch was first introduced in April 2001, one of the first enhancements made was to change the database from a standalone product to a client-server product. The database architecture installs on a server and the user interface is on the client, which allows for multiple users of the database."
Brooks notes also that iPatch integrates CAD capabilities, including AutoCAD, into its software, and that imported CAD objects are relational elements within the database. "This system was not built on a cable-management software package," he says. "It improves the traditional cable-management functionality, and includes functions that users need."
According to Brett Miller, product manager for Ortronics' iTRACS-Ready system, "The iTRACS software is really what sells the system. Among the real hot-button characteristics is the ability to track and document connectivity. Along those lines is the issue of security; the system's ability to take a picture of an individual making a change in a telecom room is popular with users."

With NORDX/CDT's 48-port IntelliMAC patch panel, the sensor at the top of each port detects connections to and disconnections from the network.
Click here to enlarge image
"The software is customizable," adds NORDX/CDT's Andre Mouton. "Many users' particular requests of the [IntelliMAC] system can be achieved."
Some of the software capabilities just described are enhancements to the systems' original versions. Many systems have also seen hardware improvements since being on the market.
Updates and enhancements
As of May, iPatch includes fiber as well as copper connectivity. Panduit's Zaida notes that the PanView system will include optical-fiber capability before the end of the year. ITT's LANSense, Molex's Real Time, and Tyco Electronics' AMPTrac systems all include fiber, and both NORDX/CDT and Ortronics are considering launching fiber systems.
Other improvements to some systems' original releases help make them integrated components of overall network-management systems. As Panduit's Zaida explains, his system's ability to interface with HP OpenView brings network management to the physical layer, where it hasn't been before. "Our OpenView interoperation module allows all those comfortable with OpenView to continue using that system, with PanView underneath," he says. PanView also operates with other network-management platforms, including Cisco Information Center and MicroMuse's NetCool.
Avaya's Brooks adds, "With SNMP systems like OpenView, if connectivity is disconnected in the TR, the user cannot tell. The connection between our iPatch system and OpenView gives the user a full view of the physical layer."
Who's using?
With such far-reaching capabilities, and a price tag that sets it apart from the other connectivity systems in its providers' cadre of products, the intelligent patching system often is viewed as a niche product that appeals to a limited pool of potential users. Some system providers see it that way but others do not.
"The PanView system appeals to all our market segments," says Jennifer Pasek, marketing manager with Panduit. "Networks are becoming more mission-critical everywhere. Certain segments, including financial, health care, service providers, and government users have shown the most interest in the system."
"There are four major benefits that customers will receive from implementing the [IntelliMAC] solution," says NORDX/CDT's Mouton. "They are: added security, real-time and accurate MAC management, asset management, and a reduction in operational overhead cost.
"Security is important in businesses where network security is critical and where security is perceived as questionable, such as government agencies and banking," Mouton adds. "MACs management is appreciated in businesses where such moves are expensive and documentation difficult to maintain; again, government agencies and banking could apply here. Asset management is critical and in itself could justify return-on-investment on any really large installation."
"Large pharmaceuticals have been clamoring for these types of systems," notes Ortronics' Miller. "That industry has been a boom for our iTRACS-Ready system."
Rob MacIntosh, RealTime program manager with Molex Premise Networks, says there is a simpler way to look at it: "If you have more than 250 users, and you take network documentation seriously, then you need RealTime or a similar product."
Going back to the three "types" of intelligent patching systems, each one can claim a position of strength in this market. The system offered by RiT and Panduit is the original, has been deployed for years, and has had the opportunity to improve upon its original iteration based on real-life deployment over time. Avaya's iPatch system is, at the same time, a full hardware and software solution from a single-source yet open architecture in that the patch cords are not proprietary—users can plug in any standard-compliant cord. And the "strength in numbers" adage can apply to the five providers of systems that include iTRACS components as the added intelligence.
Do not be surprised if the six companies combine on an educational and marketing campaign that puts intelligent patching systems in front of you more than you have experienced in the past. Their goal is to change awareness of these systems into acceptance, so that when you are deciding the best way to manage your cabling plant, intelligent patching systems will get strong consideration.
Table of intelligent patching systems, [below].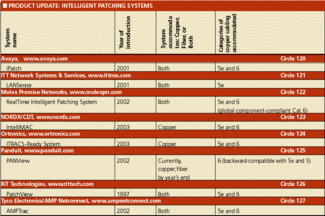 Click here to enlarge image
Patrick McLaughlin is chief editor of Cabling Installation & Maintenance.