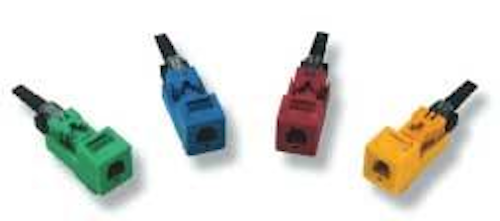 Five years ago, following the EIA/TIA decision to not establish a standard small-form-factor (SFF) connector, manufacturers campaigned to position their product for deployment in the marketplace. Six styles of SFF connectors penetrated the market, allowing end users to choose the connector best suited for their needs and obtain higher cabling densities for space and cost savings.
So, where are SFF connectors now in terms of technology, performance, and market acceptance?
"It takes two to seven years from the time a technology is introduced to the time it's widely accepted," says Herb Congdon, fiber product manager with Tyco Electronics/AMP Netconnect (www.ampnetconnect.com). "Today, more electronics are manufactured with SFF ports, and I believe the market is on the cusp of taking off." While some have gained greater market acceptance than others, the original six styles—MT-RJ, LC, VF-45, Opti-Jack, LX.5, and SCDC—are all still available, with some additions making their way onto the scene (see table, click here).
Leaders of the pack
Based on single 1.25-mm ferrule technology, Avaya's (formerly Lucent Technologies; www.avaya.com) LC connector has gained considerable market acceptance. The LC maintains an average insertion loss of 0.1 dB and standard deviation of 0.1 dB, which Avaya says makes the LC the best performing among SFF connectors. "Standard deviation is important to overall system performance. With the potential for future reconfigurations, it's imperative to have a connector that is low loss and stays low loss, regardless of what it's mated to," says Simon Cowley, Avaya's technical manager for optical-fiber apparatus. He adds that having independently polished and aligned ceramic ferrules "guarantees optimum performance, reduced crosstalk, and inherently tighter tolerances. As we move towards higher speeds and smaller link margins, performance becomes even more significant, and already 10-Gigabit transceiver vendors are including LC versions."
Four years ago, AMP Netconnect granted 17 licenses for the manufacturing of their original MT-RJ connector design. Today, that number has grown to more than 30. "The MT-RJ's success stems from the work of the original alliance, which brought all the players together to address entire end-to-end needs," says Congdon. The MT-RJ's market acceptance, he says, has also been a result of its 8-pin modular-like feel and nonproprietary design. "Having several licensees generates availability and competition to drive down cost and drive up efforts to improve the product," says Congdon.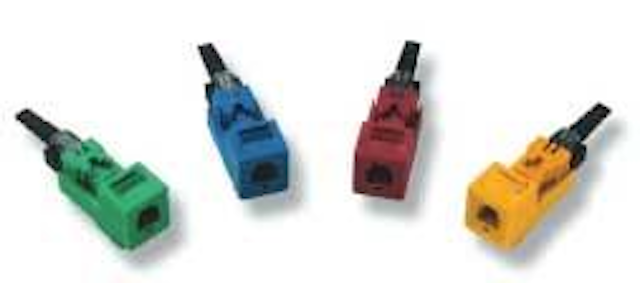 Tyco Electronics/AMP Netconnect's keyed MT-RJ jacks and connectors help prevent unintentional insertion into segregated ports in security-level networks.
Click here to enlarge image
null
The MT-RJ features two fibers inside a single polymer ferrule, which is based on the multi-fiber MT connector developed in Japan. "The MT-RJ's performance has vastly improved as a result of licensees becoming more familiar with the flat polishing processes, and gaining access to optimized materials, procedures, and measurement techniques," says Congdon. AMP Netconnect now offers secure keyed MT-RJ connectors and, according to Congdon, development of an MT-RJ singlemode connector is in the works for many licensees.
Corning Cable Systems (www.corning.com/cablesystems) offers both LC and MT-RJ connectors. "The connector battle is ending and the industry appears to be settling on the MT-RJ and LC, despite standards leaving the door open for all SFF connectors," says David Hall, Corning's manager of plans and systems for private networks.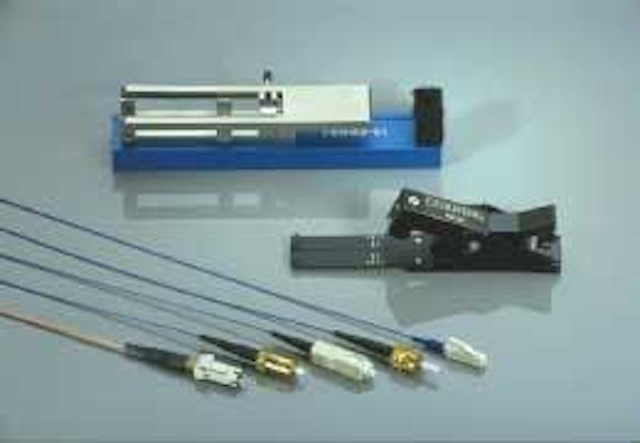 Corning Cable System's UniCam quick termination field-installable MT-RJ and LC connectors require no epoxy or polishing.
Click here to enlarge image
null
Corning's latest achievements include the deployment of the first singlemode MT-RJ, and UniCam quick termination versions of both the LC and MT-RJ, which they claim offer the fastest termination time in the industry. "The UniCam connectors require no epoxy or polishing," explains Kevin Morgan, Corning's optical-fiber joining point product line manager. "Users simply strip, cleave the field fiber, and push it into the connector for a quick and easy termination."
Aiming for the horizontal
Some proprietary SFF connectors have gained the most acceptance in fiber-to-the-desk applications and whole-system solutions, such as 3M's Volition Network Solutions (www.3M.com), which employs the VF-45 connector style. "The VF-45 is most successful where end users want a horizontal fiber system, but it can be used in backbone applications as well," says Dave Cook, 3M's marketing manager. According to Cook, one of the biggest breakthroughs has been reducing the cost of a VF-45 network interface card (NIC) to below $100. Five years ago, most ST and SC-style NICs carried a price tag nearly four times higher.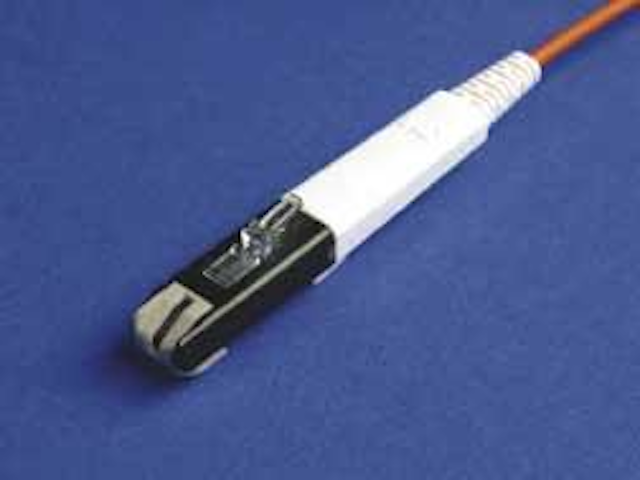 3M's Volition Network Solutions utilizes the VF-45 connector style and features a no-ferrule design.
Click here to enlarge image
null
Approximately half the size of a duplex SC-type connector, the VF-45 is a no-ferrule design that uses "v-grooves" to align the fibers. Says Cook, "We've made several improvements, such as updating our tool kit to make VF-45 even easier to install, and we're continuing to improve attenuation performance that exceeds industry standards." In addition to hybrid patch cords, 3M recently introduced a VF-45 field-mountable plug designed to allow for quick terminations at consolidation points. Six color-coded keyed VF-45 designs are also available for security-level networks.
Another connector suited for fiber-to-the-desk is Panduit's (www.panduit.com) Opti-Jack FJ, featuring two independent 2.5-mm ceramic ferrules configured similar to an 8-pin modular connector. "The Opti-Jack provides end users with a familiar interface, designed to thrive in an office environment where sliding file cabinets and snagged equipment cords are a frequent occurrence," says Greg Kuffel, Panduit's product line manager. All Opti-Jack FJ modules snap into Panduit's Mini-Com faceplates, surface-mount boxes, and patch panels.
The public domain
The original LX.5, introduced in 1998 by ADC (www.adc.com), is available in angle-polish connector and ultra-polish designs. Based on a single-ferrule design, the LX.5 was originally aimed at solving fiber density issues while reaching higher performance standards for the singlemode public telco market.
"The performance of the LX.5 five years ago compared to today's LX.5 is like day and night," says Hutch Coburn, project manager for fiber cable assemblies. "We invested a significant amount of money into development and manufacturing, and the result is a product that meets high specification requirements in environmental performance, insertion loss, and geometry." Late last year, ADC introduced the LX.5 termination kit for the ultra-polished LX.5, compatible for both multimode and singlemode applications.
Diamond USA (www.diamond-fo.com) offers a compact E-2000 duplex connector and F-3000 SFF connector. Only slightly larger than a duplex LC, the compact duplex E-2000 combines the familiarity of the 8-pin modular design and performance of 2.5-mm single ferrule technology. The F-3000, introduced in 2001, fits into an LC mating adapter and is based on 1.25-mm ferrule technology. "The F-3000 is targeted mainly to the singlemode public telco market, where a high performance, quality connector is required," says Roland Muller, general manager for Diamond USA.
"The ceramic ferrule on our connectors includes a metal insert that allows us to actively position the fiber core into the very center of the ferrule for a more accurate alignment," says Muller. This year, Diamond is approaching the enterprise market with its connectors, aiming mainly for fiber-to-the-desk applications.
Moving forward
Most of those interviewed by CI&M agree that the slow economy has affected the SFF connector's market penetration. "The next step is to get the economy rolling again so people start spending on their networks, and when they do, I think they'll look to SFF connectors," says Congdon, AMP Netconnect.
In a slower economy, connector manufacturers focus more on driving down prices, which may give abundantly available SFFs an advantage over others. "The market share is held by the MT-RJ and LC, and the goal now will be to make them as inexpensive as possible," says Corning's Hall. "If we can make them simple, economical, and quick to install, it will help to move them further into the horizontal so that everybody wins."
Click here to download "Product Update: Small-Form-Factor Optical-Fiber Connectors" table.
Betsy Ziobron is a freelance writer covering the cabling industry.