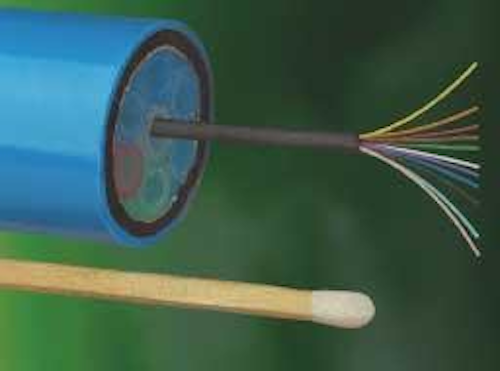 Compiled by Brian Milligan
OFS (www.ofsoptics.com) has signed a license agreement with BTexact Technologies (www.labs.bt.com)—an advanced research and technology business of British Telecommunications—allowing the optical-fiber product manufacturer to use BTexact's blown fiber technology in its fiber-to-the-x solutions. Fiber- to-the-x refers to fiber to homes, businesses and multiple dwelling units, including those in previously hard-to-reach areas.
"This is an improved cost and technology solution that will help speed the deployment of fiber-to-the-home," says Paul Neuhart, president of OFS Optical Cable Division for OFS, based in Norcross, GA.
The blown fiber technique, in which contractors install a cable and then use compressed air to blow fiber through it, is designed to reduce the cost and increase the reliability of installing optical fiber in duct networks. OFS will use the technology in its fiber-to-the-home solution, the Access Advantage System. The solution is designed to enable economical optical connectivity to all aspects of the fiber-to-the-home market.
OFS will also use BTexact's technology in other solutions. Neuhart says BTexact has a wide portfolio of technologies that it will investigate, and that its pairing with the Access Advantage System is only the beginning.
Through the agreement, OFS will pair BTexact's blown fiber technology with OFS' optical fiber and cable product. OFS representatives say they have used this approach to lower optical-fiber deployment costs related to fiber-to-the-x builds. Blown fiber is extremely small, measuring only a couple of millimeters in diameter. The fiber can be blown in quickly, reducing installation times and costs.
OFS considers Europe to be a significant market for this application, and Neuhart says OFS has also been working on new technology for this process in Greenland. It plans to introduce its new product to North America in the coming months.
Neuhart adds that the BTexact technology, coupled with OFS' fiber and micro cable capabilities, will help OFS make inroads in a market that must overcome cost challenges: "Fiber-to-the-home is growing dramatically in North America. It is still in its infancy, but now is the time for us to get the convergence going."
"It will allow you to install fiber in places where traditional techniques might not allow you to do it," says Laura Huffman, OFS senior manager of optical cable product management. "This is especially true if you look in the more crowded urban areas where you can't take advantage of rights of way and get your fiber in there."
OFS' XpressTube blown fiber unit can be deployed in inexpensive duct networks, eliminating invasive and disruptive excavation costs.
Click here to enlarge image
null