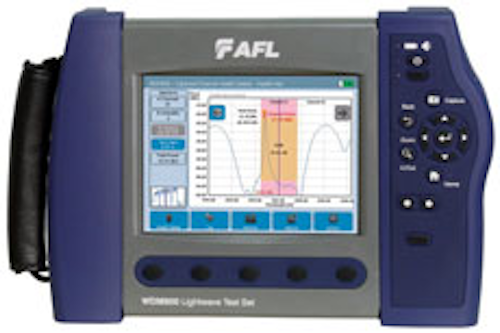 From the November, 2013 Issue of Cabling Installation & Maintenance Magazine
Compiled by Matt Vincent
DWDM test set simplifies cell backhaul, metro access network deployments
AFL has introduced its WDM900 Lightwave Test Set, designed to provide sophisticated performance analysis combined with ease-of-use to the rapidly growing DWDM fiber test space. "Cell backhaul and metro-Ethernet access networks are rapidly transitioning to DWDM technology," contends Bill Thompson, senior product marketing manager for AFL's test equipment division. "Network managers are learning that the tools available to them today, complex, delicate, high-cost optical spectrum analyzers and overly-simplified channel checkers, do not meet their needs. Unlike legacy optical spectrum analyzers, the WDM900 requires minimal training."
Designed to operate in both outside plant (OSP) and central office conditions, the WDM900 employs a solid state, no-moving-parts design and resists vibration, mechanical shock, temperature and humidity changes that often damage or disable other WDM analysis systems, says the company. Equipped with the patent-pending AFL Health Meter capability, the WDM900 enables users to find, analyze, document and report issues related to Optical Signal-to-Noise (OSNR), wavelength drift and channel power. AFL's Health Meter display validates each DWDM channel against user-defined pass/fail criteria and immediately tells the user the health of their network. With a single touch, the technician can identify measurement details to confirm the exact issue.
"The WDM900 combines integrated photonics technology with an advanced AFL Health Meter display on a proven product platform to deliver the power of an OSA with the speed, economic value and the ruggedness of a channel checker," concludes AFL's Thompson. "Designed for ease-of-use from the ground up, the WDM900 allows first-time users to find and document OSNR, wavelength drift and channel power-related issues across their entire network in less than a minute. The user can then generate a comprehensive report onboard the unit which can be easily shared."
CommScope adds Systimax cabling production at Goa, India plant
To meet growing demand for network infrastructure solutions in the Asia-Pacific region, CommScope has unveiled expanded production capabilities at its Goa, India facility, to include the company's high-performance Systimax cabling. Goa is a prominent location in CommScope's global manufacturing and distribution network, and the plant's strong manufacturing team and operational excellence are expected to provide benefits for business enterprise customers in India and throughout the region. "Manufacturing locally offers a higher service level to the India market and therefore can benefit customers through quicker availability and reduced logistics costs," explains David Gilmore, vice president of Global Enterprise Operations, CommScope.
Opened in 1998, the 25,800-square meter Goa facility currently manufactures antenna and transmission cable products for CommScope's wireless business under the Andrew brand. It also includes an integrated warehouse, distribution and customer support center. For the first time, the facility will now produce CommScope's Systimax copper cabling, panels and patch cords for its enterprise customers in India. The company also plans to begin manufacturing its Uniprise cabling at the Goa facility. Gilmore adds, "As an industry leader in both wireless RF solutions and enterprise intelligent building and data center solutions, we are proud to expand our capabilities in India and provide a local source to address the growing demand for innovative network infrastructure."
Another feature included in the Goa facility expansion is a customer briefing center comprising a demonstration area, meeting space and educational vignettes featuring CommScope's network infrastructure solutions. "We have a history of manufacturing leadership with RF solutions in India, and are excited to add enterprise cabling production to these capabilities," concludes CommScope's Gilmore. "The Goa expansion is testament to our commitment to provide customers with the highest quality products and services."
AIS's PoE touchscreen panel PCs to enable hospital digital signage, patient monitoring
Hill-Rom, a provider of medical technologies and related services for the health care industry, has selected American Industrial Systems (AIS), a specialist in HMI [human machine interface] and digital signage display technologies, to supply its Power over Ethernet (PoE) touch panel mount PCs for hospital electronic signage solutions outside patient rooms.
Hill-Rom's electronic signage solution utilizes the AIS 10.1-inch touch screen panel PC computers for displaying digital messaging outside a hospital patient room, and can help eliminate the need for paper signage that can be outdated and incorrect. The messaging can be updated manually or automatically, pulling from an HL7 feed. Messages can be personalized to the patient's condition, to some extent. Some examples include information manually entered as patient notes, charted information, issued orders, documented allergies and messages for visitors.
AIS notes that its touch panel PCs are extremely flexible thanks to an open platform design. Utilizing an operating system of their choice, healthcare users and medical device companies can deploy an HMI solution that fits their unique and exact software programming requirements. In addition to their flexibility, AIS touch panel HMIs offer a host of PC-related features, including Windows-based, integrated CPU, RAM, data storage, USB, RS232, RS422/485 and Ethernet ports.
Featuring a 10.1-inch industrial-grade LCD flat panel with resistive touch screen technology, and a NEMA 4 IP65 ingress protection rating front bezel designed for HMI display and visualization solutions, the displays also simplify operator control and monitoring systems in PLC, HMI and SCADA industrial applications. Housed in a rugged, all-steel construction-designed enclosure also suitable for harsh industrial environments, the AIS PoE touch screen supports panel, wall and VESA mounting.
"The open platform design of our touch screen panel PCs delivers unmatched flexibility and performance for healthcare digital signage and patient display and monitoring applications," comments Nelson Tsay, president of AIS.
8-bay 1U rack-mount NAS enables 32 TB cloud-accessible storage for SMBs
Seagate Technology has introduced its Business Storage line of network attached storage (NAS) drives for data center infrastructure in 8-bay and 4-bay 1U rack-mount form factors. The new drives deliver centralized backup, data protection and remote access to critical information for small and medium-sized business organizations (SMBs) in capacities ranging from 4 to 32 terabytes. For business collaboration and data protection, the Seagate says the new 1U rack-mount drives blend cloud integration and security, providing the performance needed for businesses to support multiple simultaneous connections and enable everyone within an organization to easily backup and share files. The company asserts that its NAS HDD drives provide the best-performing high-capacity storage for NAS servers.
The 8-bay NAS boasts enterprise-class hardware inside and out, making it suitable for businesses demanding a higher level of file transfer performance for up to 250 employees. Powered by Seagate's NAS OS and featuring an Intel 2.3GHz dual core processor, the design of the 8-bay rack-mount features eight 3.5-inch Enterprise Capacity (formerly Constellation ES.3) drives that are hot-swappable for easy storage upgrades and maintenance. The system showcases an advanced fan design for effective cooling and simple serviceability. Additionally, redundant, swappable power supplies and dual Gigabit Ethernet connections are featured.
Designed for companies of up to 100 employees, the 4-bay rack-mount NAS provides high-performance storage capacity featuring customized error recovery controls, specialized power management, and vibration tolerance for optimum performance and reliability. With a 2.13-GHz dual-core Intel Atom processor coupled with 2GB of RAM, the 4-bay rack-mount NAS delivers impressive file transfer performance for this category of storage, claims Seagate. Built-in support for iSCSI enables maximum performance and compatibility for virtualized environments.
Designed to backup all Windows and Mac computers within a network to a single centralized location, the new NAS devices are compatible with backup software for Windows PC, and with Apple's Time Machine software for Mac OS X computers. Additionally, the 8-bay and 4-bay rack-mount NAS drives feature the new Seagate NAS OS, which has been redesigned to deliver superior performance along with a clean, intuitive web-based dashboard for managing the server remotely. Remote access is delivered via the integrated Wuala cloud service and business-focused apps for PC, Mac, smartphone and tablet. The free Wuala app automatically syncs files and make them accessible from mobile devices such as iPhones, iPads, and Android devices. Because the files are encrypted and transferred directly from the NAS to the recipients, business-critical files remain private and secure.
The 8-bay 1U rack-mount NAS is available from CDW and other resellers for MSRPs ranging from $2999.99 for the 8-terabyte model to $5999.99 for the 32-terabyte model. The 4-bay 1U rack-mount NAS will be available at the same retail outlets; the rack-mount unit itself will be available without drives for $999.99 MSRP. The lowest capacity 4-terabyte model will retail at an MSRP of $1299.99, and at $2499.99 for the 16-terabyte model.
Linksys debuts dual-core processor 802.11ac wireless router
At the recent consumer electronics mega-show IFA 2013 in Berlin (Sep. 5-10), Linksys introduced the new top model in its Smart WiFi router product line. Leveraging an 800-MHz dual-core processor for maximum performance, the Linksys Smart WiFi AC1900 router (EA6900) supports speeds up to 600 Mbits/sec for 802.11n clients, and up to 1300 Mbits/sec for 802.11ac clients. It also supports USB 3.0 connectivity for storage media to be shared on the home network.
Four Gigabit Ethernet ports enable wired networking. Three removable external dipole antennae enable maximum wireless flexibility with wireless-AC clients to achieve maximum performance for game consoles, smart TVs, and/or desktop computers. The Linksys Smart WiFi routers also incorporate beamforming technology, designed to precisely adjust, steer and monitor the direction and shape of the WiFi signals for better performance. Beamforming helps to deliver better network range and faster WiFi speeds in the home.
The new Smart WiFi Router can be installed from most tablets, smartphones or from PC browsers. Consumers are encouraged to create a free Linksys Smart WiFi Account and download the free Linksys Smart WiFi App for iOS or Android to gain full remote access to their home networks. The app includes guest access, parental controls, and apps for home networking. Consumers simply connect to the router with their device then follow the set-up wizard to complete installation. The companion Linksys Wireless-AC USB Adapter (WUSB6300) allows consumers to upgrade notebook or desktop computers to the latest Wireless-AC standard for increased transfer speeds up to 867 Mbits/sec on the 5-GHz band and 300 Mbits/sec on the 2.4-GHz band.
The Linksys Smart WiFi Router AC1900 is available for $249 MSRP. The Linksys Wireless-AC USB Adapter is priced at $69 MSRP.
WiFi switch enhances energy control, monitoring for smart homes
Belkin has introduced its WeMo Insight Switch, designed to enhance smart homes by allowing users to control and manage the energy usage and costs of home electronics from anywhere, via use of an iOS or Android device. The newest addition to the company's WeMo smart home platform, the Insight Switch is a WiFi enabled compact plug that also allows users to put their devices on a schedule and receive notifications any time a connected unit is turned on or off. The device plugs directly into an electrical outlet; then, a user simply connects it to the home's WiFi network, downloads the free WeMo app, and instantly is able to turn any device plugged into the unit on or off using his or her iOS or Android device.
The WeMo Insight Switch allows users to put electronics on a schedule, time them according to local sunrise and sunset times, and set up notifications for device usage as well as to manage the time, energy consumption and costs of specific devices. "The evolved switch allows users to truly control and monitor as much or as little of their home as they want, from observing whether a television has been on too long or being alerted to when a laundry cycle has finished, all through their smart device, from anywhere and at any time," says Ohad Zeira, director of product management at Belkin. The device works with IFTTT, an online service that creates triggers using different Internet-based services such as email, weather and social media.
The WeMo Insight Switch (F7C029) will be available at belkin.com and major retailers in early November, priced at $59.99 USD.
Coaxial crimp lightning protectors guard WiFi installations
L-com has released two new coaxial lightning protectors designed to be crimped directly onto its 400-series low-loss coaxial cable. Optimized for reduced insertion loss, the devices feature DC to 5.8-GHz wide-band operation and are suitable for use in IEEE 802.11a/b/g/n WiFi applications. The company says that by directly crimping the lightning protectors to the cable, technicians can reduce insertion loss while providing very high-performance protection, with features such as multistrike capability, bidirectional protection, and replaceable gas discharge tubes.
"If you are worried that adding a lightning protector to a coax line will cause signal loss or restrict the cable applications, we've built a solution," says Patrick Pesa, director of product development for L-com. "These products provide the benefits of lightning protection without the side effects that can impact a system."
In addition to the crimp protectors, L-com is offering precrimped cable assemblies and the ability to create custom cable assemblies with various connector ends. The new protectors are being stocked in L-com's HyperLink fulfillment center in Boca Raton, FL, for same-day shipment. Cable assemblies can be made upon order in as little as 2 business days. Datasheets, diagrams, engineering drawings and 3D CAD models are available for free download from L-com's website.
TIA expands scopes for TR-45 and TR-41 engineering committees
The Telecommunications Industry Association (TIA) has announced notable new titles and scopes for two of its 12 standards development committees.
TIA's TR-45 Engineering Committee, formerly titled Mobile and Personal Communications Standards, is now titled Mobile and Point-to-Point Communications Standards. The committee, which addresses wireless mobile and personal communications systems, has now also taken on new work in the area of terrestrial fixed point-to-point radio communications equipment and systems. TR-45 develops standards pertaining to service information, wireless terminal equipment, wireless base station equipment, wireless switching office equipment, ancillary apparatus, auxiliary applications, internetwork and inter-system operations and interfaces.
"We're excited to take on this new project and are very pleased that work is progressing quickly in the development of these standards," comments Jane Brownley, TR-45 chair and technical manager at Alcatel-Lucent.
The TR-41 Engineering Committee, formerly titled User Premises Telecommunications Requirements, is now titled Performance and Accessibility for Communications Products. The committee has expanded its scope to go beyond "telephones" to cover all types of communications devices, however they may be connected to a communications network, and to emphasize its work on accessibility and usability issues. TR-41 standards include performance requirements related to signal transmission, environmental impacts, and interfacing to networks and other equipment. TR-41 is also a source of expert technical opinion and advice for the Federal Communications Commission (FCC) and other communications-focused government agencies.
"A tablet connected to the Internet is a lot like a speakerphone connected to the PSTN when it comes to voice transmission considerations, except the tablet may have video associated with it that needs to be synchronized with the audio," comments Steve Whitesell, TR-41 chair and president of Whitesell Consulting LLC. Whitesell adds, "We are also very energized about a new project to expand coverage of the high-gain amplified telephone standard we published last year to include VoIP phones for people with mild, moderate, or severe hearing loss."
For more information about TR-45 and TR-41 and how to participate in standards development with TIA, contact Stephanie Montgomery or Marianna Kramarikova at tiaonline.org.
Report: Software-defined networking (SDN) market worth > $3.5 billion by 2018
The interest in software-defined networking (SDN) will translate into a global market worth $3.52 billion by 2018, finds a new study by Transparency Market Research. The increasing need for efficient infrastructure and mobility, as well as the popularity of cloud services, will drive this growth, states the report. Transparency cites three main markets for SDN: enterprises, cloud services providers, and telecommunications services providers. The firm predicts SDN spending worldwide will grow at a compound annual growth rate of 61.5% from 2012 to 2018.
According to the study, enterprises represented 35% of the SDN market in 2012. However, cloud service providers are expected to be the fastest growing market segment throughout the years the report covers. Transparency says that SDN's ability to reduce opex and capex while enabling the delivery of new services will spearhead its use by cloud service providers. Cloud provisioning and orchestration products currently dominate the global SDN market, the report states. SDN switching held the second largest revenue share of the SDN market in 2012. SDN products and applications also will be used to design, optimize, secure, and monitor the network, the market research firm predicts.
North America currently is the largest market for SDN technology, thanks to a high degree of standardization and favorable regulatory initiatives. Not surprisingly, Asia-Pacific is expected to be the fastest growing region during forecast period, fueled by the increasing adoption of BYOD practices in China, India, and Australia. In this early stage, the SDN industry is fragmented, the report asserts. Multiple players have moved to address different categories including hardware providers, software developers, and service providers.
The new report, Software Defined Networking (SDN) Market - Global Industry Analysis, Size, Share, Growth, Trends, and Forecast, 2012 - 2018, segments the global SDN market into users, products (including SDN switching, SDN controllers, cloud provisioning and orchestration, and others such as security and services), and region. Transparency names Cisco, IBM, NEC, Juniper Networks, Alcatel-Lucent, VMware, HP, Google, Big Switch Networks, Arista Networks, Brocade Communications Systems, Verizon Communications and Intel as among the technology's primary players.
OFS expands bend-optimized singlemode fiber line
Responding to customer demand for tighter bends to extend fiber into buildings and living units, OFS announced that it has upgraded its singlemode bend-optimized fiber line with two new offerings, available now.
OFS' new AllWave FLEX Max fiber provides less than 0.10 dB of 1550 nm loss at a 5-mm bend radius, with performance superior to and compliant with both the ITU-T G.657.B3 and G.652.D recommendations. The company says the new fiber offers outstanding bending loss performance for demanding in-building and connectivity applications, and is fully compatible with G.652.D fibers. The new AllWave FLEX Max Fiber complements OFS' AllWave FLEX+ fiber, a 7.5-mm bend radius solution designed for general connectivity applications, and AllWave FLEX fiber, a 10-mm bend radius fiber for demanding outside plant cable installations.
Further, the company's new EZ-Bend fiber offers less than 0.20 dB of 1550 nm loss at a 2.5-mm bend radius. The fiber utilizes a patented OFS Labs design which enables tight bend loss performance billed as 3-5 times better than competitive G.657.B3 fibers. The company says that this enables the fiber to support the most demanding in-building and in-living-unit deployments using smaller diameter cords, conformed to surface contours to minimize visibility and speed installation. The company says the new EZ-Bend Fiber is superior to and compliant with G.657.B3, and fully compatible with G.652.D fibers. OFS claims it is the first fully solid-construction fiber to reliably support a 2.5-mm bend radius within a properly engineered cord or cable.
Report: 10-GbE price declines drive record data center Ethernet switch market gains
According to the most recent Data Center Switch Report from Crehan Research, in Q2 of 2013 the data center Ethernet switch market posted record revenue and shipment results. The research finds that 10 Gigabit Ethernet (10-GbE) price declines drove exceptionally strong growth in the segment, propelling the data center market's overall growth.
The report finds that 10-GbE pricing within the fixed/top-of-rack switch segment, which accounts for a majority of overall data center switch shipments, is now almost at three times that of 1-GbE. Earlier in the fall, Crehan reported that 10-GbE adoption within servers also returned to strong growth in the second quarter of 2013, with shipments and revenues posting double-digit increases.
"Offering ten times the bandwidth for only three times the price of 1-GbE is a key threshold for 10-GbE data center Ethernet switch adoption," contends Seamus Crehan, president of Crehan Research. "This type of pricing should finally drive mainstream 10-GbE data center switch adoption."
Also in the quarter, in line with a strong quarter for data center networking investment, the market for Fibre Channel switching also enjoyed a sequential increase, albeit much more modest than that of the data center Ethernet switch market, says Crehan. With its recently introduced flagship MDS 9700 Director switch driving close to a 40% increase in its overall Fibre Channel switch revenues, Cisco had a particularly strong quarter, reveals the report.
Corning developing multimode assembly for 300-meter 1.6-Terabit transmission
Corning Inc. recently introduced a new multimode fiber and connector technology that has been developed for Intel Corporation, to support Intel's upcoming Intel Silicon Photonics Technology (SPT) products. In a release announcing the technology developments, Corning said, "The resulting combination of the Intel and Corning technologies is expected to help send massive amounts of data--up to 1.6 Terabits per second--at lengths up to 300 meters into and around servers in data centers." The 1.6-Tbit figure comes from the technology's ability to support 64-fiber connectivity with each fiber carrying 25G.
The new multimode fiber, of which developmental samples are currently available, is called Corning ClearCurve LX Multimode Fiber. It is designed to enable 25G transmission at 1310 nm, which is the wavelength used in silicon photonic systems, Corning says. The multimode fiber is bend-insensitive, the company adds. Additionally, Corning has developed the MXC Connector, which will provide up to 64-fiber connectivity "in a smaller footprint and at a lower cost than most traditional multifiber connectors," Corning said. When configured with 64 fibers, this solution is designed to deliver data rates up to 1.6 Terabits per second.
The fiber and connector will be offered as a complete product, called the Pretium Edge SiPh Cable Assembly, when Intel Silicon Photonics components are available.
A document titled "Just the Technical Facts" is available from Corning, which details some practical applications of the SiPh Cable Assembly. That document says, "The Pretium Edge SiPh Cable Assembly will be available in low fiber counts (8, 16 and 24) in the first half of 2014 and will later be available in 32 and 64 fiber counts." The document also says Corning recommends using the assembly "for downlink switch-to-server connectivity … Corning continues to recommend structured cabling designed for the data center and MTP connectivity for structured cabling backbones, interconnects and crossconnects. The MXC connector style used by the Pretium Edge SiPh Cable Assembly was designed for interfacing with electronics."
Elsewhere, the document explains the difference between the MXC connector and an MPO-style connector such as the MTP brand connector used in other Corning assemblies. "The MXC connector uses lenses to expand the light emitting from the fiber endfaces," it says. "This light beam is then transmitted through an air gap to the mating fiber. In contrast, traditional MPO connectors like the MTP connector rely on physical contact of mating fiber endfaces."
Accordingly, Corning says, the expanded beam lenses used in the MXC make the connector "less susceptible to optical failure due to debris on the fiber endface. This can provide critical reliability, particularly in areas of the network where connectors are moved and changed frequently, such as the electronics."
Survey: Most heavy data center equipment is manually lifted
ServerLift, a company that provides equipment used to lift and move heavy data center equipment, recently reported the results of an anonymous survey it conducted "at a large tech trade show," the company said. "The participants were not asked for any personal information to encourage honesty and minimize bias, so we could offer the most accurate data center trend analysis," ServerLift explained on its website.
Through survey responses, the company was able to compare the method respondents use to move equipment and the average weight of the rack-mounted equipment being installed. Of 249 respondents, 225 of them (90.3 percent) indicated they install rack-mounted equipment that weighs more than 50 pounds. Of that group, 86.1 percent use manual lifting to move and install their rack-mounted equipment; 6 percent use a generic warehouse lift to move and install their rack-mounted equipment, and nearly 8 percent (7.87 percent to be precise) use equipment from ServerLift to move and install their rack-mounted equipment.
When reporting these results, ServerLift cited an OSHA document as support for the use of equipment like its own to move heavy objects, in data centers or any other work environment. The company noted that OSHA's Technical Lifting Manual recommends using "mechanical means to avoid injury when lifting equipment heavier than 50 pounds." According to OSHA, "manual materials handling is the principle source of compensable injury in the American work force." Four out of five of these injuries affect the lower back, with most back injuries occurring as a direct result of improper lifting techniques, and lifting loads that are too heavy for the back to support, said ServerLift in its report.
The study is available online at: http://www.serverlift.com/tech-lift/2013-data-center-trends-3.
FTTA system combines power, fiber in one platform
Talley now offers a fiber-plus-power system that bundles all signal and power cabling elements required for installing a functional FTTA system into a single enclosure. Developed for remote radio applications in cooperation with FiberSource Inc. and Conec, the rugged Fiber+Power-to-the-Antenna system (FTTA+Power System) may save contractors significant installation time and money, contends Talley, maximizing the integrity of installations by relying on robust components to maximize uptime while minimizing maintenance and repair costs.
According to the distributor, the system not only features robust OSP fiber cables 3x thicker than normally specified fiber cables, but also an efficient fiber-plus-power distribution cabinet from FiberSource and IP67-rated connectors from Conec, all specifically designed for applications involving environmental conditions relative to cell towers. Using a NEMA 4X-rated fiber + power distribution box and application-specific connectors, the FTTA system is built for harsh conditions. The system connects incoming tower trunk fiber and DC power cables to individual ODVA 2 or optional ODC-compatible, fiber output radiohead feeder cables and DC power cables. The fiber-plus-power distribution enclosure is typically mounted at the top and bottom of a tower or on a rooftop at the sector frames and H-frame. These enclosures can feed up to 24 radioheads.
Compatible with existing tower architecture, and available from Talley in a "one-stop shop package" to help customers easily design and connect the whole tower from conception, through installation to operation, the Fiber+Power-to-the-Antenna system is designed for maximum efficiency for installing technicians, says the distributor. With plug-and-play assembly input cables that install directly to the box, thus avoiding the need to access the distribution box interior, the system can be installed in a single day, claims the distributor, compared to a three-day installation using competing products.
"The Fiber+Power-to-the-Antenna system was designed to help mobile operators meet the increasing network bandwidth demands, while at the same time simplifying installation and reducing maintenance costs," says Pat Flynn, vice president of market development for Talley. "The FTTA combination fiber-plus-power distribution solution offers versatility in DC configurations, supporting terminals, breakers and surge protection with DIN rail mounting. The enclosure is smaller, lighter and easier to handle. The complete solution provides for simple sourcing of expansion and replacement components."
Molex being taken private by Koch Industries in $7.2-billion deal
Molex announced in September it has entered into an agreement with Koch Industries Inc. to go private. According to information provided by Molex, the transaction amount will total $7.2 billion. When the transaction is complete, which the companies expect to happen by the end of 2013, Molex will become a standalone subsidiary of Koch Industries. It will continue to be operated by its current management team and headquartered from its Lisle, IL facilities.
An announcement from Molex explained, "Under the terms of the agreement, Koch Industries will acquire all of Molex's outstanding shares, including the common stock, the Class A common stock, and the Class B common stock, for $38.50 per share in cash ... Based on the closing stock prices on September 6, the purchase price represents a 42-percent premium to the equity value of Molex's publicly traded stock, specifically a 31-percent premium to the stock and 56-percent premium to the Class A common stock." The announcement further explained: "Certain members of the Krehbiel family and certain executive officers of Molex, owning in the aggregate voting stock representing approximately 32 percent of the common stock and 94 percent of the Class B common stock, have entered into voting agreements with Koch by which they have agreed to vote their stock in support of the transaction."
Fred Krehbiel is co-chairman of Molex's board. He said, "After 75 years this was a difficult decision, but our board of directors and our family believe that this transaction, which follows a diligent and thorough review process by the board, provides outstanding benefits for all our stakeholders. The transaction is expected to provide substantial opportunities for our worldwide employees, many of whom have spent much of their working lives at Molex and are responsible for the company's long-term success."
Martin Slark, Molex's vice chairman and chief executive officer, commented, "For our customers and employees, this transaction will allow us to build on Molex's proud past and strengthen us for a powerful future. We are excited to work with Koch to continue our track record of growth and investment in people, innovation and technology."
Koch Industries' chairman and chief executive officer Charles Koch called the deal "an exciting acquisition that matches up well with our culture and our core capabilities. It also provides a significant new platform for growth. Molex has become a world leader by focusing on product innovation and value creation, driven by its talented leadership and employees. We look forward to jointly applying the capabilities of our two companies to help take both to the next level."
Controlled-impedance flat cable stands up to water immersion, repetitive motion
Cicoil describes its new Controlled Impedance Cable as "a highly flexible cable with individually controlled impedance signals. This 30-AWG cable is offered with 1 to 8 individually shielded 100-ohm pairs, and can be used as a more-reliable and rugged alternative to standard twisted-pair and coaxial cables." The company adds that the cable's design can be used in applications requiring submersion in water, repetitive motion and exposure to harsh environments.
The company further states that its extrusion process "allows each individually shielded pair to be placed in a flat profile, precisely controlling the spacing of each component, insulation thickness and the overall cable shape. The halogen-free and flame-retardant Flexx-Sil encased cable is designed to provide high-speed data transmission, weight and space savings, resistance to temperature extrems [-65 to +165 degrees Celsius], and long-term flex life."
The jacket is self-healing from all punctures, the company adds, promising it "will not wear, crack or deform due to long-term exposure to tight routing, vibration, continuous motion, water, ice, steam, sunlight, coarse sand, humidity, ozone, UV light, autoclave and many chemicals."
Off-the-shelf versions of the cable are available; cable assemblies are available in 3-, 6- and 12-foot lengths. Custom designs are also available. Anti-friction coatings, impact-resistant jacketing and custom shape designs are also available by request.
Shallow 6-inch floor box feeds cabling through wood and raised floors
A new Wiremold brand furniture-feed floor box from Legrand, the FloorSource 6-inch box, is designed for both wood floors and raised floors, the company says. It provides dual service capabilities to open-space office workstations as well as educational, institutional and hospitality applications, Legrand notes.
"The shallow design of the FloorSource furniture feed box allows it to fit into 3-inch raised floors," the company explains. "The 6-inch round shape enables the box to use a standard 6-inch-diameter round hole, making for quick and easy installations." The box has multiple knockouts from 0.75-inch to 1.5-inch, the company further notes. Additionally, a high-capacity side entrance accommodates a large bundle of communications cable or preterminated audio/video cables. Its removable divider allows multiple services to be converted into a single service box when more capacity is required.
The box accepts Evolution brand poke-through furniture-feed-style covers. The trademarked TopGuard protection keeps water, dirt and debris from the power or communications compartment, Legrand explains, to meet and exceed the UL scrub water exclusion requirement. Finishes available include black, brass, bronze, gray and nickel.
Locator pinpoints drill or cut location in wall
The MP-800 Magnespot Reference Point Locator from Jonard Industries comprises a transmitter and a locator, allowing installers to pinpoint where to drill or cut through a wall. The manufacturer says the locator is accurate to within a half-inch, and up to 40 inches away.
"Place the transmitter on one side of the wall and from the opposite side watch as the receiver draws you to the exact location of the transmitter," the company says. "Mark the spot and drill." The kit also includes batteries, tack adhesive, an instruction sheet and carrying case.
More CIM Articles

Archived CIM Issues