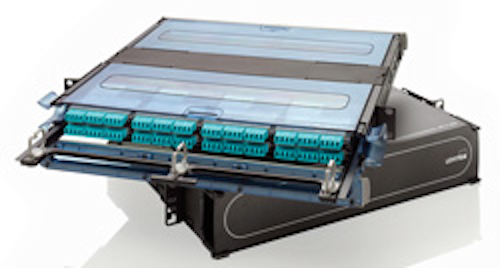 From the June, 2013 Issue of Cabling Installation & Maintenance Magazine
Compiled by Patrick McLaughlin
---
High-density fiber-optic enclosure system
The Opt-X HD Fiber Enclosure System from Leviton is an expansion of the company's Opt-X line of fiber-optic connectivity. Leviton says the new enclosure system "increases fiber density by up to 50 percent within the same rack space for additional interconnect or crossconnect patching." The system includes the high-density enclosures, MTP brand multi-fiber push-on (MPO) cassettes, and adapter plates.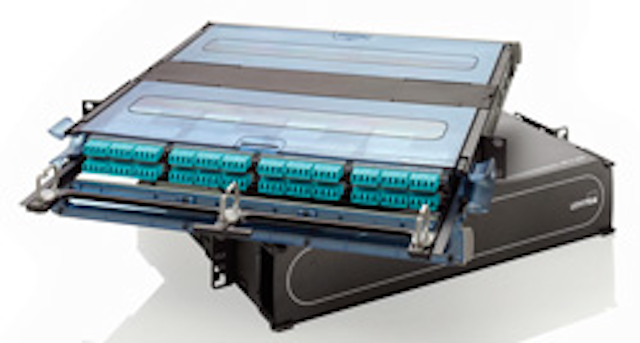 The Evolve MTP cassettes and adapter plates fit into Opt-X Ultra HD and Opt-X 1000i HD 1RU and 2RU enclosures, the company explains. The fiber cassettes are preterminated and pretested, and come with 12- or 24-fiber connectors. The pass-through adapter plates are available with MTP, LC or SC adapter types.
Tony Yuen, senior product manager, fiber, for Leviton Network Solutions commented, "The Opt-X HD Fiber Enclosure System is ideal for data center and enterprise applications where network expansion is a priority, now and in the future. This scalable solution allows you to increase port density in racks to meet expanding network demands."
Both the Opt-X Ultra HD and Opt-X 1000i enclosures can accommodate up to 1,152 fibers in a 1RU space, and 2,304 fibers in a 2RU space when using LC connectors. The combination of MTP brand cassettes and adapter plates in conjunction with Op-X Unity products allows for migration to 10-, 40- and 100-Gbit/sec transmission speeds, the company says.
The enclosures include a removable sliding tray that makes for easy installation, organization and maintenance. An optional retrofit sliding tray, which Leviton says is unique in the industry, allows users to upgrade existing Opt-X Ultra or 1000i enclosures to accept the Opt-X Evolve cassettes and adapter plates. This provides extra density in the same rack space without the need to purchase a new enclosure, the company says.
The Opt-X HD Enclosure System and the entire family of Opt-X fiber solutions are available through Leviton's distribution network.
---
Case protects fiber-optic cables used in OTDR testing
A conditioning-fiber case available from trans data elektronik (tde) protects the fiber-optic "lead" cables used during optical time-domain reflectometer (OTDR) testing. The hard case protects against damage to fiber-optic cables that can occur during transport or within a construction area. The IP65-rated case "also keeps off dampness and dust," the company explains. "Another benefit: The connectors are fitted directly to the conditioning fiber cables so no additional splice can distort the measurements."
The case is available in customized configurations, said tde's chief executive officer Andre Engel. Multiple fiber types and lengths are available. The case also offers a winding frame for fan-outs up to five meters.
---
Consumer Product Safety Commission recalls 11 million feet of riser cable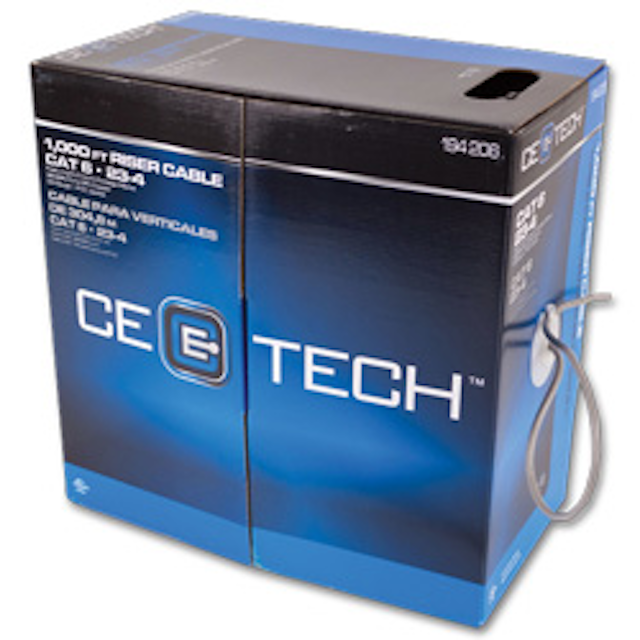 The United States Consumer Product Safety Commission (CSPC) has issued a recall for CE Tech brand riser cable sold in 1,000-foot boxes at Home Depot between January and February 2013. In its recall notice, the CPSC said, "The riser cable does not meet fire resistance standards for riser cable, posing a fire hazard." The CPSC says about 11,300 units of the cable are subject to the recall.
An entry in the "Recalls" section of the Home Depot website links to the CPSC recall notice.
The CPSC further stated, "This recall involves 1,000 ft. CE Tech riser cable sold in boxes of 1,000 ft. lengths. It is intended to run between floors of a building as data cable. This type of cable must self-extinguish in a fire. The cable is gray and marked (UL) E316395. The cable's box is blue and black and is marked CE Tech 1,000 ft. riser cable, Cat 6 23-4.
"Consumers should remove the recalled cable and return it to Home Depot for a full refund," the CPSC added, also stating the cable was sold exclusively at Home Depot during the months of January and February 2013, for approximately $100 per box.
---
Dell introduces cable-management accessories
A set of cable-management tools newly available from Dell can be used separately or together within the company's PowerEdge xx20 rack enclosures.
The vertical cable manager "can be installed in the rear power distribution unit (PDU) of the PowerEdge xx20 racks, or many third-party racks that use the same button-mount keyhole spacing," Dell explains, "occupying the width of a single vertical PDU." The vertical cable manager kit also includes alternate mounting holes. It ships with screws to allow installation along the rear equipment mounting posts in the Dell rack enclosures, which are 750-mm wide.
The vertical cable manager has two 18-inch sections that allow users to place the manager in various locations within a PDU tray, "wherever you need it, even in a 24U rack," Dell explains. The manager's finger spacing correlates to the rack-U spacing, and the metal cove snaps into place on the fingers to contain and conceal cables.
The horizontal crossover panels available from Dell comply with EIA-310 specifications and are available in 1U and 2U heights. Several types of attachment-point options are available, including mounting locations for metal cable rings, hook-and-loop straps with a twist connector, and other accessories that use the rectangular twist connectors like claw hooks, the company says. Accessories can be mounted to either side of the crossover panel. Because the panels are EIA-310-compliant, they can be used in any third-party EIA-310-compliant rack.
The metal cable rings available from Dell can be installed in PDU trays in the rack, or attached to the horizontal crossover panels. Each Dell rack comes with a set of six of these rings; a separately available set of 10 rings provides additional cable management.
Dell also offers kits of 10 hook-and-loop straps with twist connectors. The straps provide "a quick and easy way to secure cables snugly against the sides of the rack," Dell says. "These straps can also be connected to the horizontal crossover panels."
The image on the previous page shows each of these cable-management tools in use, with vertical cable managers installed on the left, as well as 1U and 2U horizontal crossover panels housing metal cable rings and hook-and-loop straps, respectively.
---
Splinter-free fiberglass cable-pushing rods
The Splinter Guard Fish and Glow Rods from Klein Tools have a proprietary protective coating "to keep hands free of fiberglass splinters when wire pulling," Klein says. "Raw fiberglass shards become exposed when rods scrape against the sharp edges of electrical boxes, wire trays and threaded rod. The protective coating safeguards hands from these painful fiberglass splinters."
The rods are available in a variety of lengths and flexibilities; sections can be threaded together, tool-free, to customize the length needed for a particular pull. The rods are luminescent, glowing in dark work spaces such as above ceilings, through walls and under raised floors.
Klein Tools describes the rods as durable and lightweight; they are available in 5/32-inch, 3/16-inch, and 1/4-inch flexibilities. Sets include bullet-nose and hook attachments.
---
Berk-Tek adds more power, plenum-cable options to OneReach PoE Extender System
Berk-Tek, a Nexans company, has added enhancement options to its OneReach Power over Ethernet Extender System including a higher-powered remote port, a smaller rack-mounting bracket and a plenum version of the cable used in the system. Available since 2011, OneReach allows users to install Power over Ethernet (PoE) powered devices up to 4,000 feet from a telecom room.
Among the new enhancements is a one-port Remote Power Port (RPP) that is capable of supporting what is known as "high PoE," "hPoE" or "PoE++." The new RPP supports powered devices that require up to 60W of power. Specific devices that may take advantage of such power delivery include outdoor pan/tilt/zoom cameras with integrated heaters and blowers. "Many of these cameras are supplied with a High PoE midspan power injector," Berk-Tek explained when announcing the OneReach enhancements. "But these injectors are still limited to the traditional 328-foot/100-meter limit. With existing OneReach cable, this reach can be extended by more than 1,000 feet."
The system's cable—a copper/fiber composite—being available in a plenum version allows OneReach systems to be installed using pathways that require plenum cable. "This expands the applications to include wireless access point devices installed in ceilings, such as in hotel common areas, convention centers and school campuses," Berk-Tek said. "The same distance capabilities are available with both plenum-rated and riser-rated cable."
The other system enhancement is a 1U mounting bracket for a standard 19-inch rack, which can hold two, one-port media modules. It is intended for installations that require fewer end devices than can be accommodated by a larger bracket.
Mike Connaughton, RCDD, fiber-optic products business manager with Berk-Tek, said, "PoE capability continues to grow in popularity for many IP devices. And OneReach continues to evolve to allow end-users to provide increased power and data capability to these devices without having to install separate power at the remote end. With the latest generation of outdoor cameras hitting the market, the High PoE OneReach option will provide designers with a very cost-effective and flexible option. The plenum cable also will allow for expanded use in indoor applications where length restrictions and the installation environment had created barriers."
---
Cable-raceway installation kit
The Grab 'n' Go Kits from Wiremold include an assortment of the typical fittings, fasteners and screws needed to install the company's V500 and V700 Series raceways. The box contains individual compartments for the pieces.
"Each kit provides enough fittings for a typical 30-foot installation of Wiremold V500 or V700 raceway drops," the company says. "Kits include flat, internal and external elbows; switch and receptacle boxes; mounting straps; and screws, fasteners and clips. All fittings are separated by part number into individual compartments to make locating raceway accessories fast and easy." ::
More CIM Articles

View Archived CIM Issues