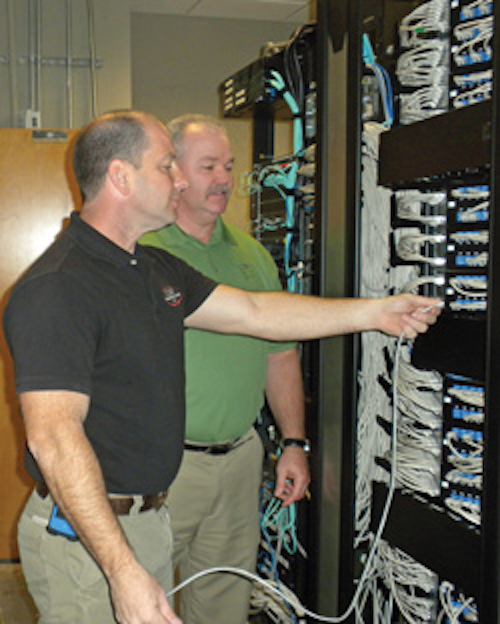 From the April, 2013 Issue of Cabling Installation & Maintenance Magazine
Insurer went with the contractor and connectivity it trusted when integrating the infrastructure of a newly acquired organization.
By Bill Pflueger, Hubbell Premise Wiring
While most of us are familiar with the iconic white duck promoting Aflac insurance in television commercials, you might not know the story of a small Columbia, SC network communications contractor who is quite happy about the insurance company's success—and the support from distribution and manufacturing partners that are dedicated to helping that contractor remain competitive and up-to-date.
Aflac Insurance, the largest provider of supplemental insurance in the United States, was founded in 1955 and now has a field force of more than 70,000 agents nationwide. In an effort to expand its product offerings to include accounts that prefer a group platform, Aflac acquired Continental American Insurance Company (CAIC) in 2009 and rebranded the company Aflac Group Insurance. From the original CAIC office at 2801 Devine Street, Aflac recently expanded to two additional office locations in Columbia, SC including space in a five-story building at 400 Laurel Street and additional space at 500 Taylor Street. The expansion ultimately will increase Aflac's space in Columbia by an additional 27,000 square feet. With the acquisition came several former CAIC employees, including Todd Shook, second vice president of infrastructure for Aflac.
History prevailed
During his time with CAIC, Shook had been working with local contractor CDN Communications on design, implementation and maintenance of the company's network cabling infrastructure. The infrastructure was made up of cable, connectivity and cable-management solutions from Hubbell Premise Wiring (www.hubbell-premise.com). Although Aflac had been deploying a competitive network cabling solution at their other locations prior to acquiring CAIC, history prevailed.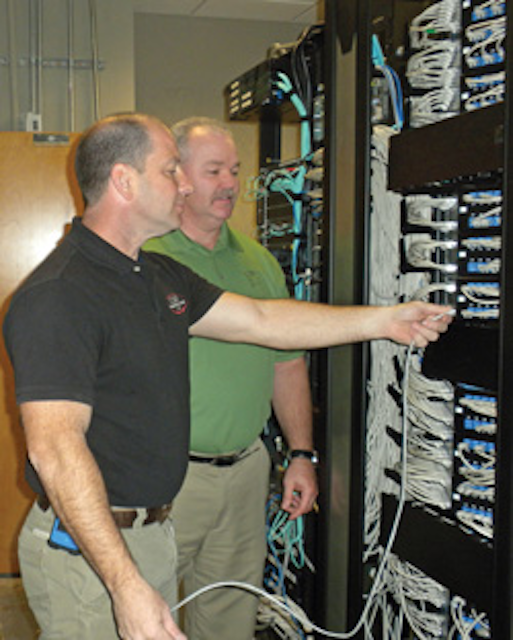 Doug Newman (left), owner of CDN Communications, and Todd Shook, second vice president of infrastructure for Aflac, check Hubbell's NextSpeed Category 6 connections in one of Aflac's new telecommunications rooms.
"I had been working with Todd and CAIC for more than 10 years when Aflac acquired them, and I worked hard to maintain that relationship despite the change," says Doug Newman, owner of CDN Communications. "When it came time for the group to move to a new facility, there was a little apprehension because Aflac didn't know me and they didn't know Hubbell. But we were able to demonstrate our expertise and the quality of the product."
Newman got together with technical support from Hubbell and local manufacturer's representative Tony Campbell of TC Connect (www.tcconnectllc.com), and presented information to Aflac on Hubbell's NextSpeed Category 6 product performance, price and availability.
After reviewing performance tests from independent third-party test agencies, Shook decided to stick with CDN Communications and Hubbell. "We had been using Hubbell for many years after we were introduced to the product by CDN Communications," he says. "The Hubbell equipment performed very well for us at a price that allowed us to stay within our budget."
Newman recalls, "Thankfully, Aflac took Todd's recommendation into consideration. I was excited to continue the relationship and be involved in cabling the new facilities and connecting them to Aflac's wide area network."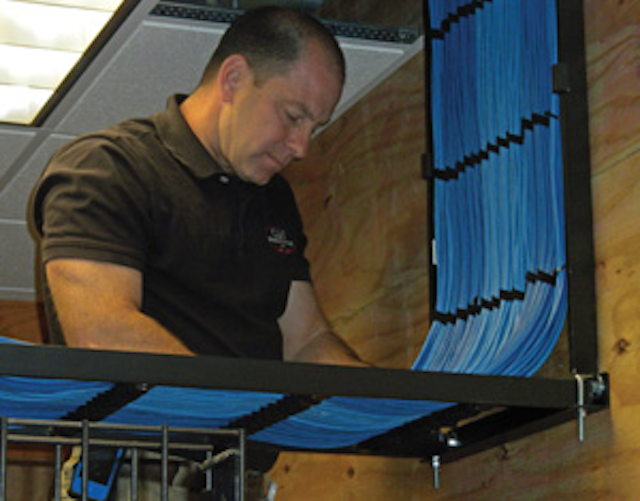 Doug Newman checks horizontal cable pathways at Aflac's new Columbia, SC location.
Infrastructure modernizes
With Aflac set to move forward with Hubbell and CDN Communications for its three Columbia locations, the upgrade of the cabling infrastructure got underway. "The driving factor for the network cabling infrastructure upgrade was Aflac's high volume of growth that included expanding to two additional locations," says Shook. "We also wanted to upgrade all the cabling to Category 6 at the original location to align with the need for network switch upgrades and modernization."
Within each facility, CDN Communications deployed Hubbell's NextSpeed Category 6 solution; a total of more than 700 network drops deliver data, Voice over Internet Protocol (VoIP), videoconferencing and wireless access in offices, conference rooms and common areas. The NextSpeed Category 6 system is third-party verified to meet TIA-568-C.2 Category 6 and ISO 11801 Class E component specifications. Designed to deliver headroom beyond 500 MHz, the system is ideal for multi-gigabit Ethernet applications.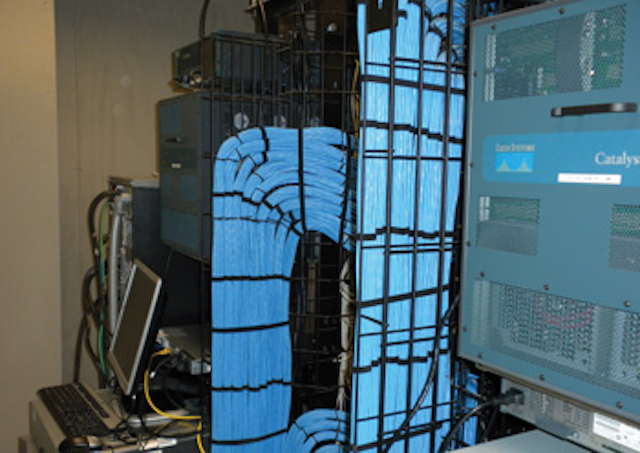 CDN Communications deployed Hubbell's NextSpeed Category 6 solution to a total of more than 700 network drops to deliver data, VoIP, videoconferencing and wireless access in Aflac offices, conference rooms and common areas.
"We can support everything from VoIP, security cameras and building security badge swipes, to audio-visual applications and wireless access for all employees," says Shook.
Aflac's Columbia locations consist of one main equipment room with additional telecommunications rooms (TR) at each site. CDN Communications extended the demarcation point at each facility and connected all the TRs to each entrance point with 25 strands of Om3 50-micron laser-optimized multimode fiber. All the fiber connectivity was terminated using Hubbell OptiChannel fiber connectors, panels and enclosures. In each TR equipment was housed in Hubbell four-post racks with XXL Organizers for vertical cable management, cable capacity, easy front and rear access, intuitive routing and airflow. According to Newman, every TR ended up with three racks, and each main equipment room needed four racks and room for growth.
Business smarts
How did a small local contractor end up so successful, landing a client like Aflac—especially when the contractor tends to fly under the radar? Perseverance, a keen business approach and strong relationships. Since CDN Communications first went into business about 15 years ago, Newman has worked to provide superior service, ensure quality infrastructure deployment and develop a rapport that keeps his customers coming back for more.
"One thing I've done is try to limit my customer base so I can give each customer better attention," says Newman. "I've also been selective based on who I can form a good rapport with and who I am ultimately developing a long-term customer relationship with. I'm on site within an hour or two when there is a problem, and if the problem is the result of the cabling infrastructure that my crew installed, we repair it for free."
With no website or advertising, Newman has continued to acquire what he calls "a good handful of customers" entirely by word of mouth. "I don't respond to random RFPs, and I stay very much under the radar," he says. "This approach also allows me to control my business, remain customer-service oriented and ultimately be more innovative and responsive, rather than reactive and stretched thin."
He has handled projects, like this one with Aflac, problem-free and with quality workmanship. "I work hard to educate my customers about the technology and to help them determine what's best," he says. "I also educate my crews in a way that each technician knows how to properly install everything, from the closet to the faceplate. As a result, they have the ability to make strategic decisions and troubleshoot problems on their own."
Partners align
While the business approach of CDN Communications is working, the contractor didn't go it alone. When Newman first went into the contracting business, he had the support of Communications Supply Corporation (CSC; www.gocsc.com) with a line of credit and financial backing to help him get started.
"I have worked with CDN Communications for 15 years and have enjoyed watching Doug Newman grow his business from nothing and really make a name for himself in this area," says Harrison Pinckney, general manager with CSC. "This is a relationship business and we've had a very open one. Doug is a straight shooter and a man of his word."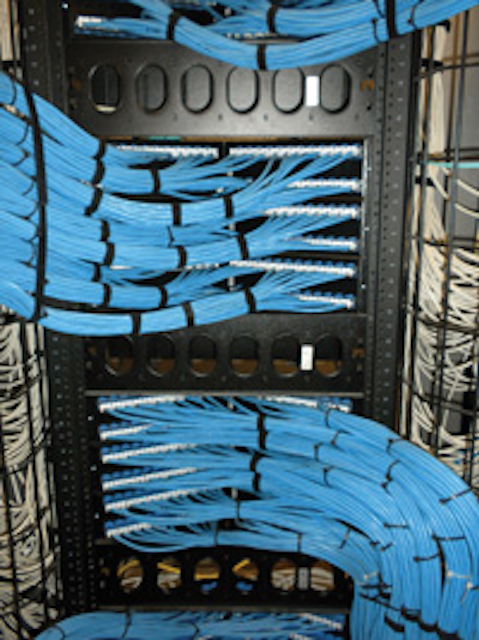 In each Aflac telecommunications room, equipment is housed in Hubbell four-post racks with XXL Organizers for vertical cable management.
As CDN Communications has grown, so has the local Columbia branch of CSC. "When CDN Communications started out, we weren't very big ourselves," says Pinckney. "Over the past decade we've grown along with them. We have added salespeople each year and are looking forward to a promising 2013 with several projects getting underway in the first quarter. The ball is still rolling and we're hoping CDN Communications will continue to be right here with us."
Part of CDN's success with the Aflac project was due to CSC's commitment to stocking certain Hubbell products for the job. "CSC knows what it's like to be small," Newman says. "On the Aflac job, CSC sales rep Brandon Crowley supported me by making sure I had the product I needed when I needed it. In turn, I continue to support CSC by channeling specifications through them."
In addition to CSC, Hubbell saw the value in helping small contractors remain competitive and up to date. "We've worked hard to keep CDN Communications informed by providing technical data, product samples and any other information needed to make sure that the right product is supporting the application and the needs of CDN's customers," says TC Connect's Campbell. "And we're happy to provide whatever information, technical support and innovations we can."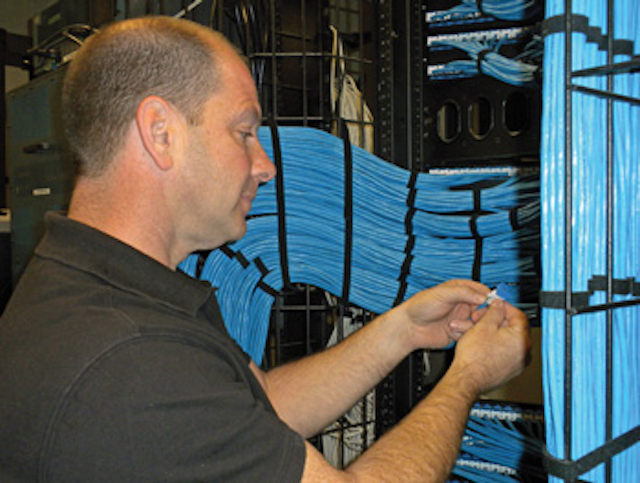 Through perseverance, a keen business approach and strong relationships, Doug Newman of CDN Communications landed Aflac and continues to succeed as a small communications contractor in South Carolina.
Backed by its successful business approach and partner support, CDN Communications has given Aflac a network infrastructure that will support the insurer's needs today and provide plenty of capacity for the future. The company plans to double the number of employees in Columbia over the next three to five years. "I am very satisfied with the installation," says Shook. "Although we have never had to return any products and have yet to call for any repairs, CDN Communications calls me frequently just to check up. As we continue to grow, we anticipate being able to support our information technology needs. This is a very exciting time at Aflac Group Insurance." ::
Bill Pflueger is southwest regional specifications manager with Hubbell Premise Wiring (www. hubbell-premise.com).
More CIM Articles

View Archived CIM Issues