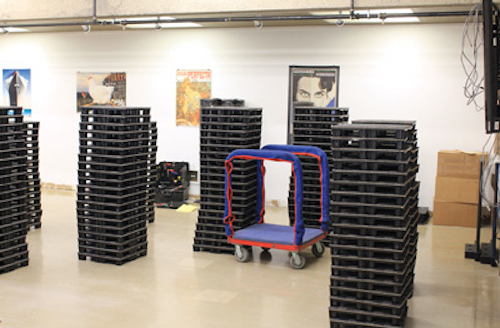 From the March, 2013 Issue of Cabling Installation & Maintenance Magazine
A turnkey system can provide benefits in many more environments than just computer and server rooms.
By Jim Norton, Custom Products and Services Inc.
In today's technology-driven environments, providing the appropriate technological support for staff to perform their jobs is paramount to a successful work environment. And the connectivity this technology requires continues to grow.
Planning and installing the power and communications connections that this equipment needs has become a significantly challenging aspect of both the design and maintenance of buildings. With this development, the term "cable management" is often used in both areas. As a result, there is an ever-growing list of products positioning themselves as cable management systems and solutions.
Cable management (un)defined
So what exactly is cable management? It seems to mean many different things, and different products. Like many terms used today "cable management" has become a catch-all reference, the understanding of which often entails the perspective of the person using the term. Certainly an electrical contractor has a cable management perspective that differs from that of a communication contractor, and differs significantly from that of the facilities manager. Add to these core services--audio-visual, security, fire alarm, public address and others--and you start to realize that all are cable-based services requiring management as individual components of the complete environment. In addition, each discipline has its own view of how best to manage their cabling.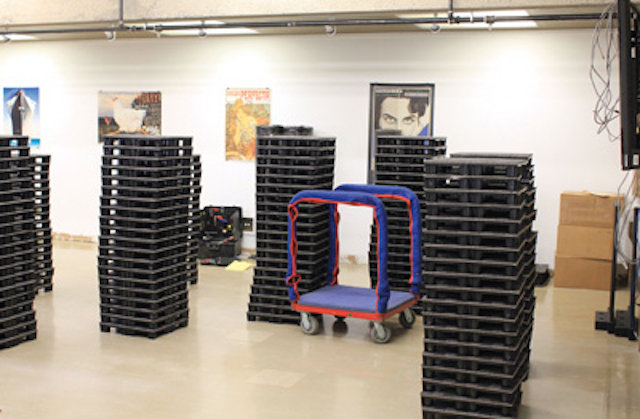 Shown here are precarpeted shallow raised floor modules as they have been delivered to the room in which they will be installed on a bare floor.
Uncontested facts from a user's point of view are that cables and wires can pose a very real safety hazard and are viewed as ugly. As a result, we do our best to protect and hide them, wherever and however we can. This can be verified by simply inspecting any and all building voids. Typically wires are hidden above ceilings and in walls, columns, conduits or ducting poured onto the floor slabs.
All the individual building services compete with each other, as well as with the other non-cable services, for the same limited, hidden spaces within our building structure. This makes the management of these cables even more important, and increasingly more challenging to address.
Additionally, we understand that the service outlets are the connection points we need. These outlets are not held in high regard aesthetically, but because they are necessary we accept them. The challenge is planning their locations to be serviceable. And because they are never where we want or need them, they seem to be everywhere. Once installed we have no choice but to work with what we have, or as can be seen in most facilities, they exist unused in hopes that someday their location will be usable.
So there seem to be a "construction" or "building-installation" cable management perspective, which focuses on this invisible cable highway.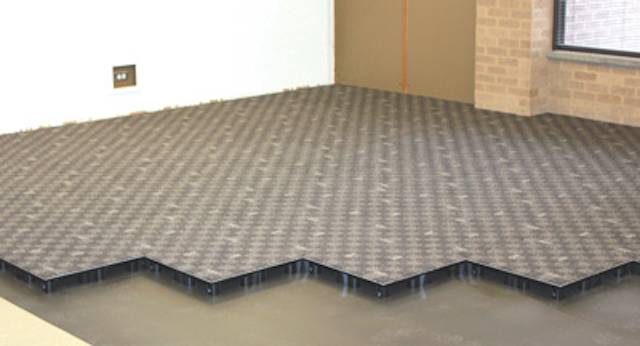 As the system installation gets underway, a layer of foam is laid down to act as a non-slip surface for the modular panels.
The serviceability of an outlet leads us to the next level of cable management. More often than we realize or care to admit, outlets are not used for the simple reason that their location does not meet user needs. This introduces another perspective.
The visible circular power-port housings are built into some of the modular panels, allowing them to be put in place as the panels are being assembled.
The "user cable management" requisites are unique, because further use of the building voids is no longer an option. As we begin to design the interior space of a building, we immediately are confronted with how to best connect our users with our fixed outlet locations. We are presented with a multitude of cable management options for furniture, walls or false structures, so that connectivity exists where users need it. We have designed additional spaces that can protect and hide wires by incorporating them into the desks, tables and partitions, or run the cables down power poles. Everything except the chairs seems to incorporate some type of cable management accessory.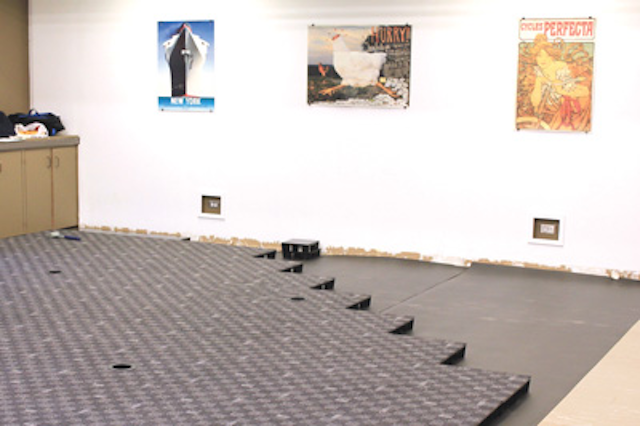 The raised floor system's weight capacity of 50,000 pounds per square foot precludes concerns about overloading it. The file cabinet shown in the corner on the left can be loaded with paper and supported without stressing the floor.
As all these options are evaluated, user organizations must confront the fact that not all their spaces have universal needs. Offices, administrative areas, meeting rooms, classrooms, IT rooms, control centers and training rooms all have different connectivity requirements. Some work environments are static in nature and some must accommodate reconfiguration. A "one-size-fits-all" approach rarely satisfies all needs.
One last point of confusion is that the terms "cable management," "cable management solutions," "cable management systems" and others are all used as equal and interchangeable terms, meaning the same thing. Cable management (a process or procedure), a cable management system (a product), and a cable management solution (a result) all mean the same thing in everyday vernacular.
Based upon these standards, any space that is designed into a building or furnishings--or that can be added to the building or furnishings--providing a space in which a contractor or staff member can install cables, is considered cable management, a cable management solution, or a cable management system, depending upon whom you are conversing with.
Answering questions
With a pretty firm grasp on what cable management is, we have to ask ourselves a more important question: Do any of these processes, products or scenarios provide us with the results we need? If the answer is yes, then there should not be a need to enter into the "when-all-else-fails" phase of design. Usually this phase occurs on move-in day when someone realizes the building's cable management system does not exactly align with the furniture's cable management system.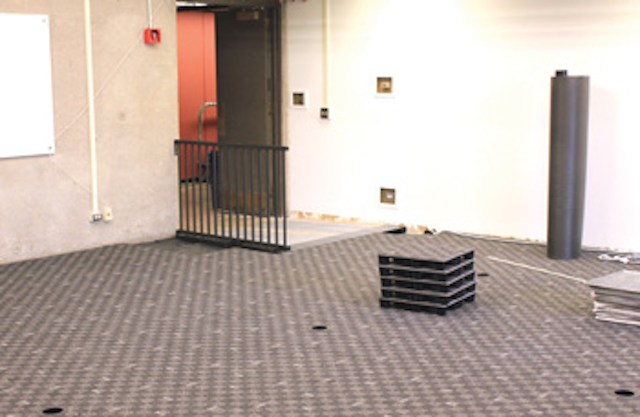 A ramp and railing is installed at each doorway, as shown here, so individuals entering the room gradually incline to the approximately 3-inch height of the raised floor.
When this scenario arises (and it does with an unfortunate frequency), we entertain a host of additional cable-management solutions, from multi-outlet electrical strips to plastic wall chases and roll-out rubber floor strips. Most of these offerings involve staff of the user organization making do and making it work. To do otherwise would involve considerable cost and labor, followed by more contractor change orders.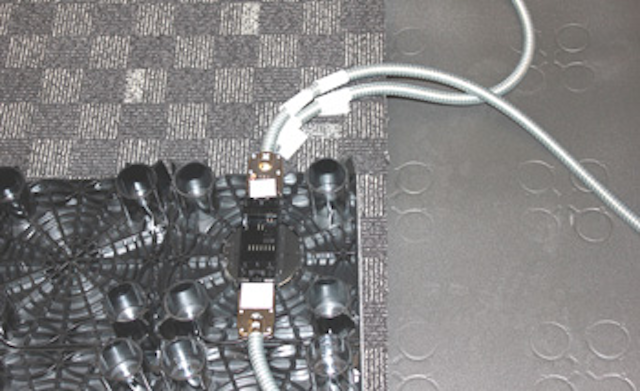 In this installation, preterminated power cables plug into the power outlets on the bottom side of the modular panels. The cables are routed under the floor from port to port.
When considering a cable-management approach, ask these questions ahead of time: Do these solutions allow you to manage, handle, direct, move or control your cabling? Are they really a complete solution, or just parts of a concept that requires additional parts to be a unitary, whole solution? Do they provide you with a timely and cost-effective means to solve your connectivity needs?
The final question to ask yourself is: Are these cable management systems really systems, including all the parts that allow you to truly manage your cables?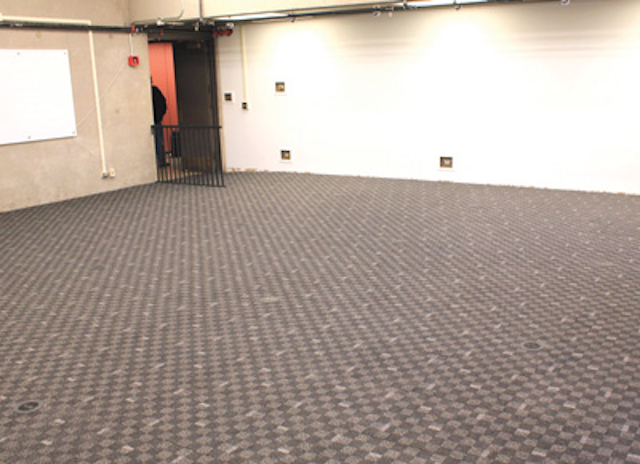 The completed installation allows the user organization to quickly change power-port locations by lifting one or more modular panels, disconnecting power cables, moving the lifted panels to their desired locations and reconnecting the power cables.
Each building, room or office will have different and ever-changing requirements for handling cables. Rarely will one system or approach handle them all. I say "rarely" because some viable options do exist. You just need to know where to look, and do your homework carefully.
The "perfect world" scenario is a system that will allow you to move and reconfigure your outlets whenever and wherever you need them within the room. In addition, these features should be simple and cost-effective, and require minimal contract labor to accomplish.
For some user organizations cabling needs have reached a point at which the cost in time and money now requires a reevaluation of their cable-management approaches. Some are dealing with the problem of locating power, data, voice or AV connections within a room in such a way that these connections are located exactly where they are needed and, equally important, can be relocated as needed without additional tooling or contract labor. For these users, choices are few but available.
Standalone systems
One viable option is a standalone cable management system. This type of product focuses on the user organization's total needs. It provides a space dedicated solely to protecting and hiding the cabling, while allowing for the changes in location and servicing desired. It is a complete approach that can include all the various cable-based services that you need. It provides an adaptable link between the building construction aspects of a design and the reality of the users' need to function.
Even though this approach involves a floor-mounted raceway, it is not a traditional computer-room raised floor. Products of this type can vary dramatically depending upon their design. Some systems typically require the involvement of multiple trades to achieve the desired result. Most will initially locate the power and communications connections in the floor, but for some, making changes to those locations can be difficult and represent additional investment. Equally servicing connectivity by using this approach can be as difficult as any closed, fixed building void. Some standalone floor-mounted systems do represent a true turnkey approach and provide what is needed in a single package.
If you do investigate a floor-mounted standalone cable management system, use the following checklist of questions as a guide.
Is the system easily and quickly adaptable to your changing room-usage or requirements?
Can the power, data and voice outlets be relocated easily without the need for specialized tools or contract labor?
Does the system come complete with everything you need for a total and complete installation--floor pedestals; carpet; preterminated power, data and voice cables; ramps; railings and all necessary hardware?
Does the raised floor system require the necessity of fastening it to the room's subfloor? (If so, installation time must be considered, and the floor becomes part of the building for depreciation purposes. If not, the system is not considered part of the building and can be depreciated differently. It also will be possible to move the system to another room if needed.)
How do change orders affect the overall cost of the cable management system? (Consider, for example, a change that becomes necessary after the product has been ordered.)
Are trained installation crews available to install the system correctly?
Are traditional trades or vendors (i.e. electricians, carpet installers, data installers) required to complete the installation? If so, how does that affect the system's final cost?
Can you relatively easily evaluate both the short- and long-term cost savings when comparing the conventional construction-based format versus a modular, raised-floor design for managing cables? (This typically is challenging until the project is actually completed and ready for use. However, the most difficult costs to calculate are those associated with the issues of moving or adding power/data ports when needed. This is where the modular, raised-floor cable management system will show savings in both raw-material and labor costs. Depending on the raised-floor system you are considering and other factors, these costs can range from negligible to substantial.)
What type of warranty does the system provider offer?
For more than 40 years the term "computer raised floor" has become synonymous with computer or server rooms. These raised floor products were originally designed to accommodate the cooling and cabling required for large mainframe computers or servers. Today these traditional raised floor products have evolved to include providing cable management and alternative HVAC delivery systems for other building areas. For the most part, these modular floor products provide an additional horizontal space, used by the various trades, allowing for electrical and communications outlets as well as HVAC registers to be located in the middle of floor areas. The result is an additional building void, which now requires the cost, labor and time that other voids require in order to address cable management requirements.
A low-profile raised floor group of products can be approximately 3 inches in height. These systems abandon any HVAC functions. Their features, functionality and installation time vary depending on their individual designs. Some offer a shorter, less-intrusive building void that incorporates the aforementioned multi-trade participation for completion. Others offer premanufactured or preassembled components that combine to make up a total solution. Some provide floating floor panels that do not require attachment to the subfloor, enabling them to be installed directly over existing short-nap carpet or on top of a layer of foam laid over bare concrete. Most of these low-profile systems offer a premanufactured electrical option and some offer preterminated communications cabling.
Some products will include everything "soup to nuts"; others will provide only the floor, with carpet, electrical and communications cabling dealt with separately. A turnkey system that includes all components as well as installation can save time and ensure compatibility among all system components.
Typical applications for these types of raised floor systems include training rooms, classrooms, libraries, conference rooms, control rooms IT and computer rooms. Universities, military bases, state and federal institutions and private sector businesses have found these cable management systems to be a worthwhile investment, allowing their space to be configured and reconfigured to meet the ever-changing needs of today's workspace.
Going all the way back to the original question, "What is cable management?" there is no "one-size-fits-all" answer. User organizations must review and determine what is wanted, needed, and can be afforded--from the standpoint of systems as well as the time impact that cable management activities have on budgets and operations.
With research, you can find the right system for you. ::
Jim Norton is president of Custom Products and Services Inc. (www.custom-products.com).
More CIM Articles

View CIM Archived Issues