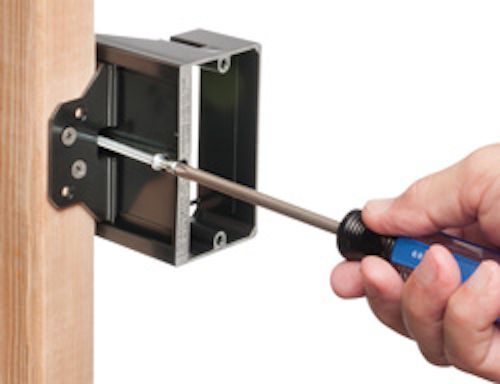 From the March, 2013 Issue of Cabling Installation & Maintenance Magazine
Asoka USA Corp. has introduced its PlugLink PoE-200 (PL9660-48A), a powerline communications (PLC) adapter that supports the Power over Ethernet (PoE) standard. The company says the adapter allows consumers and small businesses to quickly build networks that deliver up to 15.4 Watts of DC power for devices such as Voice over IP (VoIP) handsets, IP security cameras and other powered network devices.
Asoka says that the PlugLink PoE-200 simplifies PoE networks for small- and medium-sized businesses (SMBs) that currently need to either purchase "wall wart" power adapters and Ethernet cables for each VoIP handset, or purchase a PoE switch or hub for network-based powering. In addition to simplifying installations, the company says the adapter significantly reduces the cost of installing a VoIP PBX, since no new cabling or external power supplies are required for each handset.
With the PlugLink PoE-200, users simply plug the adapter into any wall socket and connect the phone or device, turning the power outlet into a PoE network connection. The adapter provides a 10/100 Ethernet port with PoE for user connectivity and a 200-Mbit/sec PLC backbone connection. It supports the major Ethernet quality of service (QoS) standards in addition to the HomePlug AV standard, ensuring sufficient bandwidth for use in VoIP and HDTV networks.
A 128-bit AES encryption button secures data transmission across the electrical power line; users simply push the button to "pair" adapters and encryption is set.
---
Belden acquires PPC for $515 million
Almost immediately after divesting its aerospace and defense cable business for $265 million, Belden announced its acquisition of Syracuse, NY-based PPC, a privately held manufacturer of broadband connectivity products, for $515.7 million.
With 2012 revenues of approximately $238 million, PPC is known as a developer of advanced connectivity technologies for the broadband service provider market. The combined company "will be a leader in broadband connectivity," said Belden, adding that the acquisition "significantly enhances [its] broadcast solutions platform and increases exposure to attractive end markets."
PPC's product portfolio includes connectivity products such as F connectors and assemblies, MSO entry devices, drop amplifiers, splitters, taps, filters and hardline connectors for broadband applications. It also includes wireless-based connectivity products. Significantly, PPC lists the Teko Telecom Sirius distributed antenna system (DAS) among its portfolio.
---
Adjustable mounting brackets for low-voltage cabling
Nonmetallic adjustable mounting brackets from Arlington Industries are appropriate "for low-voltage installations where the final wall thickness is not known," the company says. The brackets are set for a half-inch-thick wall and adjust to accommodate walls up to one-and-a-half inches thick. Arlington describes the mounting bracket as "extra secure, mounting to wood or steel studs in new construction," adding that there is no "wobble" when new wiring is pulled. Installers can fine-tune depth with an adjustment screw; the bracket is available in single- and double-gang styles.
---
Pipe cutter for hard-to-reach overhead, underground use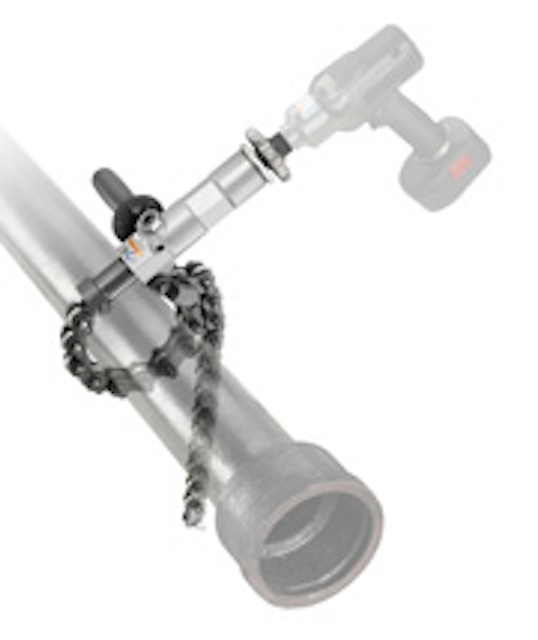 The new 238-P pipe cutter from Ridgid has been released as a soil pipe cutter, but the company says it can be used to cut "no-hub cast iron, service weight cast iron and clay pipe up to 8 inches in diameter, and concrete pipe up to 6 inches in diameter." The tool was designed to make it easier for contractors to cut pipe in hard-to-reach spaces like those in building rafters and below grade.
The cutter is designed to be used with a half-inch impact driver and incorporates a chain that Ridgid says can be used on the aforementioned pipe materials. Additionally, "thanks to its 11.5-inch length, removable handle and low-profile cutter wheels, it provides the versatility to work with inconveniently placed pipe," Ridgid says.
The 238-P facilitates two-direction operation, allowing users to score pipe before cutting, thereby resulting in a cleaner cut, the company says. Additionally, its torque limit protects it from overloading.
Ridgid product manager Larry Feskanich comments, "The 238-P was designed for jobs where the pipes are hard to reach or awkwardly placed. It's a high-capacity tool that can quickly and easily cut pipes up to 8 inches in diameter."
---
Black Box adds new channel partner resource
Black Box announced that its technology products for communications system integrators are now available for procurement through VARStreet, a provider of hosted IT business management software designed specifically for VARs (value added resellers). Black Box technologies showcased on VARStreet include cabling and infrastructure, digital signage and multimedia, KVM and video switching, and networking platforms.
VARStreet's integrated e-commerce platform is used by many technology channel partners in North America. Subscribers can now access the most current Black Box product, pricing, and inventory information. Also via the agreement, VARStreet channel partners can integrate Black Box products into their own databases, back-end systems, on-line catalogs, and Web sites.
"We're pleased to join the VARStreet family. With their vast network of subscribers and easy-to-use platform, we'll be able to more effectively support our channel partners," said Diane Magin, Black Box's reseller channel manager.
More than 3,000 channel partners and 10,000 VARs have used VARStreet to serve their corporate, federal, state, and local government customers, claims the company.
---
Portable cable reels
The Hannay AV Series reels are meant for broadcast, communications and pro-audio applications. The reels are made of steel and aluminum and have a black non-reflective matte finish. They feature welded channels and frame clips for stacking. Hannay says these characteristics promote maximum transport and storage efficiency.
A removable side-mounted connector panel allows customization of XLR and BNC connector patterns; an adjustable friction brake prevents cable overrun and damage during operations. The reels are available with caster wheels for greater accessibility. The company says the reels are used globally by production, recording and filming facilities, in addition to being deployed for live events and concerts, mobile-broadcast units, and satellite cable companies.
---
Surface mount boxes deliver copper, fiber cabling to difficult locations
Siemon has introduced its Z-Max surface mount boxes, now designed to support the company's: Z-Max Cat 6A shielded and UTP cabling; Cat 6 UTP and Category 5e shielded connectors; Category 7A Tera connectors, and LC fiber connectors. Without requiring additional mounting bezels, the boxes quickly and easily bring work area connectivity to areas suitable for surface mount installation.
"The new surface mount boxes are ideal for converged-IP and PoE devices such as security cameras, access control points, LED lighting, and digital signage in building locations where traditional outlet box mounting locations are unavailable," explains Robert Carlson, vice president of global marketing at Siemon. "The Z-Max surface mount box's support of Z-Max, Tera and LC connectors gives installers a wide variety of performance and media options."
Available in one-, two-, four- and six-port configurations, the compact boxes maintain all of the installer-friendly features and benefits of Siemon's original MX-SM boxes, says the company. Like the original boxes, the Z-Max surface mount boxes may be mounted via concealed screws, adhesive tape or flush-mount magnets for flexible deployment. A snap-on cover securely protects critical connectivity and provides designation areas for color-coded icons and write-on designation labels.
Cable management features including integrated routing posts and cable tie anchor points maintain proper cable bend radius and strain relief. The Z-Max surface mount box also delivers sufficient cable routing space and clearance to manage a range of cable sizes, including larger-diameter 10-Gbit/sec-capable copper options. All cable management features are supported by multiple cable and raceway breakout entry points on the sides and bottom of the box, making it easily adaptable to most mounting configurations.
---
AFL expands fiber-optic cleaning products
AFL recently expanded its Noyes brand fiber-optic connector cleaning product line. New products include: the AFL CleanConnect 500, a refillable cassette-type cleaner; the NTT-AT NeoClean-E series refillable push-type cleaners; the OptiPop-C refillable card-type cleaners; the Fujikura One-Click D-LC, a push-type cleaner; the KimWipes optical-grade cleaning wipes; and the CleanWipes optical-grade cleaning wipes.
Kevin Haddock, product line manager for AFL's Noyes Test and Inspection division, comments, "These products are designed for ease-of-use in a wide variety of environments. Properly cleaning fiber-optic connectors prevents the most common causes of performance degradation, network and component failure and downtime."
---
Global telecom spending forecast to hit $223.3B by 2017, despite financial strain
Global capital expenditure (capex) by telecommunications service providers is expected to increase at a compounded rate of 1.5 percent over the next five years, from $207 billion in 2012 to $223.3 billion in 2017, according to a new market report from Insight Research Corp. However, the study finds that capex among fixed-line operators continues to decline, with growth coming mainly from mobile operators in developing countries, who continue to increase their capital outlays to meet pent-up demand for service.
The study predicts that capex in the various global regions will be uneven, with North America, Europe, and the Latin American-Caribbean regions showing little or no growth, and only Asia-Pacific and Africa continuing to make investments in telecommunications hardware and software to keep up with burgeoning customer demand for new services.
"Customers in every region are pinching pennies and the demand for advanced applications is uncertain," warns Insight Research president Robert Rosenberg. "The confluence of these trends means a further erosion of operator margins, which in turn will affect investments into infrastructures and new technologies, since funding is now more difficult to obtain."
While demand for telecommunications services may be "income-inelastic ," and industry revenues may actually grow over the forecast period, services in every global region will nonetheless come under heavy pricing pressure as operators fight over the cost-conscious customers who are quite willing to delay new device purchases, the report contends.
The report provides forecasts for the U.S., Canada, UK, Germany, France, Japan, China, and India. ::
More CIM Articles

View CIM Archived Issues