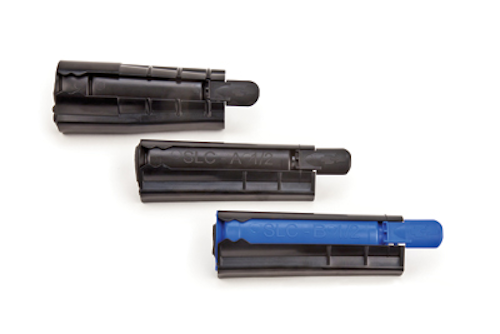 November, 2014 Issue of Cabling Installation & Maintenance Magazine
---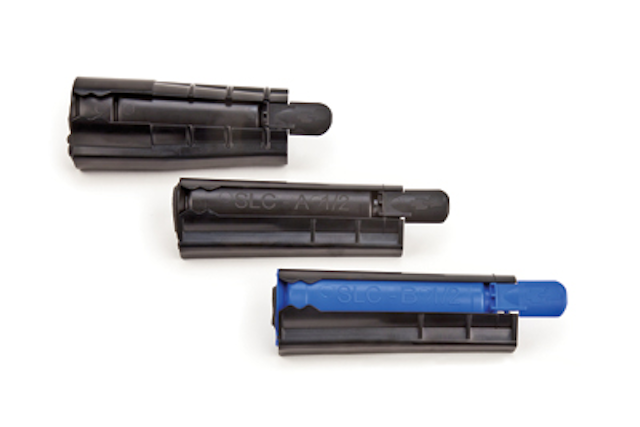 3M Communication Markets Division has introduced two new Slim Lock closures for wireless weatherproofing of smaller RF connections at the cell site. The 3M Slim Lock Mini and Slim Lock Nano join the 3M Slim Lock Classic, creating a product line of varying sizes for wireless weatherproofing needs. 3M says the closures offer a re-enterable weatherproofing solution that installs in less than a minute using just one hand, helping to reduce time and simplify installation for tower technicians.
"More and more wireless providers are moving to smaller RF connectors to reduce tower loading with MIMO/multi-band equipment that enhances service. However, these connectors are crowded together on the antennas/radios, creating a denser area, making it even more difficult to utilize traditional weatherproofing solutions as well as our Slim Lock Classic," comments Sesh Natarajan, marketing manager, 3M Communication Markets Division. "Seeing this challenge, we developed two smaller sizes of our successful Slim Lock Closure, the Mini and the Nano, that could effectively protect connections in this tighter environment while offering the same under-a-minute, easy, one-handed installation process as the original."
Recently named a finalist for CTIA's Emerging Technology Award in the category of "Wide Area Network-RAN," 3M says its Slim Lock Closures protect signal integrity by blocking out moisture at both the antenna and remote radio unit (RRU) in tower and rooftop installations. The newest releases also support the wireless industry's move toward using Mini-DIN and N-Type connectors on MIMO antennas and radios for LTE deployments, says the company.
The new Slim Lock Mini and Slim Lock Nano closures use the same technology as the original Slim Lock Classic 716. Through quick and easy one-handed installation, the conformable gel pad construction inside each Slim Lock Closure surrounds the connector and cable, displacing the air completely and creating a robust sealing interface. The new closures also incorporate the same application of the 3M Glass Bubbles technology to make them re-enterable and re-usable, limiting signal interruption and replacement costs.
In addition to the original Slim Lock Classic (SLC-716) that can be used with standard DIN 716 connectors, the Slim Lock Mini (SLC-A-MINI) and Slim Lock Nano (SLC-B-NANO) work with a variety of Mini-DIN and N-Type connectors, in conjunction with nominal half-inch coaxial jumper cables. All Slim Lock closures have been thoroughly tested in extreme weather conditions and meet the industry-standard IPX8 rating for water protection.
The Slim Lock Mini began shipping in October 2014. The Slim Lock Nano will be available in winter of 2015.
---
AFL expands capacity of OSP fiber distribution cabinet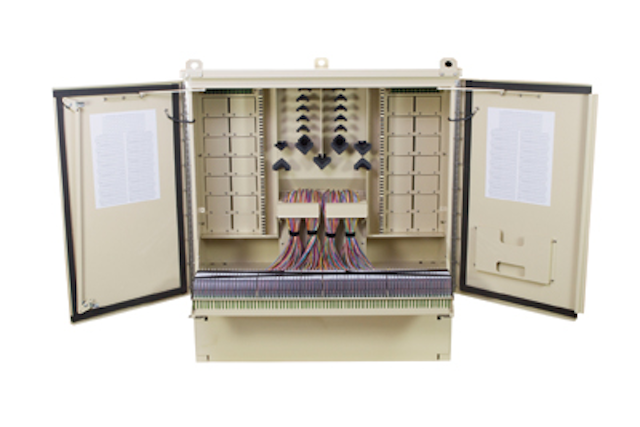 AFL announced that it has increased the capacity of its IDEAA Exterior Distribution Cabinet (EDC) to provide management of up to 864 fibers for point-to-multipoint, point-to-point and WDM distributions. Additionally, the company says the new cabinet's innovative jumper routing capability allows for increased manageability in customer moves, additions or adjustments, as the carrier network scales and changes.
With use of the company's IDEAA splitter modules, fiber management, routing and termination is enhanced and deployment costs are lowered, asserts AFL. AFL notes that the IDEAA EDC provides flexible pad and pole-mounting options to accommodate deployment in convenient locations, while the cabinet's smaller frame is unobtrusive in residential areas. Available in three different sizes, each model of the IDEAA Exterior Distribution Cabinet provides dual-door entry for easier access and fiber/module management.
"The IDEAA splitter platform has been well-received by customers across North America and as far as the Middle East," comments William Miller, associate product manager of OSP connectivity at AFL. "Until now, the IDEAA EDC has been limited to 432 fiber distributions or less. Release of the 864-fiber EDC allows our customers to continue to utilize the feature-rich EDC in more fiber-dense areas of their networks."
---
Case study charts one installer's schooling in counterfeit cabling infrastructure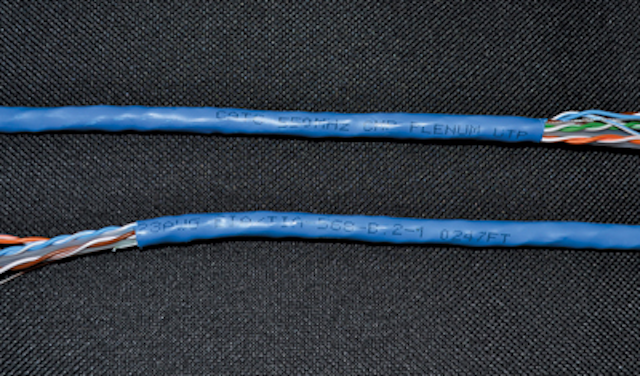 To raise more awareness regarding communications cables that do not meet applicable codes and standards requirements, the Communications Cable and Connectivity Association (CCCA), a consortium of cabling manufacturers, distributors and material suppliers, recently shared the first of several real-world case studies involving counterfeit communications cables. The manufacture and sale of cables failing to meet standard requirements has increased and become more varied, notes the industry group, and by sharing the case studies, CCCA hopes others will be able to avoid the problem.
"CCCA is raising the alarm again and cautioning by citing real-life failures with copper clad aluminum (CCA) communication cables offered by low-cost, online suppliers," comments Frank Peri, CCCA executive director. "These suppliers promote and advertise CMR or CMP cables that bear counterfeit certification marks or have no listing or verification marks from independent third-party testing laboratories. Using the lure of low price, some online suppliers can entice customers unaware of the true nature and quality of their cables. "
The first case study deals with the recent experience of a computer educator and IT coordinator for a small, K-8 elementary school who unknowingly purchased copper clad aluminum (CCA) communications cable. In this case, an online distributor advertised and sold cable that was later discovered not to have a legitimate CMP fire safety listing. Often found on building material lists, the plenum rating (CMP) signifies cable that has passed stringent fire testing and is permitted for installation into air plenum spaces. It was determined that the cable manufacturer did not have authorization to use the listing mark from the well-known independent testing agency yet it was clearly posted on the cable specs and distributor website. This particular online distributor has since been required by the listing agency to remove its listing mark for this cable, yet the company still continues to represent the cable as CMP, plenum approved.
"The online supplier's price was enticing and the description for the cable was convincing; they used all the right terminology regarding compliance," said the IT coordinator, as quoted in the case study. "I even contacted the supplier and they assured me that the cable was of a high quality and that they had never had any issues." While the cable was identified on the website as 23-AWG copper clad aluminum, it was also labeled as Category 6 CMP-rated and in compliance with the codes and standards.
It was during the testing of the links that the IT coordinator began to notice the conductors seemed brittle and realized that he needed to do some research about the cable he had purchased. He said he came across multiple articles and white papers from the CCCA that provided him the information he needed. "Some of the articles were downright scary, describing the potential fire hazard when using copper clad aluminum cable with PoE [Power over Ethernet] and the liabilities associated with not meeting fire codes," he said. "I did not want to be the installer who burned down a school because I installed CCA cable. The day after I found out about the fire hazard risk, I immediately disconnected all the PoE connections and began to remove cable."
The IT coordinator contacted the CCCA for more information and sent several hundred feet of the cable for analysis. Material analysis of these cable samples, and others purchased by CCCA from the same supplier, showed jacketing with minimal fire-retardant and smoke-suppressant properties and substitute insulation materials not suitable for installation in buildings. Although the cables were marked as being plenum (CMP) compliant and made with copper clad aluminum, the material analysis predicted catastrophic failure in the NFPA 262 plenum cable fire test, in violation of National Electrical Code (NEC) fire safety requirements. The combination of jacketing and insulating materials on these cables would produce extremely rapid flame spread and heat and heavy smoke generation in the event of a building fire, which could severely hamper evacuation and threaten life safety.
"The elementary school case is one example of disturbing trends by certain disreputable manufacturers and suppliers who constantly change sales and marketing tactics," concludes CCCA's Peri. "We are not a testing agency. Our goal is to stay ahead of these people and educate all who buy, specify or come in contact with communications cable. It's vital to know what to look for and how to stay out of trouble."
Importantly, CCCA emphasizes that copper clad aluminum is perfectly acceptable in certain coaxial cables and should not be singled out as a class or type of conductors to be avoided for other cable designs. The full case study can be found at the CCCA's website.
---
CommScope opens ION-E in-building enterprise wireless platform to U.S. operator trials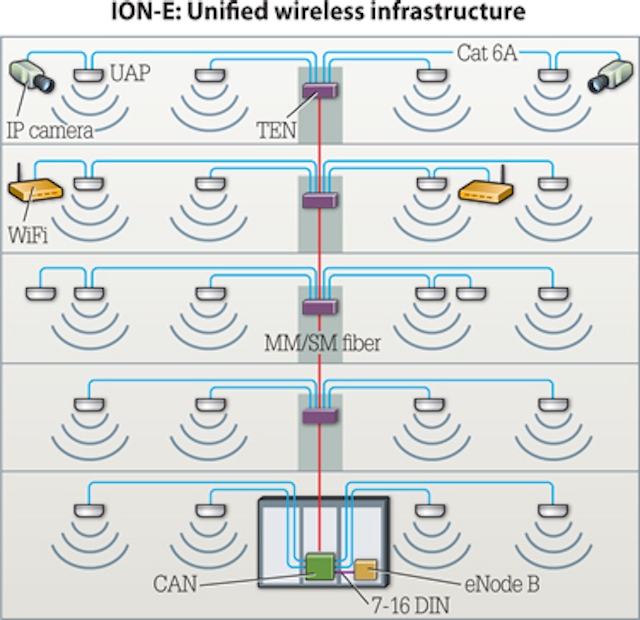 CommScope recently announced that its ION-E in-building wireless solution, designed specifically for business enterprise applications, is now ready for U.S. network operator trials.
The company says its ION-E unified wireless infrastructure features "multi-operator, multi-technology and multi-band capabilities" and utilizes the structured cabling infrastructure common to most commercial buildings. The system's structured cabling architecture makes it easy for IT installers to deploy a comprehensive, future-ready RF solution. The ION-E can bring almost any wireless signal to any of its universal access points deployed inside an enterprise building, enabling Cloud-RAN performance, says CommScope.
"What once was a niche market-using distributed antenna systems (DAS) to bring wireless coverage into hard-to-reach areas-has become a primary focus for most network operators and increasingly many enterprise IT organizations," comments Matt Melester, senior vice president and general manager, distributed coverage and capacity solutions, CommScope. "When you consider that upwards of 80 percent of mobile data traffic is indoors, and that businesses continue to adopt BYOD policies, it is little wonder why."
It is predicted that one billion employee-owned smartphones and tablets will be in use in the enterprise by 2018. Yet only about two percent of the 30 billion square meters of worldwide commercial real estate is covered by an in-building mobile wireless system. The ION-E system unifies licensed wireless, power and Gigabit Ethernet for WiFi onto one simplified, flexible and scalable platform, contends the company. The system is billed as future-ready, supporting multiple operators with the air-interface technologies and frequency bands in use today and tomorrow.
CommScope unveiled the ION-E last February when it first became available for trials with certain European operators. Trials are successfully proceeding there according to schedule, says the company.
---
Molex demos 400G data center interoperability over fiber, copper cabling, backplanes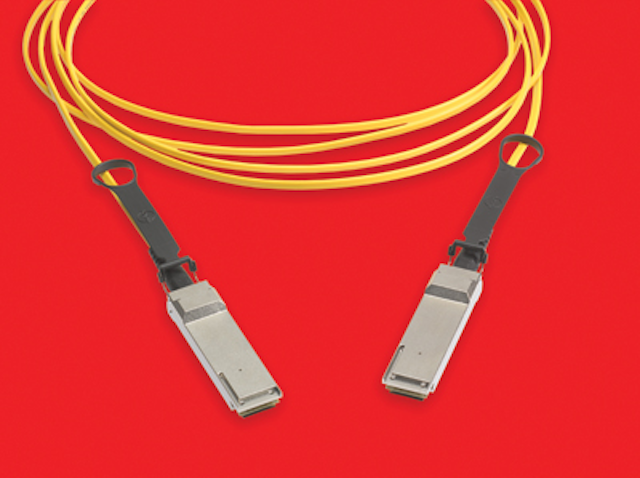 Molex was selected to participate in Optical Internetworking Forum's (OIF) Interoperability 2014 - Accelerating Momentum on the Road to Next-Generation Architectures demonstrations, which were presented at the European Conference on Optical Communication (ECOC 2014) in Cannes, France from September 22-24. At ECOC, the OIF's booth featured Molex and other OIF member companies in physical and link layer demonstrations showcasing advanced 100G technologies for 400G data transmission over optical fiber, copper cables and backplanes.
Molex's technologies were spotlighted in four OIF demonstrations at ECOC 2014, including the following:
• CEI-28G-VSR QSFP29 Module Compliance Output Test: Molex zQSFP+ (zQuad Small Form-factor Pluggable Plus) connectors on a module control board supported 28G operating data rates in this multi-test demonstration. The zQSFP+ connectors supported CEI-28G-VSR requirements over a QSFP28 based chip-to-module channel at a 28G operating rate.
• CEI-25G-LR Passive Copper Cable: Highlighting four vendor cables operating at the same data rate, the demonstration featured a scalable Molex zQSFP+ high performance, four-lane cable design operating at up to 25.78G per lane with optimized electrical performance, signal integrity, and EMI protection.
• CEI-25G-LR Backplane Channel Connector: Molex Impel 25G LR backplane and daughter cards provided signal integrity and mechanical isolation in a demonstration running four lanes of bi-directional traffic at 25.78G. The high-density Impel backplane system enabled data rates from 25G up to 56G data rates (56G obtained using PAM 4 encoding).
• OIF CEI-25G VSR Thermal Pluggable Module: Utilizing eight zCD (style 2) connectors, cages, modules and heat sinks mounted in a side-to-side airflow line card emulator, the demonstration featured Molex high-speed zCD connectors and thermal resistant modules to show the effects of heat sink pin geometry in a simulated real-world environment transmitting 400G (25G over 16 lanes). The demonstration probed and recorded heat levels to assess thermal dissipation properties of connector and cage thermal technologies.
"Designed for high-speed multi-channel systems, Molex solutions deliver the interoperability needed in today's resource-intensive data centers," commented Scott Sommers, global group product manager at Molex. "Interoperability translates into more choices for customers. The OIF multi-vendor demonstrations blend advanced technologies and highlight important industry progress toward the goal of achieving total interoperability in fiber-optic technologies."
---
Tiered tray carries RF cabling, plus security and signal lines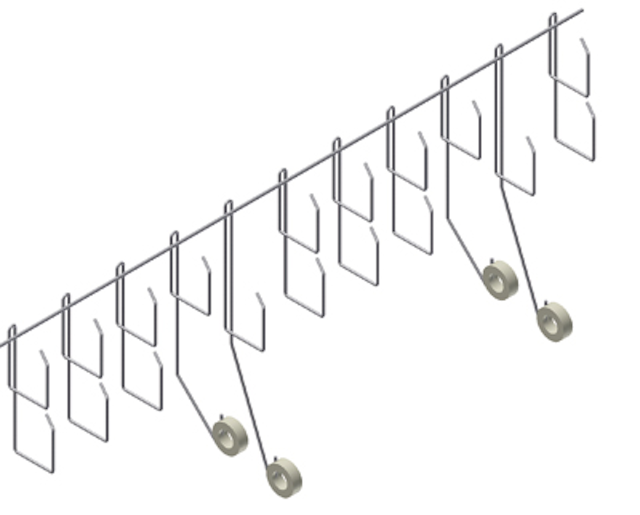 Snake Tray has created a patented cable tray to convey, aim and isolate RF cables along with traditional security and signal cables in one system. Especially designed for use in transit and rail tunnels, the new cable tray can accommodate multiple tiers of cable pathway, along with a special separated pathway that isolates and aims RF cabling for optimal signal strength. The tray nests together for economical shipping and easy handling and installation, and is constructed from stainless steel to weather all environmental conditions.
---
States adopting 2014 NEC
The National Fire Protection Association (NFPA) recently announced that as of August, 12 states had adopted the 2014 edition of the National Electrical Code, and an additional 11 states were set to enforce the document within the coming months. As of August, adopting states are Alabama, Colorado, Idao, Maine, Massachusetts, Minnesota, New Mexico, Rhode Island, South Dakota, Vermont, Washington and Wyoming.
"We applaud all the states that are enforcing the 2014 edition of the NEC," said mark Earley, the association's chief electrical engineer. "Their efforts demonstrate a true understanding of the code's impact on public safety and its value to electrical contractors in saving time and getting their jobs done. We strongly encourage all states to follow their lead and ensure optimum safety."